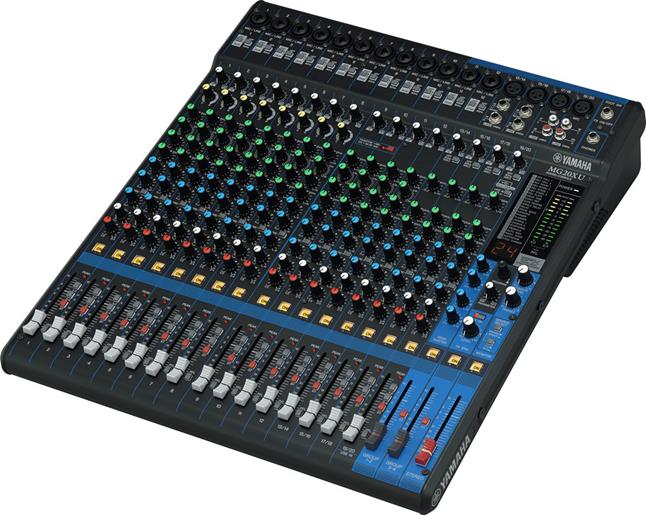 Yamaha MG20XU 20-channel mixer
Yamaha's latest MG Series mixers are designed to be more reliable, more versatile, and better-sounding than ever before. The tough metal chassis houses improved internal electronics that come from their high-grade studio mixing consoles.

Yamaha built each of their MG Series mixers with a tough metal chassis
Accurate and warm-sounding preamps
The microphone inputs of MG Series mixers feature Yamaha's high-end D-PRE preamps. The low-distortion Class A circuitry they use produces more power for the signal, in a very balanced and controlled manner, so you end up with more headroom on each channel, which allows loud transient sounds to pass cleanly.
All the microphone channels in MG mixers feature:
Phantom power for condenser microphones
High-pass filter to remove the low rumble often generated through live onstage microphones
26 dB attenuating "pad" on every input to tame hot inputs like keyboards.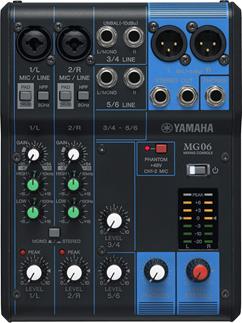 MG06 6-channel mixer
Simple signal routing
The signal routing is intuitive and straight forward. Signals come in, get mixed together via the channel faders, or volume knobs on the 6- and 10-channel models, and exit out the main stereo outputs. The main outputs are balanced XLR connectors, so you won't be tempted to use noisy unbalanced cables when connecting to your amplifiers or powered speakers.
Which configuration suits your needs best?
MG mixers come in 10 models: 5 with onboard effects, and 5 without. As the channel count increases, the mixers feature more outputs, including auxiliary outputs for different monitor mixes, and group outputs that control multiple voices and instruments with one fader, for better organized sound production.
On the 10-channel-and-up models, most channels have 3-band EQ, to clean the tone of each voice and instrument as it enters the mix. Also on the 10-channel-and-up mixers, some channels have user-friendly one-knob compressors. These let you easily adjust dynamics to achieve mixes that sound well-blended and unified.
Compact, easy-to-use 6- and 10-channel models
| Mixer | Mic inputs | Line inputs | Aux outs | Compressors | Effects | Group outs |
| --- | --- | --- | --- | --- | --- | --- |
| MG06 | 2 | 6 | 0 | 0 | 0 | 0 |
| MG06X | 2 | 6 | 0 | 0 | 6 | 0 |
| MG10 | 4 | 10 | 1 | 2 | 0 | 0 |
| MG10XU | 4 | 10 | 1 | 2 | 24 | 0 |
The MG06 6-channel mixer has outputs for main speakers only, which makes it perfect for a school or church auditorium where one or two microphones and the ability to play music are all that're needed. The MG06X adds some reverb and delay effects, so it would work well with solo or duo musical acts where those effects are useful.
The 10-channel MG10 and MG10XU add an auxiliary output, so they would work for small musical groups, solo rappers, or even radio broadcasters who only need one monitor mix.
With more channels, you get more versatility, too
| Mixer | Mic inputs | Line inputs | Aux outs | Compressors | Effects | Group outs |
| --- | --- | --- | --- | --- | --- | --- |
| MG12 | 6 | 12 | 2 | 4 | 0 | 2 |
| MG12XU | 6 | 12 | 2 | 4 | 24 | 2 |
| MG16 | 10 | 16 | 4 | 8 | 0 | 4 |
| MG16XU | 10 | 16 | 4 | 8 | 24 | 4 |
| MG20 | 16 | 20 | 4 | 8 | 0 | 4 |
| MG20XU | 16 | 20 | 4 | 8 | 24 | 4 |
The 12-channel-and-up models feature three important step-up features:
Instead of rotary knobs, you get faders for quicker, more precise level adjustments
On/off switch on each channel
Pre-fader listening (PFL) bus for monitoring every signal via the mixer's LED meter and your headphones.
The MG12 mixer will work well for a small ensemble that doesn't want any reverb or other sonic effects added to their music, while the MG12XU will work best for those who do want them.
Most rock bands will prefer the MG16XU or MG20XU. The extra channels accommodate drum microphones. And the four auxiliary outputs allow for different monitor feeds.
The MG16 and MG20 mixers will be more appropriate for larger rooms and auditoriums that won't need more echo or reverb added to the mix. These two mixers and the MG16XU and MG20XU each come with a rack-mount kit included, for extra protection when on the road.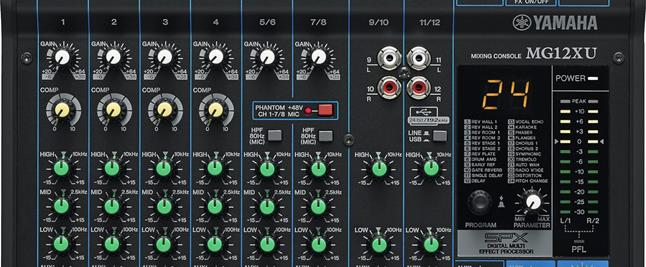 MG12XU gain, compression, EQ, and effects controls
The X and XU models have high-quality effects onboard
The models ending in XU feature Yamaha's SPX digital multi-effects processor, another technology that trickles down from their high-end mixers. On all models except the MG06X, you get 24 different reverbs, delays, and modulation effects that add color and feeling to your music. A parameter control lets you fine-tune settings like delay time or a reverb's apparent room size.
Also on the XU models, you can plug in a footswitch to mute and re-engage the effects while onstage, without needing a soundman at the mixer. The MG06X includes 3 reverbs and 3 delays with set parameters, which make sounding good easy.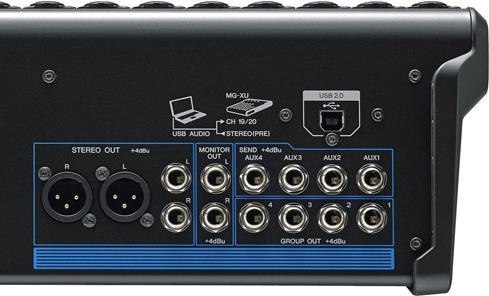 MG20XU outputs and USB port
The XU models connect to your computer
The models ending in XU feature digital interface via USB 2.0. This allows 2-channel 24-bit/192K Hz recording and playback to and from your computer. For laying down studio tracks, Yamaha includes a downloadable version of Steinberg's Cubase AI digital audio workstation (DAW) software that provides musicians a powerful tool to help shape and preserve their work.
This digital connection can be accomplished directly to compatible Apple devices by way of a Lightning to USB Camera Adapter cable. For Windows users, you may have to install a different USB driver, which is available as a free download from Yamaha.
Conclusion
Yamaha MG Series mixers pass all the tests for ease of use and simplicity of workflow. You can get to work immediately with one, without stressing out about a steep learning curve.
It's great that Yamaha can offer mixers of such high quality at such affordable prices. The inclusion of Cubase AI software with XU models makes them a particularly impressive value.