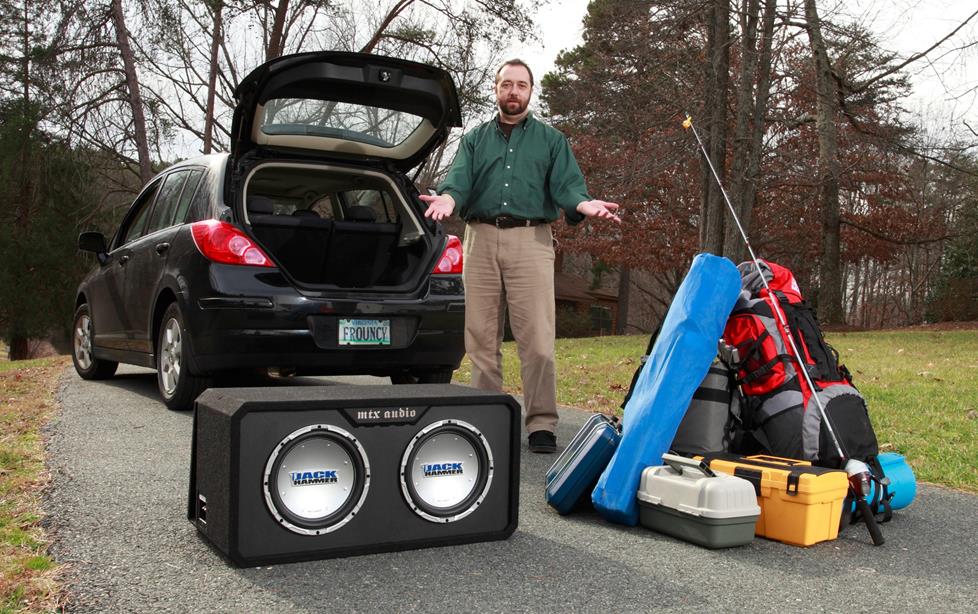 Crutchfield Editor Robert Ferency-Viars had a problem — he wanted big bass performance in his music, yet had to save room for the gear he and his sons use whenever they go camping. Instead of that giant box with dual 10's from MTX (which actually does fit in his car), what Robert needed was a way to add a subwoofer without losing most of his cargo space.
A lot of car audio enthusiasts face that same problem, but there are great solutions available. Robert and a couple more of us here at Crutchfield took up the challenge and installed subwoofers that added punch and presence to the music without taking up the entire cargo area on our cars.
Replacing the rear deck speakers with subs
Two Kicker 6-3/4" shallow-mount, free-air subs do the trick
I actually like the factory stereo in my Honda Accord, except for a lack of bass — I noticed, in a lot of songs, that I couldn't hear any bass drum at all. I hear it in my home stereo, so why not in my car? After all, that's where I listen to music the most — driving to and from work — I deserve it. I wanted a subwoofer to replace the percussive fullness and visceral thrill that was missing from the music in my car. But I didn't want big pieces of gear taking up space or looking "added on."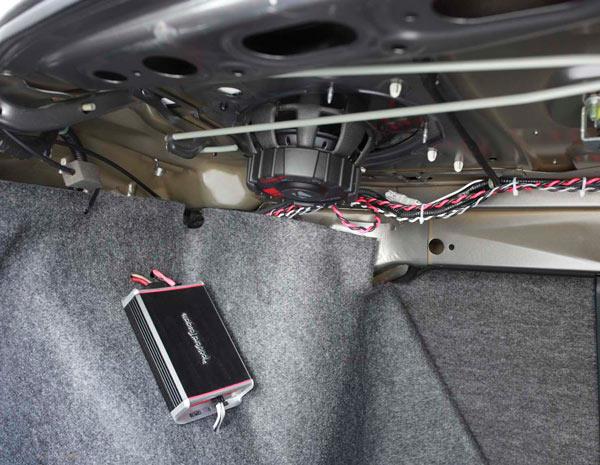 The amplifier and one of the subs in the trunk
The free-air subs mount in my car's rear deck and use the trunk space as their enclosure. Free-air subs, also often used for marine applications, have specially designed suspensions that let them work without a box and make them perfect for lower-volume systems. The two 6-3/4" Kicker CompVT subs mounted on adapter plates that fit perfectly in the factory openings, although the plastic plates themselves and the factory speaker grilles had to be modified by the installer so everything would look neat.
To power them, I chose the tiny Rockford Fosgate PBR300X1 amplifier that's powerful enough to get the job done, while small enough to hide in a corner. This amp uses Rockford Fosgate's "Boosted Rail Technology" circuitry to ratchet up the amp's internal voltage and output power when needed, packing up to 300 watts RMS into a hand-size box that can mount almost anywhere in a car.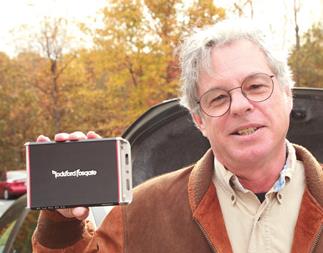 Buck Pomerantz with his amp
Note: Since this Learn Article was first published, Kicker has discomtimued the 40CWRT672 subwoofers and replaced them with their 48CWRT672 models, and Rockford Fosgate replaced the PBR300X1 amp with their P300X1.
I got exactly the result I was looking for — restoring the impact that was missing. It now sounds full, complete, and I can feel the music in my legs and chest. It shows up most obviously when I play Reggae, but even in standard American Rock, the bass guitar and drums are back in my music. It doesn't even need to get very loud to set me toe-tapping and dancing to music on the way to work.
---
Big sound from a small, all-in-one box
A Sound Ordnance compact powered subwoofer fits the bill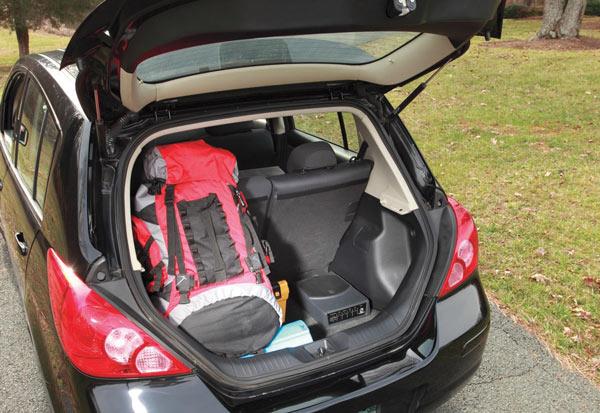 The Sound Ordnance B-8PT sub hiding in the back
Robert chose a small powered subwoofer to solve his lack-of-bass problem — the Sound Ordnance B-8PT. In his Nissan, this little subwoofer packs a big punch. He just picked a convenient spot for the sub in the rear, connected the wiring to his car battery (which took a few hours), and restored the excitement to his sound. Now, he says he hears notes he previously only heard from his home stereo, or in other people's cars. He's happy.
The sub, amp, and box are built to work together
Robert didn't have to worry about matching amps with subs and enclosures because that was taken care of by the manufacturer — the individual compon­ents in a powered subwoofer system are designed to work with each other, and will deliver the perfect amount of bass for their size and power ratings.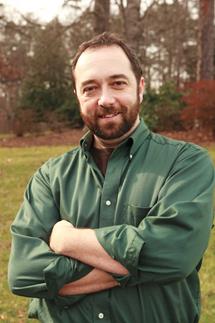 Robert Ferency-Viars
"I'm very happy with it. It's just the right amount of bass for me, and I immediately started hearing notes that I'd never heard in my car before. If I turn up the sub, it booms really well — it's not shy. But I like my bass tighter and more focused, so I have the gain set about midway to keep it under control. It's great. The remote control knob lets me turn it down when my sons are in the car, so they don't have to put up with the pounding bass." — Robert
---
Vehicle-specific subs save space
A JL Audio Stealthbox® sub fits in an unused area and blends in
Travis, one of our graphic designers, picked a neat and elegant approach to adding a subwoofer that doesn't stick out — he installed a vehicle-specific, custom-designed sub that fits his Toyota Camry's shape and décor. His JL Audio Stealthbox disappears into his vehicle's interior, yet lets the bass out with power and tone custom-tailored for his listening space.
JL Audio determines the ideal shape and mounting location for each enclosure so that it looks like an original part of the vehicle it's designed for. Their intense design work and hand-crafting ensure not only that each Stealthbox fits, but also has superior rigidity and more interior volume, so the sub can play louder, deeper bass.
The result is that Travis didn't lose much space. He has plenty of room for luggage and groceries, and he has an awesome sound system.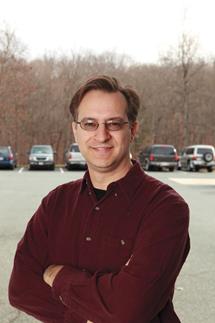 Travis
"Whether grocery shopping or road tripping, my wife and I don't like to give up trunk space. Getting great-sounding bass didn't have to be a compromise." — Travis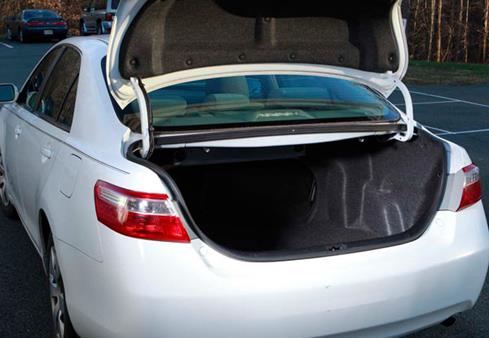 Before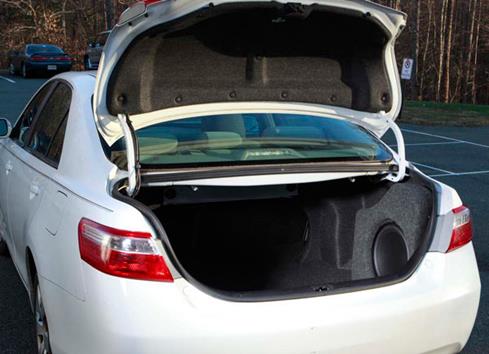 After