In this article, we'll discuss the different types of subwoofer boxes available, why the box is so important, and help you figure out which is the best subwoofer enclosure for you.
he only way you're really going to get full, rich-sounding bass from your car stereo is to add a subwoofer. Adding a sub to your audio system will greatly improve the fun and impact of your music, no matter what kind of music you listen to.
Generally speaking, there are two bass camps—those who like it "tight" and those who like it "boomy." The style of bass you prefer ultimately depends on your personal taste—and can even vary depending on the style of music.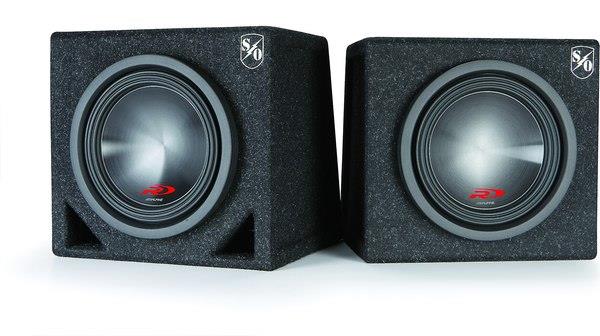 Sealed box vs ported box – what's the difference?
The secret to which type of bass you'll get lies in the type of subwoofer box you use. If you prefer bass that's "tight" and focused, go for a sealed box. If you want your bass to boom and you want maximum volume in your music, then you definitely want a ported box.
Type of subwoofer box
Impact on bass sound
Sealed box

Tighter, more accurate bass.
Smaller box size
Needs more power for louder bass

Ported box

Bass is louder and more boomy, less accurate
Larger box size
More efficient, doesn't require as much power
What about bandpass boxes?
We'll get to those later...keep reading. First, we'll focus on the two most popular types of subwoofer enclosures.
Sealed boxes – for deep, precise bass
A sealed box is an airtight enclosure housing your subwoofer. A sealed box is best for any music that demands tight, accurate bass. Expect flat response (not excessively boomy), deep bass extension, and excellent power handling. Since a sealed enclosure tends to require more power than a ported box, use an amplifier with ample wattage for optimum performance.
If you want to hear bass, not thunder
Each beat in a tight bass setup plays crisply, accurately, and with no ringing after it hits. The sealed air inside one of these enclosures acts like a shock absorber, smoothly modulating the subwoofer cone's back and forth motion, so all the notes get produced evenly.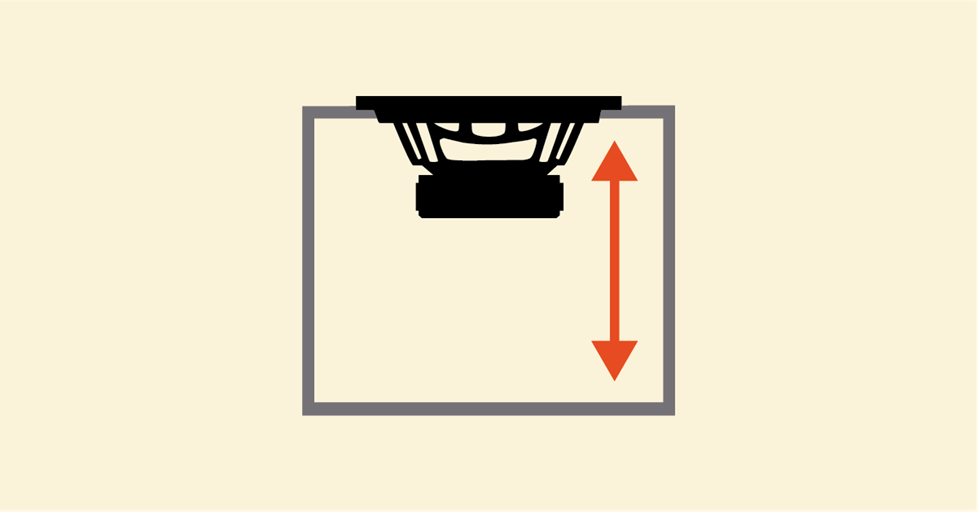 A sealed box moderates the cone's movement
Another effect produced by the air pressure behind the cone is that it takes more power to produce the same volume as it would in a comparable ported box. What a sealed sub rarely does is roar, thunder, or boom. That's because a sealed sub has very flat frequency response and tends to play tight, full bass that provides a level low-frequency foundation to your music. Sealed boxes are generally more compact than ported subs, so they fit in more vehicles.
[See our selection of sealed subwoofer boxes]
Ported boxes – for forceful bass
Ported boxes use a vent (called a port) to reinforce low bass response. You get more output than you would from a sealed box at any given amplifier wattage. Some people prefer the sound of ported boxes for rock, heavy metal, or any hard-driving music. Ported boxes can deliver deeper bass than sealed boxes, though they need to be much larger than sealed enclosures to accomplish that.
If you want your bass to be loud
Boomy bass has more punch and reverberance in each of its beats. The cone has greater freedom of motion. The port redirects sound from the rear of the cone and adds it to the sound coming from the front, making the bass louder. This increase in efficiency lets you use a smaller amp than you would need with a comparable sealed box to play at the same volume. Another long-term advantage of choosing a ported enclosure is that the air flow keeps the subwoofer cooler, so it will live longer than it would in a sealed box.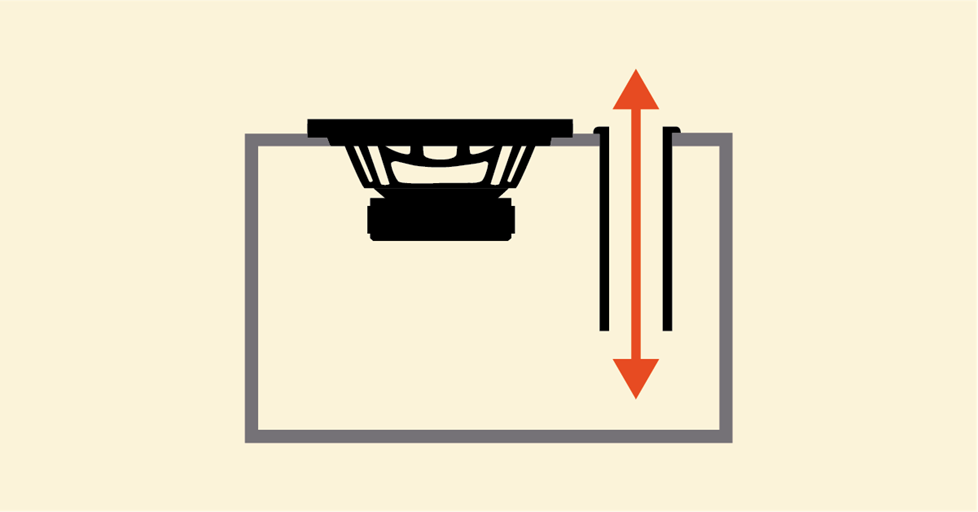 Air flowing through the port adds to the boom
Another reason ported subs hit so hard and deep is that the air flowing in and out of the port creates an audio effect like that made by a whistle or blowing across the mouth of a bottle, and that tone adds to and strengthens the note the cone plays. Ported enclosures tend to be much larger than a comparable sealed enclosure, so space availability becomes a factor when deciding on a ported sub.
[See our selection of ported subwoofer boxes]
Bandpass boxes – for maximum slam
A common question we get from subwoofer customers is, "What is a bandpass box?" Bandpass boxes are a special type of ported box designed for maximum slam. The woofer is mounted inside a dual-chambered box (one chamber sealed, the other ported), with the sound waves emerging from the ported side. The sound that comes out of the port is extra loud within a narrow frequency range.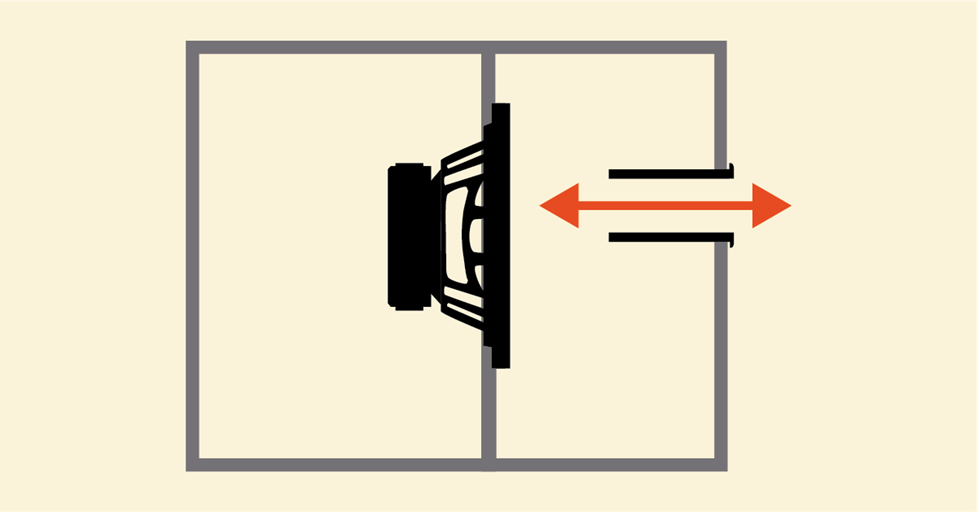 Like a ported box, but louder
Because bandpass boxes are super efficient within that range, they tend to boom. Hard. Their aggressive sound is great for rap, reggae, and hard rock. Not all subwoofers work well in bandpass boxes and they can be tricky to tune. It's usually best to buy a preloaded bandpass box so that you know the woofer and box will work well together.
[See all of our bandpass subwoofer boxes]
Free-air subwoofers
A free-air system (also called "infinite baffle") consists of woofers mounted to a board attached to the rear deck or placed in the trunk against the rear seat. The trunk of the car acts as an enclosure which houses the subwoofer and isolates sound from the back of the speaker, solving the sound cancellation problem of subs without an enclosure.
Free-air systems save space and have flat frequency response. The woofer must be specifically designed for free-air use. The lack of a box makes them more convenient to install, but their power handling levels are usually much lower than their boxed counterparts.
[See all of our free-air subwoofers]
Watch the video
Crutchfield editor Ken explains how to choose a subwoofer enclosure:
So, when choosing the subwoofer and enclosure for your system, don't forget to consider what sound qualities you like in the music you listen to, so whether poppin' loud or humming low, you'll end up getting the kind of bass you want.
Next steps in building your bass system
Now you know why your choice in subwoofer box matters. After deciding what kind of bass sound you want (that is, which type of box), you still need to choose your subwoofer(s). For that, we'll point you to our Subwoofer Buying Guide. If you have any questions or want help selecting your subwoofer or box, give us a shout.