n late February, the center of the headphone universe returned to the "crossroads of the world." CanJam NYC 2023 descended on Times Square and filled Midtown Manhattan's mammoth Marriott Marquis with high-end personal audio gear, experts, and enthusiasts.
CanJam is a traveling show dedicated to a growing segment of audiophiles who prefer headphones. (In other words, my kind of people!)
All the latest and greatest headphones, DACs, amps, and accessories were on hand to audition. These shows are organized by HeadFi, the online hub for the headphone community — and this was my first CanJam since the 2019 show in New York.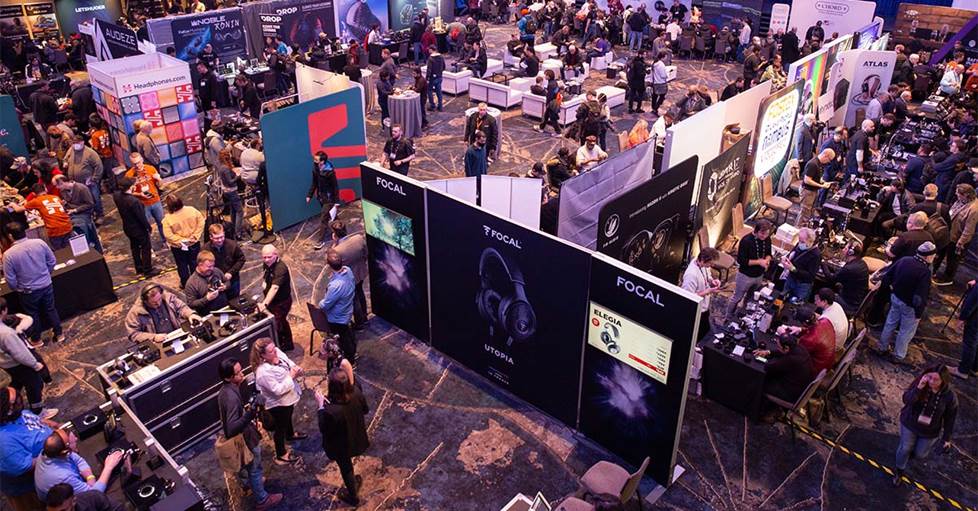 Personal audio aficionados from around the world visited Times Square to audition the high-performance gear on display at CanJam NYC. Photos by J Stoll, Crutchfield
Our trip was jampacked with interesting conversations, enlightening seminars, and LOTs of headphone listening. So, I'll have several stories, profiles, and impressions in the coming months — but I wanted to share a rundown and recap of my weekend while it's fresh on my mind.
Testing out noise-canceling headphones on the trip up to the Big Apple
On Friday, the day before the show, we took an Amtrak from our homebase in Charlottesville, VA. I brought along an array of noise-canceling earbuds to try on the train. Noise cancellation in earbuds has taken a major leap in the last couple years — perhaps best exemplified by the Bose QC Earbuds II.
These earbuds reduce external sounds better than most over-ear noise-cancelers, so they were ideal to curb the throbbing-and-whirring of the train over tracks. And when we arrived with a jolt at Penn Station, I just snapped them into their charging case and threw them in my pocket.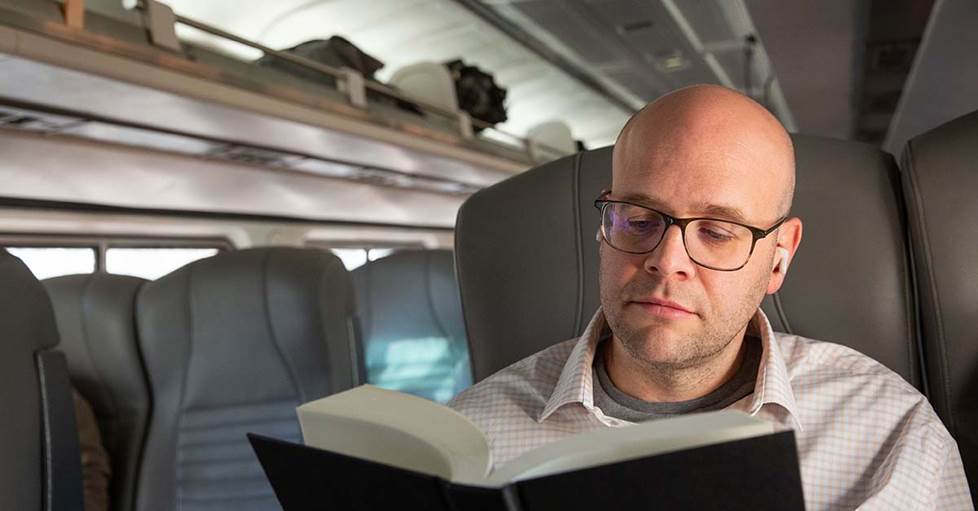 I tested a handful of noise-canceling earbuds for an upcoming article. The QC Earbuds II retained their title as "best earbuds for canceling noise".
The atmosphere at the show
CanJam NYC 2023 reportedly had the largest attendance of any U.S. show in CanJam history, and it showed. Each day, from opening to close, there was never a lull in crowd size or buzz. It was also a younger, more diverse crowd than I typically see at high-end audio shows — but every bit as fervent and knowledgeable.
On day one, the line to get in didn't quite match the around-the-block lines for Hamilton or The Lion King on either side of the Marquis hotel — but it seemed twice the size as the CanJam I attended four years ago. Inside the show, there was a Broadway-esque mood with soft light flooding over the 6th floor ballroom. It cast an intimate, relaxed vibe over the otherwise bustling scene.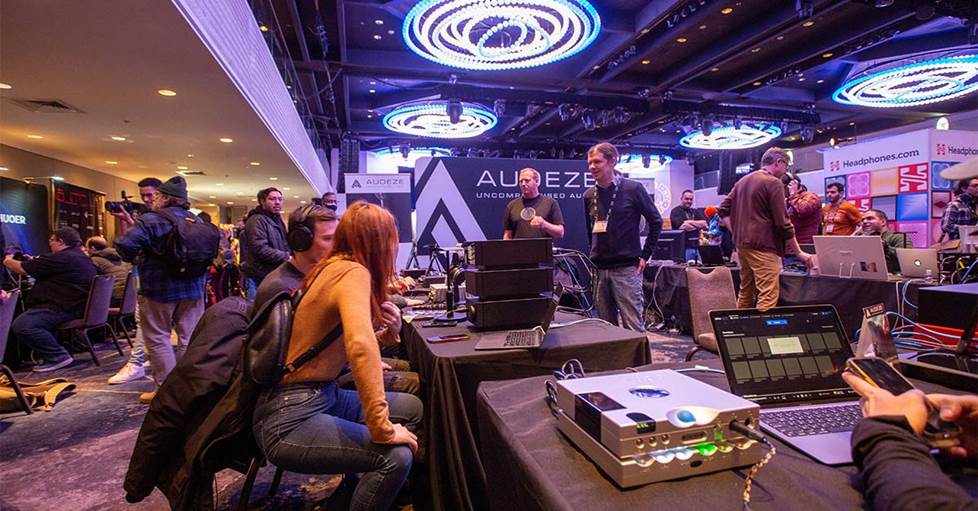 There were long lines at many of the CanJam booths but the friendly, easy-going mood kept us all patient.
Out on the town the night before CanJam
After we arrived in Manhattan on Friday, we hustled our way to the rooftop restaurant at our hotel. There, we met up with Mégane Montabonel, the product manager for Focal headphones. Mégane traveled much further than us, starting with a five-hour flight from southern France to Paris, followed by an eight-hour red-eye flight to NYC.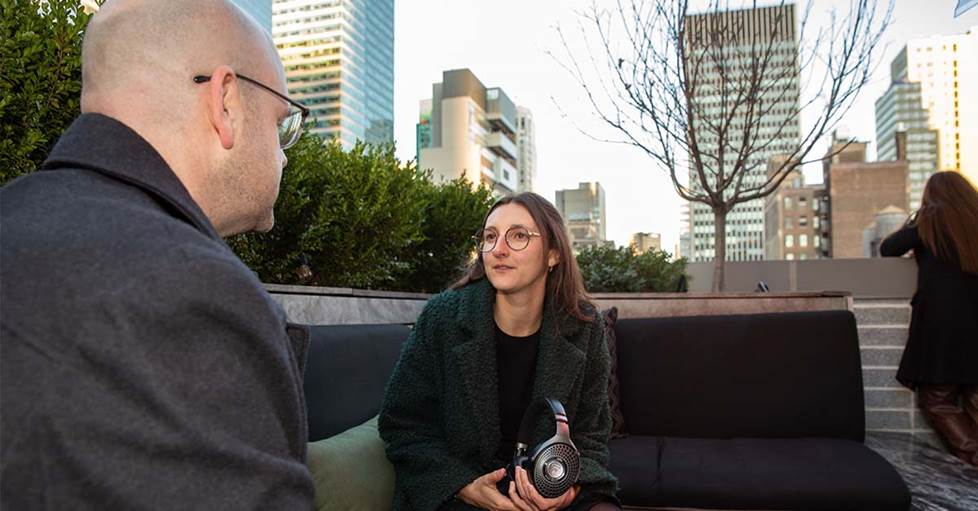 Mégane's role is to shepherd new Focal headphones — like the Bathys — through each step in the creation process.
She explained in fascinating detail how a high-end headphone moves from a mere concept to full production — and sparks a global ad campaign. "When we meet with our research and development team at the beginning of a project," she said, "it's as important to define what we don't want to accomplish. That way we can narrow our focus in on what we can do best from the start."
We'll share our full interview soon with insights on Focal's decision to update their flagship Utopia headphones, along with a retrospective on the development and unbridled success of their first audiophile noise-canceling headphones, the Bathys (Pronounced bah-TEESS). You can read my hands-on review here.
The gear — Focal's impressive setup, Audio-Technica offerings, and an update to a Sennheiser classic
Speaking of Focal, they occupied one of the first — and largest — booths I saw when I entered the CanJam show floor on Saturday. There were lines to try out the newer Utopia and Bathys, but also some of their more established gear, like the gorgeous Clear MG, my pick for "best looking" in the list of top audiophile headphones.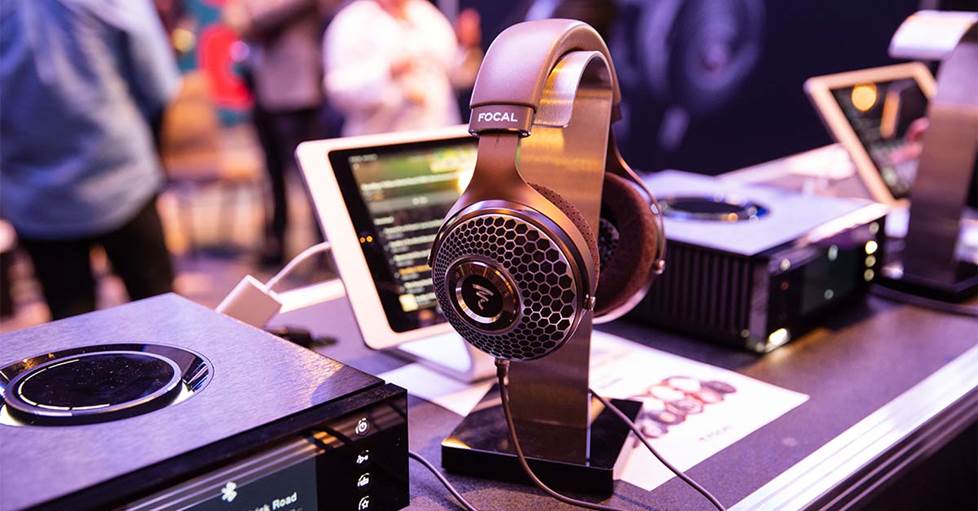 The Focal Clear MG headphones on display at Focal and Naim's substantial setup.
All the wired Focal headphones were driven by the formidable Naim Uniti Atom HE amp. This all-in-one machine uses a beefy transformer to power the top-notch digital and analog circuitry and has streaming music capabilities built in — with a 5" LED display as sharp and vivid as the billboards out in Times Square.
Rivaling the Clear MG's good looks was the collection of wood headphones at Audio-Technica's booth. As well-known as A-T is for their turntables, the company also has a rich headphone history. It was on display here, including their rare W2022 headphone, created last year in limited batch for their 60th anniversary.
We carried these limited edition headphones for a while, but this was my first chance to see them in person. The instagrammable hand-painted designs did not disappoint — and neither did the controlled, natural timbre.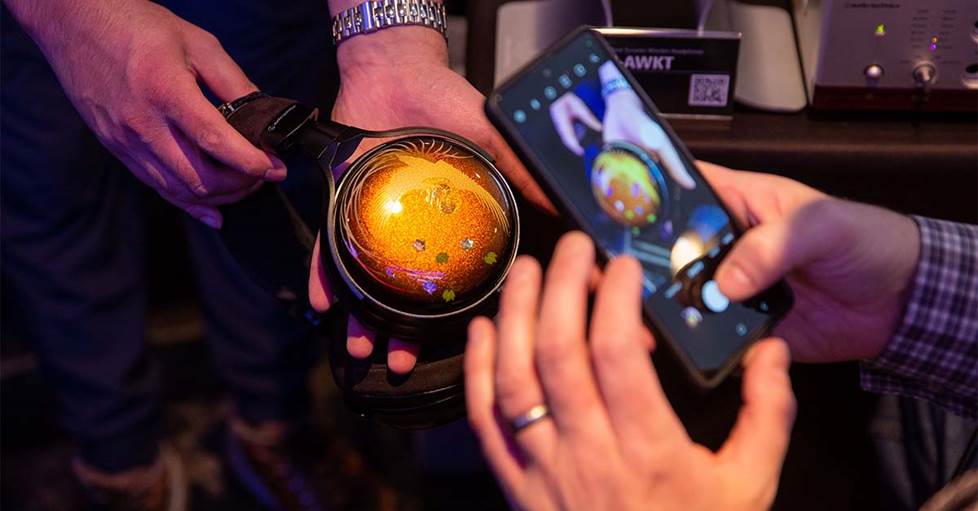 Audio-Technica had their rare 60th anniversary hand-painted headphones on display along with their old standards like the "audiophile gateway" ATH-M50X studio headphones.
Sennheiser brought their highly respected in-ear monitors, including the top-of-the-line IE 900s, superb IE 600s, and the recently released "entry-level" IE 200s. They all sport a similar design and work off the same single-driver principle. The 3D-printed alloy metal IE 600s hit the sonic sweet spot for me, but like I pointed in my review of the new IE 200s, it's amazing how far along Sennheiser can get you at an accessible price.
But it was their legendary "600" line of over-ear headphones that attracted the most attention. This series of headphones has a legacy that goes back decades, and the latest version, the HD 660 S2, was released just weeks earlier. I had auditioned these new open-back headphones before the show, but it was extremely helpful to have them side by side with the previous-gen HD 660 S and original HD 600 headphones.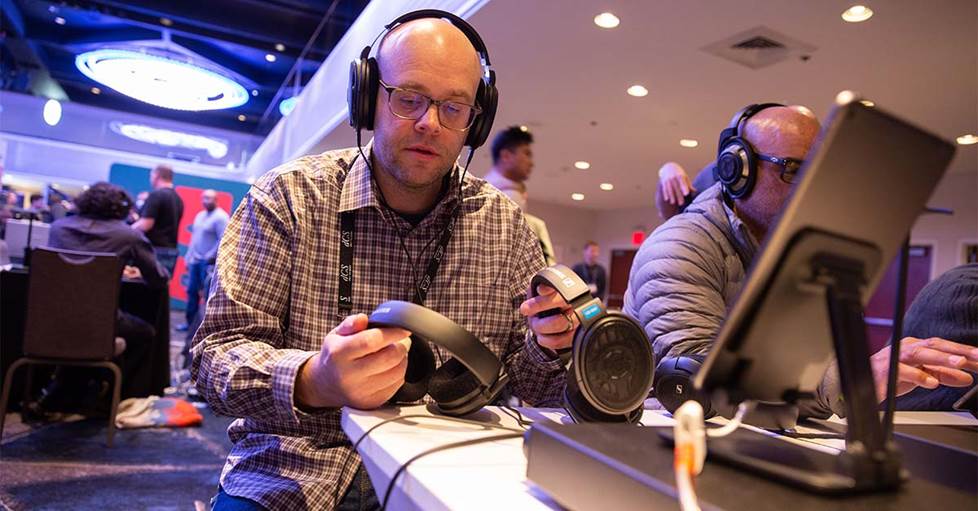 It was nice to compare the similarities and distinct differences between the new HD 660 S2 and the older "600" series classics.
The newer S2 version had noticeably deeper bass, though it still blended well with the rest of the mix, and I heard slightly smoother highs than I did with the other two. All three have a more intimate, forward soundstage than most of the larger headphones at the show. But I affirmed my initial impression that the new S2 version soundstage extends a bit further outside the head than the older models, for some refreshing space between instruments.
At 300 ohms, the S2 'phones need a high-performance amplifier to drive them — and it was a treat to hear them again over at iFi's booth through their top-of-the-line iFi Pro iDSD Signature stereo DAC/streamer/preamp.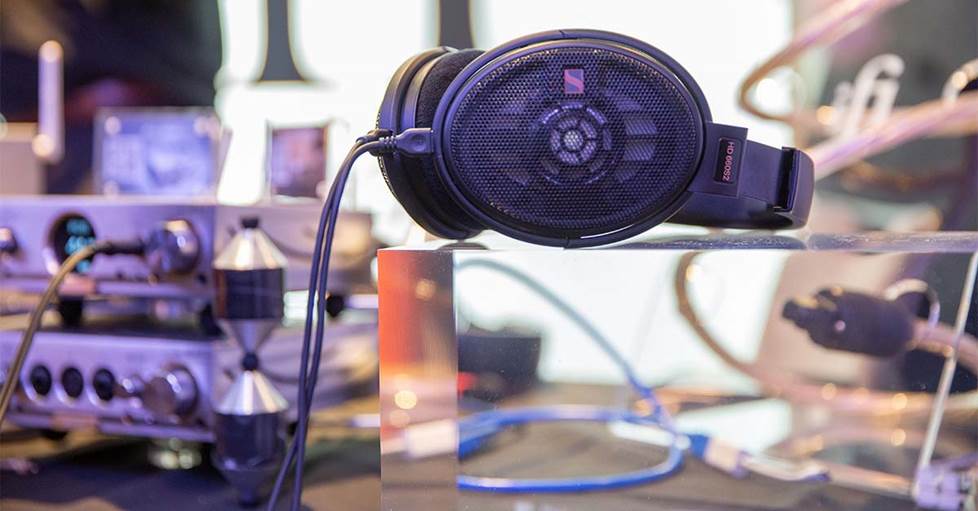 iFi's impressive Pro iDSD Signature DAC in a stack with their super-powerful Pro iCAN Signature headphone amp.
More gear — so much (too much?) to see
The problem with a crowd this size, of course, is that we can all only listen one at a time. At speaker-focused shows like AXPONA, you can pack a roomful of people in for a demo. I couldn't always spend significant time with the gear at CanJam. In fact, to be fair to others, I regrettably skipped some headphones and amps altogether.
I was looking forward to reuniting with my beloved Warwick Acoustics Bravura electrostatic system, which gave me one of my most memorable listening experiences ever. And I didn't get to try the new Yamaha YH-5000SE Orthodynamic headphones, because the lines were two to three people deep every time I passed by. I did see them, though, and even the nice pictures don't do the steampunk-ish design and craftsmanship justice (they're built in Yamaha's grand piano factory in Kakegawa, Japan).
That's one of those good problems, I'd say. The fact that the number of headphone enthusiasts is growing — and seemed to skew younger than a lot of the other Hi-Fi shows. But the crowd could be overwhelming at times, and I know it will be something that CanJam and all the vendors must address for future shows.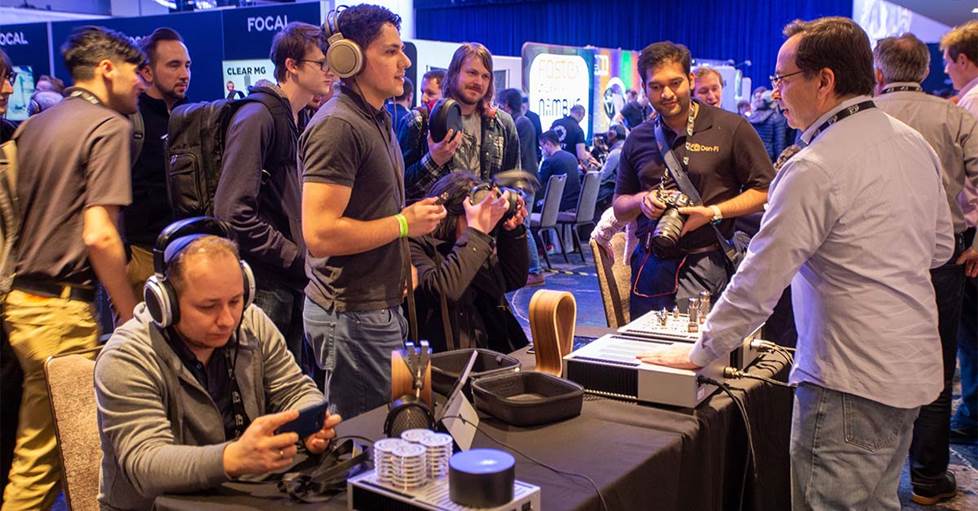 Attendees flocked to booths from specialty companies like Eksonic who makes amplifier/energizers to play electrostatic headphones from Stax, Dan Clark Audio, and Audeze.
Audeze's pro mixing 'phones and Maxwell gaming headset
I moved through the record-breaking crowd over to the Audeze booth. Audeze has grown in stature at CanJam — going from half a table in 2009 to one of the major attractions at this show. But also, their scope has stretched beyond their stellar bread-and-butter audiophile headphones — like the flagship LCD-5 — into categories like pro audio and gaming.
I was recently fortunate enough to interview legendary mixing engineer Manny Marroquin about his collaboration with Audeze on the MM-500 studio headphones, and we talked about how he used them to mix Kendrick Lamar's Grammy-winning album Mr. Morale & The Big Steppers. "I can actually EQ percussion and dial in the 808s, kicks, and snares [with the MM-500 headphones]," Manny told me. "Very few headphones let me do that."
Audeze displayed the MM-500 headphones near my Crutchfield catalog interview with Manny Marroquin.
What makes Audeze headphones stand out is their innovative take on planar-magnetic drivers — which tends to offer effortless, cohesive sound with a strong sense of space. It's one reason their gaming headsets have become so popular. Another reason is the cutting-edge tech packed inside.
Take their brand-new Maxwell headset, recently reviewed by our in-house gaming expert Colin. It has 3D audio built in (The X-Box version is Dolby Atmos certified) that can deliver pinpoint sound localization and give you better directional cues. That didn't help my hopeless, out-of-touch gameplay with the racing game demo Audeze had setup, but I could see how it could be a competitive advantage to a current gamer. (And maybe I'm reliving my glory days, but I'll still challenge anyone who was standing there smirking to a game of Madden!)
The "only at CanJam" moments
But it was another cool feature of the Maxwell that made me say, "I can't believe I was there."
The Maxwell has a beam-forming microphone system that works in concert with an AI algorithm to suppress background noise and make communication clearer. In a demo video, the company shows how well it works next to a noisy blender.
Well, I happened to be talking with Audeze's founder/CEO Sankar Thiagasamudram when Axel Grell of Grell Audio approached. Axel was the former chief engineer at Sennheiser and architect behind many of their classic headphones, who we interviewed at CanJam five years ago. I was at the right place at the right time with my phone camera to capture his initial reaction to the noise suppressing mic technology: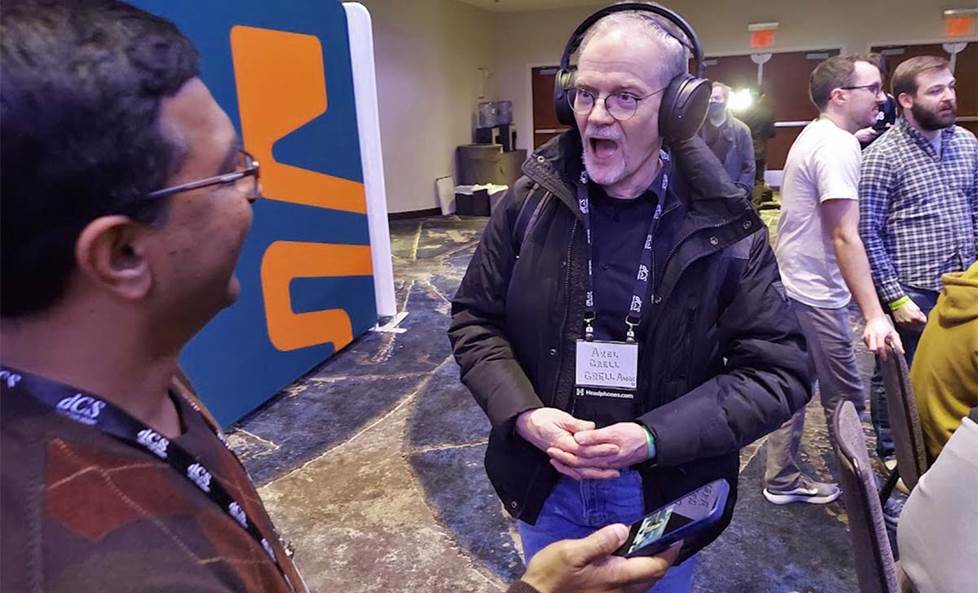 Legendary headphone engineer Axel Grell reacts to a demo of the Audeze Maxwell headset's noise-suppressing mic technology given by their founder/CEO Sankar Thiagasamudram .
Later in the day, I was led to a private suite by iconic speaker and headphone designer Paul Barton, along with his fellow PSB engineer Rob Nicholls to try out some secret new technologies. It was a "pinch me" moment before I even got started.
I can't share everything I saw in that suite, but I can relay my experience with the eye-opening Audiodo personal sound calibration — available right now in the PSB M4U MKII. After a three-minute tone test, it determines how well you can hear lows, mids, and highs in both ears. Then it can tailor the sound to your hearing profile.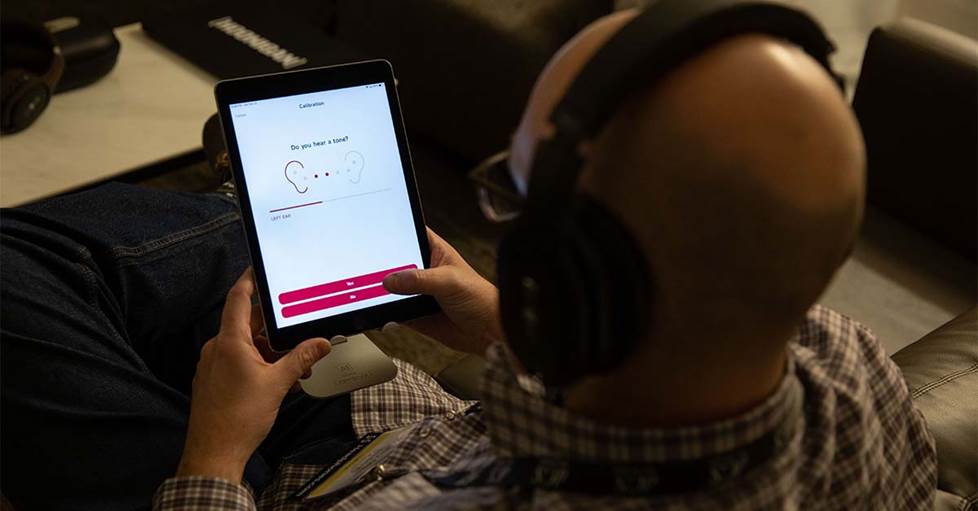 I went through the three-minute Audiodo tone test, then their special technology tailored the sound to my hearing profile for both ears.
I was relieved to learn that my hearing is good for my age — considering I've spent the last 8 years testing headphones, albeit at safe volumes. But there was some lower-end discrepancy between my left and right ears. The Audiodo tech was able to compensate and balance it out. Turning the processing on and off, I could hear how it made the gourd-resonated percussion snappier and more coherent on the Kimi Djabate' afro-beat track "Yensoro."
The experts
It should be noted that candid moments between headphone luminaries happen often at CanJam. It's one of the most brilliant things that Head-Fi founder Jude Mansilla has done with these events. Yes, like other Hi-Fi shows, the gear takes center stage. But Jude — along with CanJam producer Ethan Opolion and team — have cultivated a community that craves engaging, sophisticated conversation about personal audio from the creators, engineers, and designers behind it.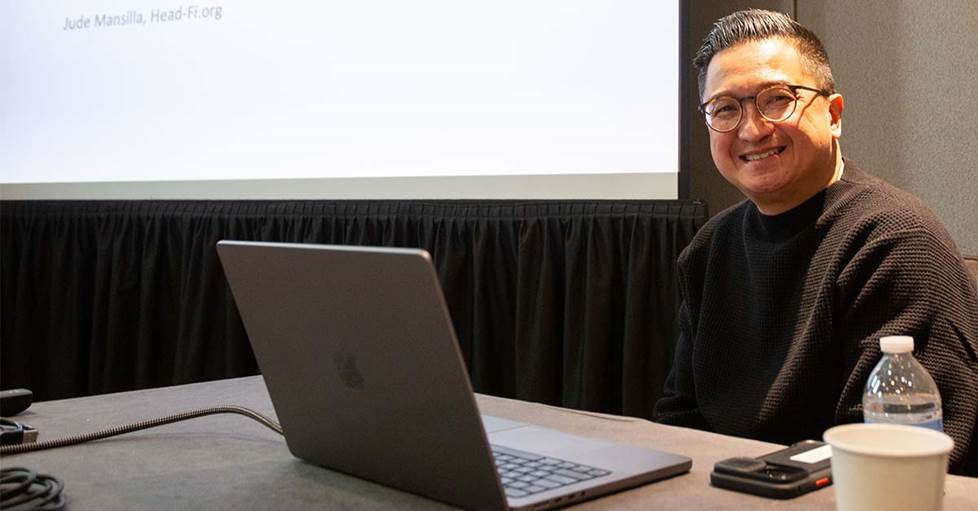 Head-Fi founder and leading headphone expert Jude Mansilla leads a hot-topic seminar on how reviewers use frequency response measurements.
Throughout the weekend, there were a series of seminars, that covered topics like "the architecture of digital-to-analog converters" and "the influence of geometry and headphone impedance on spatial sound perception." Heady stuff. Jude himself set the tone for the weekend's hottest topic — the state of headphone measurements in relation to how we judge headphones.
The Harman Target and the future of measurements
Several things are going on here, and a lot of it relates to Dr Sean Olive, the head of acoustic research at Harman International. Dr. Olive led the years-long series of studies that ultimately birthed the Harman Target curve.
The "Harman Target" is the frequency response preferred by the largest number of people in Harman's exhaustive blind user tests. Harman uses it to inform their own sound tuning — and implemented it to the highest degree when developing the premium Mark Levinson No. 5909 wireless noise-canceling headphones.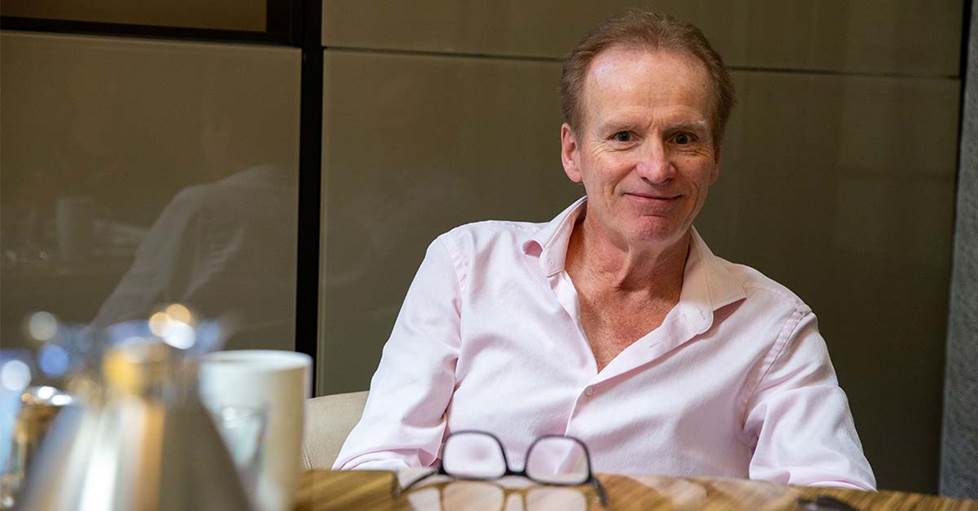 "Rumors of the Harman Target's demise have been greatly exaggerated," quipped Dr. Sean Olive. Over breakfast, we discussed its (uncertain?) future in relationship to new measurement tools.
"We found that on average, the [Harman headphone curve] closely matched the preferred in-room frequency response of a loudspeaker," Dr. Olive said. But there are actually three "flavors" of the Harman Target. A smaller, but significant number of people prefer a bump in the higher frequencies, while another group prefers more bass.
So, there's already some variance and I think that's important. Because the larger measurement discussion over the weekend centered around a) new advancements in capturing frequency response measurements and b) how these measurements relate to our perception of the sound.
The Bruel & Kjaer 5128 Head & Torso Simulator (HATS) has become the new accepted industry standard for measuring the frequency response in headphones. But Harman's testing was done on an older measurement rig, and frequency response graphs from the two simply don't line up. It's created a situation where reviewers and Harman competitors no longer have a baseline or target — which some fear could lead to another "Wild West" era of headphone design and recommendations.
Over the weekend, the discussion culminated in Dr. Olive's Sunday morning seminar where he shared his perspective on the future of the Harman Target. The room was filled with discerning attendees sitting shoulder-to-shoulder with the likes of Jude, Paul Barton, Axel Grell, Sankar and respected online reviewers including Resolve, Crinacle, Ian White (eCoustics), Herb Reichert (Stereophile) and many more. With so many informed opinions in one place, there were many conflicting ideas and concerns.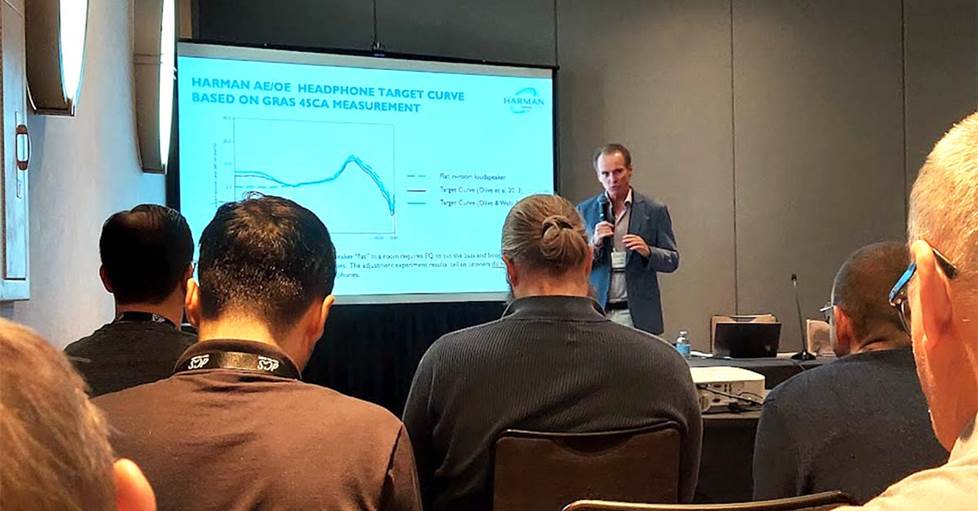 Dr. Olive showed in his seminar that there are actually three different "versions" of the Harman Target.
The weekend's big takeaway
At times the back-and-forth could get heated, but it was always cordial. I interviewed Dr. Olive at the show, and in future articles I'll dive into where it netted out a bit more. But I think in the best moments, everyone took a step back and kept things in perspective.
Because at the end of the day, we are all here to enjoy the music. In Jude's presentation, he pointed out how a strict measurement can't always give you a full picture of the perceptive sound. Sometimes headphones can measure similarly yet sound distinctly different.
It all stems from a good place — trying to apply order to the beautiful chaos of music and audio gear. I certainly grapple every day with how to describe or give a visual representation for something I hear. And this is really important work, that can help people who are making a serious investment in something deeply personal...that they're going to spend a lot of time with.
But it's precisely because headphones are so personal that we can't get too hung up on the squiggly lines. I don't say that to demean anyone's hard work — the measurements keep us all honest and on the same page. Still, we also know there's more to sound than the frequency response, and certainly more to headphones. (For some, fit and feel are as important as anything else.)
I found it refreshing to hear the experts, who travel deeper into the weeds than all of us, say as much. There's a headphone out there for everyone. I guess we all just have to keep coming to CanJam — to audition, debate, laugh, catch up, and get caught up — until we find it.
We're here to help
Have questions or just want to talk headphones and audio? Contact us today.
Our expert Advisors know this stuff inside and out. And free lifetime tech support is included with your Crutchfield purchase.