One of our Advisors at Crutchfield's Norton, VA facility, JC, is a loud music enthusiast. And he drives a loud car as well — a 2016 Mustang EcoBoost. The problem for him was that the factory sound system couldn't really get very loud, distorted when it was turned it up, and had no bass. His attempted solution? "I wanted a replacement that not only was going to give me loud bass, but also have significantly more over-all volume and clarity of sound."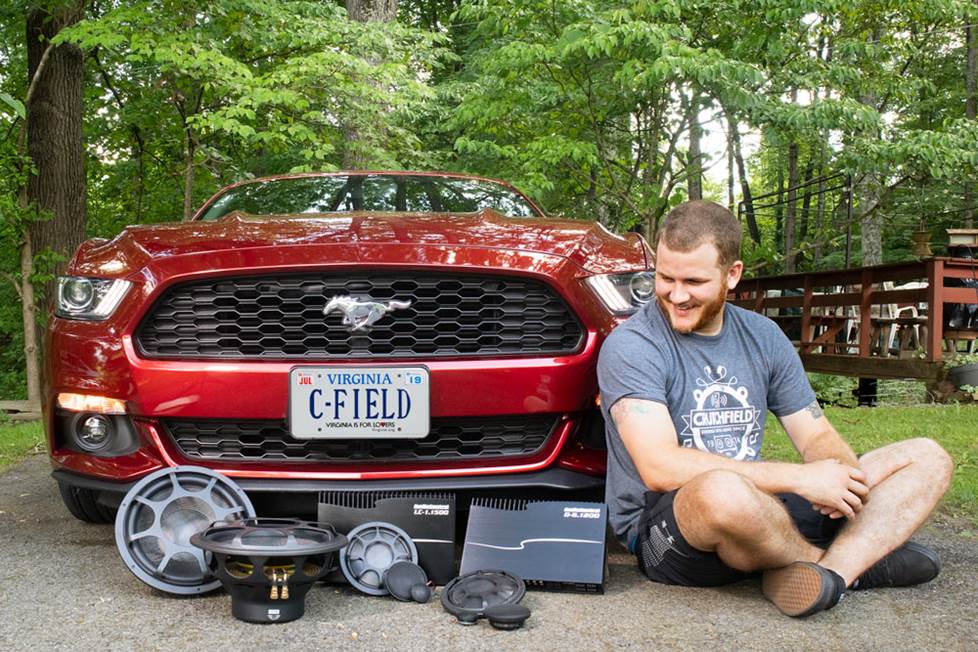 Editor's note: JC is no longer with Crutchfield, but this is his story and it's a great one.
The best in sound and volume
JC is a big-time basshead. He admits with a sheepish grin: "I love the kind of competition-level bass that can tick off the neighbors." But while he knew he wanted powerful subs, he didn't want to sacrifice clarity. He chose Morel speakers and subwoofer because he wanted the best of both worlds — loudness and sound quality. The AudioControl amps fulfilled his desire to have the customization control to tweak and tune the sound to his personal satisfaction. "I also want to tic-off the neighbors."
Once we heard his plans, we set out to help make it happen. Crutchfield provided the Morel speakers and subs, while the AudioControl graciously supplied their gear for JC's installation. And JC provided the day of gratifying DIY.
Eight speakers and two powerful amps
In addition to the 3-way component system, JC fit in two monstrous 12" Morel subwoofers — that's eight drivers in all. Power was going to be key, so he went with a powerful 1500-watt sub amp and a 6-channel DSP amplifier, both from AudioControl, to drive and control it all.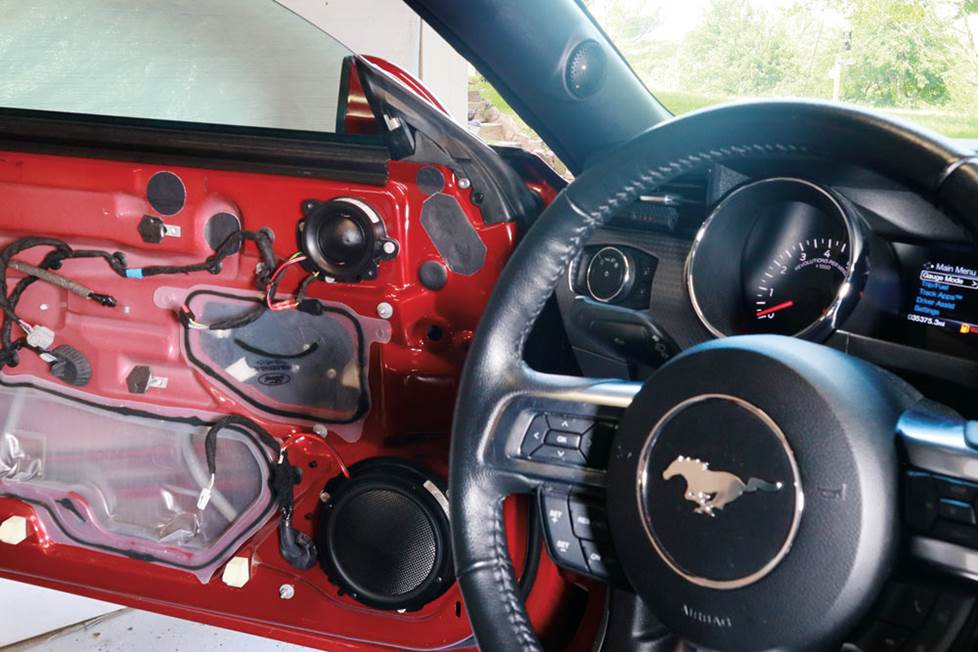 Meticulous application of patience
JC took his time installing everything neatly with tight connections and wiring hidden under the carpeting. Also, putting in a 3-way speaker system involved a bit of customization of the Mustang's front doors and pillars. This took some time, and JC wanted to do it right.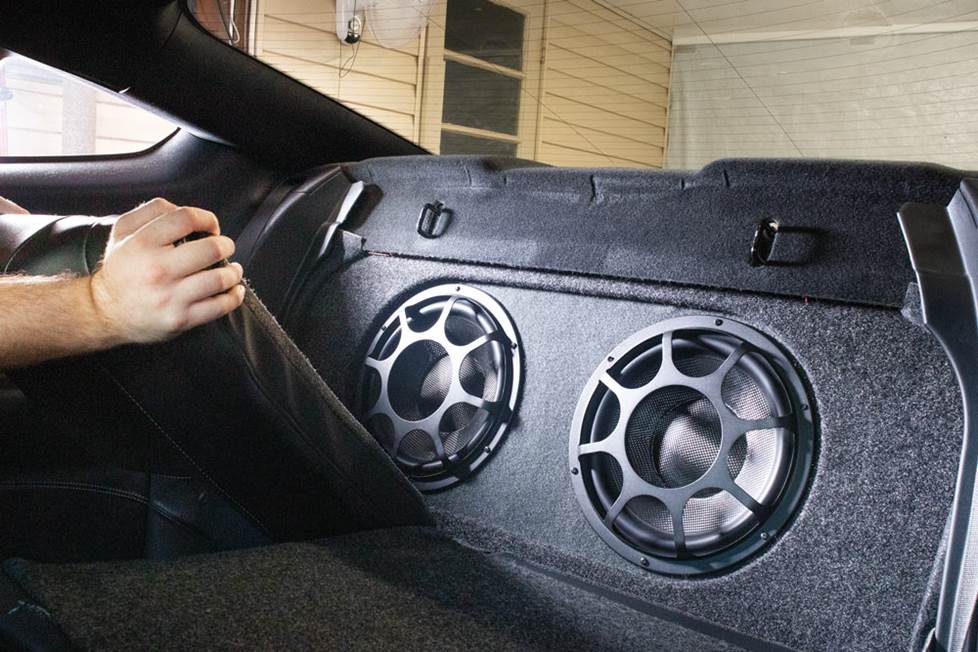 There were a lot of balls to juggle in this installation
In addition to the tweeters, midrange drivers, and mid-bass speakers, JC also installed two monstrous 12" Morel subwoofers — that's eight drivers in all, for a stereo 4-way system. No wonder he picked out the powerful 1500-watt AudioControl subwoofer amp and the 6-channel DSP amplifier to control it all.
Let's take a look at each piece of the system.
Morel Virtus 603 speakers
Morel speakers are each hand-made and tested to produce the most musical and most powerful sound possible. Each set of the Virtus 603 components can handle up to 140 watts RMS of power, so JC was able to achieve his desired level of loud. The combination of the tweeter, midrange driver, and woofer, plus the high-tech crossover, reveal subtle new details in music. It's like giving JC a brand new collection of music to explore.
Morel Ultimo SC subwoofers
JC installed his two Morel Ultimo SC subwoofers into a custom-built enclosure that actually takes the place of the rear seatback and blasts bass throughout the vehicle. These subs are designed to handle a ton of power, so JC wired them to present a two-ohm load to the amplifier for maximum output. Each subwoofer features a hybrid paper-carbon fiber composite cone and unique voice coil design that contribute to the sub's high-quality sound and toughness.
AudioControl LC-1.1500 mono amplifier
AudioControl is a company that makes practical and reliable gear that delivers on performance, no matter how complex the features. At first, JC left his car's factory stereo system intact — the AudioControl amplifiers can handle the factory system's amplified signal for their inputs. As for output, the LC-1.1500 subwoofer amp can dish out up to 1500 watts RMS, so he can definitely bother people if he wants to.
Digital signal processing (DSP) for the win
Let's be honest: the only way to achieve OCD-quality sound in a car is by employing a DSP in the system. A DSP lets you:
improve the frequency response with an EQ,
correct image placement with time-alignment,
and balance the sound with individual loudness adjustments.
This 6-channel wonder, the AudioControl D-6.1200, supplies power and ultimate control over the sound of JC's tweeters, midrange, and mid-bass speakers. He downloaded AudioControl's control app, plugged in his laptop, and started on the fun and challenging road to sonic bliss.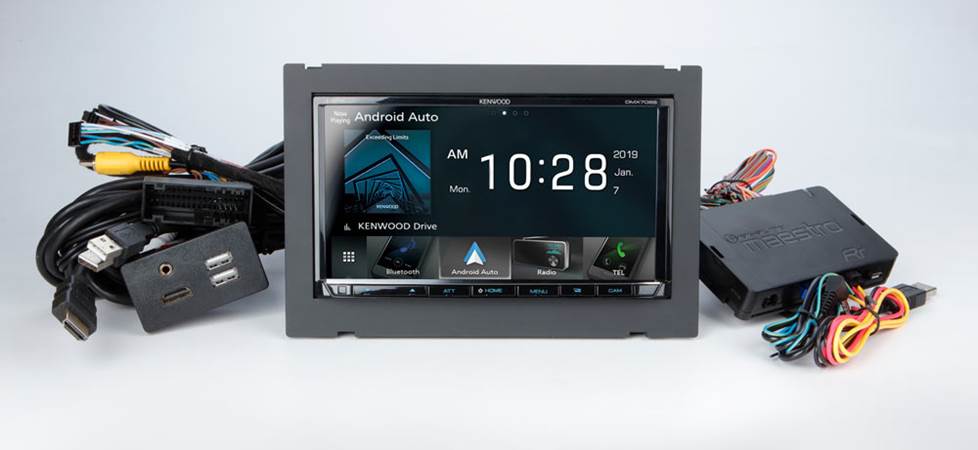 A new stereo to tie it all together
Initially, JC wanted to keep his factory stereo, because it controls so many of the Mustang's functions and features. However, he quickly learned that this wouldn't be possible because Ford plays artificial engine noise through the factory stereo. It's Ford's way of making the efficient, but super-sporty, 4-cylinder turbocharged engine sound like a full-throated V8.
Had he kept the factory stereo, he would've run the risk of the engine noise being blasted through the subwoofers, destroying his bass output. Not good.
Luckily, there was an easy solution to this problem. iDatalink's Ford kit and Maestro radio replacement module. Using these two interfaces, JC was able to install a new Kenwood stereo and keep all of the factory features and functions that he wanted. He was able to keep the factory dash centerpiece and buttons, but bypass the Mustang's artificial engine noise. The Kenwood stereo provides a direct feed – and clean signal – to the new amplifiers. And JC can take full advantage of the AudioControl DSP for ultra-precise sonic control.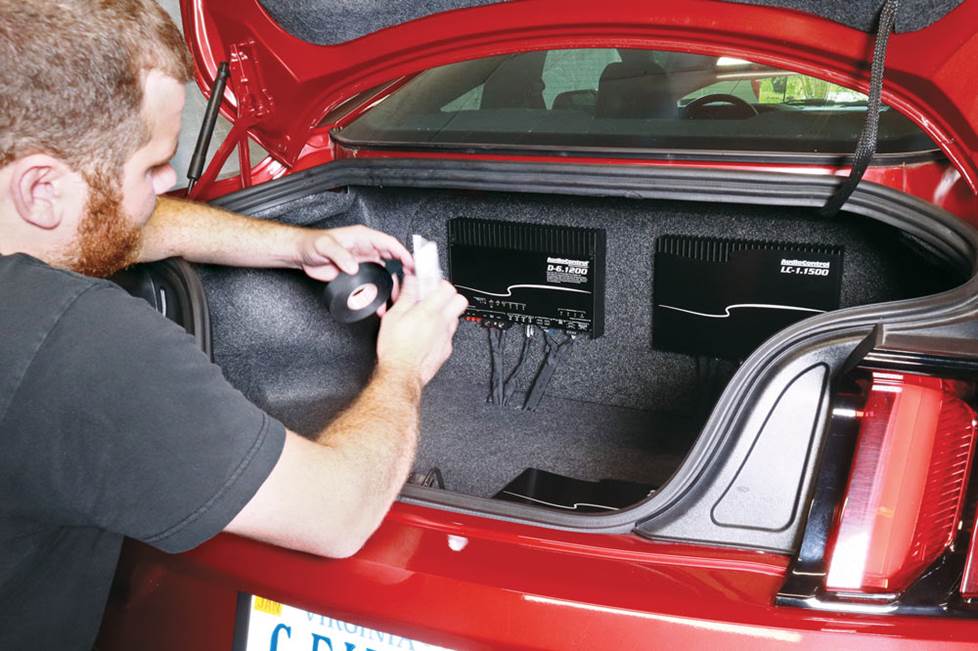 What did we learn here?
Right out of the box, with no tuning, it sounded better than the factory system. After some preliminary tuning — setting the crossovers, speaker placement, time alignment, and tweaking the EQ using the built in real-time analyzer — it sounds superb. "Unfortunately, I'll probably be tweaking the tune every other day or so forever. But that's okay, I love it."
Call us to upgrade your sound system
JC's new system was a dream come true. Crutchfield can help you create your dream system, too. Call us.
---
Vehicles in the Custom Car Showroom are submitted by customers and fans, and edited by Crutchfield writing staff. You can find more of these articles on the Showroom main page.