Taking a bowrider's stereo from okay to awesome
A new receiver, speakers, an amp, and a sub bring big sound to this small boat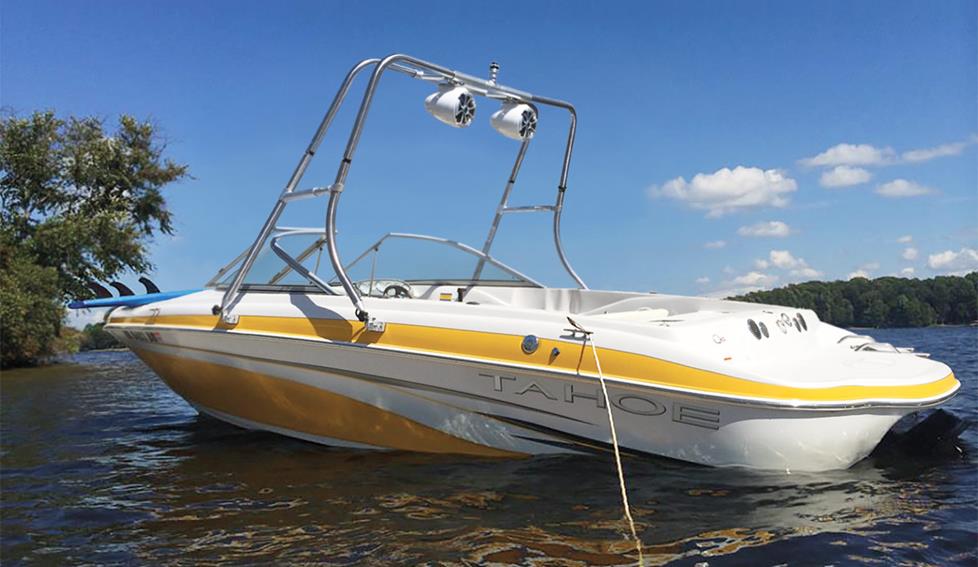 In a nutshell: We cranked up the fun on an already nice boat by installing a new audio system, including a Kenwood stereo and a full amp and speaker system from Wet Sounds. We can help you plan your boat's stereo upgrade, too!
With proper maintenance and care, a good boat can give you and your family years of sun and fun on the water. Alas, the same cannot be said for the boat's factory stereo. Stock steros aren't that great to begin with, and over the course of a few seasons of hard use, they're going to wear out quickly.
This was a fantastic opportunity to show some ideas for planning and executing a total system overhaul
Our friend Steve recently decided to replace his 20-foot Tahoe bowrider's aging factory stereo. After we talked a bit, we realized that this was a fantastic opportunity to show our readers a few ideas for planning and executing a total system overhaul. We told him that if he would bring us the boat, we would fill it with gear.
Steve towed the boat to our Charlottesville store, backed it into an install bay, and let us at it. A boat installation like this one offers some unique challenges, but it's nothing a skilled DIY-er can't handle.
It all starts with the stereo
The original receiver still worked (marine stereos are tough), but it was seriously outdated. A new marine receiver will be a real step up. We found one from Kenwood with built-in Bluetooth® connectivity and Apple® and Android™ compatibility. It fit into the existing opening, so installation was easy.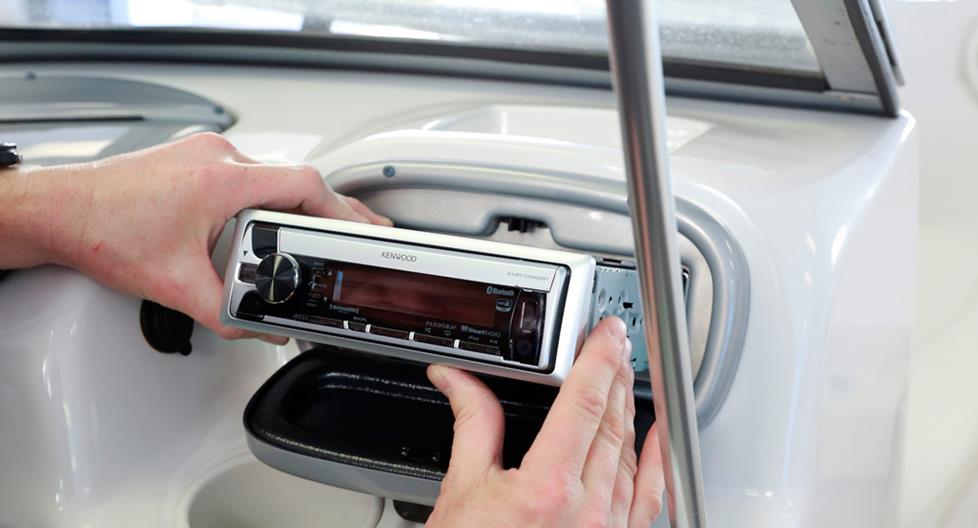 A water-resistant cover is a good idea, even for marine-rated receivers
More & better speakers — with lights
The original aft speakers had aged badly, and one of them even had a torn cone. The Wet Sounds 6-1/2" LED speakers we chose fit right into the existing openings, but we had to cut new holes for the speakers we installed in the bow. This took some work, but the style and sound improvements were well worth it.
The RGB music controller makes your speakers flash with the beat
We also installed a Wet Sounds RGB music controller. This handy remote controls your LED speakers using the most advanced PWM remote control technology. It's designed for boaters, with low power consumption, anti-interference circuitry, and long-distance transmission range. Just plug the audio cable from your marine receiver or an Apple® or Android smartphone into the 1/8" (3.5mm) stereo plug on the controller. Use the remote to choose your favorite accent color, or explore five multi-light color change modes or three music modes — you can set the mood or set the lights to react to the beat of the music.

We used a template to create the bow speaker openings
Big bass in just the right place
A high-performance system like this one needs powerful bass to fill out the sound. We considered installing a free-air subwoofer in the transom, but a rugged 10" Wet Sounds powered sub (no longer available) fit neatly under the port-side dash. It's a much easier installation, and it can be removed during the winter. The package includes a wired remote control, which we attached to the side of the sub with Velcro. You can mount the remote at the helm, or wherever works best for you and your boat.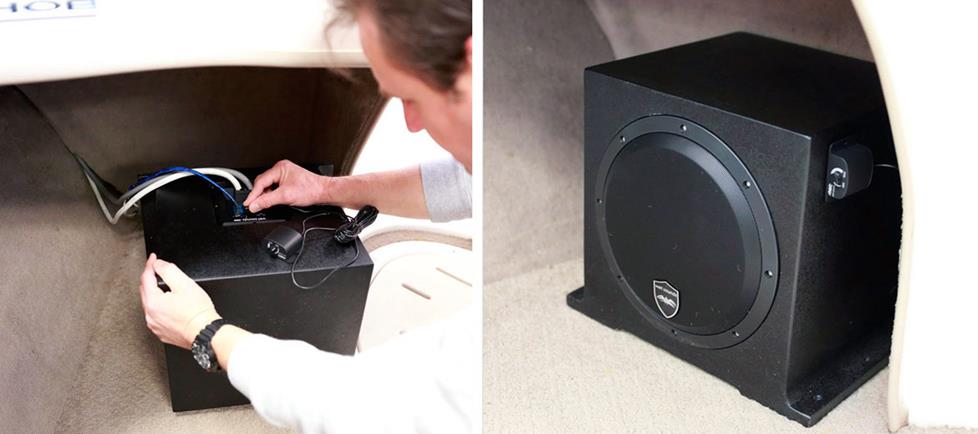 Storage cubbies are great places to install marine subwoofers
A few hours with the tower
Assembling the tower and wiring the two Wet Sounds Icon 8 speakers took three people and a good bit of time, so keep that in mind as you plan your installation. We tuned the system to sound "bright" in the shop, but that will balance out nicely with the engine noise when the family's out wakeboarding.

We used swiveling mounts to attach the Wet Sounds Icon 8 tower speakers to the new wakeboard tower
Adding an amp
To power all these new speakers, we chose a Wet Sounds marine amplifier. This compact amp is made for marine use, with a conformal-coated circuit board, a sealed, salt-water resistant heat sink, and stainless steel hardware. The result is an amp that will stand up to salt, spray, high temperatures, and high volume levels. We bridged the front two channels for the four 6-1/2" speakers, then used the used the remaining two for the tower speakers.
We mounted the amp and the RGB music controller on a piece of black MDF board, then secured that to the hull in the transom storage locker. Installing this way will make it a lot easier for Steve to remove the entire assembly when he stores the boat during the off-season.

Marine-grade wiring ensures that the amp will be working as long as the boat stays afloat
Ready to crank up your boat's audio system?
If you're tired of lousy sound, check out our selection of marine audio gear. If you're not sure what's going to be best for your boat, ask one of our Crutchfield Advisors. There are a lot of choices out there, and we're here to help you create the marine stereo of your dreams. Just give us a call.