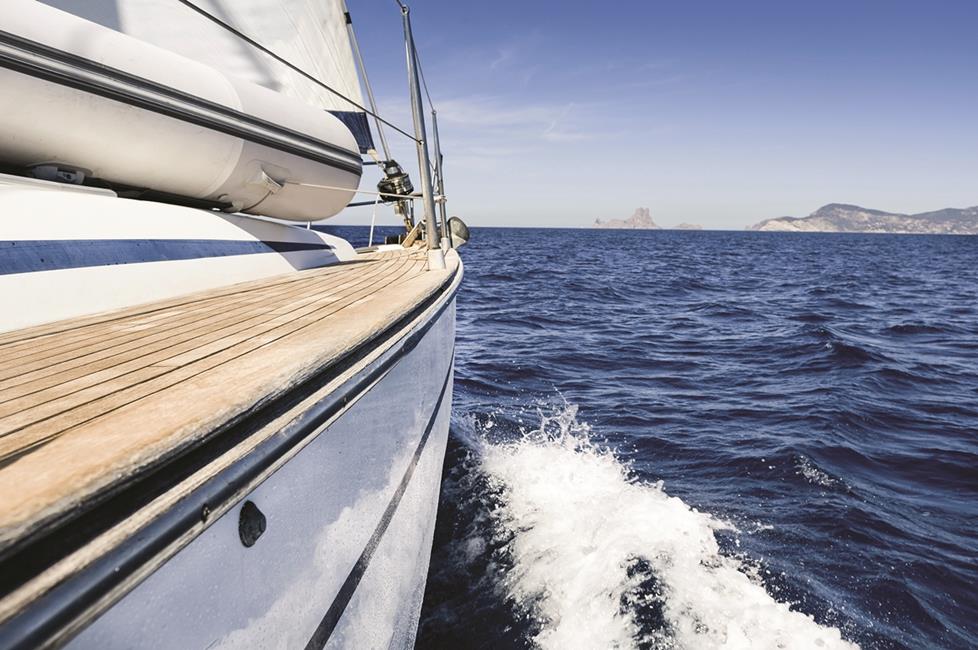 In a nutshell: Founded in New Zealand in 1998, Fusion is a company dedicated to bringing high-performance audio to the marine market. When it comes to building rugged, great-sounding marine audio gear for your boat, the Fusion crew really gets it.
Everything begins with the boat
There are basically two ways to produce a top-quality marine receiver:
Start with a good receiver and adapt it for use on a boat or,

Start with the boat and work from there to build a good receiver.
Fusion takes the latter approach, which is why their receivers offer so many features that serious boaters appreciate.
The same goes for speakers, subwoofers, amplifiers, and remotes. Fusion first determines what a piece of gear needs to survive on a boat, then designs it to thrive in challenging conditions. The end result is audiophile-quality sound from a system you don't need to worry about when the weather gets rough.
True Marine™ assurance
When Fusion talks about the durability of these products, they're not just talking. The company stands behind their True Marine products with a remarkable 3-year warranty.
---
Get to know the gear
Here's a quick overview of the Fusion line of marine audio gear. Click on any link below to learn more, or visit our Fusion brand page to take a look at our entire collection of Fusion marine products.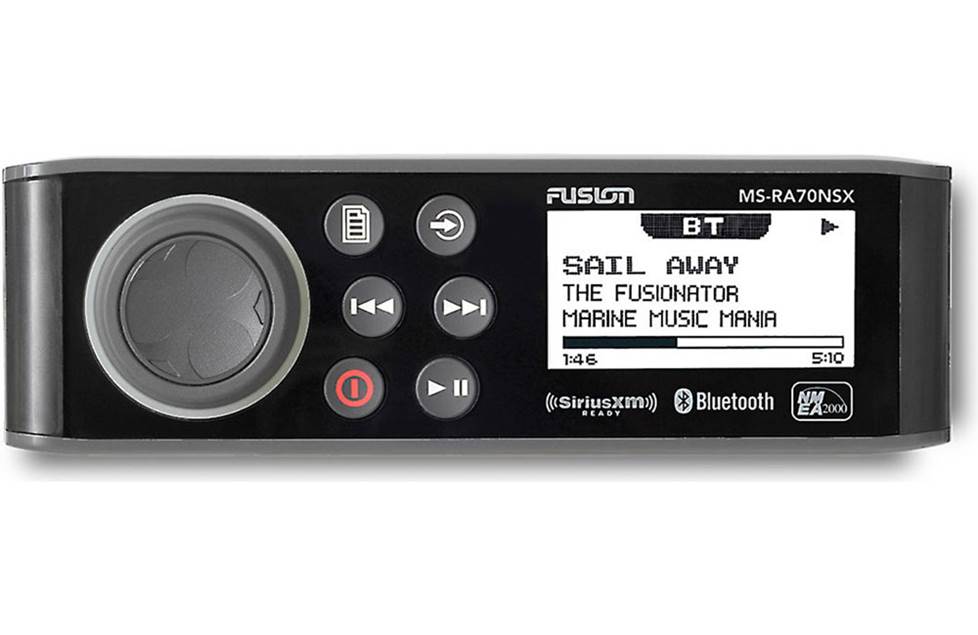 Fusion marine receivers bring great sound and functionality to your boat
Marine receivers
What makes Fusion marine receivers different? Lots of things, starting with FusionLink, which lets them partner with navigation electronics. Other features include Zone Control to adjust volume in different parts of the boat, plus compact, ultra-efficient, and powerful Class-D amps in the 600/700 series models.
Whether you're looking for a DVD/CD player, a full-featured digital media receiver, or a simple receiver that lets you enjoy music from your phone or other device, Fusion has the receiver that's right for you and your vessel.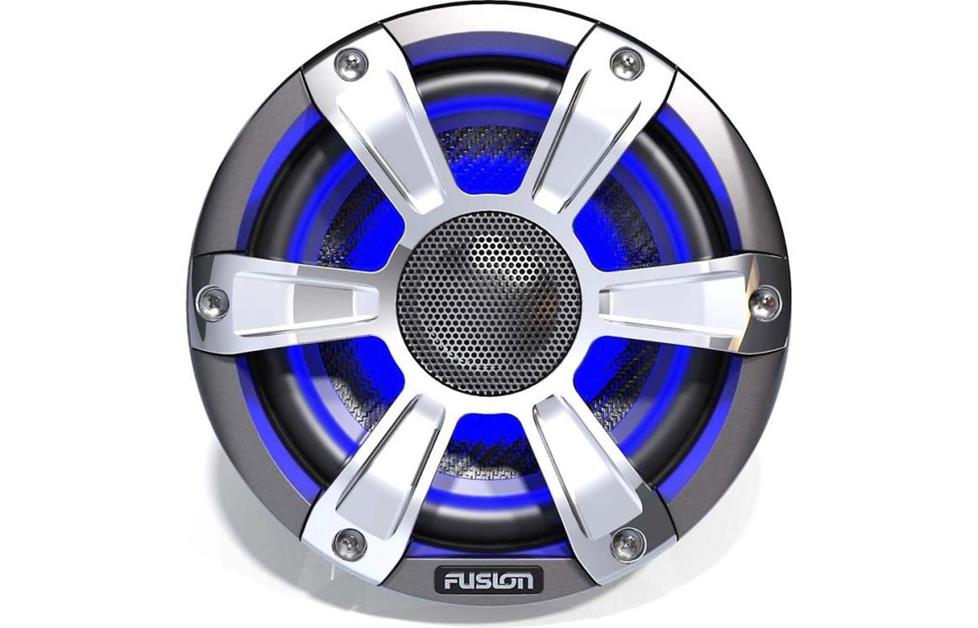 With plenty of power and switchable blue or white LED lighting, these rugged Fusion speakers will be the life of the party
Marine speakers
A boat can be a rough place for speakers and subs. Heat, humidity, salt, spray, and high-pressure hose-downs at the dock can shorten the life of any speaker that's not built to be there.
Fusion marine speakers and subs are designed to meet the toughest standards for UV stability and salt/fog resistance. Oh, and they sound great, too.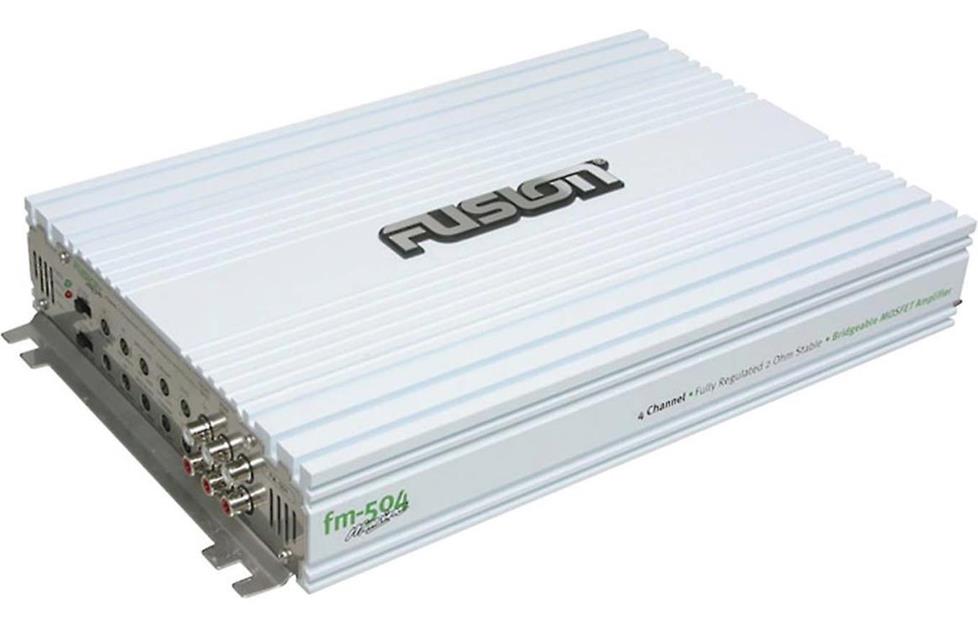 Adding a Fusion marine amp to your boat's system will make a big difference in how you hear your music
Marine amplifiers
Fusion marine amps bring out the best in your music while keeping out the moisture that turns lesser equipment into ballast. Heat-tempered, conformal-coated circuit boards and gold-plated connectors ensure performance and long life.
Whether you're adding more "oomph" to a pair of speakers or adding a subwoofer for richer, fuller bass, these rugged amps will bring your marine audio system to a new level of depth, clarity, and overall quality.
Marine remotes & more
A remote control is a wonderful thing to have on a boat, especially when you're on a larger vessel. Fusion marine remotes provide handy control from a compact device that can be mounted in a place of the captain's choosing.
Fusion also offers a wide array of marine-rated cables, adapters, face covers, and other accessories designed to help you get the best from your Fusion marine audio system.
Questions?
To learn more about Fusion marine audio gear, contact our Crutchfield Advisors. There are a lot of choices out there for your boat, but we're here to help you create the marine stereo of your dreams. Just give us a call or chat!