Best 5.1 sound bars for 2023
Space-saving alternatives to a traditional surround sound system
In this article: Our best 5.1 sound bars:
Can 5.1 sound bars really compete with multi-speaker surround sound systems? I'll answer that question and give you some tips on what to look for.
You've probably heard the term "5.1" used to describe surround sound systems that include an AV receiver, five speakers, and a powered subwoofer.
The five speakers – three up front and two behind you – reproduce different parts of a movie or TV soundtrack. The mix of front and rear sounds pulls you into the story unfolding on your screen. The subwoofer (that's the ".1" part) delivers the exciting deep bass sounds.
We've noticed that a lot of people use the term "5.1" in a generic way, to refer to surround sound in general. That makes sense, since 5.1 has long been the most popular and prevalent surround sound format.
The five full-range channels are the bare minimum for surround sound. Of course some surround sound formats divide the soundtrack into more than five channels. To learn more, please read our in-depth article about surround sound formats.
What is a 5.1 sound bar?
Technically, it's a sound bar that has five discrete full-range speakers and a subwoofer. The products highlighted in this article are our top picks for folks who want a sound bar that does genuine surround sound. Not just 5.1, but at least five channels of surround sound.
Some of the items featured here provide more than five full-range channels. Two of them, the Sonos Arc and the Sennheiser AMBEO, don't come with a subwoofer. That means they don't give you 5.1 sound until you add an optional sub. That's a plus, however, if you don't really want a sub or don't have room for one. You still get surround sound.
Most 5.1 sound bars have the surround speakers contained within the bar. They also have multi-channel amplification and surround sound decoding, just like a home theater receiver.
All 5.1 sound bars have front-firing speakers. Most have side-firing speakers that are used to bounce rear channel sound off your walls. Some also have up-firing drivers to bounce sound off your ceiling.
That's a lot of speakers housed in one bar. But if they're all in front of you, how do they make the rear-channel effects sound like they're coming from behind your head? Manufacturers us some combination of the following techniques:
Separate speakers for the rear-channel information, positioned to bounce sound off of your side and rear walls.
Room calibration. This ensures that the reflected rear-channel sounds are in sync with the front-stage sounds.
Digital signal processing that increases your perception of spaciousness and depth.
Some 5.1 sound bars come with separate wireless rear speakers. And some, like the Sonos Arc, give you the option of adding separate rear speakers.
As you shop, carefully read the product descriptions to understand how each sound bar provides surround sound. To help you narrow things down, here's a link to sound bars that have discrete drivers for left, center, right, and surround channels. Some of these also provide height-channel speakers.
Are 5.1 sound bars worth it?
For the cost of some 5.1 sound bars, you could get a complete receiver-based surround sound system. But then you'll have the challenge of placing all those speakers and running the wires to them. That might not be a problem in your man cave. But will it be practical or décor-friendly in your living room?
Home theater purists tend to prefer traditional surround sound setups. But look carefully. You'll see that a lot of technology has trickled down from AV receivers to 5.1 sound bars. A 5.1 sound bar is definitely worth it if what you want is impressive TV sound without all the speakers and wires.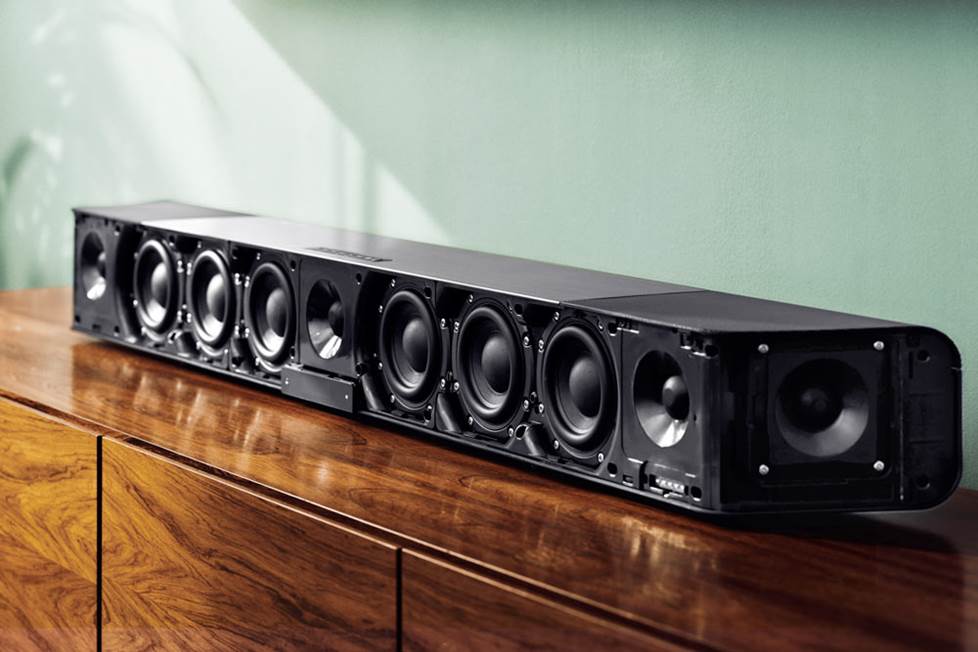 Look at all the high-quality speakers inside the Sennheiser AMBEO | Max.
What to look for
Here are the key features for 5.1 sound bars. For more tips on how to shop for sound bars, please read our in-depth sound bar buying guide.
HDMI inputs – With a wall-mounted TV, you'll probably want just one HDMI connection to the TV. That means you'll be plugging your cable box and other video components into the sound bar. And you'll probably be using the sound bar remote to control your system.
Using the sound bar as your video device connection hub works well, unless you have more devices than your sound bar has HDMI inputs. Then you'll be tempted to connect some devices to the bar and some to the TV. You may find yourself in remote control hell. If you can't find a sound bar with enough HDMI inputs for your collection of devices, you might be better off with a receiver.
Dolby Atmos – Dolby Atmos is a surround sound format that allows for more precise placement of sounds throughout your room, including the space above you. It's designed to be more emotionally engaging than previous generations of surround sound technology.
To place sounds above you, Dolby Atmos sound bars have two or four up-firing speakers that bounce the height sounds off of your ceiling. The height speakers add an extra digit to the surround sound formula, as in 5.1.2 or 5.1.4.
To fully enjoy movies or shows that have Dolby Atmos soundtracks, you'll need a Dolby Atmos sound bar. You'll also need a smart TV, Blu-ray player, media streamer, or game console that supports Dolby Atmos. And you may need to upgrade your Netflix (or other streaming service) plan to a level that includes Dolby Atmos. Be aware that the height speakers don't work very well in rooms with vaulted ceilings.
ARC vs eARC

| | ARC | eARC |
| --- | --- | --- |
| Type of cable needed | HDMI | HDMI with Ethernet |
| Surround sound formats | Compressed 5.1 (standard Dolby Digital & DTS) | Uncompressed 5.1 and 7.1 (Dolby TrueHD & DTS-HD Master Audio), and immersive audio (Dolby Atmos & DTS:X) |
eARC – Do you play Netflix and other video streaming services from the apps on your smart TV? If so, both your TV and your sound bar should have an eARC HDMI connection.
Without eARC on both sides, The TV can't can pass uncompressed surround sound formats like Dolby Atmos, Dolby TrueHD, and DTS:X from your TV to the decoder inside the bar. With a standard ARC connection or an optical digital audio connection, you'll have to settle for compressed surround sound formats. To learn more, read our article about eARC.
The alternative way to enjoy the uncompressed formats is to connect an Atmos-compatible media streamer, cable box, or other device to one of the sound bar's HDMI inputs. Then the sound bar passes the video along to the TV.
Room correction – Most of the 5.1 sound bars featured in this article include automatic room correction or calibration to help you get the surround sound dialed in.
Our best 5.1 sound bars
Here's a look at our top picks. Be sure to check out the customer reviews.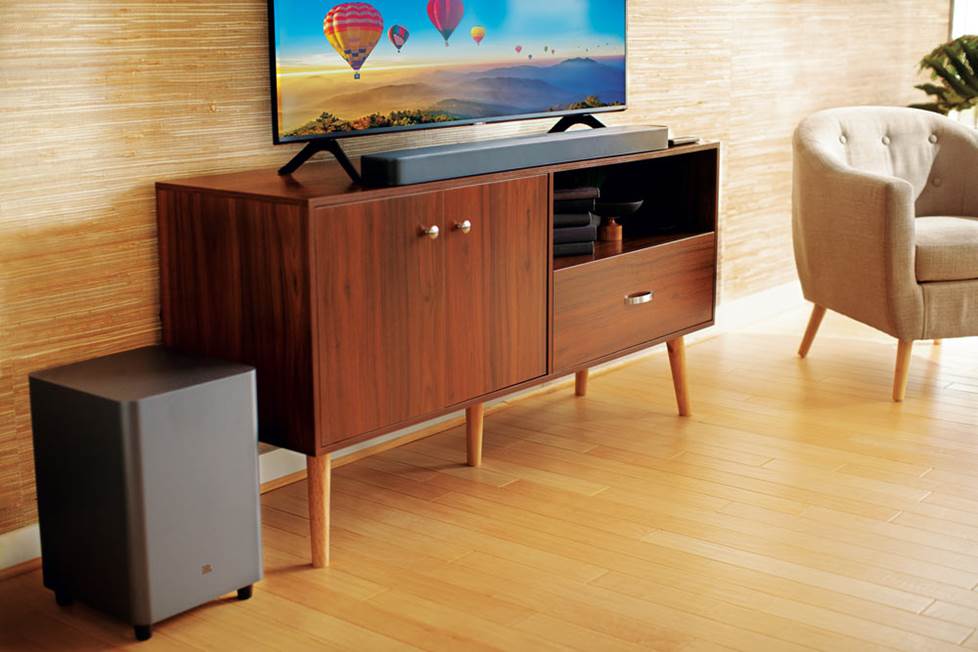 Best budget pick — JBL Bar 5.1 Surround
For the money, the JBL Bar 5.1 Surround flat-out rocks. The build quality is solid. It's easy to set up and operate. And you get a crazy-good subwoofer for a sound bar at this price. Room calibration is rare at this price, too.
At a little over 40" wide, this bar is best for TVs under 65".
Details
5 front-firing drivers and 2 side-firing tweeters
Dolby® Digital decoding
10" down-firing, rear-ported wireless subwoofer, driven by a 300-watt amp
1 HDMI input
Standard-ARC HDMI output
Apple AirPlay 2 and Chromecast Built-in
USB thumb drive port for music-file playback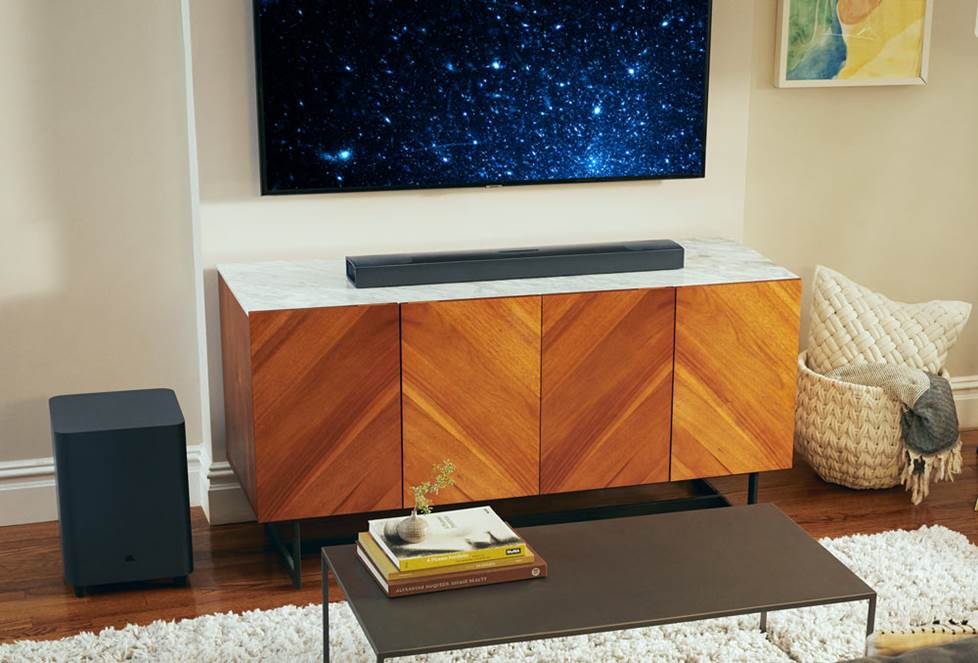 Best value —JBL Bar 9.1
Wish you could have truly wireless rear surround speakers? I mean the kind you don't even have plug into an AC power outlet?
Here you go!
The JBL Bar 9.1 come with rechargeable, battery-powered surround speakers that detach from the bar when you're ready listen. Place them behind you for movie night. When you're done, plug them back into the bar for recharging.
But that's just the icing on the cake. The Bar 9.1 gives you 5.1.4 Dolby Atmos, room calibration, and a bangin' 10" subwoofer, all at a very reasonable price.
Details
9 built-in speakers, including 4 racetrack-shaped drivers, 3 3/4" tweeters, and 2 up-firing full-range drivers
Two detachable wireless surround speakers with one up-firing full-range driver and one 3/4" front-facing tweeter
Decoding for Dolby Digital, Dolby Digital Plus, Dolby Atmos, Dolby TrueHD, DTS:X and DTS-HD
10" down-firing, rear-ported wireless subwoofer, driven by a 300-watt amp
eARC HDMI output
1 HDMI input
Apple AirPlay 2 and Chromecast Built-in
USB thumb drive port for music-file playback
Best all-around — Sonos Arc
You'll find sound bars with more features than the Sonos Arc. But more features don't always mean better value. The sound you get from the Arc, for movies and music, makes it well worth the money. And the user experience is first rate. Sometimes, simpler is better.
Millions of Sonos fans will want the Arc simply because it's part of the class-leading Sonos multi-room audio ecosystem.
Oscar-winning sound engineer Chris Jenkins helped design the Arc. So it's no surprise that the surround sound experience is first-rate. Each of the 11 built-in drivers is driven by its own Class D amplifier. Advanced signal processing connects the dots, giving you a detailed wraparound soundstage. You get surround sound that effortlessly pulls you in, without calling attention to itself.
As good as the Arc is as an all-in-one surround solution, you can make it even more immersive by adding a pair of Sonos One SL wireless speakers as rear surrounds.
You don't really need a subwoofer with the Arc. It gives you strong bass without one. But if you crave more bass, you can easily add a Sonos Sub.
The Arc has no HDMI inputs. You'll have to connect your video sources to your TV. To enjoy uncompressed surround sound formats, you'll need a TV with an eARC HDMI jack.
Details
11 built-in drivers, including 4 front-firing woofers, 2 side-firing woofers, 2 up-firing woofers, and three front-firing tweeters
Dolby Atmos and Dolby Digital decoding
No subwoofer (can be paired with optional Sonos Sub)
eARC HDMI output
Trueplay room tuning uses your iPhone's mic (Trueplay is not compatible with Android devices)
45" wide
Built-in Google Assistant and Amazon Alexa for easy voice control
Apple AirPlay 2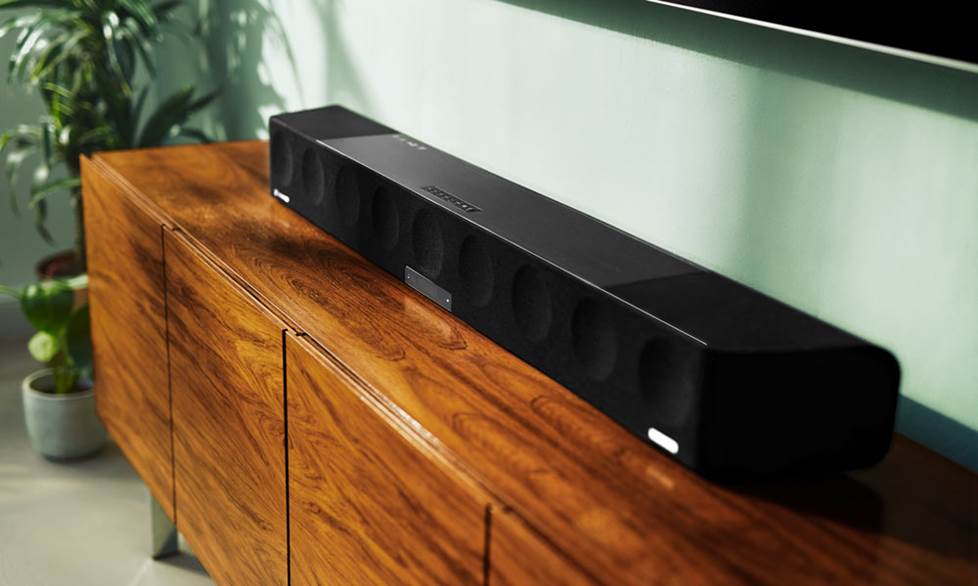 Best sound — Sennheiser AMBEO | Max
To make a splash with their first sound bar, Sennheiser decided to go big. Real big.
Weighing in at 41 lbs., the AMBEO | Max is a massive beast.
What's hiding beneath the sleek brushed aluminum shell? A lot of audiophile-grade speakers, plenty of muscle, and some sophisticated "virtualization" technology, developed by Sennheiser in partnership with Fraunhofer.
AMBEO's digital signal processing uses some serious computing horsepower and state-of-the-art algorithms to tailor the surround sound presentation to your environment. Using the Smart Control app, you can select the amount of AMBEO 3D mojo that sounds best to your ears. Or you can turn it off, which might be the best choice when you're listening to music or watching the news.
The first time we heard the AMBEO | Max, it was set up alongside a complete 5.1 surround sound system. The presenter told us we'd hear the surround system first, then the AMBEO. He lied, and I was totally fooled. It's that good.
The AMBEO puts out plenty of bass on its own, but you can add a high-end sub. If you like extreme bass, the ability to choose your own home theater subwoofer is a bonus. The subs that come with most sound bars are good, but they can't compete with the best and biggest subs from brands like SVS and Klipsch.
Details
13-driver array includes 5 front-facing 1" aluminum dome tweeters; 4 front-firing 4" long-throw woofers; 2 side-firing 4" drivers; 2 up-firing 3.5" drivers
Decodes Dolby TrueHD, Dolby Digital Plus, Dolby Atmos, DTS Digital Surround and DTS:X
3 HDMI inputs
eARC HDMI output
Room calibration mic included
It's over 5" tall, so you'll probably need a special stand or wall mount to elevate your TV
We're here to help
Have questions about how to choose a 5.1 sound bar? Contact us today.
Our expert Advisors know the gear inside and out. Your Advisor can send specific Crutchfield pages to your screen, saving you a lot of browsing time. You'll get a shopping cart loaded up with everything you need for your home theater.
Free lifetime tech support is included with your Crutchfield purchase.
Popular questions customers ask
Not aways. Self-powered sound bars are more common than passive sound bars. You don't need a receiver or amplifier of any kind to drive a self-powered sound bar. The amplification is built into the bar itself.
We carry over 50 sound bars that can learn your remote's commands. This helps keep the number of control devices to a minimum. From your TV's remote, you can adjust the volume, switch sources, and more.
Yes. While your TV's speakers might have had you saying, "Huh?" a lot, sound bars are great for making dialog discernible. Some have a dedicated center channel for dialogue, and many even have dialog enhancement modes that add even more emphasis to voices.
If you already have a self-powered subwoofer you'd like to use alongside your sound bar, you're in luck! We carry a handful of models that have a dedicated mono subwoofer output. All you need to connect the two is a standard subwoofer cable.
Most of the sound bars we carry have Bluetooth built in for streaming your favorite tunes. Some models only support basic Bluetooth, while others support higher resolution codecs like aptX and LDAC. There are also a few models that support Bluetooth transmission, which lets you send audio wirelessly to headphones and compatible Bluetooth speakers.
Last updated 11/2/2022