Hello, and welcome! If you're here to learn about mirrorless cameras then you're in the right place. I love talking about photography, and enjoy helping folks find their next camera even more. Let's get started!
What is a mirrorless camera, anyway?
The notion of a "mirrorless" camera can sound a little mysterious at first. You might even be surprised to learn that some cameras use mirrors in the first place (they help guide light up and through the viewfinder.)
In a nutshell, the inner workings of interchangeable-lens cameras have evolved. We're saying goodbye to the mechanical "mirror-and-prism" light path of DSLR and 35mm film cameras. And we're waving a hearty hello to the all-digital light paths found in a new generation of mirror-free camera bodies.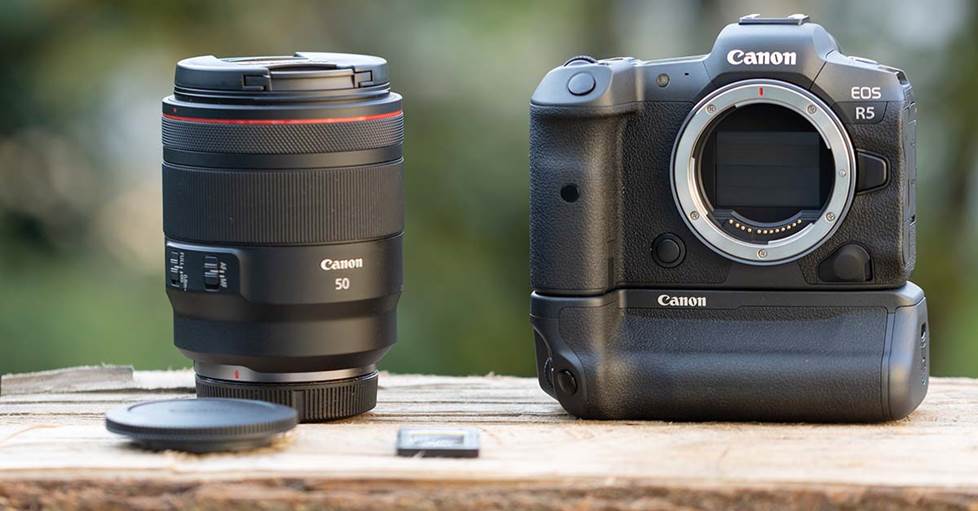 Mirrorless cameras like the Canon EOS R5 use an all-digital light path to record photos and videos.
Mirrorless or DSLR? Let's break down the basics
We're not going to spend a lot of time talking about DSLRs — this is a mirrorless camera buying guide after all. But it's worthwhile to know the main differences between the two types of cameras so that you can confidently choose the right one for your creative pursuits.
Many DSLR and mirrorless camera bodies look quite similar at first glance. But peer closer and you'll start to notice some key differences. Let's see what this looks like in real life with the Canon EOS 6D II (DSLR), and the EOS R5 (mirrorless).
Canon's EOS 6D Mark II (DSLR) and EOS R5 (mirrorless) camera bodies with optional battery grips installed.
In a DSLR like the 6D II, incoming light bounces around a series of reflective surfaces before popping out of the viewfinder and telling your eye what the image will look like. When you press the shutter button, the mirror flips out of the way and the light is captured by the image sensor.
In a mirrorless camera like the R5 there is — you guessed it — no mirror inside. Instead, when you press the shutter button incoming light is recorded directly onto the image sensor. This all-digital light path is where DSLR and mirrorless cameras diverge.
The value of the viewfinder
I bet you're familiar with using your smartphone to compose a photo. The LCD touchscreens of modern DSLR and mirrorless cameras work in a similar fashion — you tap on your subject to focus, a gear icon to change settings, and so on.
LCD screens are great for composing photos when we can see them clearly. But what about when we're outside in the middle of the day — say, at the beach? It can be difficult to see an LCD screen in direct sunlight, and even harder to accurately assess exposure or focus. That's where a camera's viewfinder becomes so valuable.
Viewfinders: optical versus electronic
DSLRs (like the 6D II) use an optical viewfinder for image composition — you look out through a clear window into the world to compose your subject. In fact, the camera doesn't even need to be on for you to see your subject as long as the lens cap has been removed. The key point here is that what you see remains the same regardless of your exposure settings.
By contrast, the R5 has an electronic viewfinder (EVF) that shows you how your picture will look based on the exposure settings that you've selected. It gives you a dynamically updated view of the world, becoming brighter or darker as the amount of light in front of you changes (or your exposure settings change in response).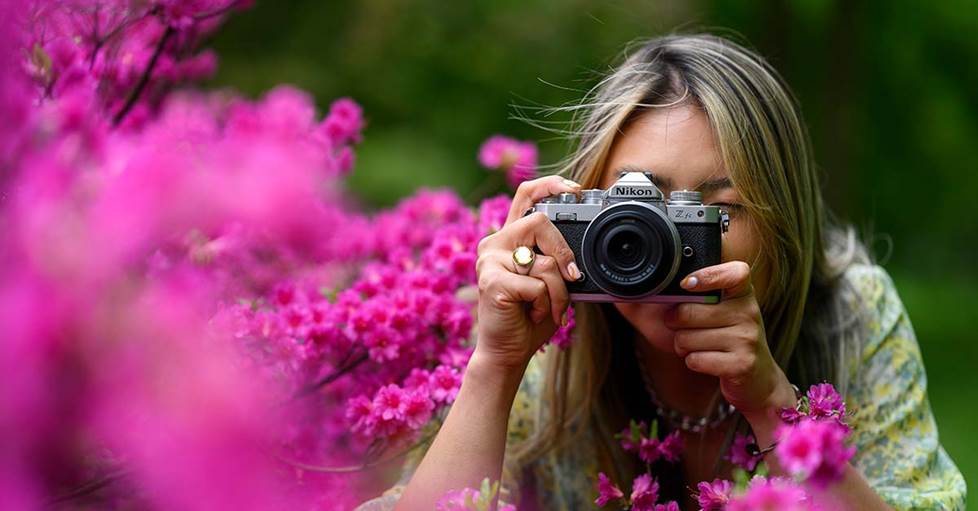 Mirrorless cameras like the Nikon Z fc use an electronic viewfinder to give you a real-time picture of the world in front of you.
There are several key advantages that mirrorless cameras have over their DSLR counterparts, including the "real time" electronic viewfinder, improved autofocus and eye-tracking systems, better low-light performance, and an incredible selection of high-performance lenses.
Features to look for when shopping
I spend a lot of time researching (and using!) mirrorless cameras. Here are the main features that I recommend considering as you shop.
Camera size and feel
Your camera should be comfortable to hold and operate. Make sure you can easily reach all of the controls, and that it feels good when you bring it up to your eye.
It's worth noting that lenses can weigh as much (or even more) than your camera body, so it's good to keep their footprint in mind as you shop.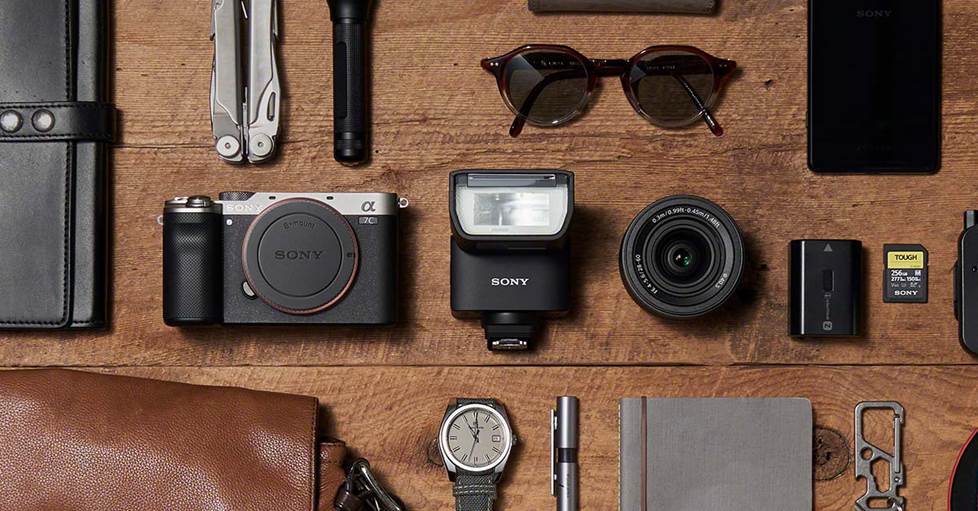 Consider how your camera's size and feel fits into your lifestyle and aesthetic.
Image sensor size
Your camera's image sensor captures all of the radiant light that pours in from your lens. The larger the sensor, the more light it can gather. And the more it gathers, the better your photos and videos will look.
There are two main image sensor sizes: full-frame, and APS-C. Full-frame sensors yield better details in highlights (bright areas) and shadows (dark areas) compared to smaller sensors — especially when light is limited.
APS-C sensors don't capture as much light as their full-frame counterparts, but do allow for a "closer" perspective with the same lens. APS-C cameras are a great choice for taking shots at a distance — like capturing a bird in flight, or a wide receiver leaping into the endzone — without needing an ultra-long zoom lens.
Lens selection
We carry a terrific selection of mirrorless lenses, and I've written an entire article on how to choose the right one for your camera.
The type and brand of camera you purchase determines which lenses you'll buy. It's generally true that mirrorless lenses are not compatible with DSLR cameras. It's also generally the case that DSLR lenses are compatible with mirrorless bodies (with an adapter).
Want some help finding the right lens? Feel free to ask a question in the comments (on either article), and I'll happily make a recommendation tailored to your camera and creative interests.
Megapixels
A camera's resolution is measured in megapixels — how many tiny individual pixels capture light when you take a photo. The bigger the number, the more "light gatherers" you have working alongside you.
So how many megapixels do you need? 20 megapixels or more is plenty of resolution for most photographers. That said, larger-resolution sensors are helpful if you plan to make large prints for your wall, or if you crop heavily when you edit. They're also ideal for capturing vibrant 4K video footage.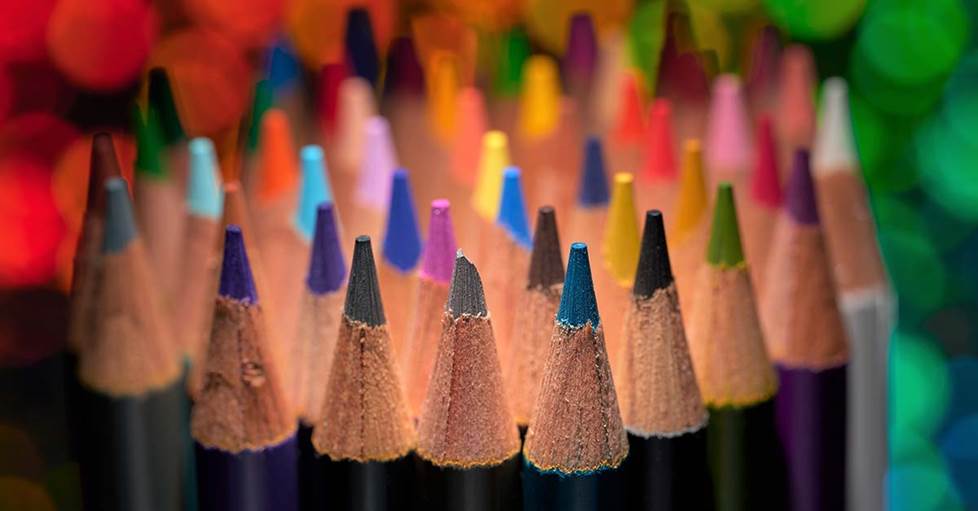 High-resolution mirrorless cameras can yield truly remarkable levels of detail and vibrancy.
Image stabilization
Some mirrorless cameras have built-in image stabilization to help you take sharp photos at slow shutter speeds. This is a powerful feature typically found in more advanced cameras, and is especially helpful for shooting video — even if your hands move slightly you can still get smooth, shake-free footage.
Dual memory card slots
Some high-end cameras have not one but two memory card slots for expanded storage and recording options. This lets you save the same image to both cards for an automatic back-up system on the go. It also gives you plenty of extra storage for high-res video, or extra fun shots at the end of an enjoyable shoot with friends.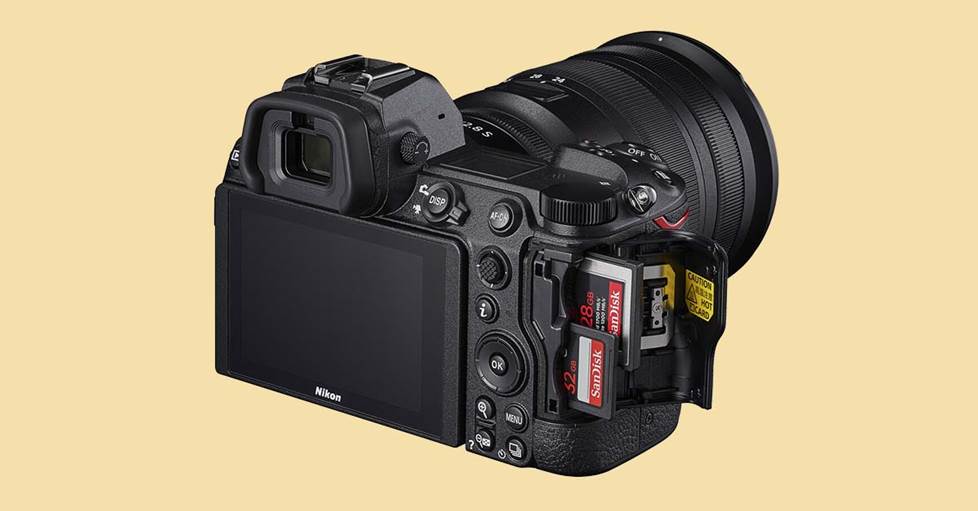 Dual card slots are a must if you shoot weddings or other once-in-a-lifetime events.
Battery grip
If there's a downside to a high-performance mirrorless camera it's the relatively short battery life — the increased processing power and display capabilities can drain batteries considerably faster than in a comparable DSLR.
I highly recommend buying extra batteries for your mirrorless camera. And if you have large hands like I do, a battery grip is a dream come true. It holds two batteries, provides an additional set of controls, and makes vertical shooting much easier.
Flip-out/rotating screen
Look for a camera that has a tilting screen, or better yet, one that flips out and rotates. This lets you compose shots from angles you wouldn't ordinarily be able to — like way down low, or way up on your tippy toes!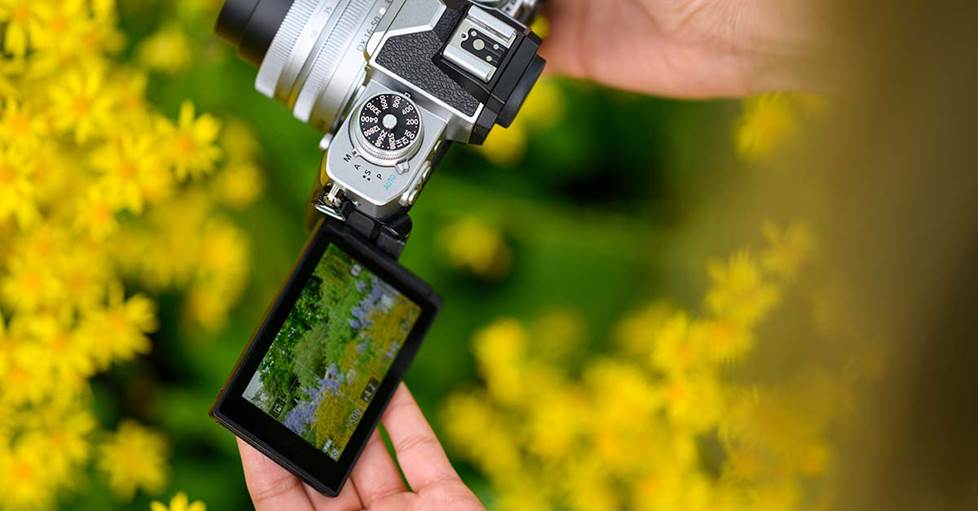 Flip-out touchscreens make it easy to take photos from interesting perspectives.
4K video recording
A mirrorless camera is an excellent choice for creating engaging video content for your channel. Most models record 4K footage at 30 frames per second, and some can even do 120 fps for incredible ultra-slow-motion shots.
Our indie filmmaker article has tons of helpful tips for aspiring videographers.
Continuous shooting
If you want to photograph things that move quickly you'll need a camera that can keep up. Check out the continuous shooting specs in the "Details" tab on the product page for the camera you're considering to see how many shots you can take in a row before the camera has to "catch its breath." The higher, the better!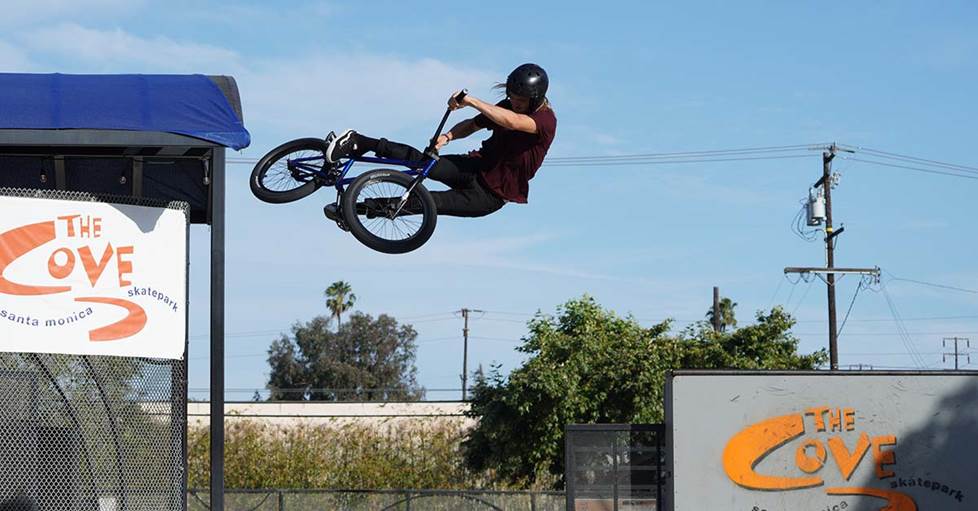 Want to freeze high-speed action? Go for a camera with fast continuous shooting.
Weather sealing
I recommend buying a camera that's weather-sealed against dust and moisture. It means your gear is built for the long haul, and that you can venture out into the great outdoors with confidence.
Love exploring the great outdoors? I recommend choosing a camera that's weather-sealed against dust and moisture.
Wireless connectivity
Many mirrorless cameras can connect to your phone through Wi-Fi® or Bluetooth®. This lets you use your phone as an extension of the camera's LCD screen to compose your image, change settings, and take photos — all without touching the camera itself.
Accessorize your camera!
Tripods, flashes, microphones, and other photography accessories enlarge the scope of what you can do with your camera.
Don't feel like you need to spend a ton of money on accessories out of the gate. It takes time to know why you'd want certain things (like a sturdy tripod for taking long exposures at night). That's half the fun of learning a new craft — you get to discover little bits of creative insight each time you go out and shoot.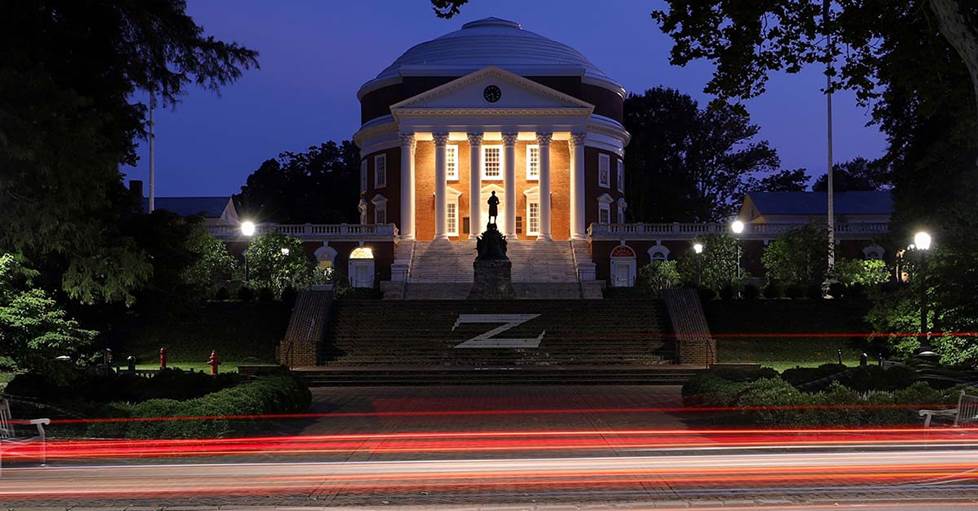 A good tripod is a must if you want to take long-exposure photos. I took this shot in front of UVA's Rotunda during the blue hour.
Which mirrorless camera is right for you?
Now that we know what to look for, it's time to find you a camera! Here are my top recommendations for 2023.
Best for travel — Nikon Z 50 Two Lens Kit
Planning your next big adventure to a new destination? Nikon's Z 50 Two Lens Kit is a wonderful travel companion. The included wide-angle lens is ideal for landscapes, sunsets, and capturing crisp 4K video. And the included telephoto lens gives you close-up views of distant wildlife while also doubling as an excellent portrait lens.
Details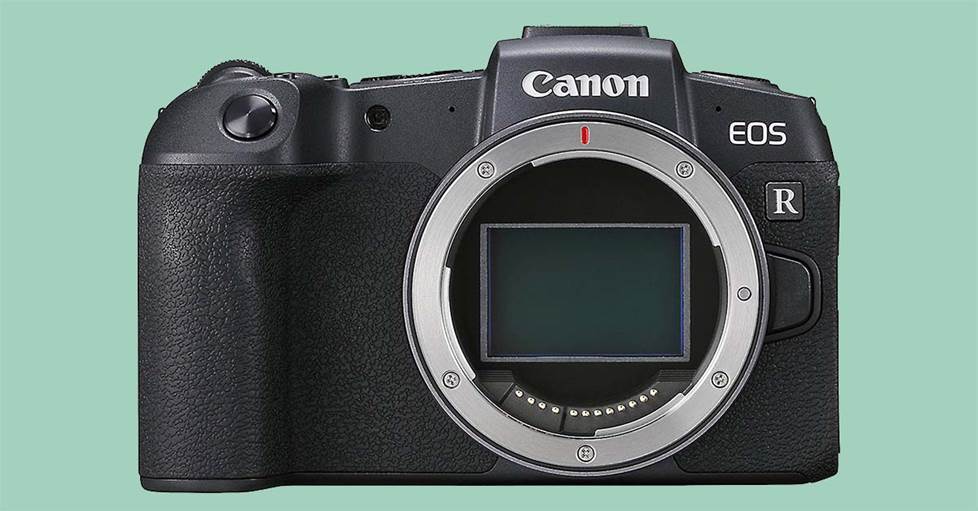 Best full-frame value — Canon EOS RP
The EOS RP is Canon's least expensive full-frame mirrorless body. Even so, this compact camera delivers outstanding image quality that rivals the company's more expensive models. The RP's intuitive controls and fantastic autofocus system makes it a terrific choice for hobbyists and enthusiasts alike.
Perhaps the biggest reason to consider the wallet-friendly EOS RP is that it uses Canon's spectacular lineup of RF lenses — the finest glass they've ever made.
As a bonus, if you already own Canon EF lenses you can use them with the RP with an EOS mount adapter.
Details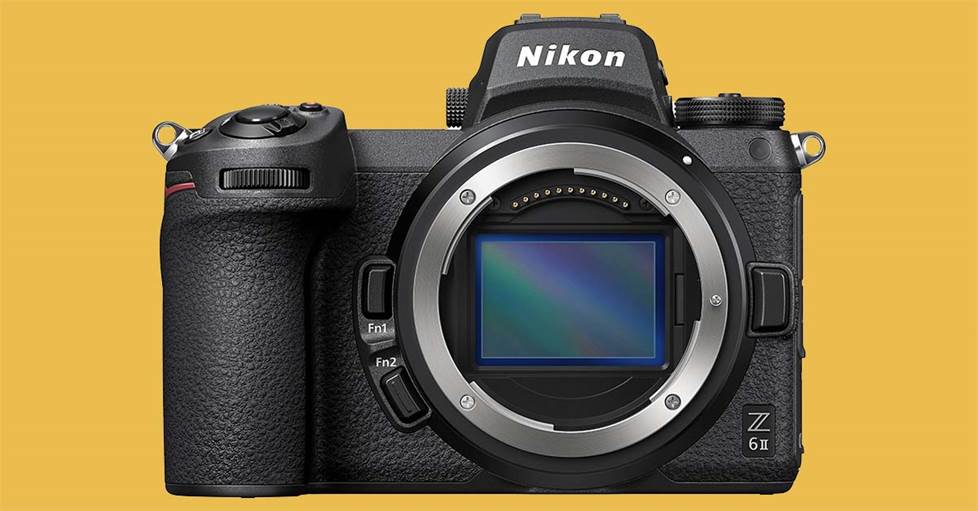 Best for sports and wildlife — Nikon Z 6II
The Nikon Z 6II offers oodles of features for photographers and videographers alike. For starters, it's equipped with dual image processors that lets it record photos and videos quickly from the 24.5-megapixel full-frame image sensor.
The Z 6II also has dual memory card slots, advanced in-body image stabilization, and a spectacular autofocus system. This all adds up to a nimble mirrorless camera body that can capture both incredible stills and gorgeous 4K video footage.
This camera is an especially good choice for action sports or wildlife photographers. A blistering 14 frames-per-second continuous shooting lets you capture crisp shots of even the fastest-moving subjects.
Details
Best for video — Sony Alpha a7R V
Sony is legendary for the phenomenal image quality their mirrorless cameras offer — especially in low-light environments. The Alpha a7R V is no exception, delivering stunning photos and videos indoors and out.
Advanced features like dual memory card slots, in-body image stabilization, and a spectacular AI-based autofocus system help ensure top performance for creative enthusiasts and working professionals alike.
It's got a whopping 61-megapixel full-frame sensor, and can shoot pro-grade 8K video at 24 frames per second. And its advanced autofocus features can recognize and track your subject with amazing precision, thanks in part to a dedicated AF processor.
Details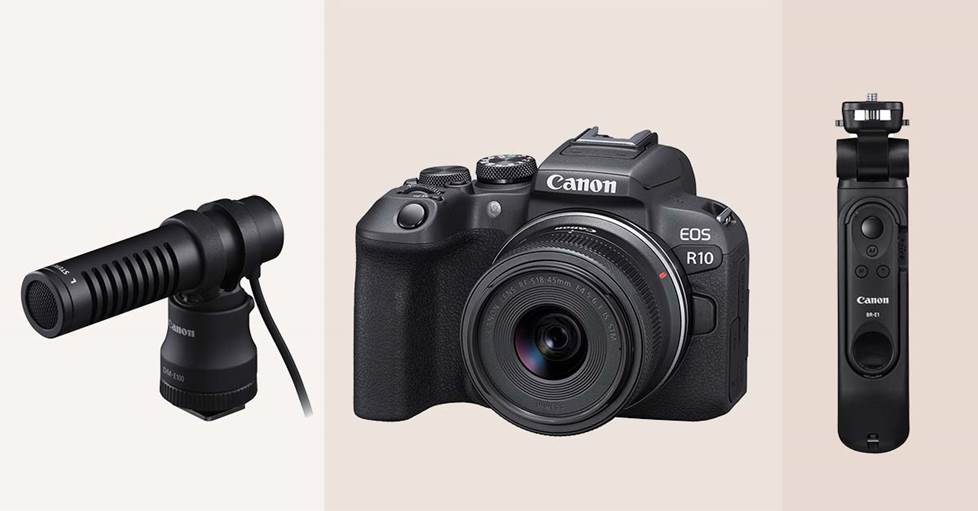 Best for content creators — Canon EOS R10 Content Creator Kit
Want to create engaging, polished content for your blog, website, or YouTube® channel? Canon's EOS R10 Content Creator Kit gives vloggers a creative tookit that has the essentials for setting up and capturing top-notch video.
The compact, easy-to-use camera has a 3-inch rotating touchscreen and a nice OLED electronic viewfinder. And you'll have flexible shooting options for capturing crisp, clear images of whatever comes your way with the included zoom lens.
Don't underestimate the importance of great sound for your video. You can record a smooth, clear soundtrack while you shoot with the included Canon stereo microphone that mounts to the R10's multi-interface hot shoe.
This kit also comes with a super-useful grip/mini tripod. It helps you keep the camera steady for handheld or stationary shooting. Plus the grip includes and nests Canon's BR-E1 Bluetooth controller, which you can also detach for shooting remotely.
Details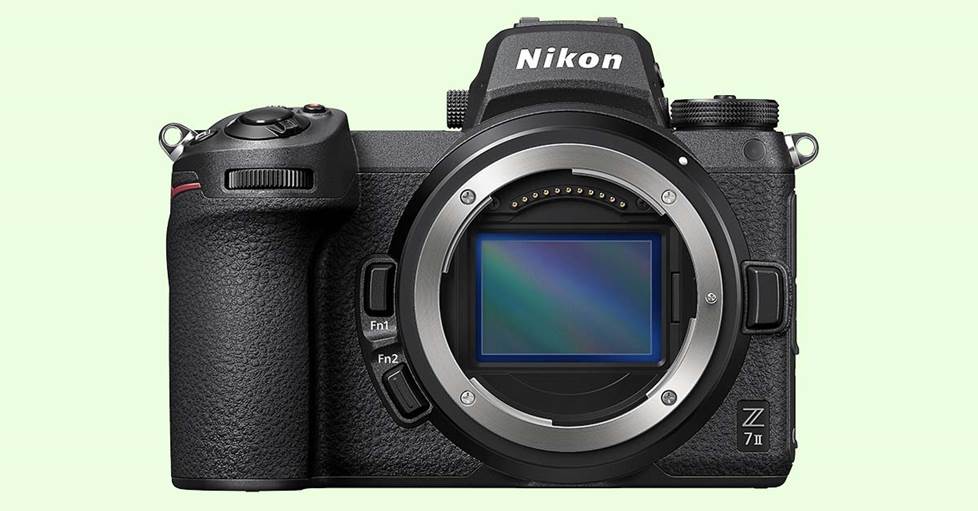 Best for experienced enthusiasts — Nikon Z 7II
Nikon's Z 7II is one of the most complete cameras we've seen. That's because this mirrorless flagship is loaded with features that both enthusiasts and working professionals will enjoy.
The Z 7II is equipped with dual image processors that record photos and videos quickly from a 45.7-megapixel full-frame image sensor. It also has dual memory card slots, advanced in-body image stabilization, and a spectacular autofocus system.
This camera is an especially good choice for portrait or product photographers who want exceptionally fine detail from their subjects. And with 4K video recording at up to 60 frames per second, you can capture professional-grade footage — including vlogging.
Details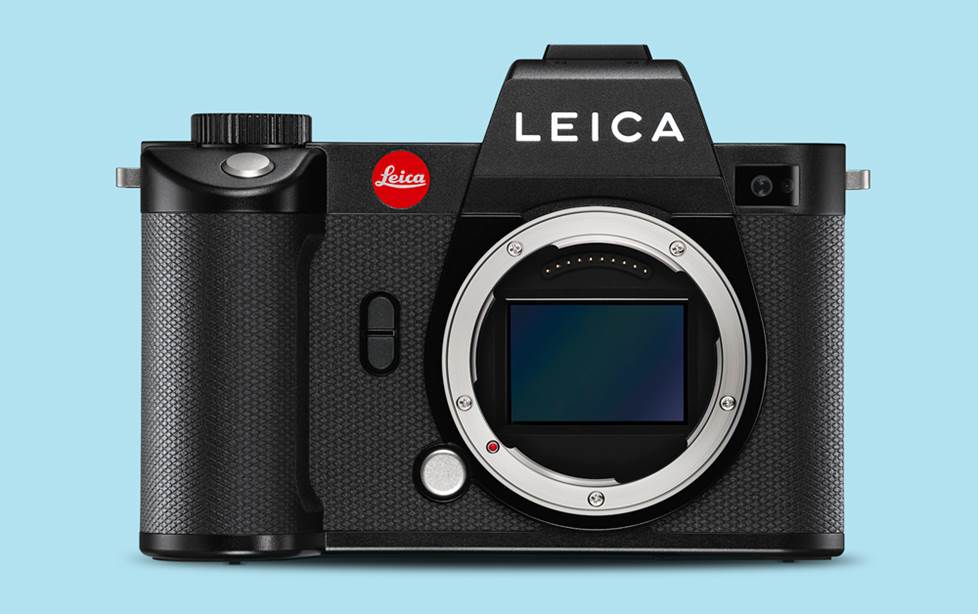 Best build quality — Leica SL2
No list of best mirrorless cameras would be complete without bringing Leica into the conversation. Their build quality is second to none, and every piece of gear that Leica creates reflects decades of innovation, optical expertise, and attention to detail.
I had the pleasure of shooting with Leica's 47.3-megapixel SL2 mirrorless camera for several months in early 2022, and was floored by the level of detail it delivered when paired with Leica's APO-Summicron-SL 35 f/2 ASPH.
Together this pro-grade body and lens combo achieved a level of clarity, richness, and tonal accuracy that made my jaw drop. I was able to capture brilliant details of my dog's eye and my guitar's neck that I hadn't seen in photos before, all with a depth of color that just begged to be turned into large wall prints for my family to enjoy.
The SL2 has many of the advanced features you'd expect from a flagship mirrorless camera, including dual memory card slots and in-body image stabilization. It also features the best camera menu system that I've used to date.
Watch a conversation my colleagues and I had about our experience shooting with Leica cameras, including the SL2.
Details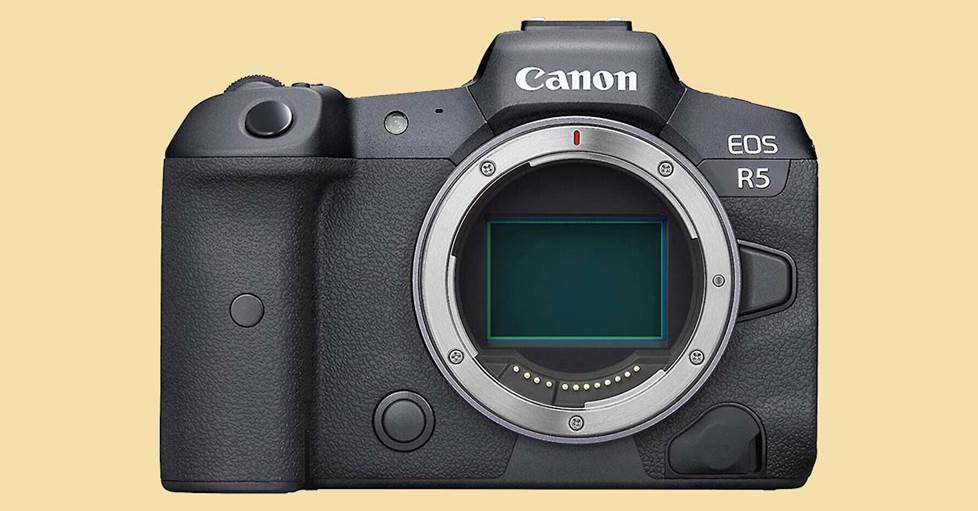 Best overall — Canon EOS R5
Outside of Crutchfield I'm a professional photographer that specializes in landscape and event photography. I became smitten with the EOS R5 when it was announced in 2020, and after a year of saving I finally pulled the trigger in 2021 and bought one for myself.
In my opinion the R5 is the best camera that Canon offers. It has everything you could want, from 4K/120p video recording to in-body image stabilization. But the big thing for me is always image quality, and this camera has it in spades — especially when paired with RF glass.
Thinking about the R5 for yourself? I highly recommend adding the BG-R10 battery grip for extended shooting time and added comfort and control.
Details
Bring your unique creative perspective to life
Now that we've looked at the gear, let's talk about the real magic of photography: creative curiosity.
My heart swells when I see a friend get excited about a cool bug they saw, or a gorgeous sunrise over the ocean, or late-afternoon sunlight cascading down the side of an old brick building. It's even more thrilling when they want to run and grab their camera!
That moment of excitement — the rush of wanting to capture a uniquely precious moment that will never be recreated again — that's the soul of photography to me. That's what makes it such an expressive artform. And that's why I get so excited when someone asks me about which camera they should get.
Whichever camera you decide on, let it be a creative companion for you. Take it with you even if you don't think anything special will happen — you never know what incredible surprises the universe has in store.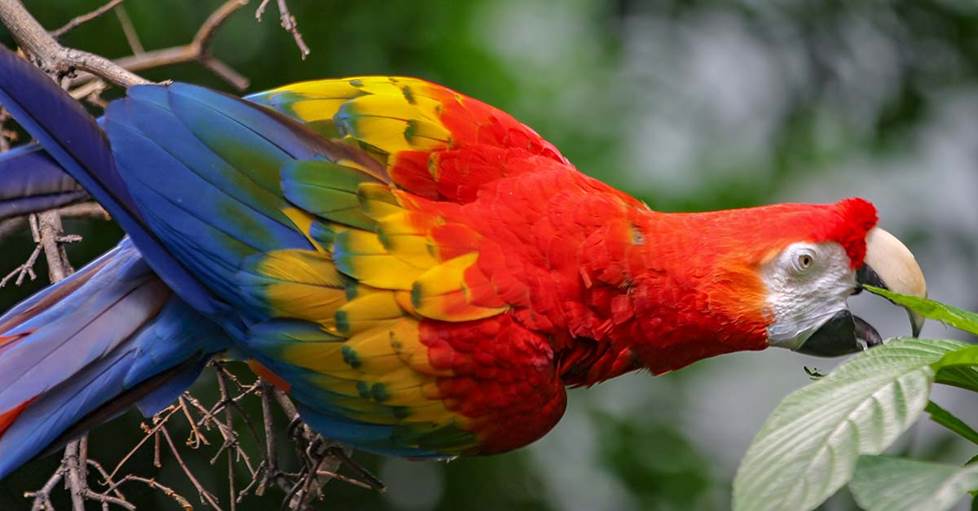 Nature offers unlimited creative possibilities. Get our there and see what you can discover!
Print your photos!
My last piece of advice is to make prints out of your photos. Lots of them!
Hanging bright, colorful photos on your wall that you created adds an instant glow and vibrancy to your home. Framed photos make excellent gifts, too!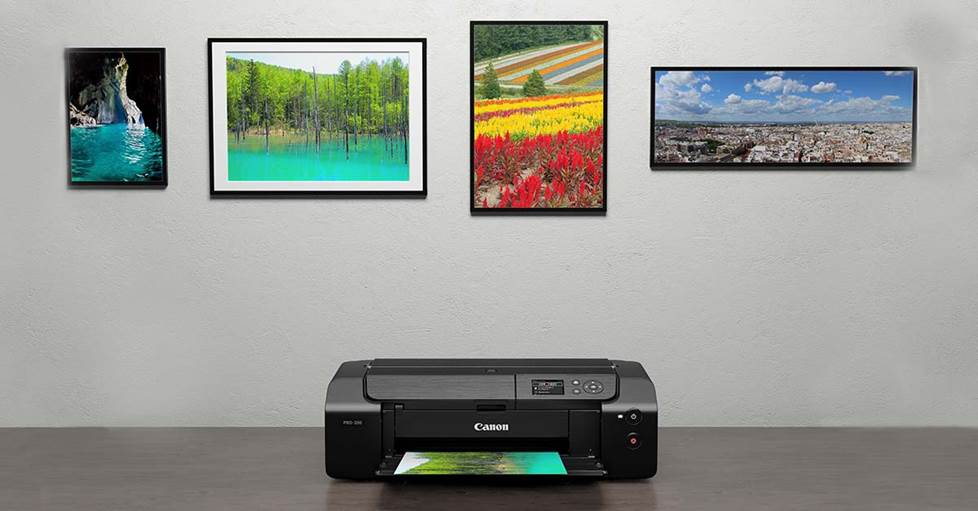 Printing your photos lets you fill your walls with bright, colorful art that you created!
Crutchfield can help
Ready to start your new photographic adventure? Our friendly Advisors can help you find the right camera. Give us a shout today for free, personalized help.
Your Crutchfield order comes with free lifetime tech support — even on the weekends.
Popular questions customers ask
Mirrorless cameras capture images without the use of a mirror in the camera body. This is different from DSLR cameras, which reflect images into viewfinders via mirrors.
That depends on your needs. Mirrorless cameras are lighter, more portable, and can give you better video quality even in lower-end models. They can also shoot more images at faster shutter speeds. DSLR cameras offer a wider selection of interchangeable lenses and longer battery life.
The electronic viewfinder (EVF) on a mirrorless camera shows you an exact preview of the image that you will be capturing. You can see how your settings affect the image in real time.
Mirrorless cameras are great for beginner photographers because they're small, more affordable at the entry level, and feature auto modes that make it easy to let the camera do the thinking. When you're ready to take more creative control, manual modes give you that capability. And it helps you learn, since the electronic viewfinder shows you exactly what effects manually changing the camera settings has on your image.
The most common sensor sizes for both mirrorless and DSLR cameras are full frame and APS-C. Full-frame cameras give you the best overall image quality, while APS-C (or "crop-sensor") cameras are generally more compact and affordable.