Crutchfield Advisors Francis, Norm, and Woody (on board) pitched in to help make Brady's boat sound fantastic
For our Spring 2019 catalog, Crutchfield Advisor Brady and a few of his cohorts updated the sound system on his family's 20-foot Godfrey Hurricane. The existing Fusion receiver (seven years old and still rockin') was fine, so Brady focused on upgrading the speakers and adding a cool LED lighting system.
Brady wanted really big sound. So he made the leap from the 5¼" drivers that had been in there to four 8" Wet Sounds REVO 8 marine speakers. These big speakers can handle up to 150 RMS power and they also have built-in LED lighting. Brady and the crew had to enlarge the existing openings, but careful measuring and templates took some of the stress out of the job.
The new speakers are a LOT bigger than the old ones, so Brady and the crew used templates when they enlarged the openings
Brady wired the new speakers using Wet Sounds12/22 gauge wiring. This marine-rated wiring is a real time-saver, because it handles the speakers and the lighting.
A Wet Sounds 4-channel marine amplifier supplies the extra juice these big 8" speakers need, and this Class D amp is compact enough to be tucked away out of sight. Brady tells us that the speakers sound great off the receiver, but with the amp, they really bring the noise.
Brady's next audio project will be adding a new 8" subwoofer from Wet Sounds. The STEALTH AS-8 is a compact powered sub with a built-in class-D amplifier that produces plenty of power.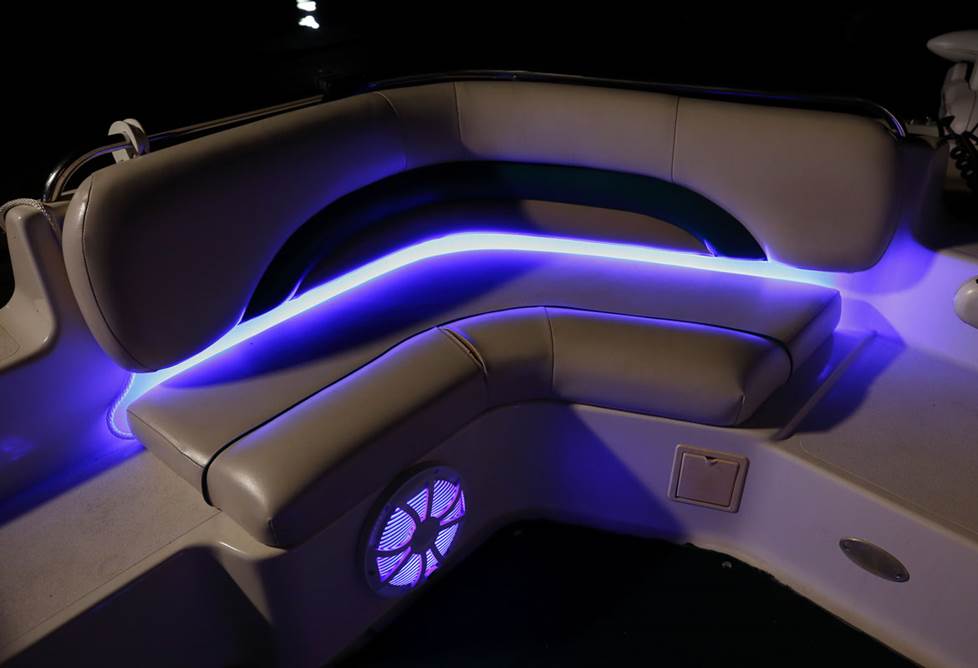 Brady's boat looks as cool as it sounds
Cool lighting
There's nothing like LEDs to make an older boat look young again. From the start of the project, Brady knew he wanted to add lighting around the seating area for that extra bit of fun when entertaining his passengers. He went with a 5-meter spool of Wet Sounds multicolor LED strips, which allowed him to cut the lengths he needed for each location and set up zones of illumination.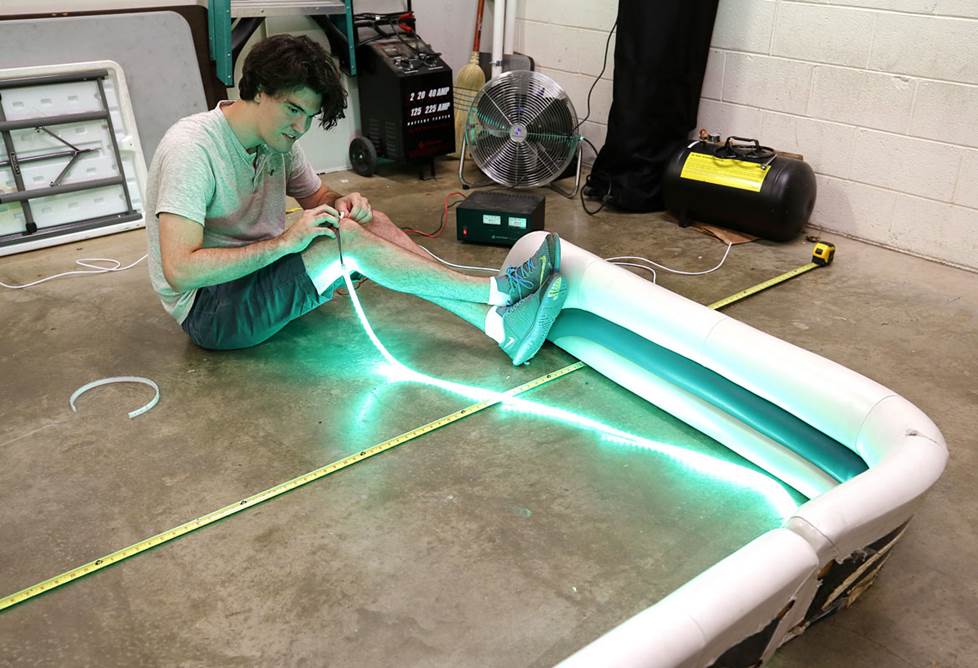 A little indoor pre-planning made the light installation a lot easier
To help with the wiring, he made sure to use Wet Sounds wiring kits, which made connecting each section a ton easier. A Wet Sounds LED controller runs the show.
Brady enjoys a bit of night fishing every now and then, so a bonus benefit is that with the LEDs turned down low, he's able to see what he's doing when he's baiting a hook or landing a fish.
Hear more about it
Listen as Brady tells the hosts of the Crutchfield podcast all about what went into his awesome audio overhaul.
---
Share your story
Boats in the Custom Showroom are submitted by customers, fans, and employees, and edited by Crutchfield writing staff. You can find more of these articles on the Showroom main page, along with info on how to submit your audio upgrade story.