ometimes a boat isn't just a boat — it's almost like a member of the family. This 20-foot Godfrey Hurricane has been a big part of Crutchfield Advisor Brady's family for the last couple of decades, and it's still going strong. Brady takes friends (and his dog Grizzly) out on the boat every chance he gets, so he wanted to upgrade the tinny old sound system with something that can really rock. The Fusion receiver was still going strong after seven years (!), so, with help from some of his fellow advisors, Brady installed new Wet Sounds speakers and some cool LED lighting.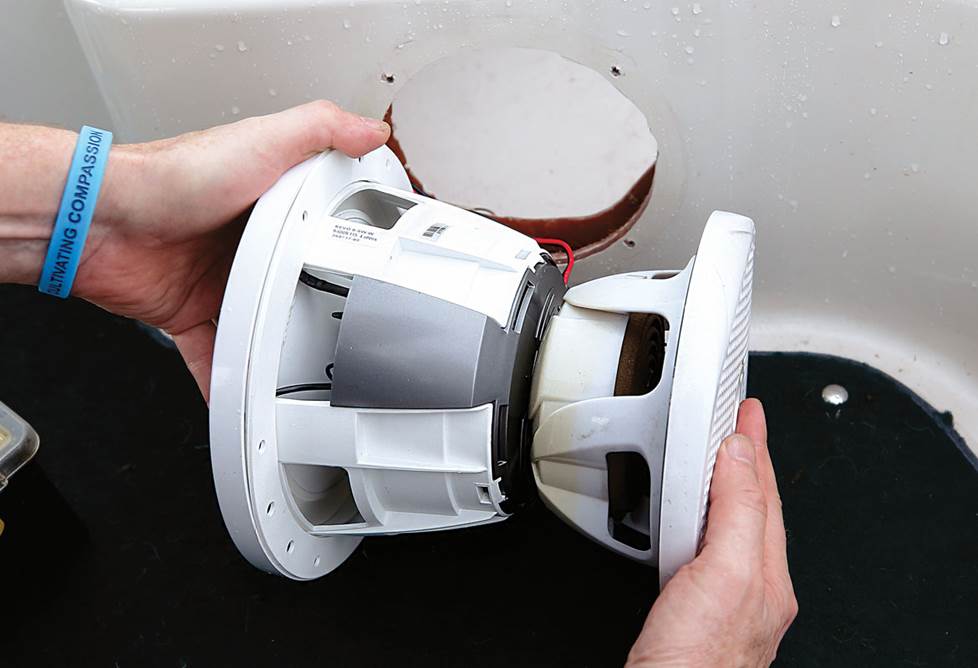 As you can see, the new speakers (left) are pretty massive compared to the old ones. You can hear the difference, too!
Bigger, better sound
Brady chose Wet Sounds gear for this installation, which was a great choice in terms of both sound and light. The four Wet Sounds REVO 8 marine speakers can handle up to 150 watts RMS power and have built-in LED lighting. A Wet Sounds 4-channel marine amplifier supplies the extra juice these big 8" speakers need, and this Class D amp is compact enough to be tucked away out of sight. Brady tells us that the speakers sound great off the receiver, but with the amp, they really bring the noise.
Brady used Wet Sounds12/22 gauge wiring to make the necessary connections. This marine-rated wiring is a real time-saver, because it handles the speakers and the lighting, and it's tough enough for life on the water.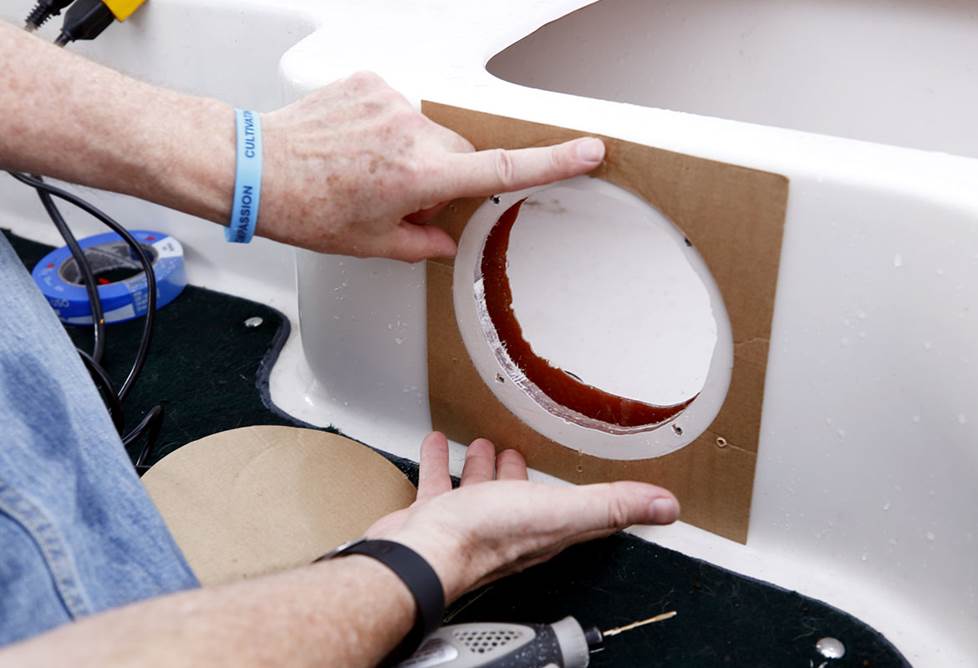 Templates are a big help when you're installing new speakers in a boat, especially when the new speakers are larger than the old ones.
The original plan was to replace the existing speakers with four 6" Wet Sounds models. That plan changed when the crew realized that with the 6" speakers, they could either cover the cutouts completely or secure the speakers, but not both. Hence the step-up to the 8" models. It added some time to the installation and necessitated some cutting to enlarge the cutouts, but it all worked out.
This demonstrates the importance of measuring everything (cutout diameter, cavity depth, and existing speaker dimensions) before ordering a new set of speakers. We have a warehouse full of gear next door — you probably don't! If you have questions, give us a call and talk to one of our marine audio experts.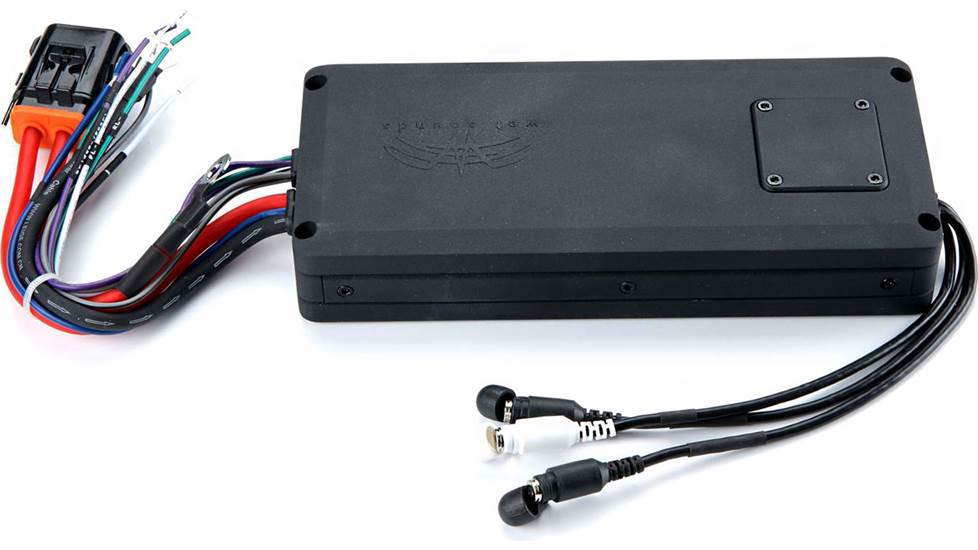 This Wet Sounds amp fits into tight spaces and produces a lot of power
Brady made a bold choice when it came to powering his new speakers — the Wet Sounds STX Micro 4 amplifier. This class-D amp is designed for ATVs, but it's also great for smaller boats like this one. With an output of 80 watts x 4 at 4 ohms (or 130 watts x 4 at 2 ohms) it has all the power Brady needs to get the best out of these big speakers.
The next step for this marine audio upgrade will be adding a new 8" subwoofer from Wet Sounds. The STEALTH AS-8 is a compact powered sub with built-in Class D amplifier that produces plenty of thump, so it'll be an awesome finishing touch.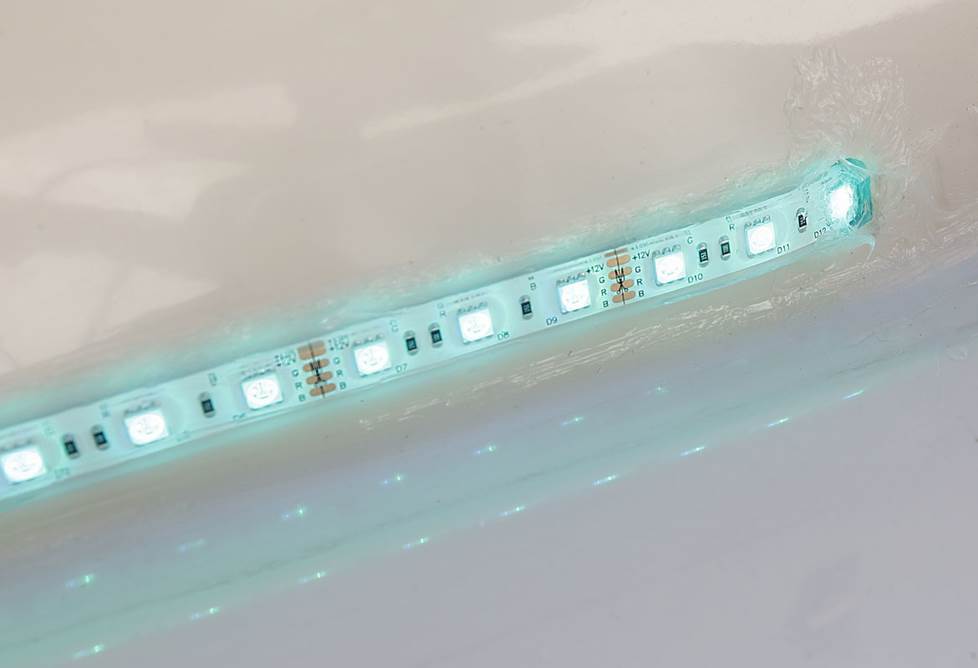 These Wet Sounds LED strips are made for marine use
Light up the night
To add even more light and make night cruises even more fun, Brady ran a 5-meter spool of Wet Sounds RGB lights along the seats. These ultra-efficient lights run off of standard 12-volt power and they look great on any boat. He also added a rugged, water-resistant remote that lets him set the mood or set the lights to react to the beat of the music.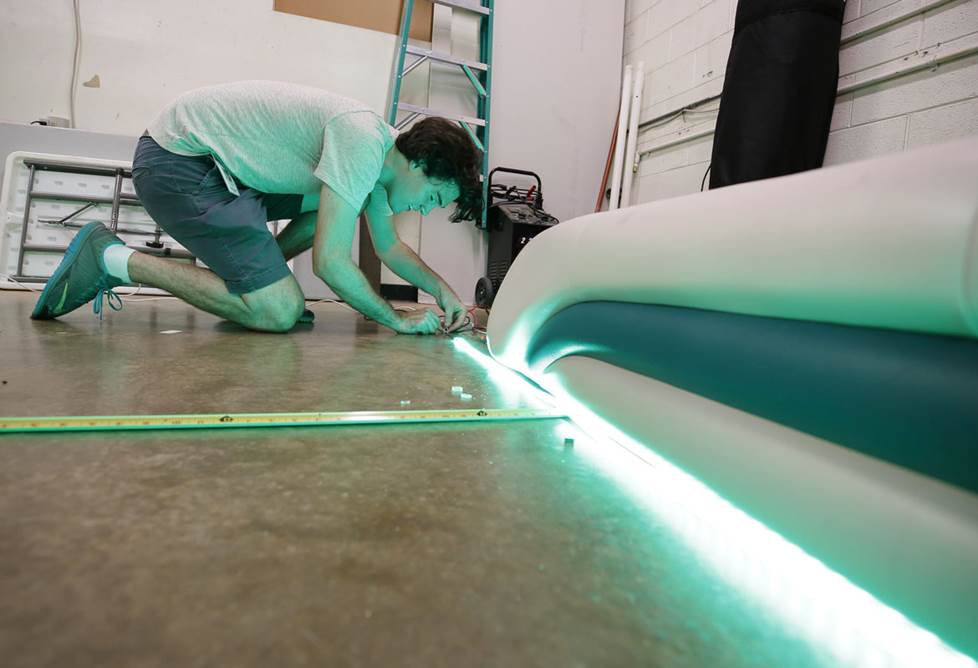 A little indoor pre-planning made the light installation a lot easier
Brady and the crew had the luxury of doing the installation on our Charlottesville campus, so they took full advantage by mocking up the light layout in our installation bay. Doing this allowed them to figure out exactly how much lighting they'd need for the installation before they started working on it. That eliminated a lot of guesswork, which made for a much smoother afternoon.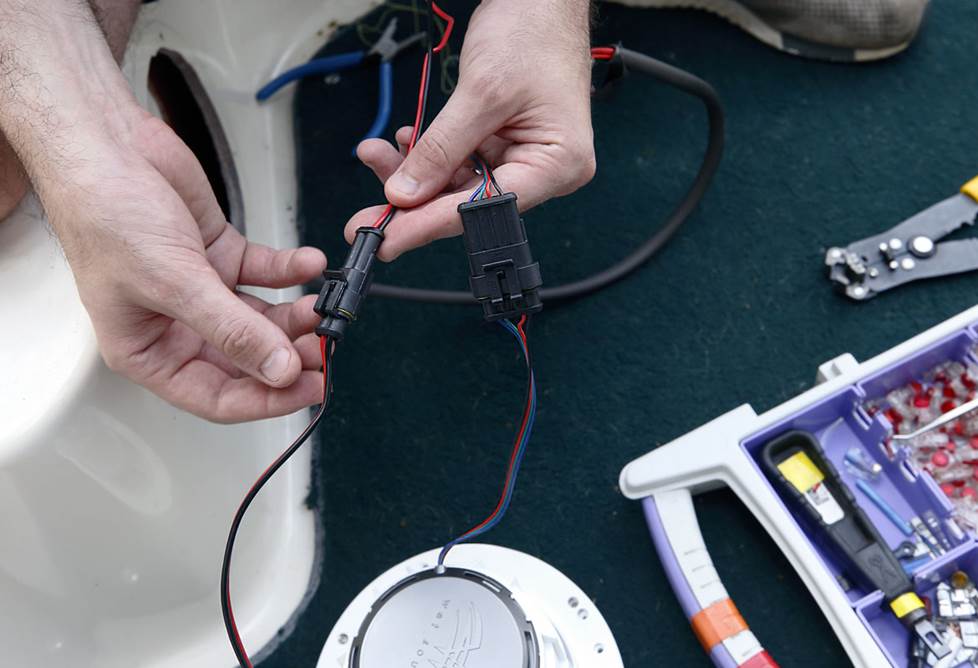 These connectors from Wet Sounds are a huge time-saver
Wet Sounds water-resistant LED speaker connectors make it a lot easier to connect LED speakers to the boat's wiring system. Instead of soldering, which is not always easy or fun on a boat, these connectors form a convenient plug, so you can make the connection, and get on with the rest of the installation. Learn more about Wet Sounds speaker connectors here.
Thinking about an upgrade for your boat?
Whether you're interested in speakers, amps, subwoofers, lighting or all of the above, we have a wide-ranging selection of marine stereos, speakers, subs, and other accessories. If you have questions of your own, give us a shout via phone or chat.