Best wakeboard tower speakers for 2023
Pump up your boat's audio system with these powerful speakers
In this article... We'll take a look at some of our most popular wakeboard tower speakers.
These speakers are customer favorites, and when you hear how great a set sounds on your boat, you'll know why!
ater skiing is fun. Wakeboarding is fun. Music is fun, too, and when you add some to your weekend water skiing and wakeboarding, a great weekend gets even better. With a set (or two) of wakeboard tower speakers on your boat, the folks in the water can enjoy the same music as the folks on the boat.
You might think that your cabin speakers are enough, but what sounds loud on the deck can sound like barely audible noise to the person holding the rope. With a quality set of tower speakers, the sound will make it all the way out there, so the person bouncing over the wake can hear the music, too.
Read about each of these top-performing, popular wakeboard tower speakers below. They're all designed to produce outstanding sound and stand up to the demands of life on the water, so you and your crew will be able to enjoy your speakers for seasons to come.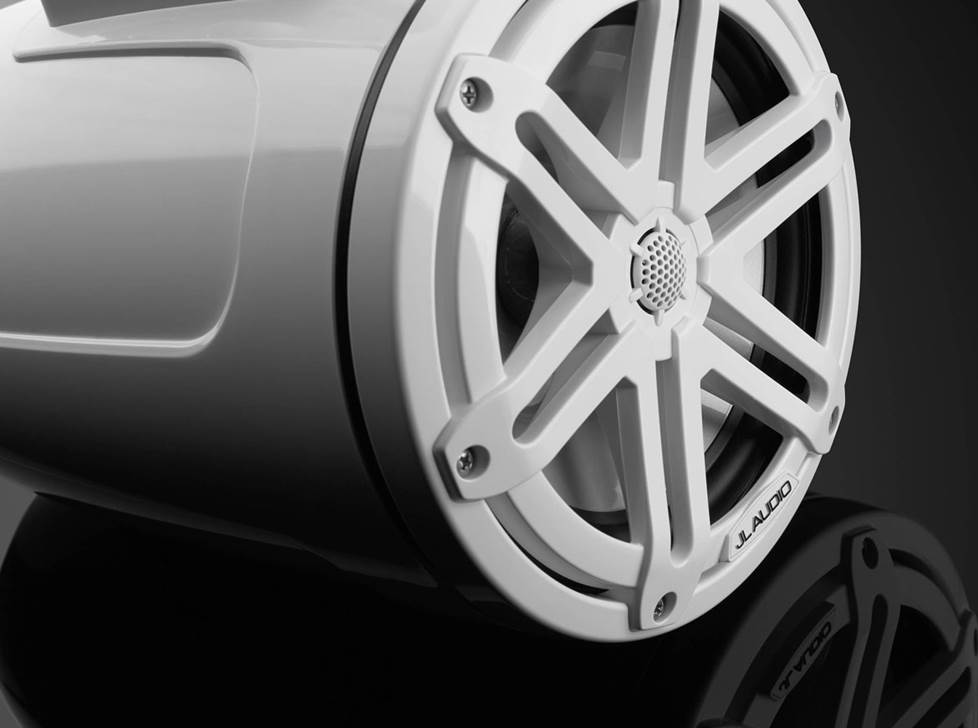 High-performance tower speakers
JL Audio's M3 770ETXv3 tower speakers are designed to deliver quality sound while you're tearing along your favorite stretch of water, so it's no wonder they're among our most popular models. With mica-injected polypropylene 7.7" cones, 3/4" treated silk dome tweeters mounted directly to the grilles, and a set of 2-way crossovers you'll hear all the details of your music.
In addition to sounding good, these speakers look terrific, too, and they're a great match for the rest of your JL Audio marine audio system. They match up perfectly with JL Audio clamps (sold separately), so you can get the look and fit you want for your boat.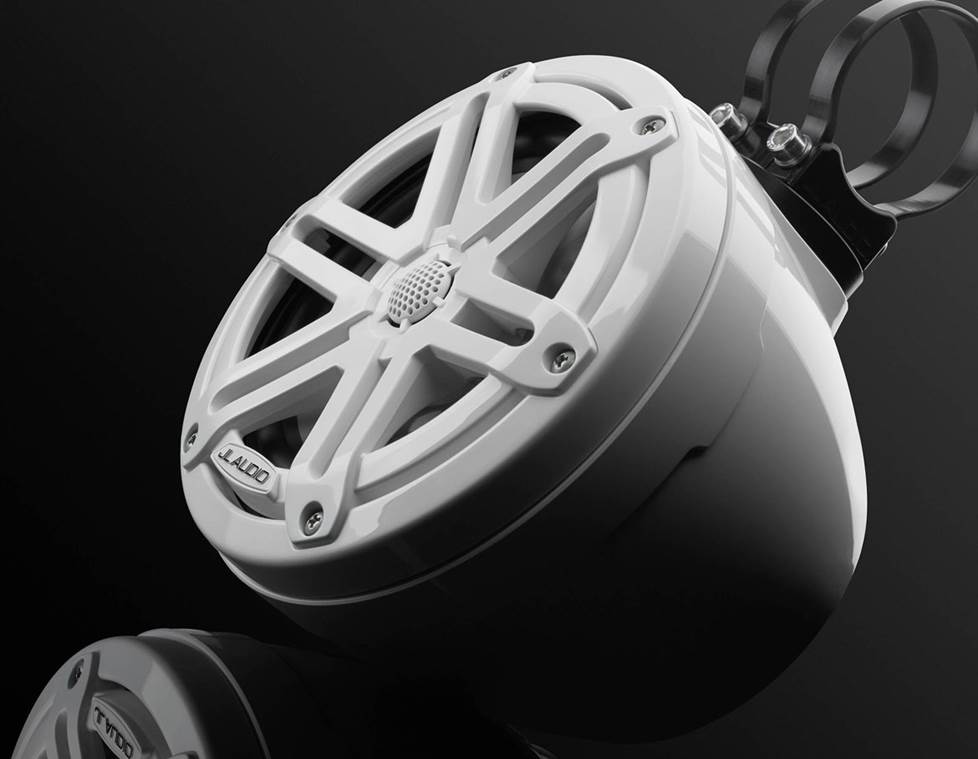 Sweet sound for land or sea
These JL Audio M3 VEX tower speakers are made for off-road use. And waaay off-road use, too. Ideal for smaller boats or ATVs and UTVs, you'll get outstanding audio performance while you're enjoying a day of water skiing or navigating a challenging trail.
They look terrific, of course, but they're also durable enough to survive in harsh marine environments and off-road environments. With these 6-1/2" speakers, you'll definitely hear your music over the roar of your boat or UTV. If you want a different look, this model is available in several different styles.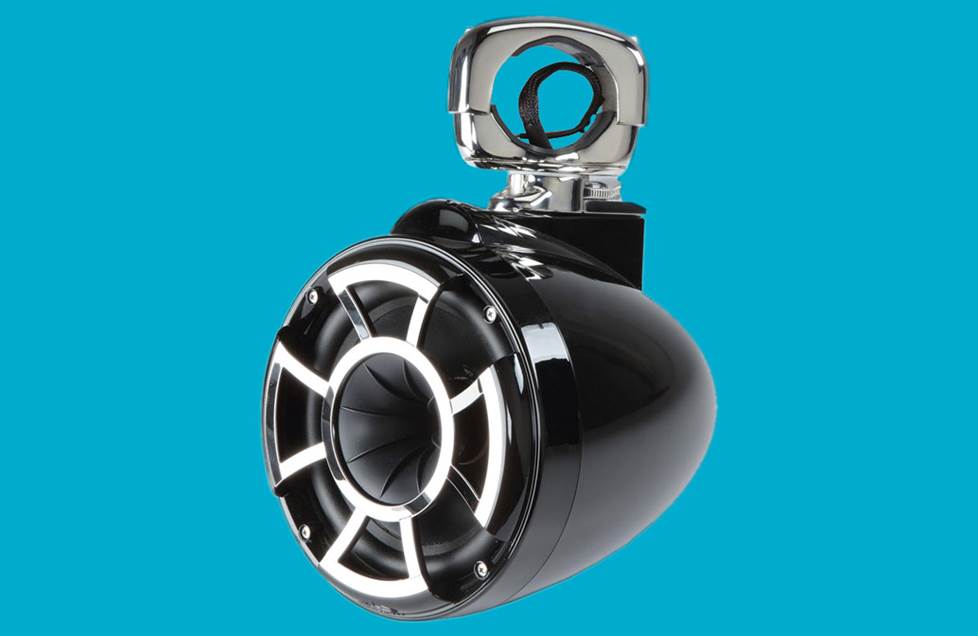 Big speakers, big performance
Wet Sounds Rev 10 speakers are designed with high-performance boating in mind. Exclusive REV TEC technology gives these big 10" wakeboard tower speakers the power and precision needed to project clear, accurate sound over long distances, on-axis or off. Not only does the sound go a long way, it goes where it's needed. Everyone on board will keep rockin' over wind, waves, and engine noise, while skiers and waterboarders will able to hear the music even when outside the wake and almost parallel to the boat.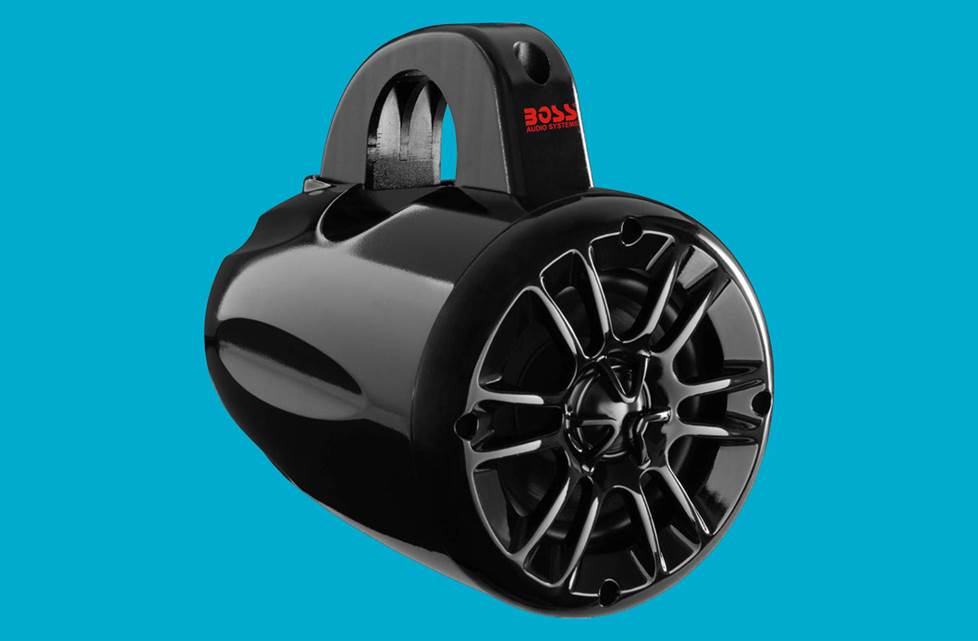 Small tower speakers with big power
These high-performance Boss MRWT40 tower speakers prove that big sound can come from small packages. Designed for marine and off-road use, these rugged, powerful 4" speakers can handle up to 100 watts RMS each, so your small boat, ATV, or golf cart will really rock.
These Boss speakers are plenty tough enough to stand up to the rigors of outdoor life. The mounting clamps are built to last, too, and they'll fit 1-1/2" to 2" roll bars. If you want to raise your sound stage without breaking the bank, these speakers will be great on your boat.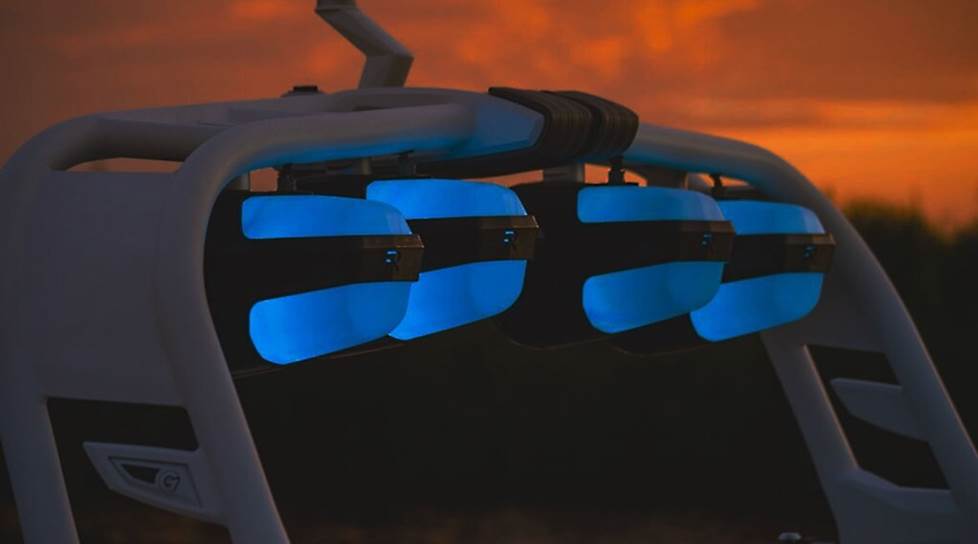 LED speakers that dare to be different
Roswell's award-winning R1 Pro Series tower speakers are designed to be different, with a side-mounted tweeters, translucent housings, and marine-tested durability. Each weather-sealed enclosure houses a durable 8" woofer and component-style 1" compression tweeter handling up to 200 watts RMS, so these 8" speakers will bring big sound and cool LED lighting to your boat.
You can use Roswell's RGB controller (not included) to access pre-programmed colors and patterns for an evening light show. Roswell's swiveling clamp system is easy to install and lets you rotate the speakers to suit your situation.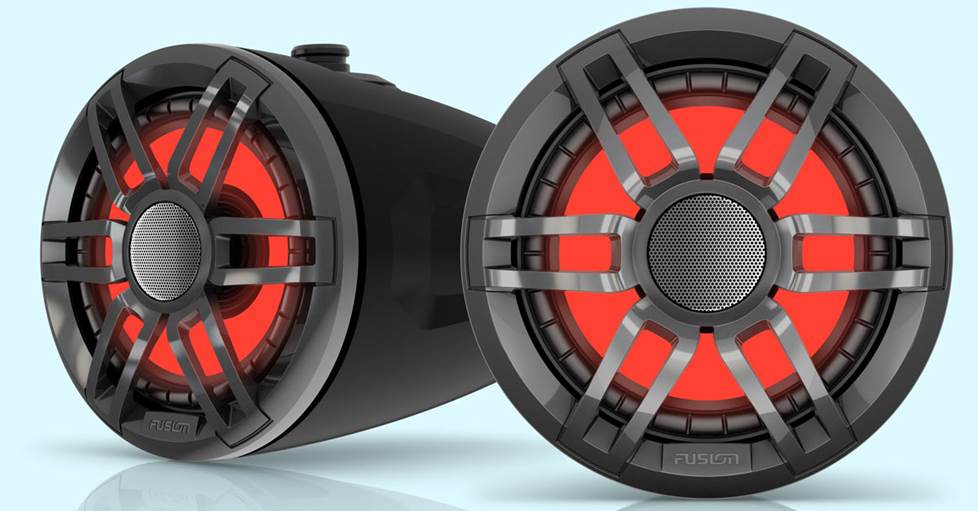 Big sound that's build to last
If you're going to invest in a set of marine speakers, you want to know that they'll deliver outstanding sound for years to come. Available in your choice of black or white, Fusion's XS-FLT652SP marine tower speakers not only sound great, they also bring multi-color LED lighting to your boat.
Fusion's optional MS-RGBRC wireless remote controller gives you total control over the LED lighting. You can change the color, brightness, speed, and mode by using the touch controls. This remote can control up to three lighting zones from up to 10 meters from the speaker lighting controller module.
These full-range speakers will handle up to 50 watts RMS (200 watts peak) and they can operate at high volume all day long. With an IP67 rating, these speakers are build to resist water, dust, salt, fog, and damaging UV rays. Best of all, as part of Fusion's True Marine™ line, they're even backed by a 3-year warranty.
Other things you'll need
Once you've chosen your tower speakers, make sure you have everything you need to install them properly and get the best possible performance from them.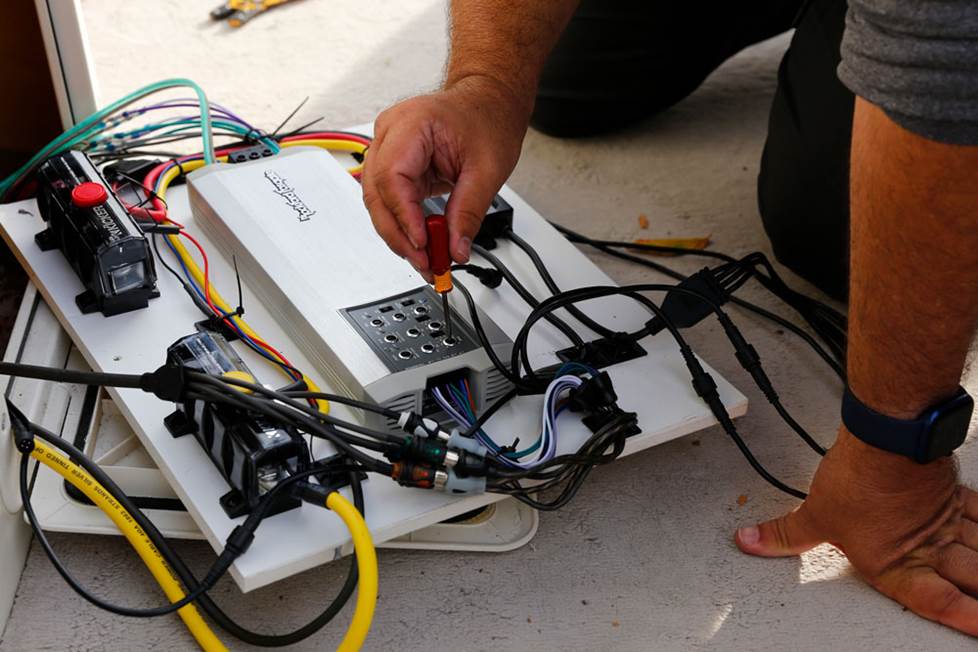 Add an amplifier for best performance
The more power your wakeboard tower speakers get, the louder and better they sound. Most aftermarket marine receivers come with built-in 4-way amplifiers, but that stereo power isn't really going to be enough to make wakeboard tower speakers do their best work.
So if you like it loud or just want to drown out the nautical noise, you really should invest in a marine-rated amplifier. Be sure to choose an amp that has an RMS power rating equal to or less than the speakers' power-handling specs.
Marine-rated speaker wire and cables
Marine-rated wiring is an essential part of any marine audio system. All wires should be tinned; bare copper can corrode quickly in salt water conditions.
Don't forget the mounting clamps
The best way to attach wakeboard tower is a set of rust-resistant clamps. All you need to do is place the clamps around the towers and secure them with the included bolts. Some speakers include clamps, but many don't, so be sure to check before you finish your order.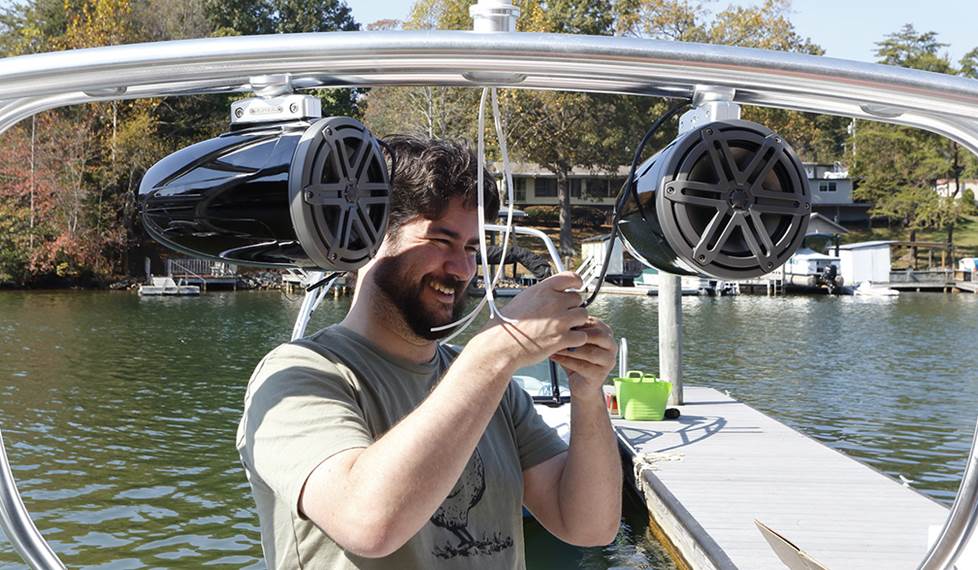 Crutchfield Editor, Matt, has installed his share of wakeboard tower speakers
Learn more
We have lots of great articles that will help get you ready for your DIY marine audio installation project. For more info, you can start with these two:
Cool gear and smart ideas for your boat's new audio system
Tips for installing tower speakers on a boat
Got questions? That's what we're here for!
Thinking about upgrading the sound on your boat? If you have any questions about choosing and installing your wakeboard tower speakers, our expert marine audio advisors will be happy to answer them. Give us a shout.
Popular questions customers ask
Because you like loud party music blasting out everywhere you go. Wakeboard tower speakers can deliver sound precisely aimed at particular locations onboard or toward skiers and other off-board folks in the surrounding waters. Off-roaders use wakeboard tower speakers on their ATVs and trucks to bring outdoor music to their loud parties.
Wakeboard tower speakers are designed to play in and survive the hostile environments of extreme temperature changes, vibration, moisture, and dirt found in boating and off-road motoring. Also, wakeboard tower speakers are designed for marine and off-road application and mounting, and often come with the appropriate hardware for boat and ATV installation.
All wakeboard tower speakers can play full-range music with power and clarity, but if you want lots of bass without adding a subwoofer, get a speaker as large as possible. A lot of popular 8-inch models have frequency responses that dig down to the bassiest of bass beats. In addition, a lot of wakeboard tower speakers feature built-in RGB lighting systems, so you can add to the party with pulsating colored lights playing along with your music.
Wakeboard tower speakers are probably the easiest kind of speaker to install, because they are designed to be self-contained — you don't have to fit them behind a panel or inside a separate enclosure or box — and mount to the available factory railings and brackets found on most boats and off-road vehicles. The most difficult part is running the wiring if your boat doesn't already have speaker in the mounting location.
Yes. Wakeboard tower speakers are designed to play loudly and need lots of amplifier power in order to operate correctly. For example, a typical wakeboard tower speaker that carries a 300 watts RMS power handling rating will require an amplifier of up to that much power per channel in order to sound good. An amplifier installation will include a marine-grade power and ground wiring kit, speaker wires, and signal connections from a receiver or wireless source.
Last updated 11/16/2022