In a nutshell: A surround sound system consists of a few essential parts. This article shows you how to put them together to create a well-matched home theater. Here's what you need:
I am a self-proclaimed sci-fi nerd. Give me a space movie or anything with dinosaurs and I become totally captivated — especially when I can take in a flick on my home theater system. Watching a movie in surround sound puts me right in the thick of the space battle or Tyrannosaurus rex chase. It's so much fun!
My goal is to help you enjoy the same sense of fun and adventure with your surround sound system. This guide walks you through the key things to consider while planning your new home theater system.
How do you match speakers to your room?
The first thing to consider as you're designing your surround system is the room itself.
How big of a space do you have? A large, open living room with vaulted ceilings needs different gear than a small- or medium-sized room with 8' ceilings.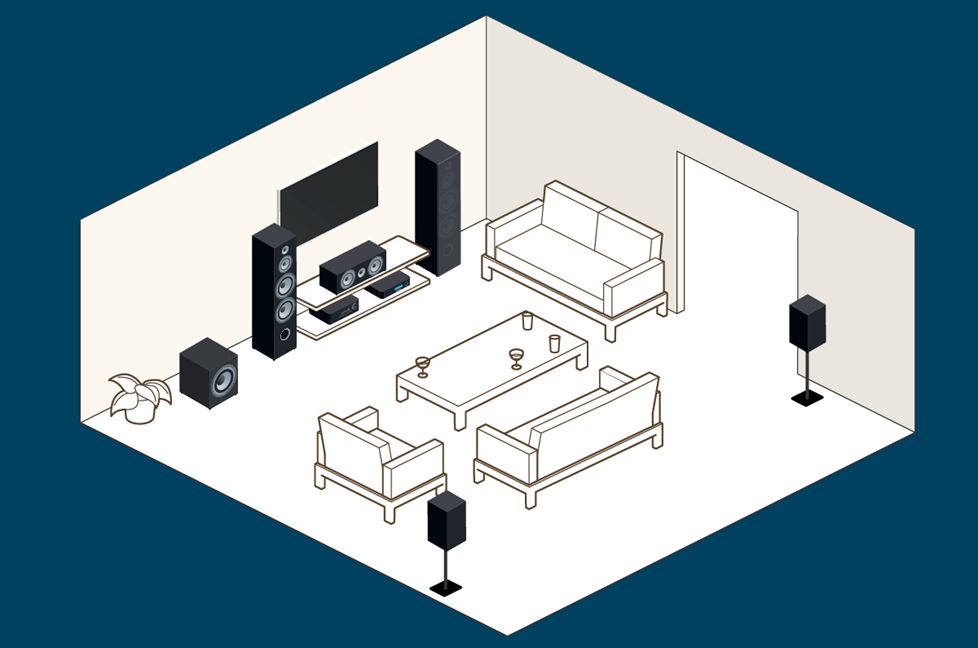 Choose speakers that match the size of your room. Floor-standing speakers are ideal for large, open spaces.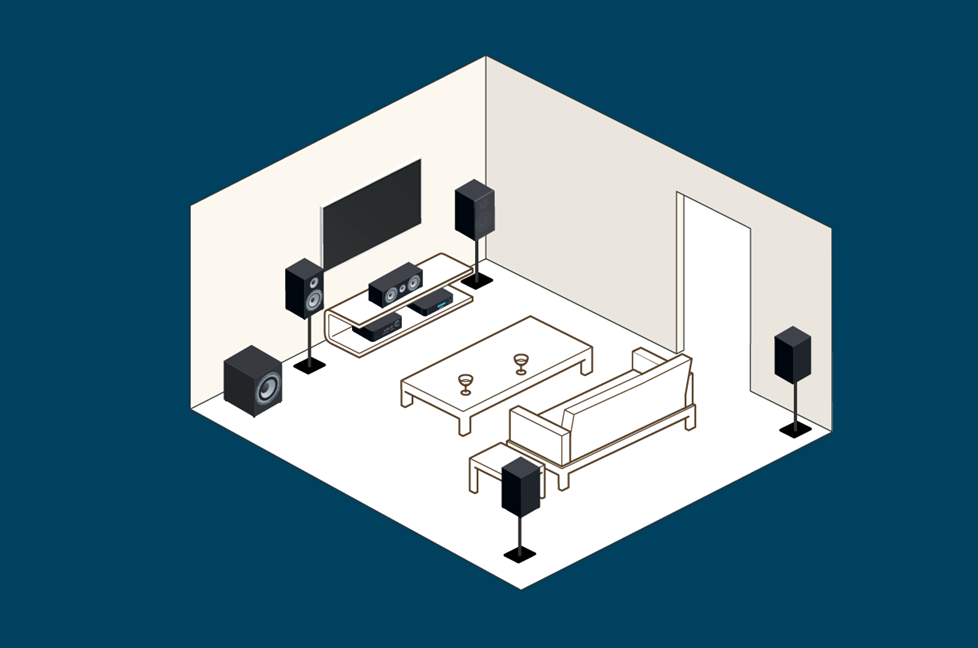 Stand-mounted, on-wall, or in-wall speakers are well-suited for smaller rooms.
Another consideration is what else you'll be using the room for.
Is this the family room where the kids play? Then you might want speakers mounted to the wall that are out of the way.
On the other hand, if this is a dedicated theater room, floor-standing speakers (or speakers on stands) aren't likely to pose a hazard to pets or kids.
Where will your speakers sound their best?
Consider the layout and shape of your room. Where will the speakers look and sound the best?
My article on speaker placement has detailed recommendations for mapping out your system.
Compact speakers offer unobtrusive placement options
Is this system going in the family or living room?
If the TV and sound system won't always be the center of attention, think small. Compact speakers easily blend into your décor and leave plenty of room for other activities.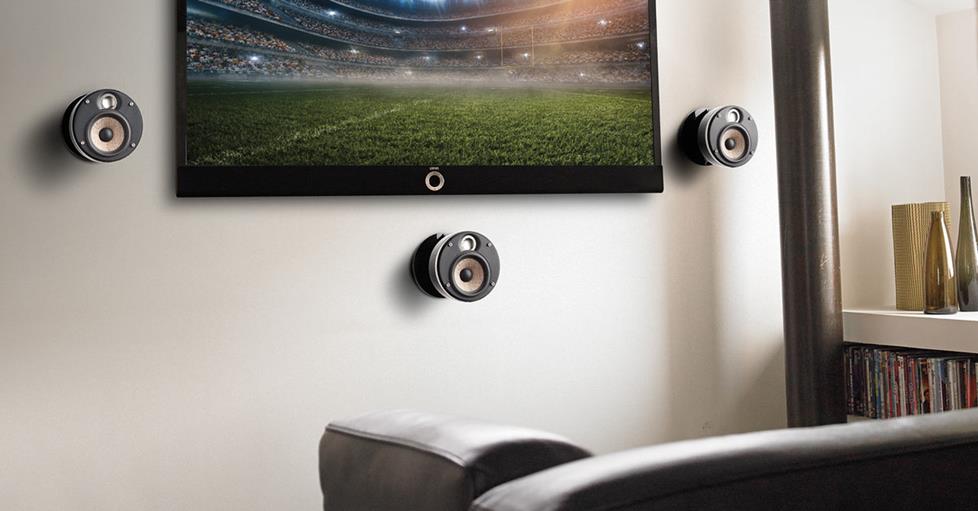 Wall-mounting your speakers keeps them out of the way of foot traffic.
Bookshelf, in-wall, and in-ceiling speakers are great options for immersive sound without taking up a ton of floor space.
Get theater-like sound with floor-standing speakers
If space isn't a big concern, you're free to go with larger speakers. Anchoring your surround sound system with floor-standing speakers helps reproduce the movie theater experience. Their large acoustic chambers deliver powerful surround effects for movies and video games.
Tower speakers are also ideal for listening to music in stereo.
Floor-standing speakers provide a large, lifelike soundstage in the front of your room.
What role does each speaker play in a home theater system?
A home theater is comprised of several different types of speakers. Understanding the role of each one will help you choose the best options for your room.
Here are the main ingredients of a surround sound speaker system.
The center channel produces dialogue and more
The center channel is often considered the most important speaker in your system. It delivers more than 50% of a movie's soundtrack, including almost all of the dialogue. It also provides important center stage sound effects.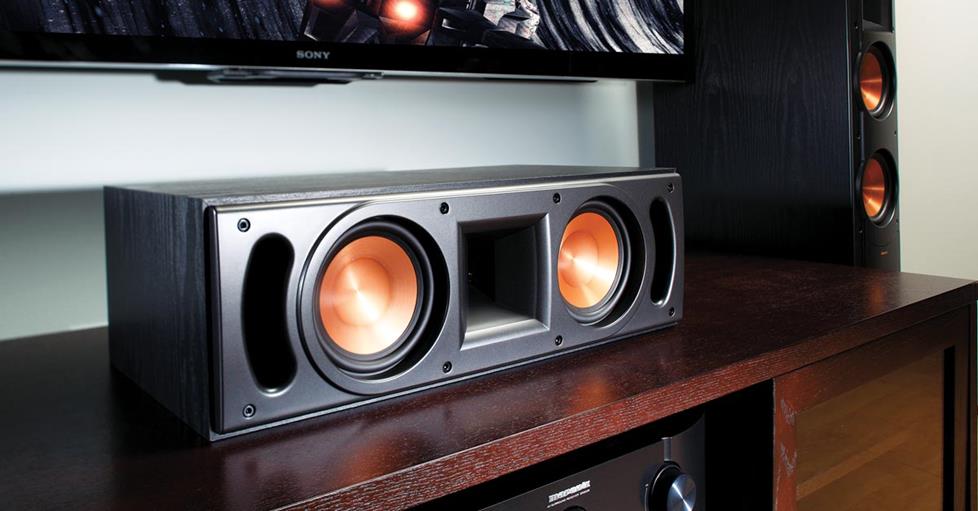 Your home theater's center channel is responsible for a large portion of a movie's soundtrack. Choose one that matches both your room and the other speakers in your system.
Your center channel should match well with your other speakers. Compact speakers warrant a smaller center channel, while floor-standing speakers need a large center speaker to match their robust output.
Consider where your center channel is going. If you have an entertainment cabinet, make sure it will fit within the allotted shelf space.
For a deeper dive into center speakers, read our center channel speaker buying guide.
The front left and right speakers create a wide soundstage
Your front left and right speakers reproduce the movie's musical score. They also handle the bulk of the special effects. To draw you into the story, sound moves between the front speakers in sync with the action unfolding on the screen.
Floor-standing speakers, bookshelf speakers, and on-wall speakers all work well as front left and right speakers.
Surround speakers provide lifelike special effects
Surround speakers go beside and/or behind your seats. They immerse you in the movie by producing ambient sounds like rain drops, or rustling leaves.
The surround channels also work with your other speakers to deliver spectacular directional effects. Think of a locomotive rushing by, or a bullet zinging past you.
A 5.1-channel system uses one pair of surround speakers positioned beside or behind you. A 7.1-channel system uses both side and rear surrounds.
If you have a large room or have multiple seating locations, a 7.1-channel system is worth considering.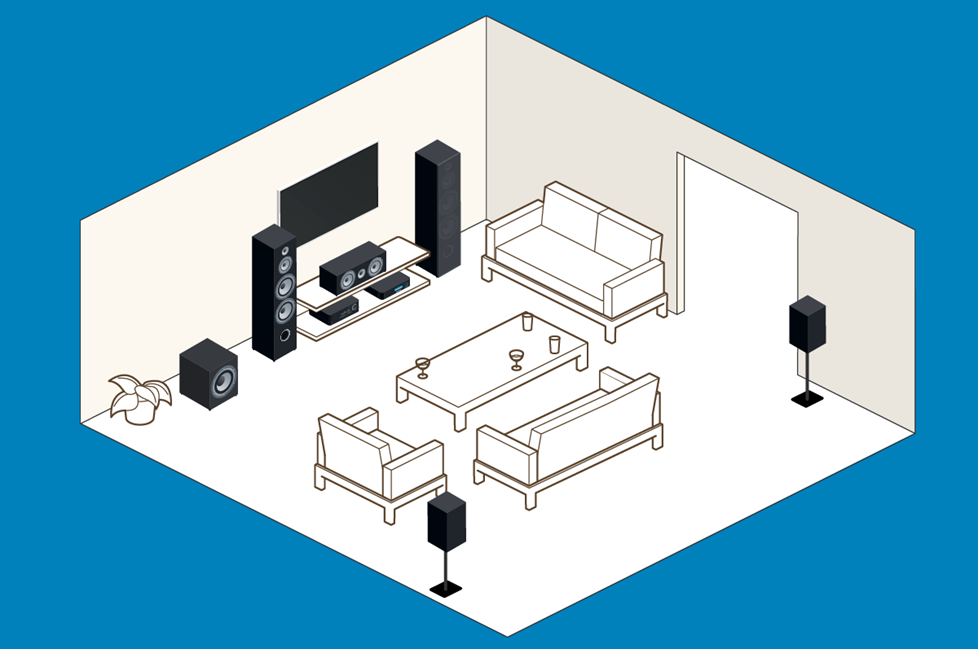 In a 5.1 system, your surround speakers are best placed to the left and right of your listening positions.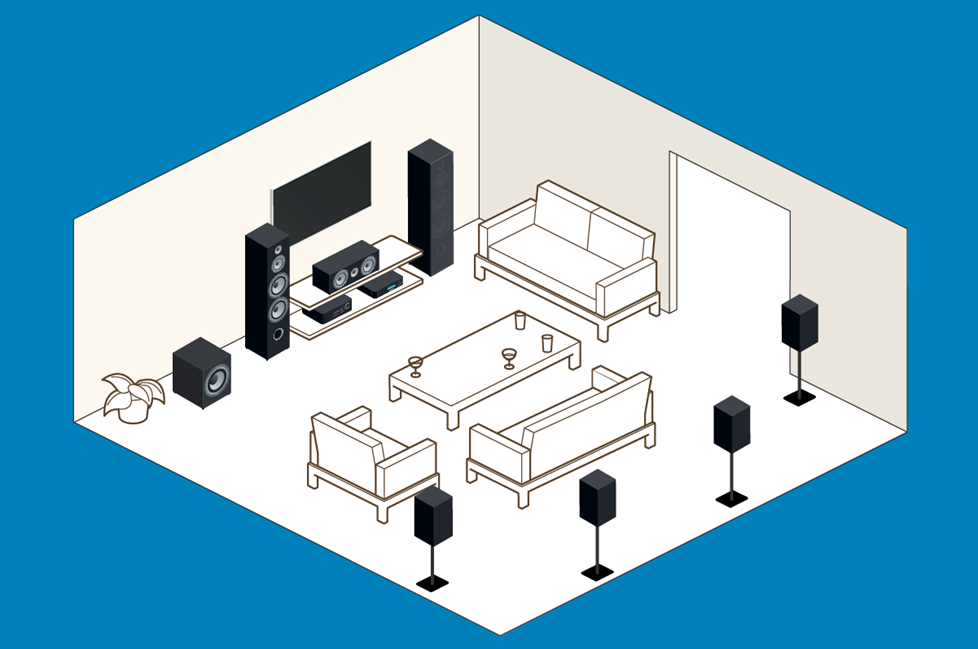 In a 7.1 system, surround speakers are positioned both beside and behind your seating area, aimed towards you.
Your surrounds can go on speaker stands, or you can mount them to your wall.
What speakers should you use for your surround channels?
Many traditional bookshelf or on-wall speakers can be used as surround channels.
You might also consider specialized bipole/dipole surround speakers, which have multiple drivers that fire in different directions. This creates a diffuse sound field that enhances the wraparound effect.
To learn more about the bipole, dipole, and monopole options for rear channel speakers, read our surround speaker buying guide.
Dolby Atmos and DTS:X overhead effects speakers
Building a Dolby Atmos® or DTS:X™ system? Then you'll need a pair or two of speakers for sound above your listening position. You can use either in-ceiling speakers, or upward-firing speakers for your overhead effects channels.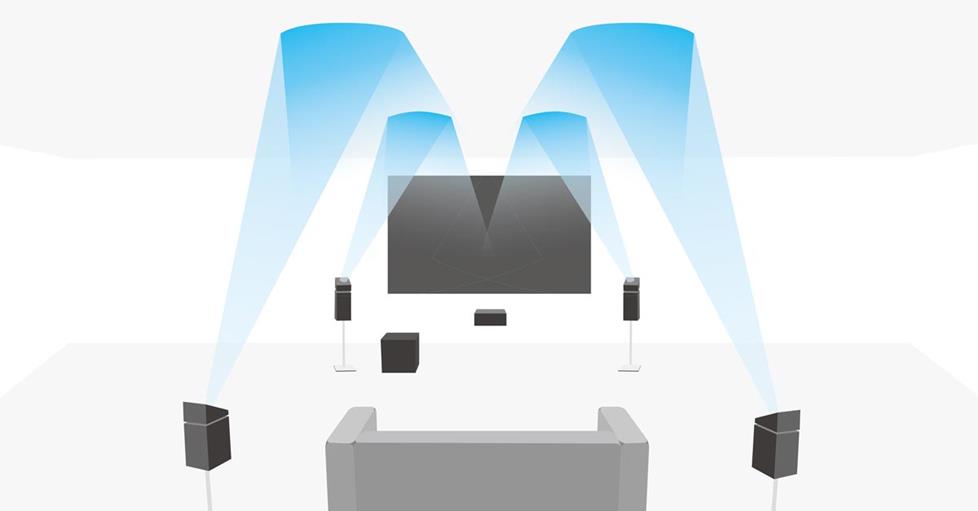 A Dolby Atmos system starts with a conventional 5.1 or 7.1-channel surround sound system. Then you add two or four upward-firing or in-ceiling speakers for overhead effects that rain down from above.
What size subwoofer should you get?
Movie soundtracks provide a dedicated channel of deep bass that plays through a powered subwoofer. The sub is what gives planes flying overhead and bombs exploding their window-rattling punch.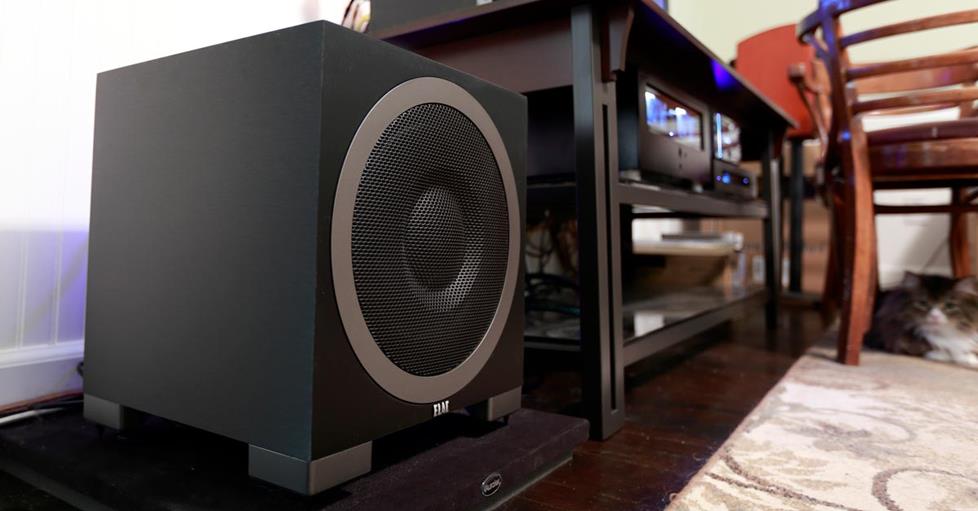 Most people put their sub in the front of the room, so that it's easier to connect it to their home theater receiver. If running a cable to where your sub sounds the best is impractical, use a wireless subwoofer kit.
Choose a subwoofer that matches well with your room and your speakers. As a rule, the larger the driver, the deeper the bass.
Have a large room? Go for a sub with a 12" or larger woofer.
Smaller room? A compact sub can sound great. For more detailed recommendations, check out my article on choosing home theater subwoofers.
Voice match if you can, but it's not required
Each speaker brand or series has its own tonal qualities or "voice." I recommend using the same brand of speakers for each location so that you get evenly balanced sound and output levels around your room.
If you can't match all of your speakers together, try to at least use the same brand of speakers for front left, right, and center locations. This gives you a unified front soundstage that ensures consistent performance.
Want stealthy surround sound?
If you want a low-footprint system, consider in-wall, in-ceiling, or on-wall speakers. Read my article about in-wall and in-ceiling speaker installation to learn more about what's involved.
Everything you need to get started
To get the best sound you'll need to pair your new speaker system with a good home theater receiver. This guide will help you choose the right one.
Are you wondering how to fit a home theater system into a small room? Read our small home theater ideas article.
You'll connect your system together with speaker wire and a subwoofer cable. We also recommend good power protection for your receiver, TV, A/V components, and powered sub.
We can help you choose
Have questions about choosing the right equipment for your surround system? Our expert Advisors know the gear inside and out.
Give us a call for help! Free lifetime tech support is included with your Crutchfield purchase.