In this article: We'll cover all the basics about home theater speaker systems, including...
...and we'll cover what you need to get everything working.
'm a proud movie buff. Put on anything Tarantino, Ridley Scott, or Satoshi Kon and I'm glad to share my enthusiasm about the film (sometimes to the extreme). But working at Crutchfield has spoiled me a little. I'm used to impactful explosions, crystal-clear dialogue, and immersive surround sound effects. If the movie doesn't sound fantastic, it puts a damper on my enjoyment.
Setting up a home theater system can seem intimidating, but it's not that bad once you get started. I'll walk you through some important considerations and help you get a head start on planning your new home theater system.
Types of home theater speakers
You might have heard the terms "bookshelf speaker" and "Atmos topper" thrown around online before. But what do those terms actually refer to? Let's break down each kind of home theater speaker to give you a good foothold.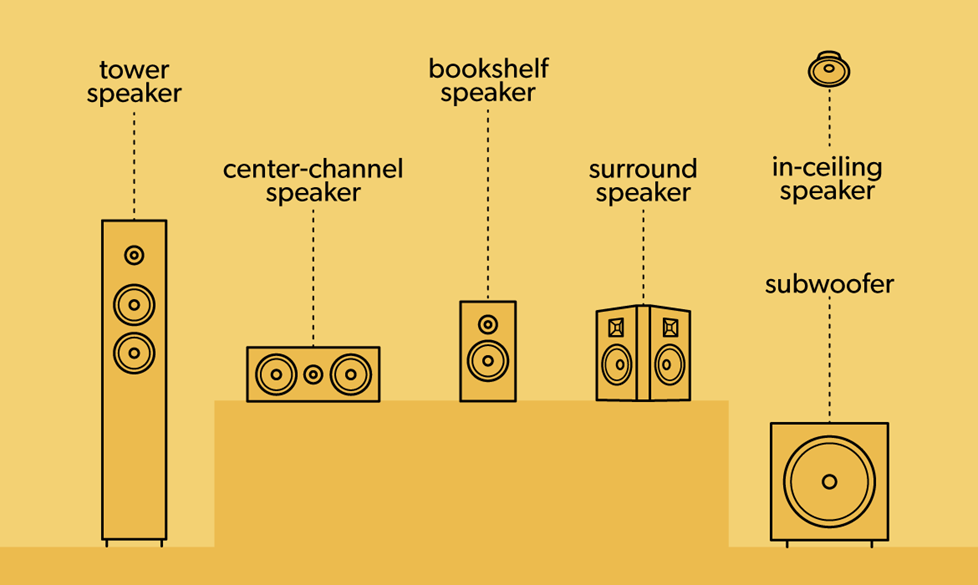 Tower speakers, also known as floor-standing speakers, are usually used as your front left and right speakers. These speakers can be large and tall, so make sure you've got adequate space to accommodate a pair.
The center-channel speaker is the most important speaker of all, as it's what reproduces dialogue and center effects. Without it, movies can sound very thin.
Bookshelf speakers are versatile and can serve as your front speakers, your side surround speakers, or your rear speakers. These speakers don't take up as much space as towers, and can be compact or a little on the large side.
Surround speakers go behind and/or beside your listening position. These speakers often have two sets of drivers that fire in opposite directions to give your sound plenty of dispersion. They reproduce surround sound effects like rain, explosions, or anything that's not front and center.
Height speakers, (or Atmos speakers), come in two flavors. You can go the custom-installed route of in-ceiling speakers, or you can add Atmos enabled speakers. These come in the form of toppers that sit on your front speakers and reflect sound down onto your listening position. Some bookshelf and floor-standing speakers have Atmos toppers built in.
Powered subwoofers are what deal out bass and add thump to effects.
5-point what?
Unlike stereo systems, which use two speakers, home theater setups often use multiple speakers throughout the room. As long as you have the receiver to support them, you can add a ton of speakers to your home theater system.
The most basic home theater system uses five speakers and one subwoofer. This is referred to as a 5.1 system. A larger system with side surrounds is 7.1.
If you're into 3D surround sound formats like Dolby Atmos® or DTS:X, you can go all out and add in-ceiling or "height" speakers to make a 5.1.2 system (the "2" is the number of height channels) all the way up to a 7.1.4 system or higher.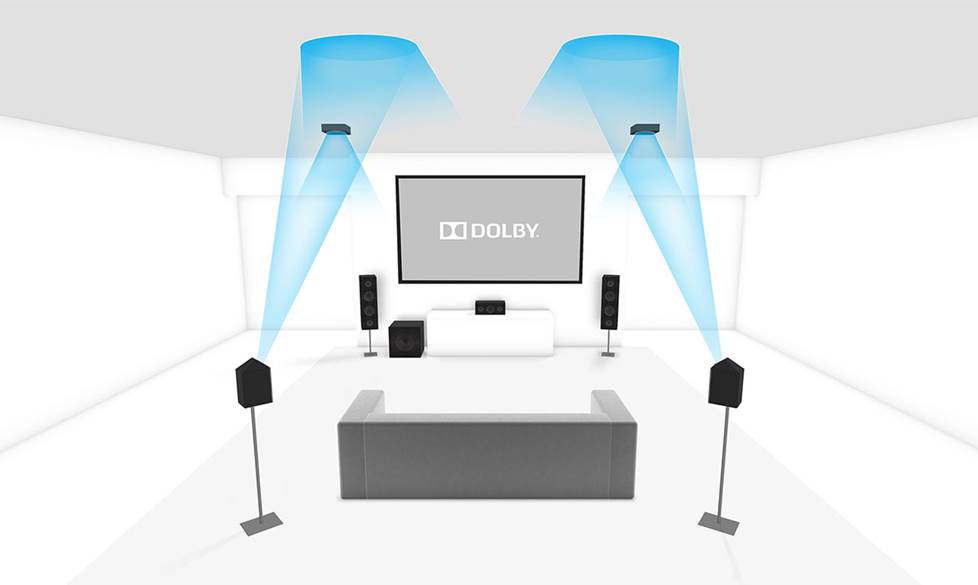 A Dolby Atmos system starts with a conventional 5.1 or 7.1-channel surround sound system. Then you add two or four upward-firing or in-ceiling speakers for overhead effects.
How to match speakers to your room
When I was a Sales Advisor, I often heard customers saying that their system sounded a little small or shallow. My best advice to those folks is to consider your room's size and get speakers that'll fill it out.
To put it another way, you wouldn't get tiny bookshelf speakers for a large, open concept room with vaulted ceilings.
If you've got a room like that, you'll want to go with floor-standing models as your fronts to get the best sound quality. Likewise, if you have a smaller room, there's nothing wrong with using stand-or-wall-mounted bookshelf speakers for your fronts.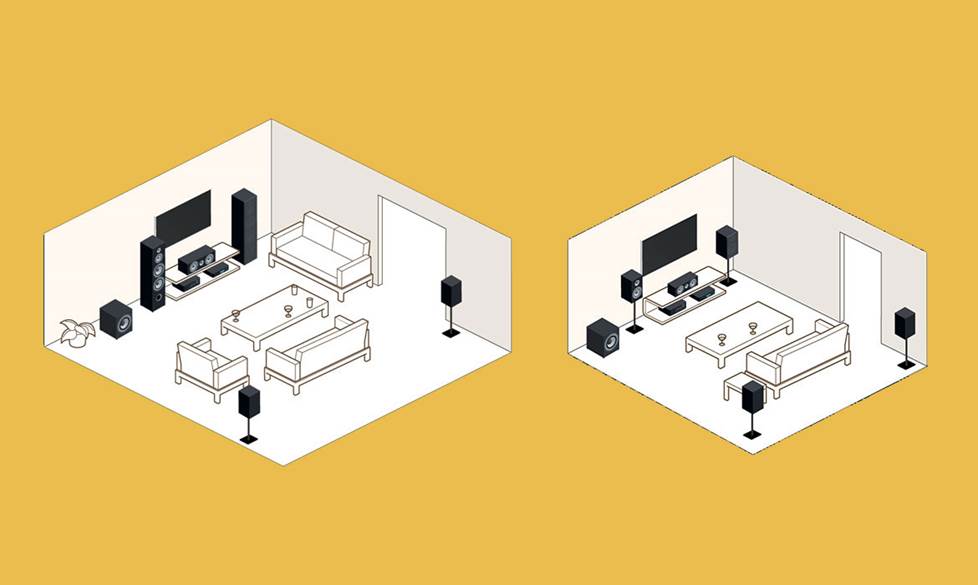 Floor-standing speakers are ideal for large, open spaces, while stand-mounted bookshelf speakers are well-suited for smaller rooms.
You'll also want to consider how much foot traffic the room gets. Have kiddos or pets? You'll likely want to keep bookshelf speakers up and out of the way with wall mounts, or go with in-ceiling or in-wall models. But if the room is a dedicated theater room, you'll likely be fine with traditional speakers.
Where will your speakers sound their best?
While you can place speakers almost anywhere, putting them where they both look and sound the best is ideal. You can read our home theater speaker placement guide for a head start.
Voice match if at all possible
Voice matching ties an entire system together. Voice matching means getting the same brand and line of speakers throughout your system. It ensures even sound across all your speakers. Mixing can work in some cases, but doing so can leave the system feeling skewed in one way or another.
To put it another way, how would you feel listening to a quintet where everyone was singing well but couldn't harmonize with one another?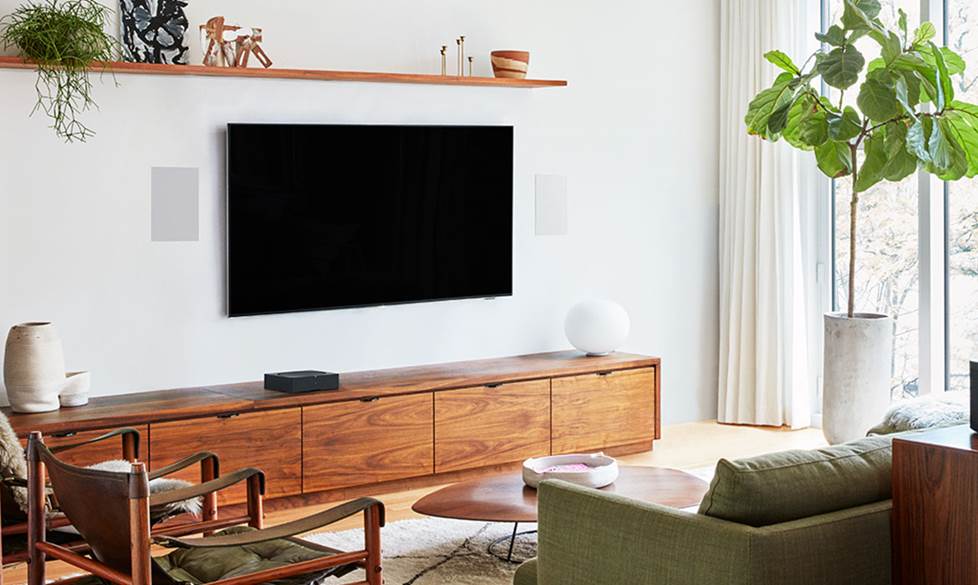 If you want a low-profile system, consider in-wall or in-ceiling speakers.
Incognito surround sound systems
We get that not everyone enjoys actually seeing where their sound is coming from. That's why in-wall and in-ceiling speaker options are popular alternatives. There are even in-wall subwoofers! Once they're installed, they're hidden behind a grille, giving you a clean look across the board. You can check out our article on in-wall and in-ceiling speaker installation to learn more about what's involved.
Everything you need to get started
To get the best sound you'll need to pair your new speaker system with a good home theater receiver. This guide will help you choose the right one.
Are you wondering how to fit a home theater system into a small room? Read our small home theater ideas article.
You'll connect your system together with speaker wire and a subwoofer cable. We also recommend good power protection for your receiver, TV, A/V components, and powered sub.
We can help you choose
Have questions about choosing the right equipment for your surround system? Our expert Advisors know the gear inside and out.
Free lifetime tech support is included with your Crutchfield purchase.