In this article: tips on choosing the right powered subwoofer for your home theater. What size should you get? Does sealed or ported matter? Where should your sub go? We'll cover all of these questions and more to help you get the best bass possible.
I discovered my passion for hard-hitting bass as a movie- and music-loving teenager back in the '90s. My friends and I spent countless hours talking shop and tweaking our systems. A couple of decades later, my thrill for great bass hasn't waned one bit. I still get goosebumps when a surge of low-frequency punch sweeps through my living room.
Having the right powered subwoofer makes a real difference in the quality of your home theater experience. I've put this guide together to help you choose the best one for your system. We'll look at the key factors to consider while shopping, as well as which features and specs really matter.
How do you choose the right size subwoofer?
One of the first things to consider is what size sub you want. Generally speaking, the larger the surface area of the woofer, the deeper it will play — that's indicated by the sub's frequency response, which is measured in Hz.
It may be tempting to go for the largest sub you can find. But bigger is not always better. It's important that your sub blends in seamlessly with your other speakers to create an immersive listening experience.
If your system consists of compact satellite or bookshelf speakers, an 8" or 10" sub will pair nicely with them. On the other hand, if you have big floor-standing speakers and a huge center channel, a 12" sub is a better sonic match.
Do you have a big, open living room? Then a large subwoofer is worth considering since it moves more air (and thus produces more bass). Is this sub going into a cozy den or bedroom? Then a smaller size may make better sense so you don't overwhelm your space.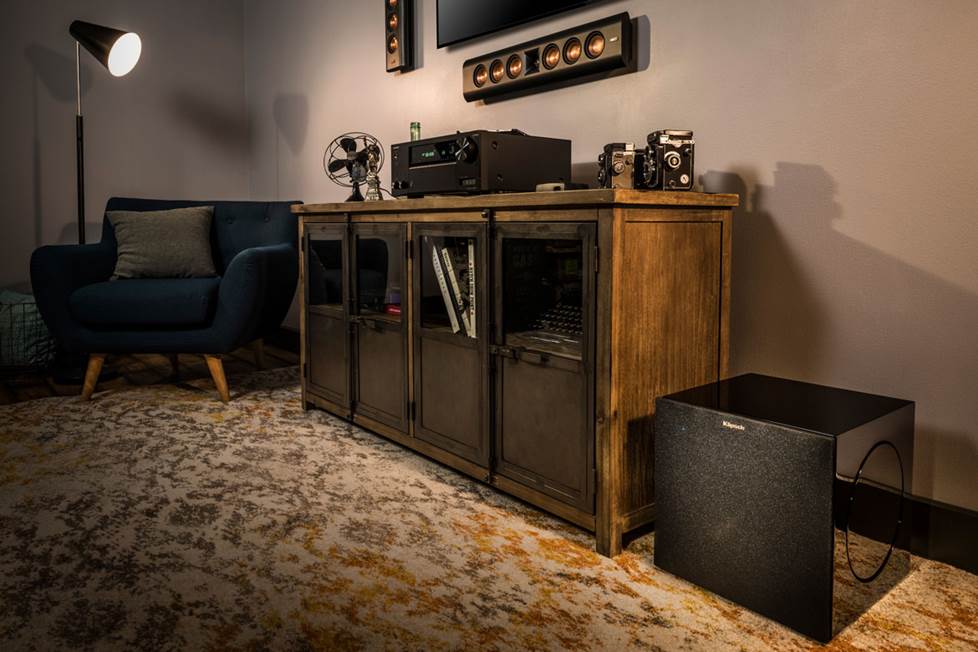 Choose a sub that appropriately matches the size of your room as well as the size of your other speakers.
How much bass do you want?
The question of "how much sub should I get?" is a personal consideration. I'm really into dinosaur and spaceship movies, so I like bass that thunders and makes my room quake. I went through several smaller subs before landing on my current 12" Klipsch, which suits my room and taste for bass perfectly.
If your household is more likely to binge-watch comedy shows or kids movies, you won't need nearly as much "oomph." A smaller sub is the way to go, even if you have a big room.
My colleague and fellow home speaker enthusiast Emily has the same beefy Klipsch model that I have, and loves it.
How much power do you need?
One of the best things about a powered subwoofer is that its amplification is built right in. That means you don't need to shop for a separate amp to drive it.
So how much power do you actually need? Honestly, there's no cut-and-dry answer to that (and I'm not sure boring you with the engineering details is helpful). But generally speaking, the higher the amp's wattage, the more powerful and impactful the bass. My advice is to go for as much power as your budget allows, but don't overspend for higher wattage just for the sake of a bigger number.
The spec to pay attention to is the sub's continuous power, or RMS rating. You'll also see a "peak power" rating listed on many powered subs. While flashy on paper, this measurement doesn't factor much into real-life performance, and is safe to ignore during your selection process.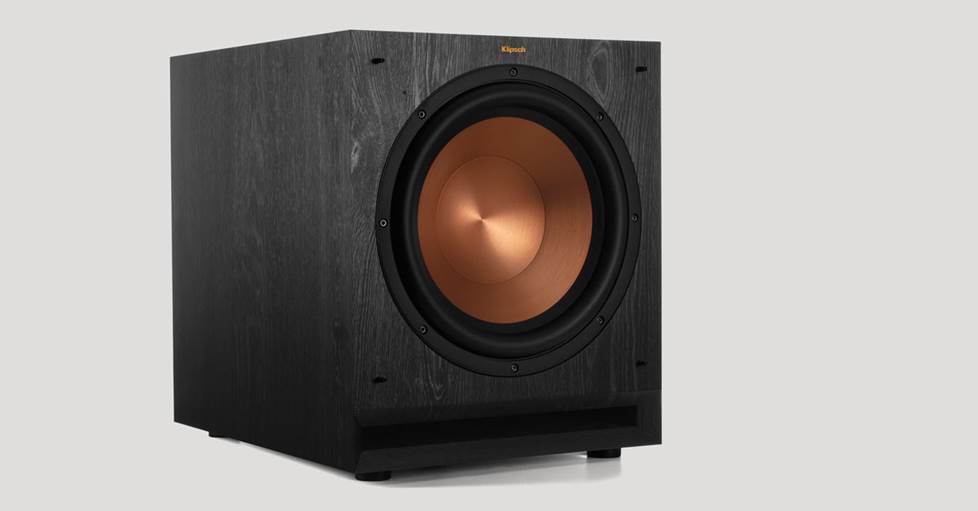 The 12" Klipsch SPL-120 is powered by a 300-watt RMS amplifier — an ideal choice for getting deep, well-controlled bass in medium-sized rooms.
Which is better, sealed or ported?
You'll see two main types of subwoofer enclosures: sealed and ported. Sealed enclosures (also known as acoustic suspension) are just as they sound: air doesn't move in or out. This tends to make them quick and responsive with tight, accurate bass.
Ported boxes (or bass reflex enclosures) have a built-in air vent that helps reinforce low bass output. You'll typically get more powerful bass from a ported enclosure without needing as much power. But there's a tradeoff: ported boxes can be considerably larger than their sealed box counterparts.
So which sounds better? There's no clear-cut winner when it comes to home theater applications. Both designs offer clean, hard-hitting bass for movie soundtracks.
But if you listen to music on your home theater system, the type of enclosure can have a more audible impact. If you like jazz, classical, or other acoustic genres, I recommend a sealed enclosure. If you prefer hard rock, hip-hop, or EDM, a ported design is generally a better choice.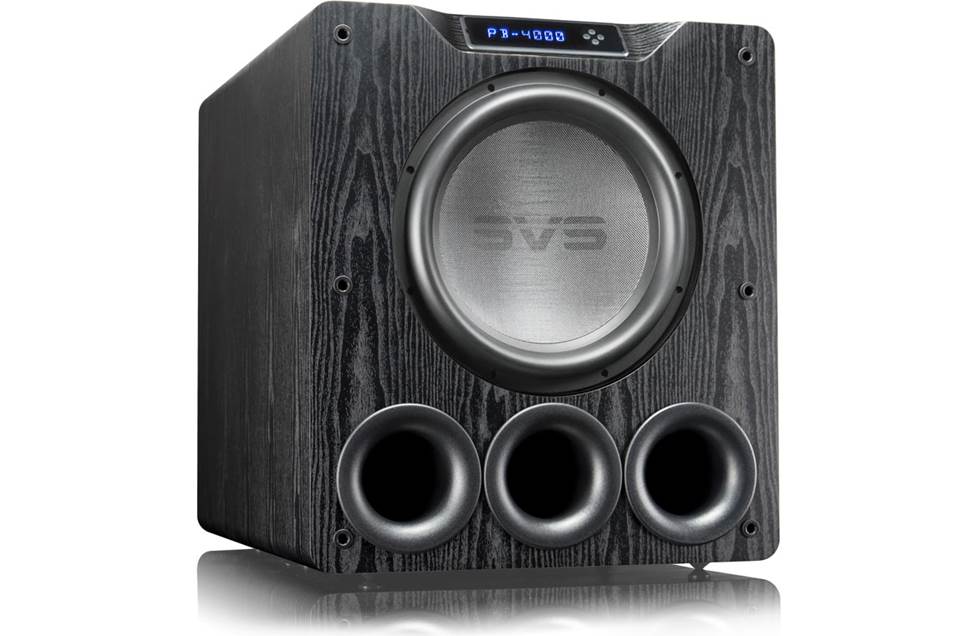 The massive 13-1/2" SVS PB-4000 uses three carefully tuned ports to reinforce low-frequency output.
What are passive radiators?
Some subs use passive radiators to reinforce bass output. These are unpowered cones within the sub enclosure that move in tandem with the powered driver. Passive radiators add extra "oomph" to the subwoofer's output without increasing the sub's amplifier size.
Where should your sub go?
Measure the area where you plan on putting your sub to get a sense of its footprint. You'll want to make sure that the sub you're considering will fit comfortably into your desired location.
Don't forget that you'll need to connect your sub to an outlet for power, as well as to your receiver for signal. Check out my article on home theater speaker placement for tips on arranging your system.
Tip: Use an isolation platform to stop to the rattling
Quick story: my living room has glass bookshelf and fireplace doors, along with tall windows that line three of its walls. All of these used to rattle like crazy when bass hit during movies. It drove me nuts!
One day I decided that I'd had enough. I bought an isolation platform to decouple my sub from the hardwood floor. Voila! Just like magic, the rattling and vibrations instantly disappeared. I even had to dial the sub back because the bass was suddenly stronger. It is without a doubt the best money I've ever spent on my system.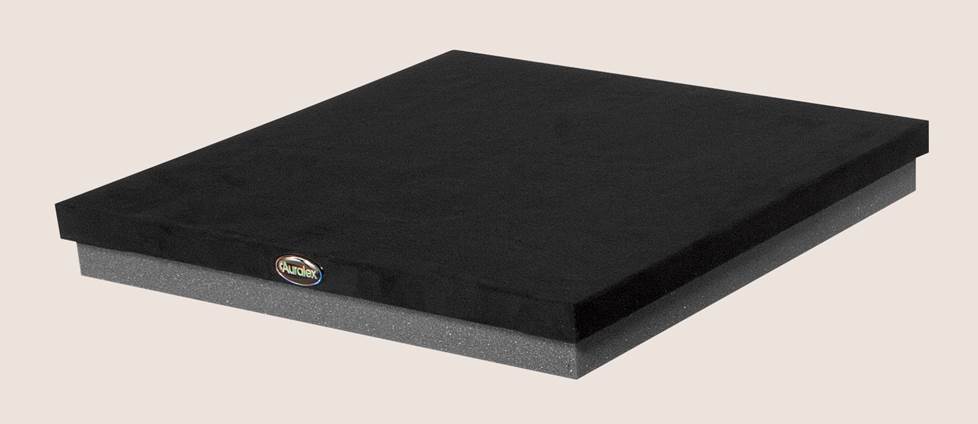 A subwoofer isolation platform, like the Auralex SubDude-II™, can make a huge difference in how your sub sounds.
Add a second sub for better bass in your room
Home theater receivers use an RCA output for their subwoofer connection (that's the ".1" in a 7.1 system). Some receivers have two subwoofer outputs, which let you easily add a second sub to your system.
Using two subs improves bass distribution around your room, which is especially helpful if you have multiple seating locations. A dual-sub setup is also a great way to go if you crave lots of bass in your room. Here are home theater receivers that have two subwoofer outputs.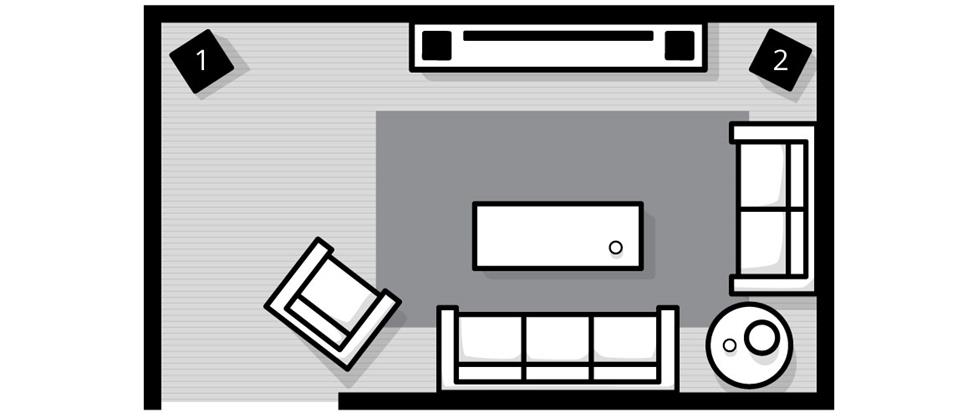 Use two subwoofers in your room to hear balanced, chest-thumping bass from all of your seats.
Tailoring your sub's sound to your room
We've seen some pretty cool advancements in the world of subwoofer technology. The biggest is room-correction software that lets you shape your sub's sound to match your room's acoustics.
Some subs have advanced digital signal processing built right in. For example, Definitive Technology's Descend DN12 has onboard controls for adjusting its DSP system. This lets you precisely tailor the sound to get the best performance in your space.
An even simpler way of dialing-in your sub is by using an app on your phone. "Smart subs," like ELAC's Debut 2.0 SUB3030, use your smartphone's microphone to capture a near-field measurement of the sub's output. It then compares how things sound from your seat, and automatically smooths out the EQ curve to give you the best sound.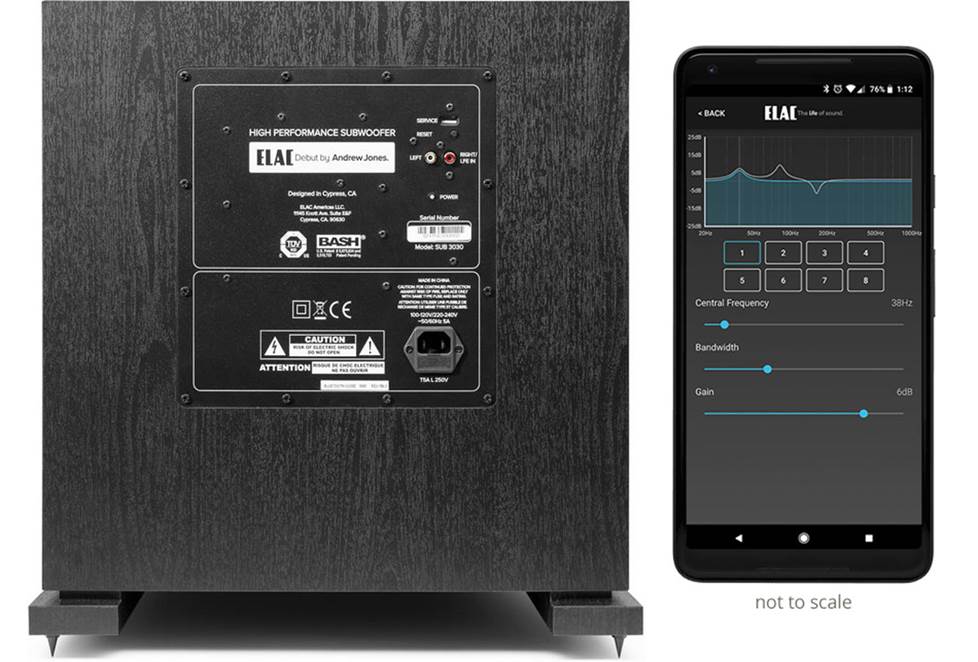 One benefit to a smart sub is that there are no knobs or dials to fiddle with on the rear panel. Just fire up the app on your phone to make changes.
Should you consider a "wireless" subwoofer?
Earlier I mentioned that your sub needs to connect to your home theater receiver for signal. Usually this means running and concealing a long cable from one part of the room to another (everyone's favorite, right?).
A growing number of subs can receive signal wirelessly from a transmitter than connects to your receiver. Some subs include the transmitter in the box. For others, it's available as an optional accessory.
There's also a wireless kit that transforms virtually any sub into a "wireless sub." Remember that your sub still needs to plug into an outlet for power, or better yet a power protection device.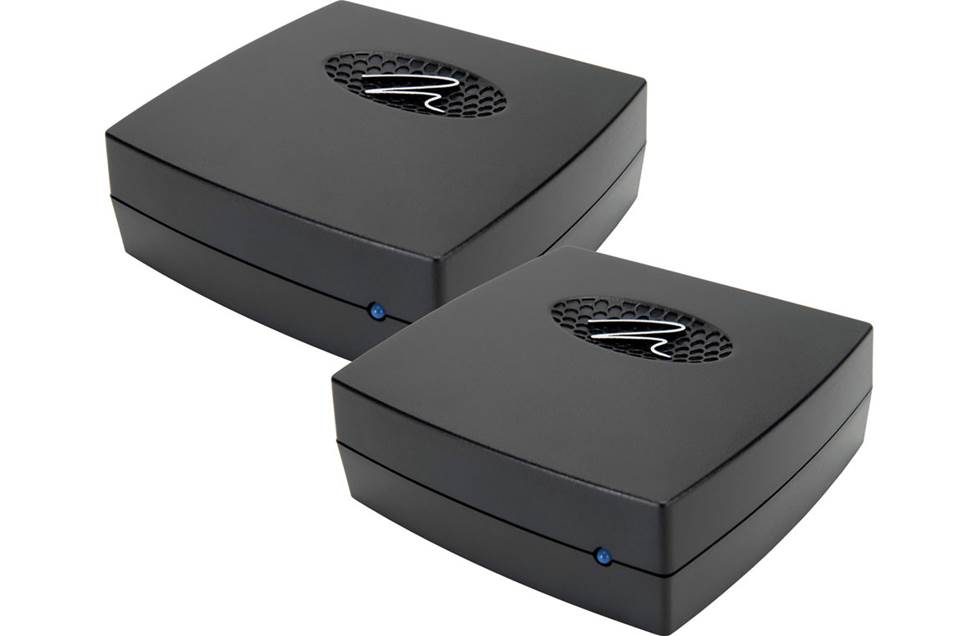 MartinLogan's SW2-TRD wireless subwoofer adapter kit uses a transmitter and receiver to send signal to your sub without using a long cable.
Connect with us for a personalized recommendation
Have questions about choosing the right sub for your room? One of the great benefits of shopping with Crutchfield is working with an expert Advisor. Contact us for one-on-one shopping advice.
Our advisors can send specific Crutchfield pages to your screen, saving you a lot of browsing time. Best of all, they know the gear inside and out, so they can help you make the right choice.
Get the most out of your new subwoofer
Once you've gotten your new sub home, check out our tips for set-up to get the best sound possible from your system. Free lifetime tech support is included with every Crutchfield purchase.
Jump into the conversation
If you have a question about a sub you're considering — or want to pick my brain on anything in the article — leave a comment below. I respond quickly, and if I don't know the answer I'll find someone here that does. Thanks for reading!