What is a bedroom producer? Why is the music-making process easier than ever? How do I get started with home recordings?
This article will answer all those questions and more.
aybe you've heard of Billie Eilish. At 17, she went from obscurity to a pop sensation playing the Coachella main stage. Her songs are haunting, in a simple way. Beautifully layered, full of depth.
Her debut album When We All Fall Asleep, Where Do We Go? reached No. 1 on the Billboard top 100. The reason it's my latest obsession? Her brother recorded everything inside a tiny bedroom. She sat on an actual bed with her legs crossed and sang a No. 1 album into existence without a studio or major budget.
The lesson here? If you're a musician who wants to make a hit song, all you need is a laptop, some inexpensive gear, and ambition.
Why are bedroom producers on the rise?
Recording at a professional studio is a daunting struggle. It's expensive. Sessions are time-restricted and stressful. And there's no guarantee you'll get the sound you want.
Thankfully, the processing power of the average laptop has changed the process. The combination of available hardware and software, all of which you can easily afford to buy and learn to use, gives you limitless possibilities.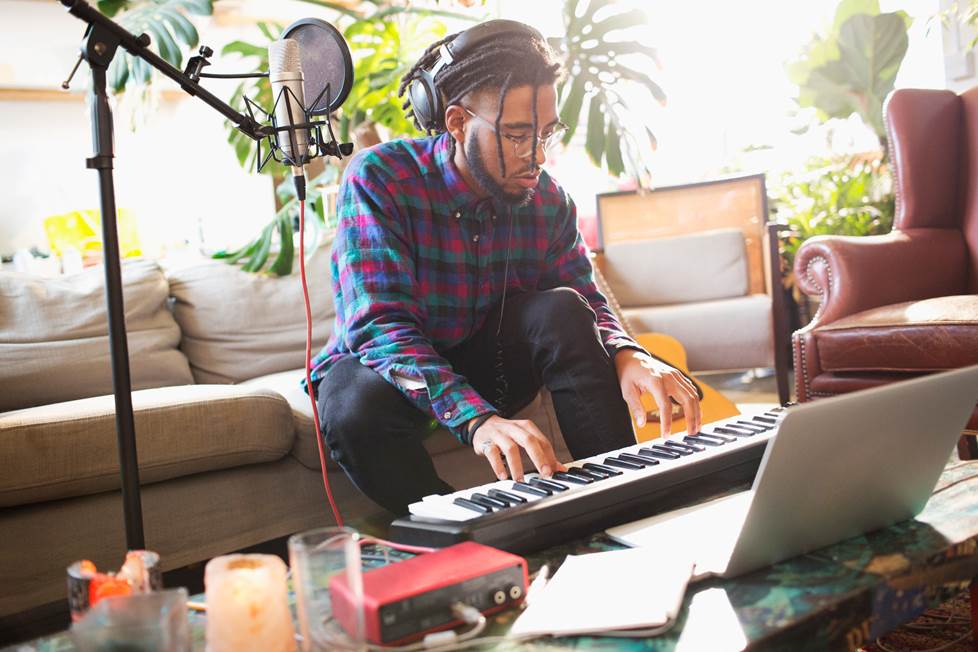 Modern equipment lets you record from your bedroom, living room, friend's house, or anywhere there's power.
But that's not the only thing that changed. Music has changed. How we access it has changed. How we promote it has changed.
You no longer have to rely on a record label to distribute your music. DIY self-promotion is not only viable, it's almost the preferred route.
New ways to promote music gives creators the advantage
The internet has provided dozens of platforms to gain followers. Soundcloud and Spotify are great places to upload. Facebook, YouTube, and Instagram are built for accumulating fans. And still, there are other ways.
Consider Lil Nas X. His country/trap song Old Town Road reached No. 1 on the Country Billboard charts. The remix with Billy Ray Cyrus reached No. 1 for all genres.
He bought the beat from YoungKio, a Netherlands bedroom producer who had only been using the beat-making program Fruity Loops for a year before making the track. Lil Nas X recorded the vocals to the song while living at his sister's home.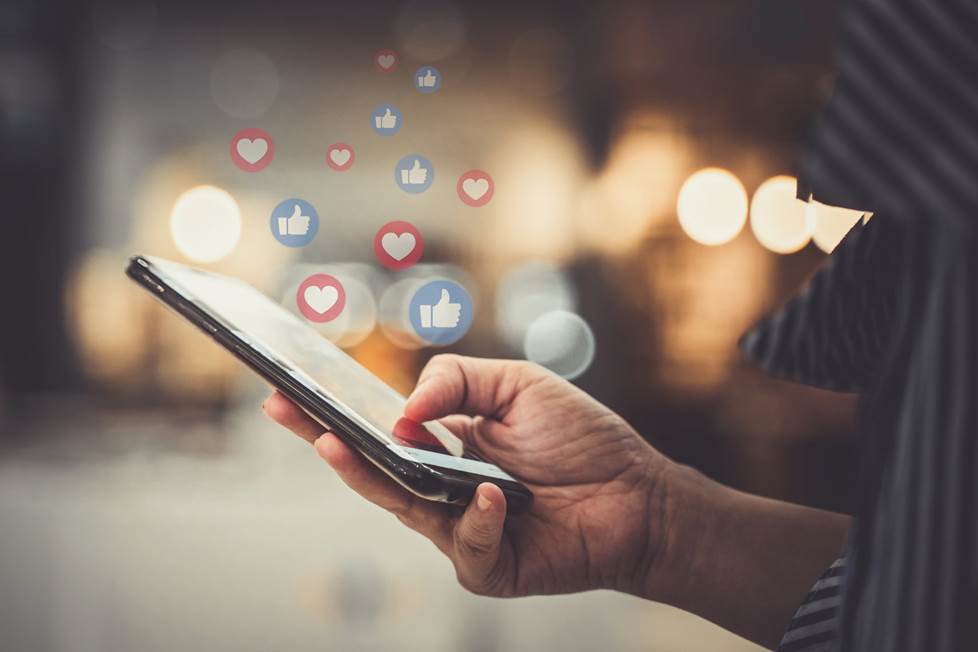 Social media have made it easier than ever to promote music and interact with fans.
How did it become a hit? Lil Nas X started making memes with it as a backing track on the lipsync app TikTok. One meme had Lil Nas X start off in casual clothes, and when the beat kicked in, he was transformed into a cowboy. This format started trending on the app, and then took it over entirely.
People found the song catchy, looked it up, and boom, it went to No. 1. It seems unorthodox, but that's the point. Traditional methods still work, but there are hundreds of new ways to make it as an artist that didn't exist even a decade ago.
Computers make everything easier
But will you really be able to figure all this out? It's easier than you think.
One thing that has made music creation more accessible is premade loops. Instead of buying a bass, or paying a bassist, you can just grab a loop off the internet. Need a drum part? Use one from your digital audio workstation. That's what producer Tricky Steward did when he used a drum loop from GarageBand for Rihanna's No. 1 song Umbrella.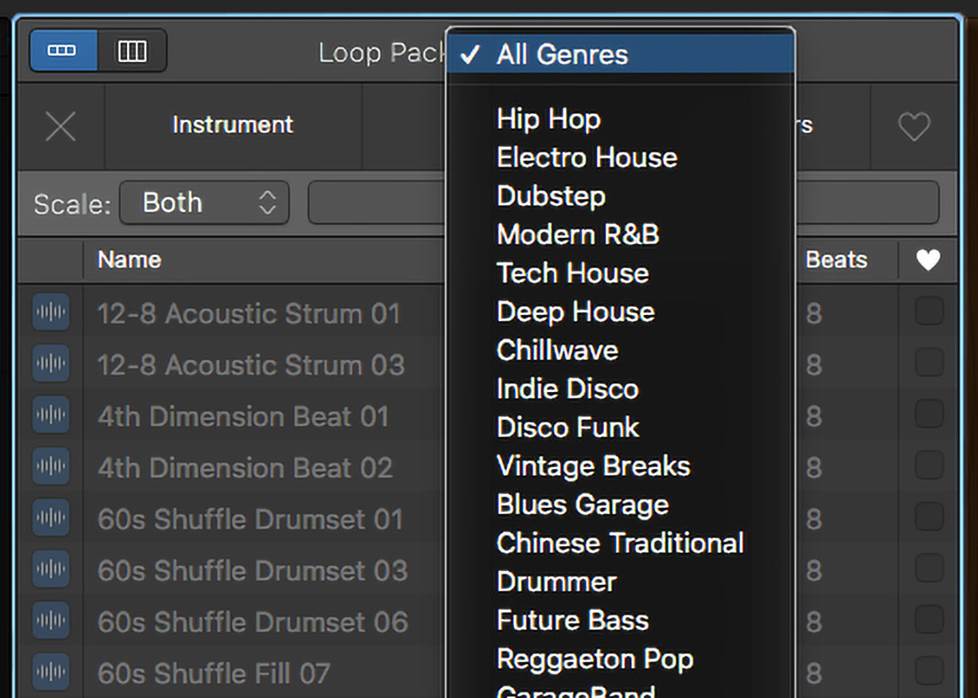 Garageband comes with thousands of free loops that you can plug directly into your song.
There are simple production tricks you can quickly learn that will give you big, professional sound. Say you want a full choir, but only have a single voice. You can record a take, copy and paste it, add delay and reverb, pitch individual tracks up and down into harmonies and poof – you have a full gospel choir.
Modern technology has made this an intuitive process. I went from knowing nothing about recording an album to mixing and mastering my first in two months. I was fourteen at the time. Was it good? No. Was I proud of it? Hell yeah.
And that was before there were thousands of free videos on YouTube detailing every sound, effect, and trick available to the burgeoning stay-at-home producer.
Twelve years later, I know how to get exactly what I want out of the recording process. I picked up the skills without professional training, only by playing around with the software. And I had fun while I did it.
Pricey technology doesn't create memorable albums, great artists do
How much is this all going to cost? Less than you think. You don't need top of the line equipment either.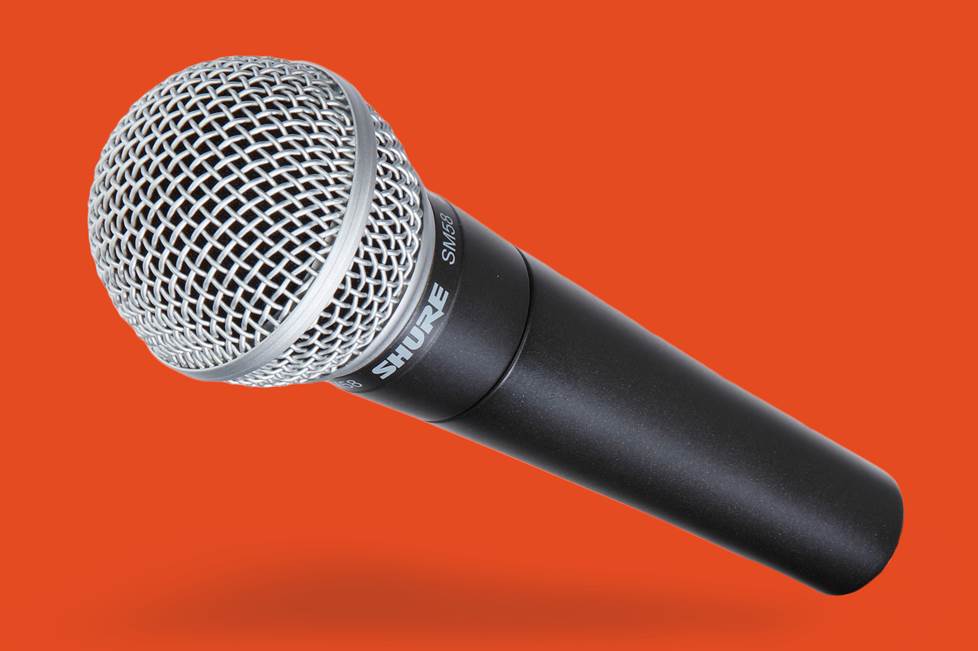 The Shure SM58 is a versatile and affordable microphone that has a stellar reputation with musicians.
Lack of expensive equipment has never stopped music from resonating with people. In fact, it might help the cause in some cases. It's well known Bono from U2 prefers to record vocals with an inexpensive Shure SM58 microphone.
John Darnielle of The Mountain Goats got his break recording songs into a Boombox. That's a bit extreme, but if a budget in your head is preventing you from following your music dreams – you're missing out!
How do I build a home recording studio in my bedroom?
Here is what you need to build a bedroom recording studio.
Computer
DAW (Digital Audio Workstation) software
USB audio interface
Microphone
MIDI controller (optional)
Sound-absorbing acoustic panels (optional)
Headphones and monitor speakers
A few cables
How to choose a USB audio interface
A USB interface works as the connection between your instruments and the computer. The device transforms the analog signals from your instruments and microphones into digital audio you can manipulate with your DAW software. And it returns an analog signal to your speakers or headphones.
Interfaces have XLR and ¼" connections for your mic and instrument cables. To learn about pro audio cables, read our buying guide.
Sometimes I plug my instruments into the interface, other times I use a condenser microphone to record an amplifier. The important thing is to have options for your creativity.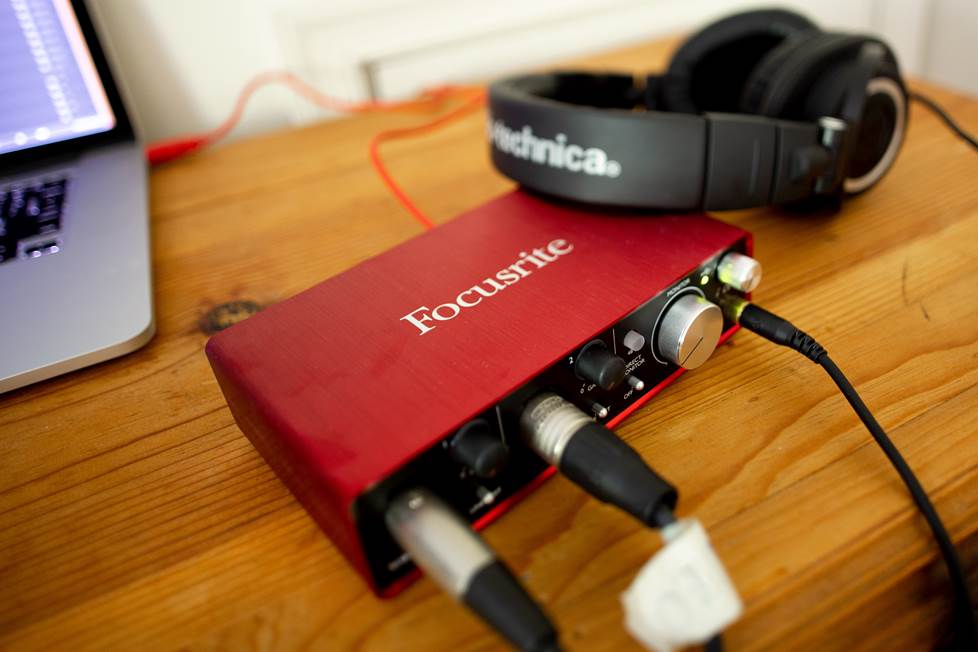 Focusrite USB interfaces are durable products that are easy to use
I recommend the Focusrite Scarlett 2i2 as the building block of your home recording studio. It has 2 input and 2 output channels. The conversion ability is solid. It comes with Focusrite Control, Avid Pro Tools First, and Ableton Live Lite software in the box for you to play around with.
It's also a durable beast of a product. I've had my Focusrite Scarlett for 5 years now, and I've never had an issue. I've dropped it, moved it cross country twice, spilled drinks on it, but it still works as well as it did out of the box.
We also sell an affordable starter bundle which includes the Scarlett 2i2, headphones, a condensor microphone, and XLR mic cable.
Picking a microphone
Different microphones will produce different recordings based on several factors. Some are suited for vocals, others for instruments.
If you are just starting out, I recommend pairing the Audio-Technica AT2020 and AT2021.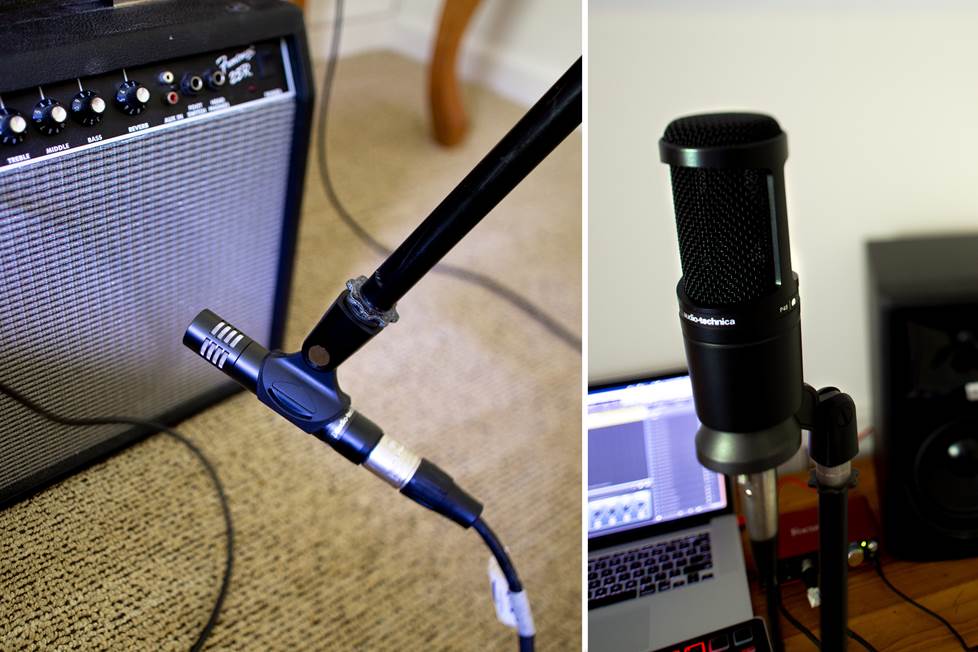 The Audio-Technica microphone pack comes with two microphones, one for recording instruments, the other for vocals.
I got my AT2020 back in 2008. It was an affordable option for my first foray into recording. Several times since then I have attempted to upgrade. Every time I have come back to the AT2020. It's crystal clear and balanced, with a great sound profile for lead vocals.
The AT2021 limits its pickup to only what is in front of it, minimizing unwanted sound. It's made for recording acoustic instruments, amplifiers, and group vocals.
Together, these mics give you quality options for any type of recording.
For help choosing a mic, check out our microphones buying guide.
Digital Audio Workstation software for beginners
The Digital Audio Workstation (DAW) is the control room of any recording studio. It is where Tracks are recorded, edited, and balanced to produce a finished song.
Affordable software has revolutionized the recording process for aspiring bedroom producer. Now you can copy and paste tracks, lower or raise track volume, and add effects. All the power has moved from expensive studio engineers to your mouse.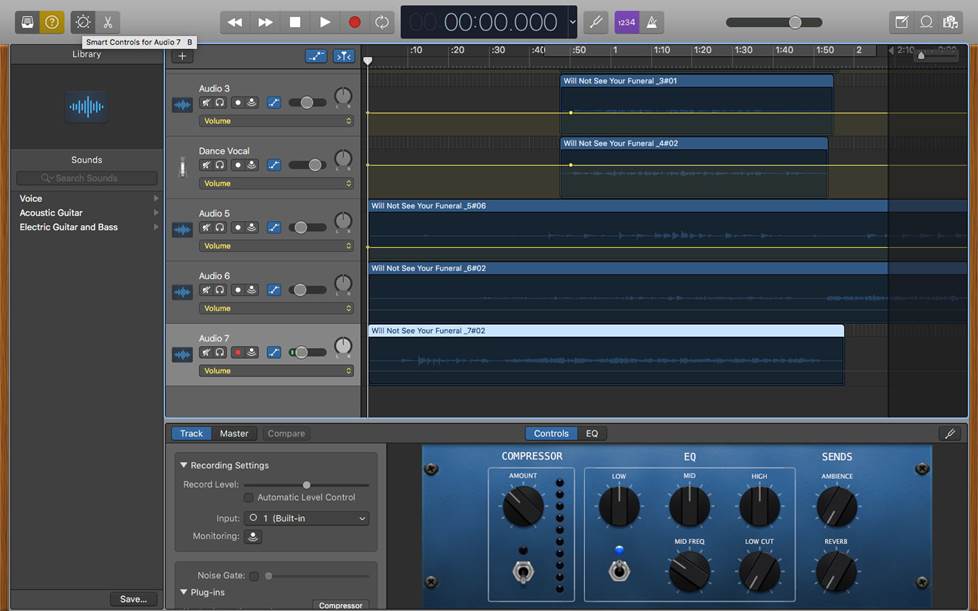 GarageBand lets add effects, mix, and master your songs just like the pros. In fact, it's what some of the pros are using.
If you own a Macintosh computer, you already have access to one of the best DAWs, GarageBand. I have used GarageBand since I was just a 14-year-old with a guitar. I have added many influences, instruments, and ideas since then. GarageBand has always been able to accommodate my creativity.
The loops, effects, and creativity they provide are professional quality. The French house band Justice created their bestselling dance album "Cross" using GarageBand.
An added bonus of GarageBand is that is a little brother to Logic Pro, an industry standard in recording software. If I ever felt the need to upgrade to something with more options, I would feel at home in Logic Pro's interface.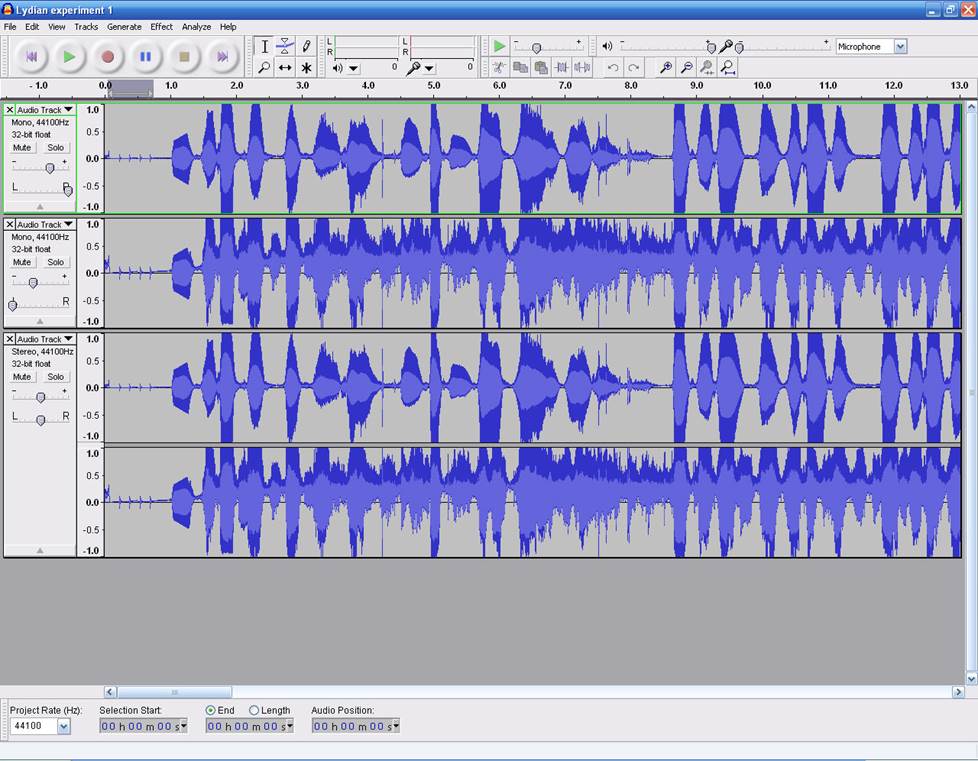 Audacity is a free-to-use, open-source DAW.
If you own a Windows computer, Audacity is a good, free option for open-source DAW software.
My father recorded his own albums and produced for others using Audacity. It has a good array of features for a free program. You can record, edit and mix songs with plenty of flexibility.
If you want a little more, audio interfaces will come with free or trial versions of DAW software. It's a good way to try something out before you commit to buying it.
Picking a MIDI controller
MIDI controllers are versatile tools for any producer/recording artist. One of the key advantages for bedroom producers today is they can create an entire (convincing) orchestra using only software. The MIDI Controller makes this easy to accomplish.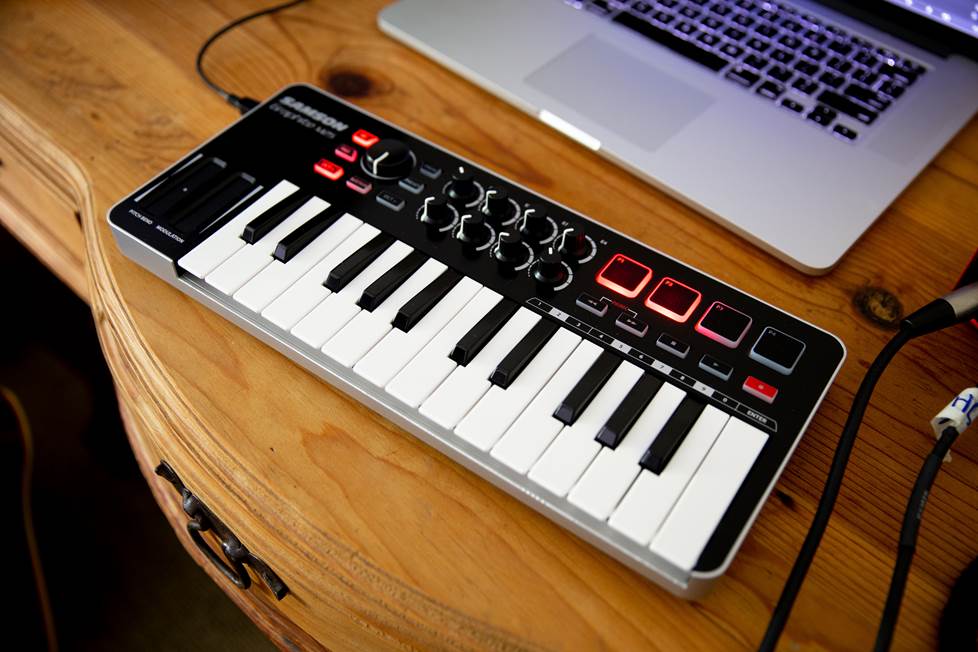 MIDI controllers make it easy to create music inside your DAW.
Truth be told, you can create the same sounds with a mouse and computer keyboard, but it's much more intuitive to use a musical keyboard. They also often include pads for triggering drum sounds.
The Samson Graphite M25 is a great option. My favorite feature is the velocity-sensitive keys. Pressing lightly will register as a soft sound, smashing them down will send a stronger signal.
Why you need studio headphones and monitors for mixing
I made a mistake for the first couple years I recorded. I mixed my music using my everyday headphones. I loved those headphones, but when I would play my music in my car, everything was off. There was way too much bass. My vocals were hidden. All of a sudden, there was background noise I hadn't picked up on.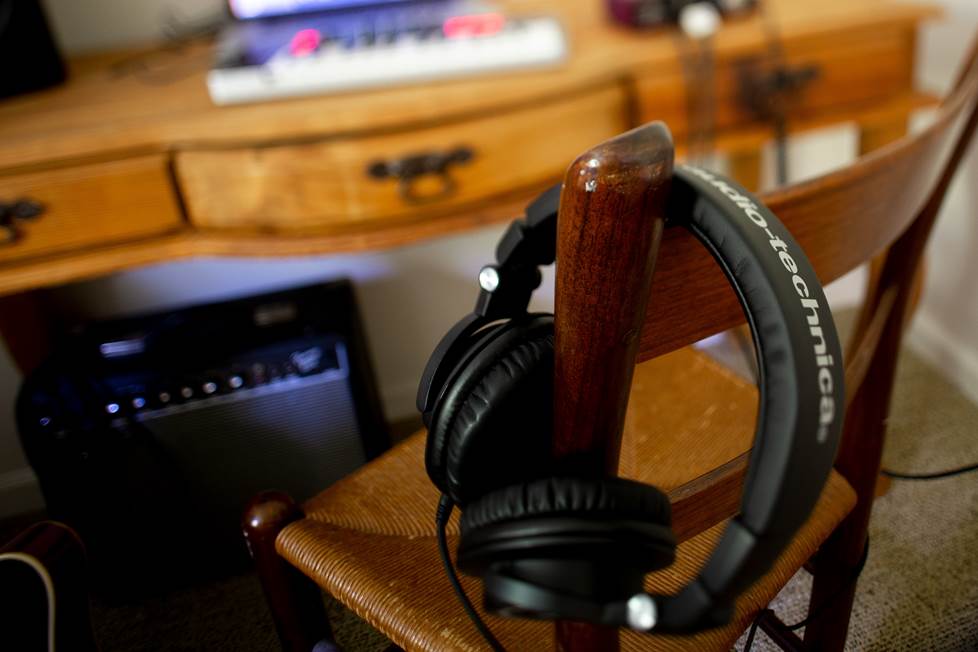 Studio headphones are a must when it comes to hearing music as accurately as possible.
The problem is those headphones, like most consumer headphones, had a tweaked EQ. Different frequencies were elevated to color the sound in an enjoyable way. It works when listening to a finished product. But for recording headphones, you need accuracy.
That's where studio headphones and powered studio monitor speakers excel. They are designed and produced with one goal in mind – perfectly recreating recordings.
If you have to choose, I recommend grabbing headphones first. You can listen as loud as you want without disturbing anyone. Plus you can travel with them.
Eventually, when you start to collaborate, you are going to need monitors. Plus, it sounds good blasting your new recordings through real speakers.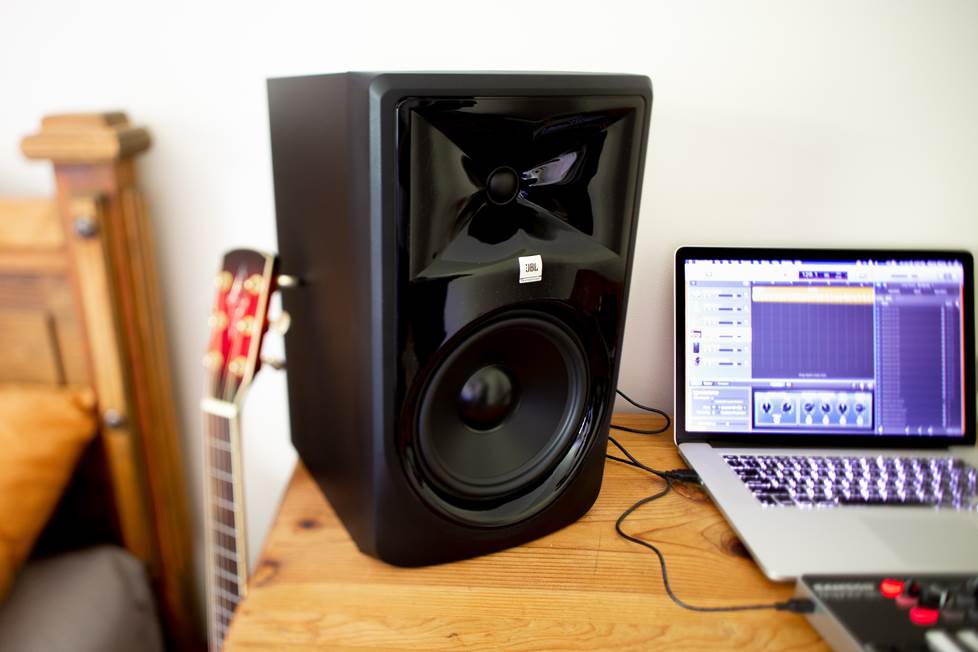 Few things are exciting as hearing your new song on real-deal studio monitors.
We have helpful buying guides for studio headphones and studio monitors.
Make a bestselling album from your bedroom
Indie pop star Owl City made his debut album out of his parents' basements. Bon Iver set up a studio in his father's hunting cabin to record For Emma, Forever Ago. You can set one up in the corner of your bedroom.
Let's go over the advantages of having your own home studio.
Easy to set up/learn
Take all the time you need to record
Record when creativity strikes
You're in control of presets/effects/mastering
Cost-effective, compared to renting a full studio
Ready to get started?
Want help building the ultimate home recording studio, or adding to your existing one?
Crutchfield Advisors can help you choose the gear you need. To get started, contact us today. Crutchfield customers get free lifetime tech support on every purchase.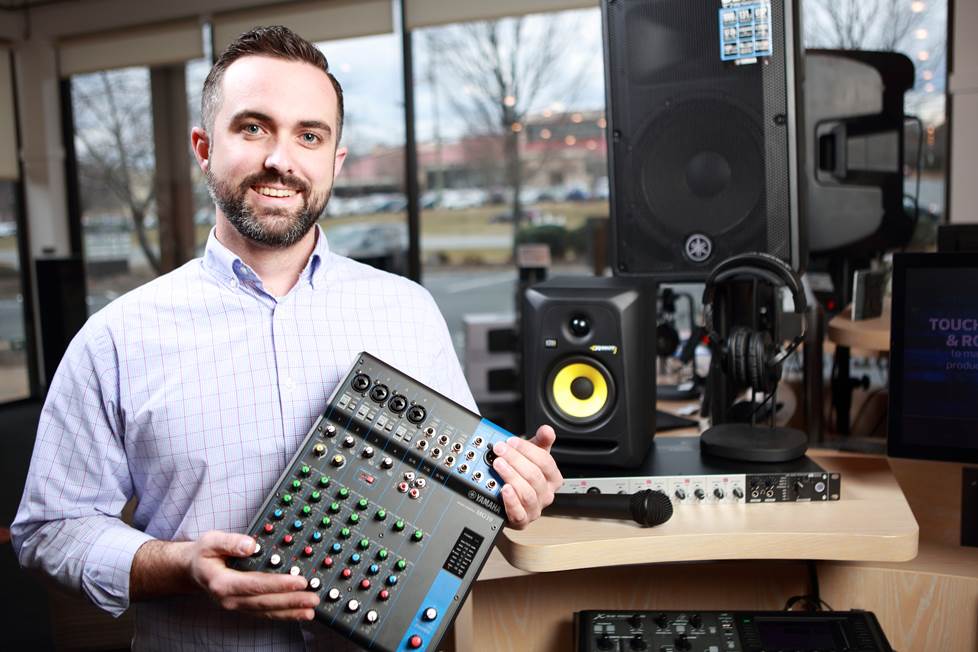 Our advisors can help you pick the right gear for your personal situation.