How I made my own photo softbox for less than $10
For better product photos
Heads up!
Welcome to this article from the Crutchfield archives. Have fun reading it, but be aware that the information may be outdated and links may be broken.
I read a great (as always) post on Strobist about building your own softbox for less than 10 bucks, and I was instantly intrigued. A softbox is used for taking those nice product photos you see on Crutchfield's website and in catalogs. But the word that got my wheels turning was "Ebay."
Anyone who's bought or sold anything on sites like Ebay or Etsy will tell you that good photographs make a huge difference when making a decision to buy. A big part of the online auction or peer selling process involves trust — and it's easy to trust big, clear photographs of what you're selling.
It looked so easy to do, so I started looking at what I had on hand. Here's what I found:
a foam display board, the kind with flaps on the sides (think "science fair")
tissue wrapping paper left over from Christmases past
extra desk lamps and LED light bulbs (they don't generate heat)
The foam board was easy to use. First I cut it in half, giving me an 18" high box. I cut out the sides, leaving about a half-inch border. Then I covered the holes with tissue paper and positioned the desk lamps so they were shining in from the sides, providing some nice soft light after it was diffused by the tissue. I clipped a piece of white posterboard to the top of the board, and clamped it to the front of my desk. It's important to maintain a gentle curve for a smooth background.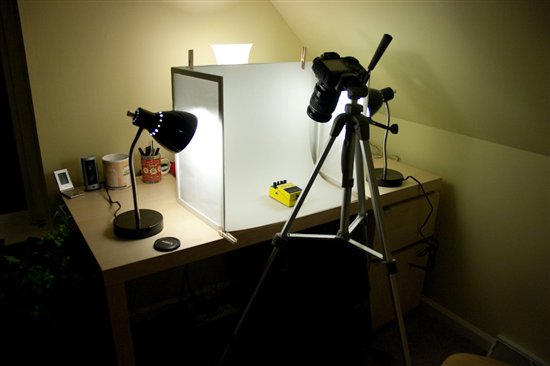 My "product photography studio" set up on my desk.
I adjusted the lights by simply moving them further and closer to the sides. I set a manual white balance against the background, chose the "small fine" jpeg setting, and set the two-second timer on my camera. I used Live View and manual focus to get nice, sharp images. I also activated the Mirror Lockup feature — the mirror flips open before the shutter fires, eliminating the minute vibration from the slap of a camera's reflex mirror. I did this because I was using a crappy tripod and had some long-ish exposures.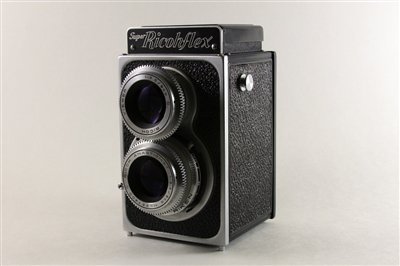 Not having a distracting background really makes your product photos pop.
Nice and easy! It took no time to build, and even if you had to go out and buy the materials for yourself it would total less than 10 bucks. But you can probably scrounge up enough stuff around your house to make your own softbox. Be sure to use LED light bulbs, since they generate almost no heat. Your Ebay and Etsy customers will appreciate the effort.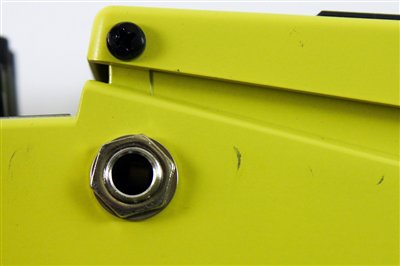 This guitar pedal has some cosmetic scratches — easy to disclose on your
Ebay auction page with the proper photo.
This setup would work well with a point-and-shoot camera, too. Just stay at the lowest ISO setting, and if you're working close, turn on the macro feature. Turn on the self-timer to avoid camera shake.