The Sony Walkman is one of those legendary audio products, whose name alone conjures warm memories. I recently spoke to Sony engineer Tomoaki "Tomo" Sato about the company's personal audio legacy.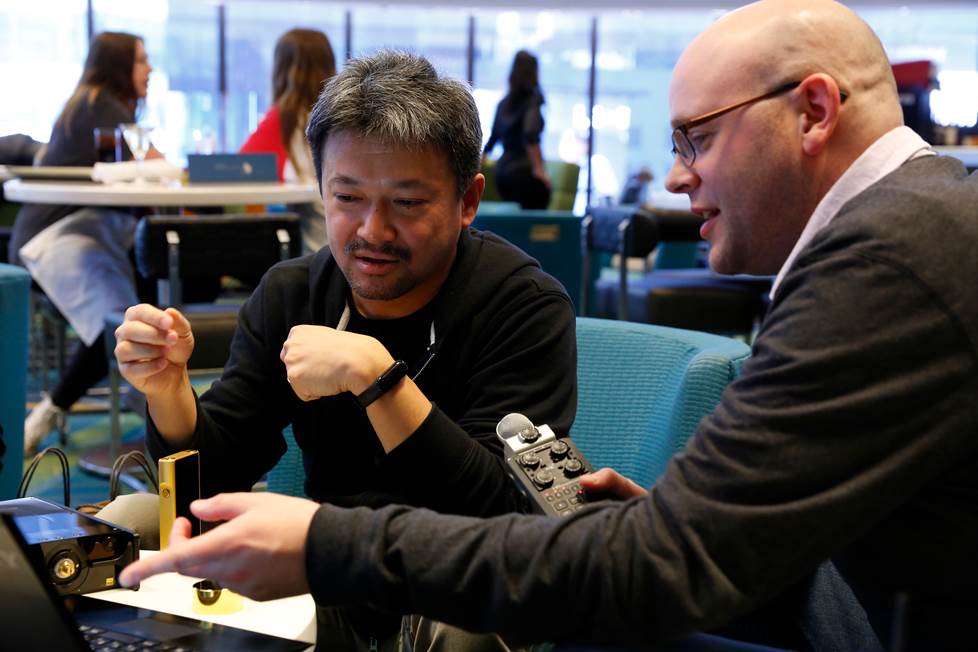 I spoke to Sony's Tomoaki "Tomo" Sato about the company's line of Walkman high-resolution digital music players.
Meetings and greetings
Tomo has been in charge of Sony's Walkman division in Tokyo since 2013. I caught up with him in a Manhattan restaurant, the day before this year's CanJam NYC. This event is a showcase for the latest, greatest headphones and state-of-the-art audio gear.
And the first thing Tomo handed me was a volume dial. If that sounds underwhelming, then you haven't seen this volume dial. It was a hefty, gold-plated volume dial, roughly the size of a soda can.
And it was but one – very crucial – part of Sony's latest personal audio masterpiece, the brick-sized Sony DMP-Z1 Signature Series player. Tomo gave me a detailed breakdown of the DMP-Z1, explained his team's design philosophy, and gave me a fascinating look behind the curtain of the iconic Sony Walkman.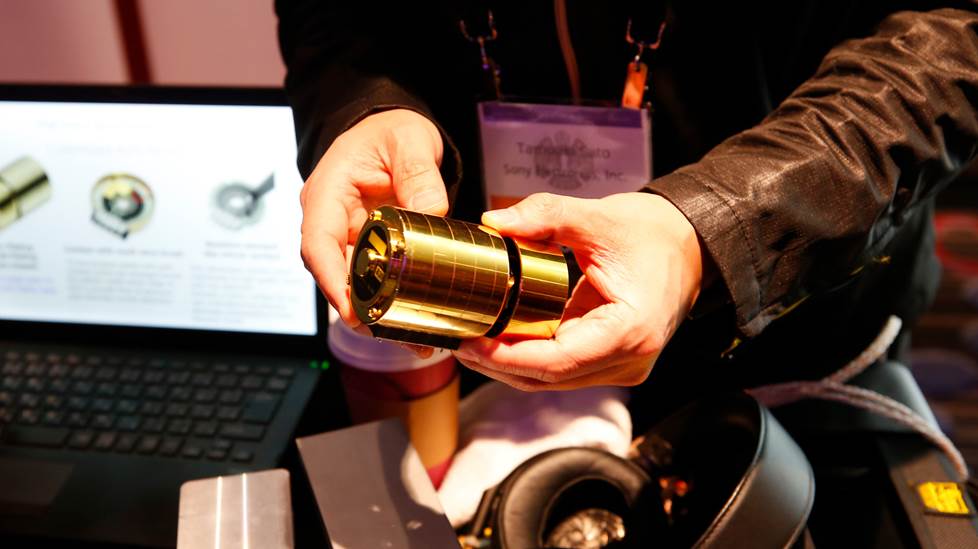 "This is very important to the sound quality." Tomo said, "We started with the Alps Electric RK501 analog volume dial — used in high-end home audio gear for over 20 years — and customized it for the analog circuitry in this player."
The iconic Sony Walkman's 40-plus year legacy
Tomo has overseen the creation of some of the best portable high-res music players ever. But like most of us, Tomo has a soft spot for the original Walkman cassette player. He smiled when I showed him the Fall 1982 Crutchfield catalog, featuring an early model of the Walkman.
Jeff Miller: What was your first Walkman?
Tomo: My first Walkman was WM20 cassette player. It was around 1982. (points to a page in our catalog) Here it is! This one.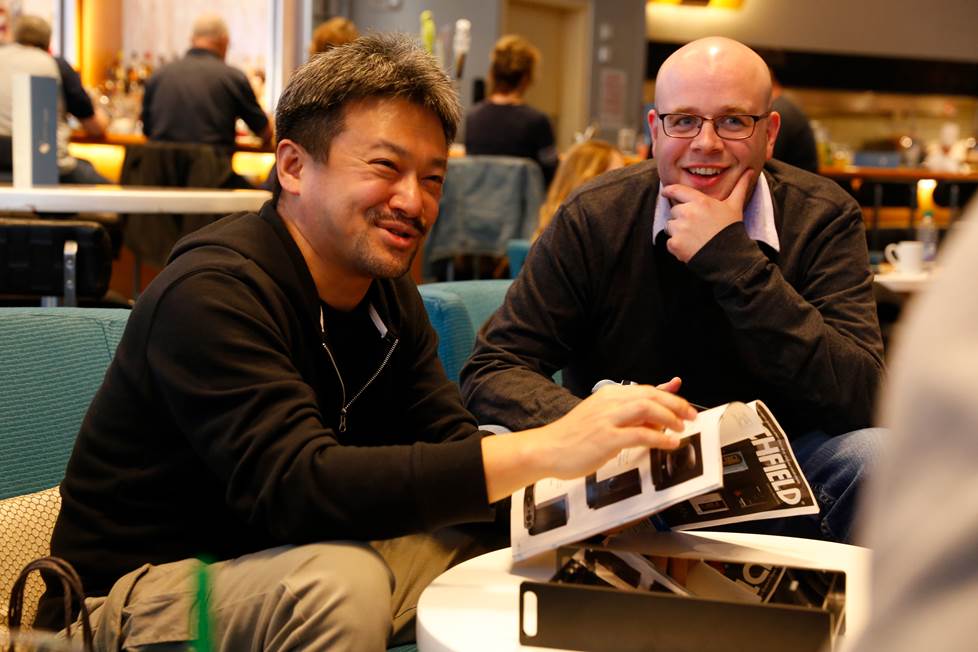 Tomo found the first Walkman he owned in the pages of the Crutchfield catalog from Fall 1982.
When I told people that we were talking to you, everybody in the office shared their personal stories about the Walkman. What are your Walkman memories?
My parents gave me my first Walkman in junior high. At the time, we didn't have a home stereo. But my cousin had a nice stereo system. So I would visit his house and make recordings. He would tape songs for me off the radio and from his LP collection. I would listen to those cassettes everywhere on my Walkman.
I think that's a lost art, making a mixtape.
(Laughs) Yeah! My Walkman also helped me learn how to play piano. I taught myself to play Billy Joel music by ear.
Oh really, the Piano Man! Using the Walkman?
Yes. I originally took piano lessons from elementary school to high school, about 10 years. So basically, I learned classical music until junior high. But in junior high, I starting feeling like classical music was a little boring (Laughs).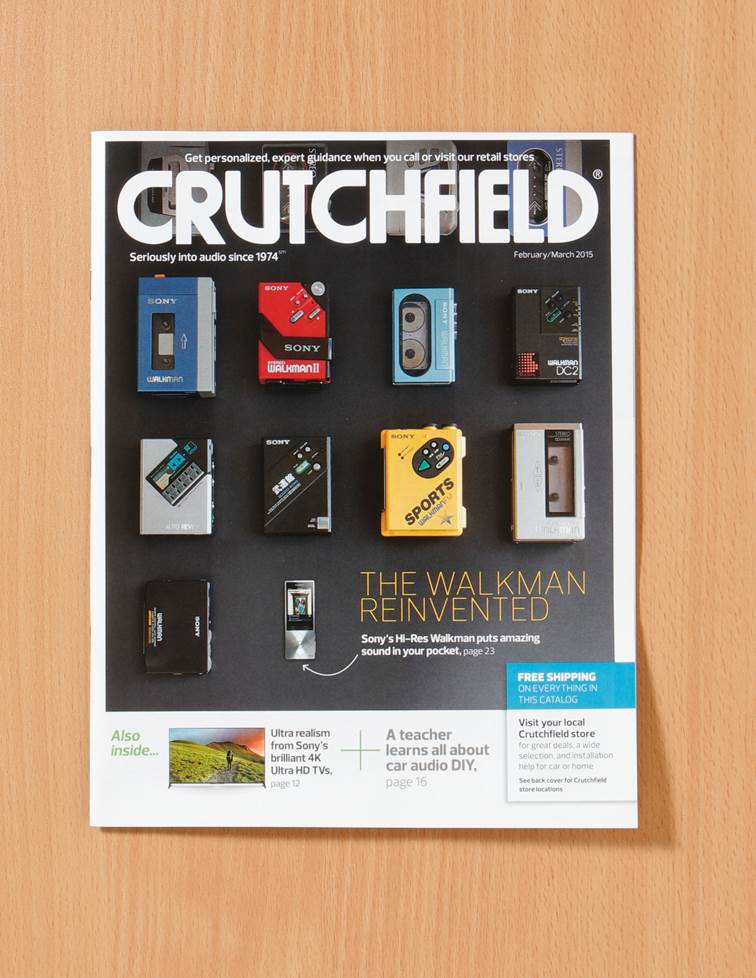 We showed the rich history and evolution of the Sony Walkman on our February/March 2015 catalog cover.
I was interested in Billy Joel music, so I bought one of his albums. I taught myself how to play his music by playing and rewinding his songs over and over.
Tomo's journey to the Walkman team
Tomo didn't start out at Sony designing Walkman players. He broke down his path from the car audio to the portable audio division.
When did you start working on the Walkman?
In 2011, I helped design the Sony Z1000 player, the first Walkman to use the Android OS.
Was that intimidating? To work on the Walkman – this iconic thing?
A little bit! I was a new face for the Walkman team. Before that, I worked in car electronics and car stereo.
Crutchfield probably sold some of what you made. Did you work on the Sony Xplod series?
You know Xplod?

Tomo started at Sony in their car audio division. The Xplod series was very popular with Crutchfield customers.
Oh yes. They were very popular with our customers – especially that powered sub that looks like a spaceship. When did you start at Sony?
In 2003. From 1993-2003 I worked at another company, Kenwood. From 2003-2011, I worked in Sony's car stereo division. I came to the Walkman team with both car audio and car navigation experience.
What's the biggest difference going from car audio to working on the Walkman?
To me, they are actually quite similar. With both vehicles and headphones, you have a very private area for your listening session. I think of home audio sound as more public, for the whole family. But for both car and headphones, I'm trying to please one customer.
So the transition felt natural.
Plus I am an electrical engineer, a systems design engineer. So I can design not only audio, but also processors and wireless functionality. My specialty is digital electronic design.
I see, so now that the Walkman has evolved into a state-of-the-art digital music player, they needed someone with your expertise and background.
Yes, Sony's Walkman team wanted to make an Android-type Walkman in 2011. So I move from car audio team to the Walkman team. That Android model is very important in the history of the Walkman for its completely digital interface and audio. I designed the full system, including the digital audio section.
But it was also a big milestone for sound quality. Our team has a separate sound quality engineer, and they design and fine-tune the sound signature.
So how do you work together?
Portable digital music players have two important aspects when it comes to sound design – the analog and digital sections. Even in our smaller players, where we try to keep the audio path digital for as long as possible, we need an analog section before it hits your headphones. One team of engineers works on this section.
The digital section is very important to sound because of its music decoder [and DAC]. Digital noise can affect the analog side, and what you hear through your headphones. So I designed a low-noise digital amplifier to keep the sound clean.
Sony's transition and focus on high-res
When Tomo was first named project manager for the Walkman in 2011, he was both honored and apprehensive. Sure, the Walkman name was iconic, but many music listeners had already moved on to smartphones.
Enter high-resolution audio. High-res music files sound more vivid and textured than MP3s, but they take up more space. So a dedicated high-res player can save room on your phone for apps, photos, and other stuff. Turns out this was something serious music fans really wanted.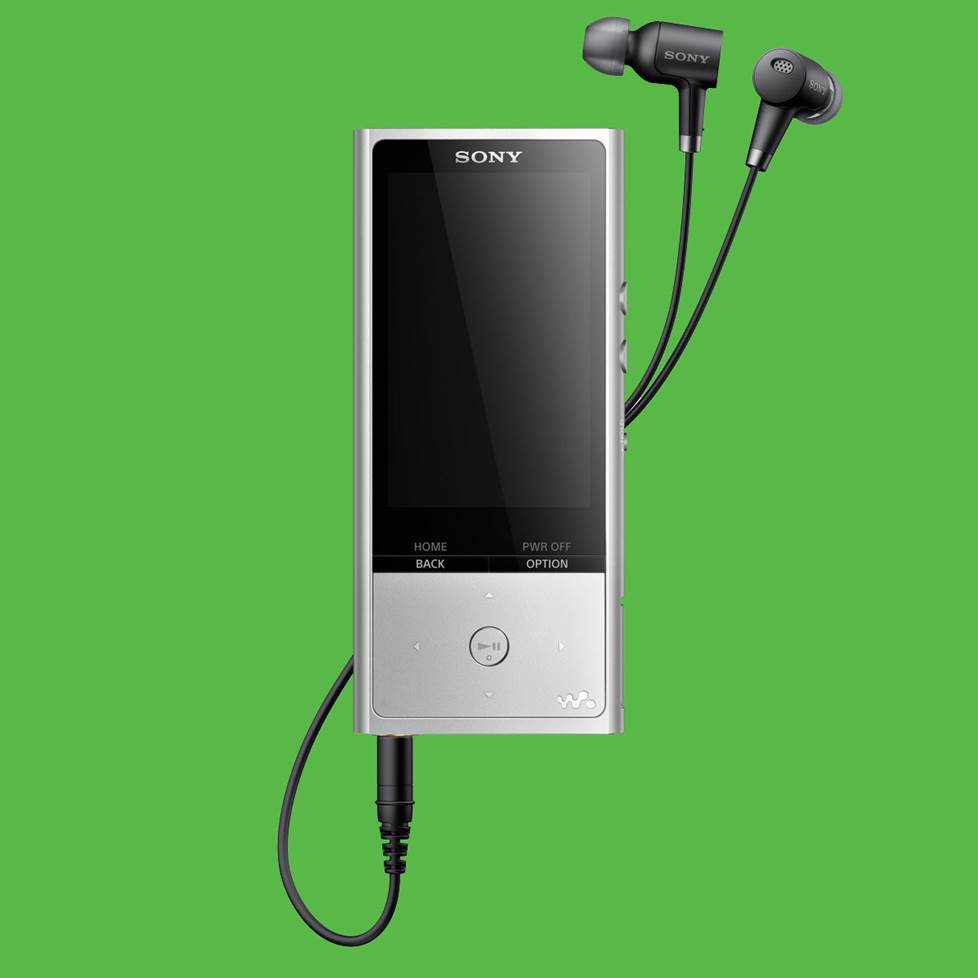 Sony offers more than just "cost-no-object" players. The pocket-sized Sony NW-A45 Walkman high-res music player offers a better DAC and headphone amp than you'll find on most phones — plus an FM radio tuner.
When did you release the first high-res Walkman?
We released the ZX1 in 2013 in Japan. It was a gamble. Up to that point, the average Walkman price was $200, but that one was $700. There were times during the design phase that I was worried, because I didn't think customers would pay that much. But after we released it, our production couldn't meet the demand!
It was that popular?
It sold out everywhere. People enjoyed the sound of the first few models, but some audiophiles detected a faint "hiss." So we created the S-Master® HX digital amplifier (still used in Sony's current line of Walkman high-res players). This improved digital amp provides low noise, high-quality sound and high-output power with a balanced output.
And that took care of the "hiss"?
Yes.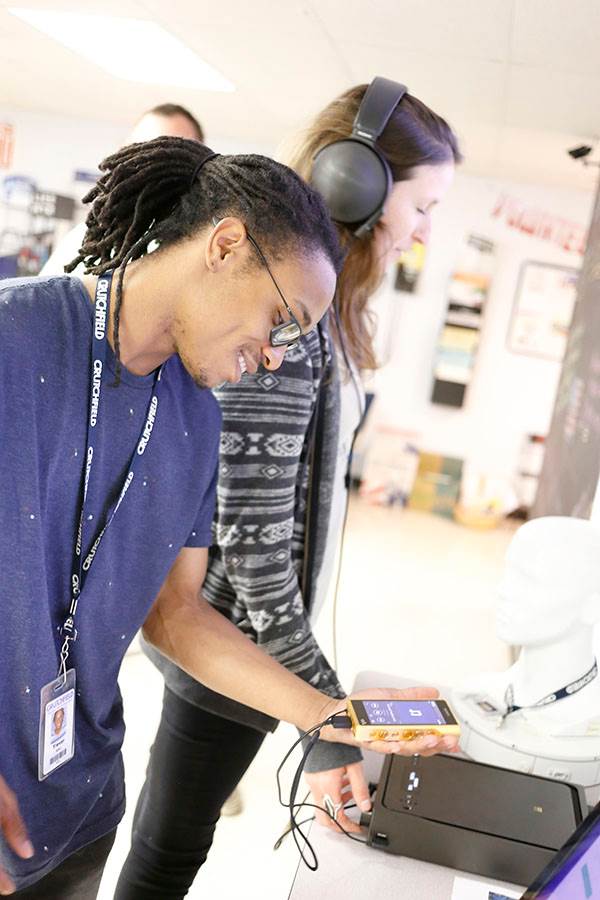 Crutchfield Advisors Trevor and River checked out Sony's high-res gear at an informal demo here at HQ.
So how do you tackle a problem like that? How do you approach it?
Digital amps have an internal clock that is very important for output frequency. We improve the internal clock so it had a four times higher [switching speed]. So the second-generation amplifier didn't have the extra treble noise. The amp was able to better handle the high-frequency side.
And the power supply is also very important. So we made the power supply larger and cut down on its noise, too.
And that's why the newer players started getting larger?
Yes, leading up to our largest Walkman player, the Sony NW-WM1Z. And then now our largest battery-powered high-res player, the DMP-Z1.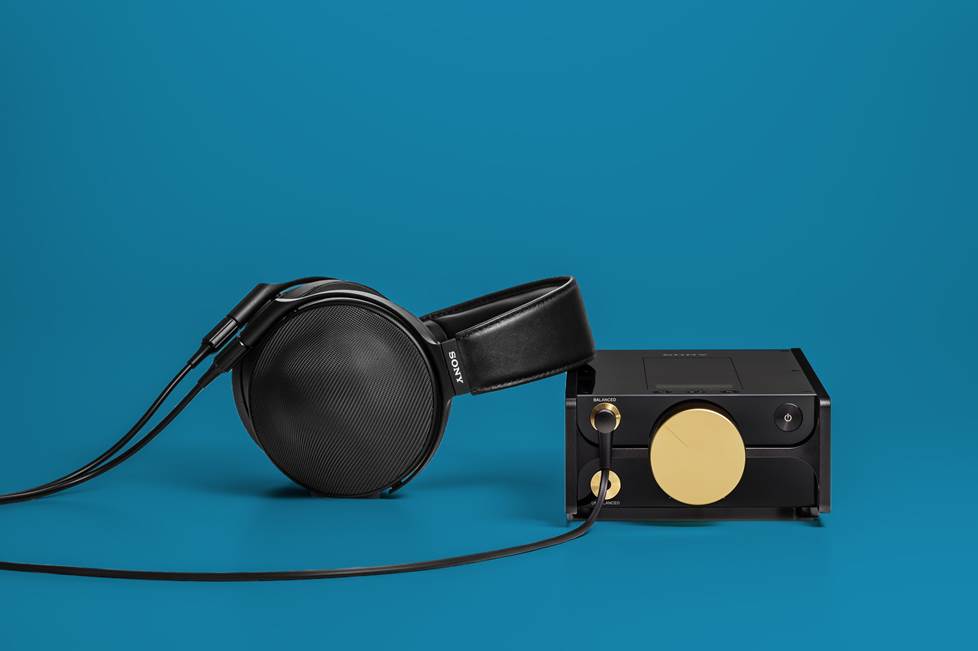 Sony built the DMP-Z1 player to properly power super-sized headphones like the Sony MDR-Z1R Signature Series over-ear headphones.
Sony's sound philosophy
I wanted to know why Sony decided to make such a physically large player. To answer that question, Tomo started with some back story. Like most things Sony – it all started with the sound.
Do you have a specific sound signature?
Our sound policy has always been the same. We deliver a very wide soundfield, with clear, defined sound position.
I got a chance to hear Sony's new flagship IER-Z1R Signature Series in-ear headphones, and that's what I noticed – that massive soundstage, with spot-on imaging.
Yes, that is our company's sound policy.
And for portable players, the S-Master HX digital amp gives you that kind of sound?
That digital amplifier has very special stereo separation. It is very good. It completely separates every channel, just before headphone output. You could have three violins playing at once, and with that amp you can pick out in your mind where each sound is coming from — you can practically 'see' the three instruments.
But two years ago, I brought the NW-WM1Z Walkman player here to CanJam NYC, and it was a big hit. But several listeners would max out the volume.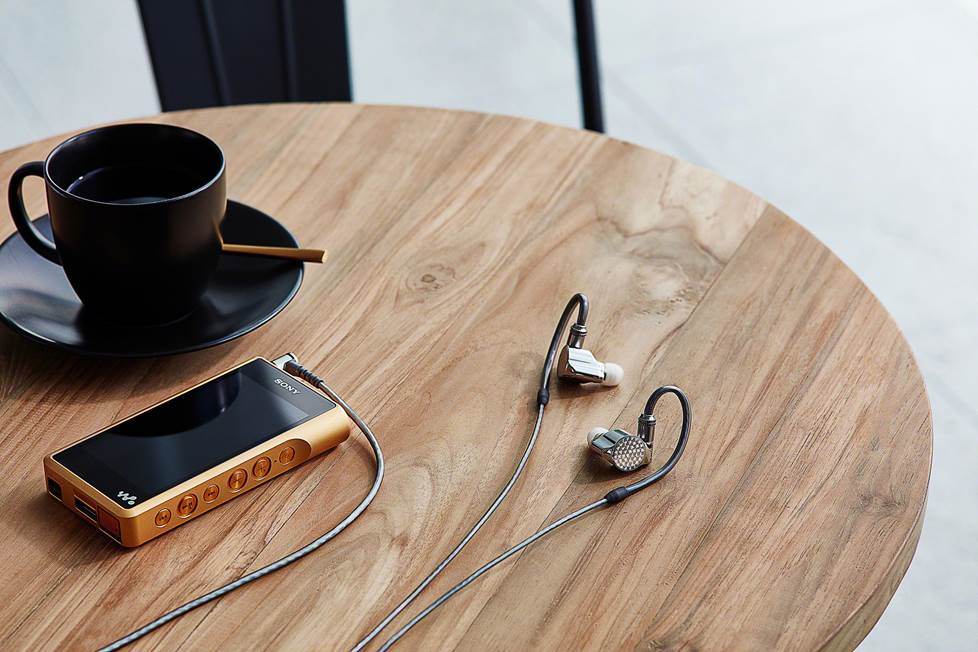 The NW-WM1Z really excels with high-end in-ears like Sony's flagship IER-Z1R Signature Series headphones.
Oh really, they were cranking it up?
Yes, and wanted more! I noticed audiophiles here in the U.S. use large, over-ear headphones with higher impedance than the headphones preferred in Asia. There you'll see more audiophiles listening to in-ear headphones.
Sony's latest masterpiece
Sony's latest personal audio creation is the DMP-Z1 Signature Series digital music player. It sports the look and feel of a high-performance desktop headphone amp/DAC. Yet it runs on rechargeable batteries and stores high-resolution digital audio files, so you can more easily take it from place to place.
Tomo pulled out a display version of the player to show me the technical wizardry inside. Pride beamed from his face as he removed the top panel.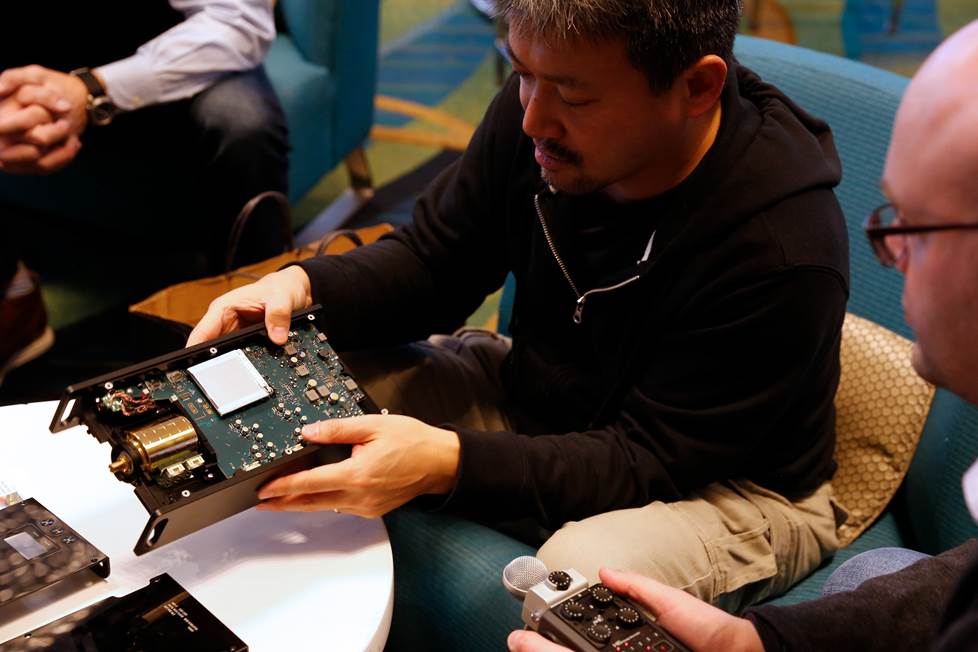 Tomo pointed out all the thoughtful circuitry and spacing inside, and he shared some of the trials, errors, and stress behind each design decision.
Look at this thing – it is hard to describe.
It operates just like our Walkman players, but it has almost six times the headphone output power as our next largest player. The NW-WM1Z has the output power of 250mW in balanced mode, and this player has the output power of 1,500mW.
How do you envision people using this?
Due to its large size, we didn't give it the "Walkman" name. In fact, we don't call it portable, instead we call it transportable. It comes with a travel case so you can carry it from place to place.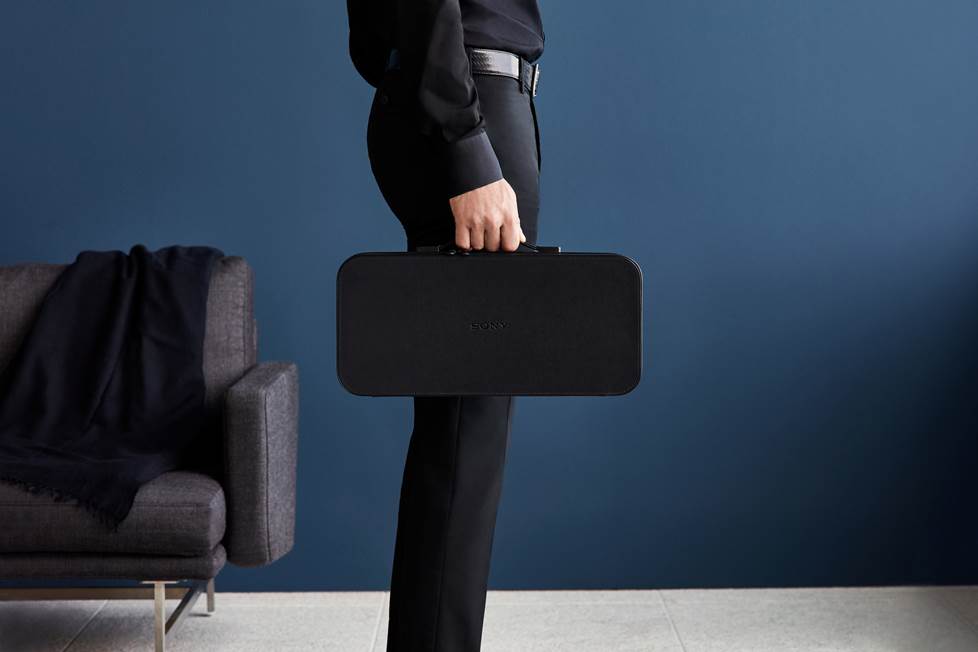 The battery-powered DMP-Z1 includes a carrying case to make it "transportable," according to Tomo.
And it has enough power for those hard-to-drive headphones?
Yes, it's due to the larger analog amplifier. Of course, our team has always been a proponent of full digital amplifiers. But the S Master HX digital amp has a volume limitation that comes from the semi-conductor process. So we chose an analog amp, but don't worry! We kept our sound policy.
That wide-open Sony soundstage?
Exactly. But analog amplifiers are sometimes said to have that wide soundfield, but a very soft, warm tone. But as I said, our sound policy is that the sound position must be very clear and tight – that realistic imaging.
That's why we laid out the design for separate left and right channels. And gave everything plenty of space. And since the analog section requires more power, we needed a larger power supply.
Tomo showed me an illustration of an early design of the DMP-Z1 player that was more in line with the sizes of the other Walkman players. Looked to me like it was only slightly larger than the NW-1Z. You could probably find a place to carry it in your jacket.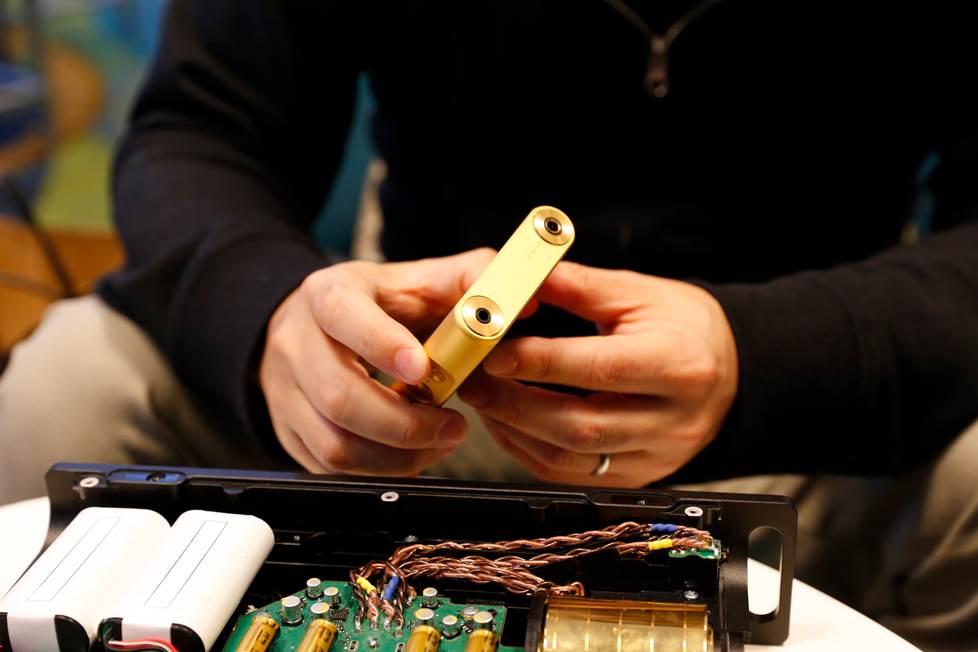 A close-up of the DMP-Z1's power supply, digital circuit board (with dual DACs), and high-grade KIMBER KABLE wiring.
Oh, so you did try to go a little smaller?
Yeah (laughs). But when we used a smaller design for the analog amplifier, the sound quality was not as detailed or dynamic as the smaller NW- WM1Z [with the S-Master HX digital amp]. The NW- WM1Z actually sounded better. That is one of the specialties of the S-Master HX's digital amplifier: low power consumption, but high-quality sound.
But when we added this large power supply. And the analog amp was given this huge area (shows the final DMP-Z1 product), the sound quality improved greatly over that smaller prototype.
The full-sized DMP-Z1 matches the sound quality and characteristics of the [S-Master HX digital amp inside the NW-1Z], but the volume can go way higher.
Was there any limit on size of the player?
It actually could've been much bigger. At one point, we considered a structure that involved one wide, horizontally-mounted circuit board. However, that would have had a large footprint and would have been less suitable for carrying around.
So instead, a solid aluminum frame to keep the three main sections separate – the analog, digital, and power supply. The aluminum is milled into an "H" shape. This cut down on weight and cut down on signal interference.
So that huge power supply makes it transportable and drives that analog amp, but it also keeps you off the dirty power grid. I know some hardcore audiophiles will use motorcycle batteries to power their high-end gear. Or even buy their own power utility poles.
There are five battery cells. Separate cells are dedicated to powering the digital circuitry and analog circuitry. There are several power protection units with "low-noise" sockets out there. But our battery supply is completely separate from the grid. We have NO noise, not low noise.
So no power poles needed here! (Laughs.)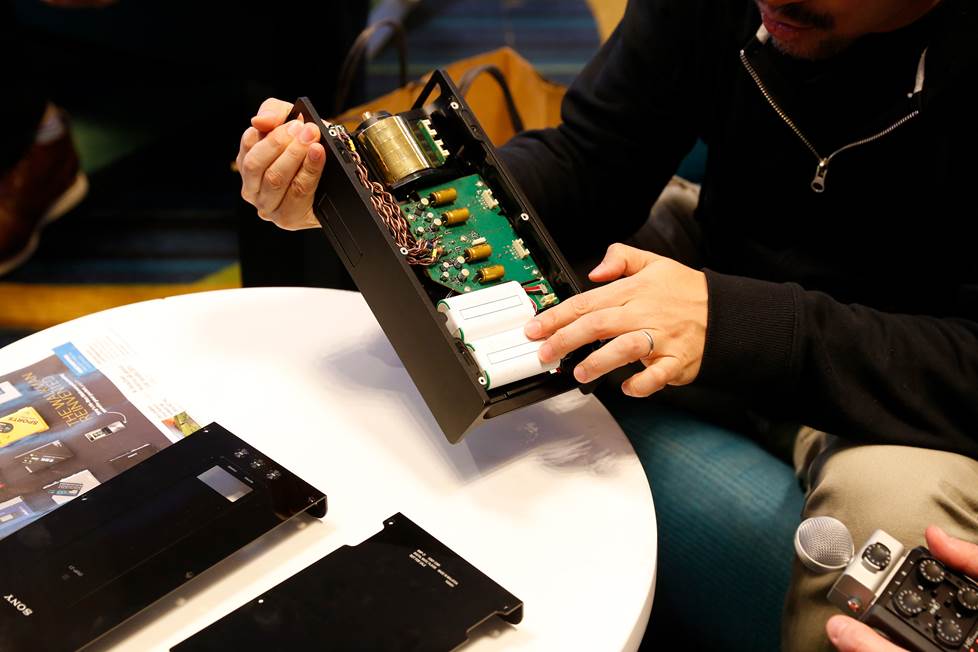 Tomo pointed out the beefy 5-cell battery array, with dedicated battery cells powering the analog and digital circuitry separately.
Questions? Call our experts
So how do you choose the best digital music player for you — whether portable or transportable? Talk to one of our personal audio experts. They are well-versed in headphones, DACs, amps, and all things high-res. You can reach them at 1-888-322-7649.