Author's note, September 2020: This article was written in June 2019, and is kind of a snapshot in time. But I still think it is worthwhile for a few reasons. For one, it shows Klipsch's rich history. Plus, hopefully I've captured the deep thought and care that help define the company to this day.
Since this article was published, the T5 True Wireless earbuds became one of our top-selling headphones. Klipsch recently released their sequel, the T5 II True Wireless earbuds.
Ever wonder what happens at a big-time audio company before a major product launch? KIipsch gave me behind-the-scenes access to their Indianapolis headquarters. I visited mere weeks before they released their new line of "True" headphones, which includes the T5 True Wireless headphones — the company's first truly wireless earbuds.
I received a full tour of their engineering and technology center — where they design and create their world-renowned audio products. And I sat down with Vlad Grodzinskiy, the head of their headphone, sound bar, and wireless speaker divisions, to discuss the past, present, and future of Klipsch headphones.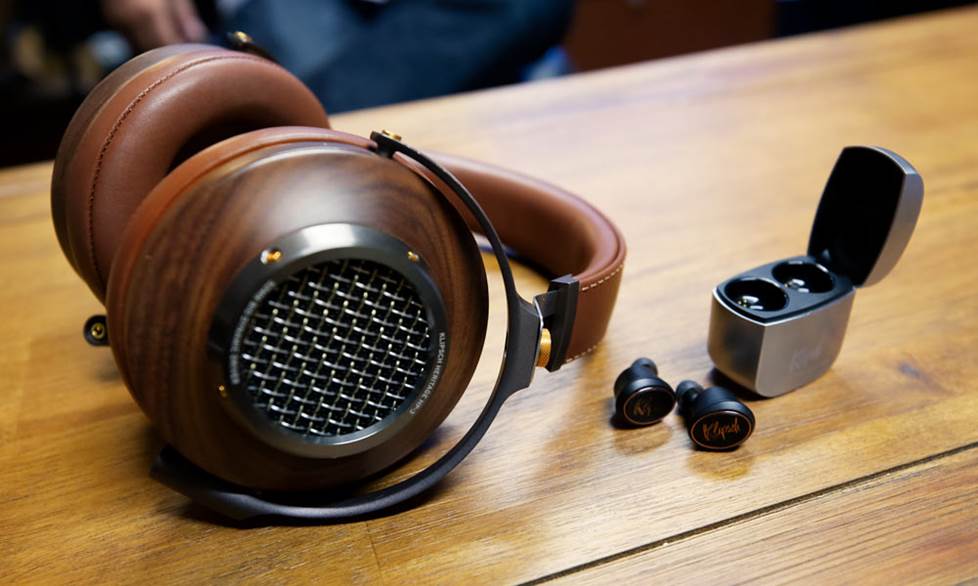 Klipsch gave us the inside scoop on everything from their flagship Heritage HP3 headphones to their state-of-the-art T5 True Wireless earbuds.
Ready to launch
There was a thrilling energy pulsing through the Klipsch offices. And I don't just mean the sound thumping from all those iconic horn drivers and gleaming copper woofer cones.
This was an interesting snapshot in time. In some ways, the "heavy lifting" was over — the products were created and entering mass production. And Vlad had just returned from a whirlwind tour through Europe to meet with distributors.
But in other ways, the work had just begun. The calls to and from the sales department were heating up. And as I moved from room to room, I saw engineers and technicians putting the new products through a series of tests.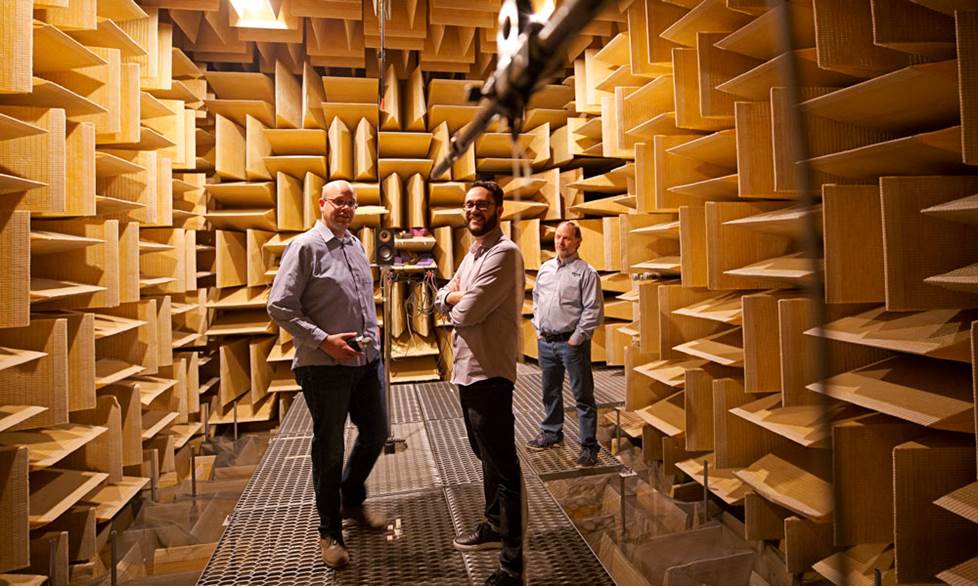 Klipsch's Vlad Grodzinskiy and Trey Cannon led me into their large anechoic chamber, where they were testing new products.
I arrived 12 days before the Indy 500, and I could feel a buzz in the entire city. But inside the Klipsch building, the vibe was especially intoxicating. A heady mix of relief, confidence, eagerness — and yes, a little anxiety about the unknown.
"It's like releasing your baby into the world," said Vlad. "It's the first time [the product] will be out on its own, and it's the scariest thing on the planet. Because you've had so much control, and now you're handing it off to someone else."
The "True" series headphones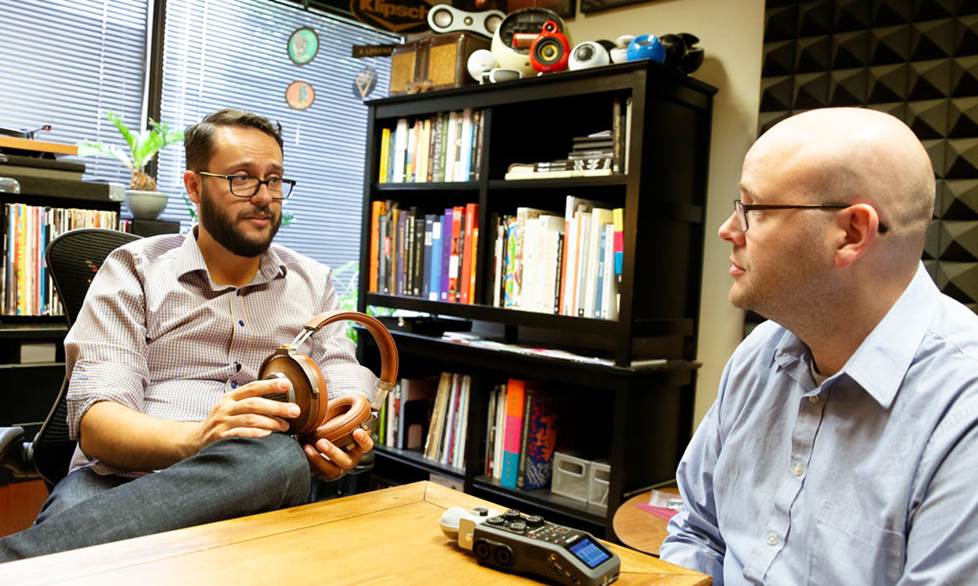 Vlad reflected on successful headphone launches in the past and explained how they helped him prepare for this latest one.
Vlad sat reclined at his desk, shoulders back, relaxed. But I could hardly call him "at ease." He spoke with the urgency of someone with a lot on the line.
"We've essentially made one headphone," said Vlad, "but we made it for four different people."
What he means is that each model in the new line of Klipsch "True" headphones have the same driver system — or as he calls it "the acoustic package." It's a 5mm driver tuned to deliver clear, detailed sound with deep bass.
But the headliner here is the T5 True Wireless.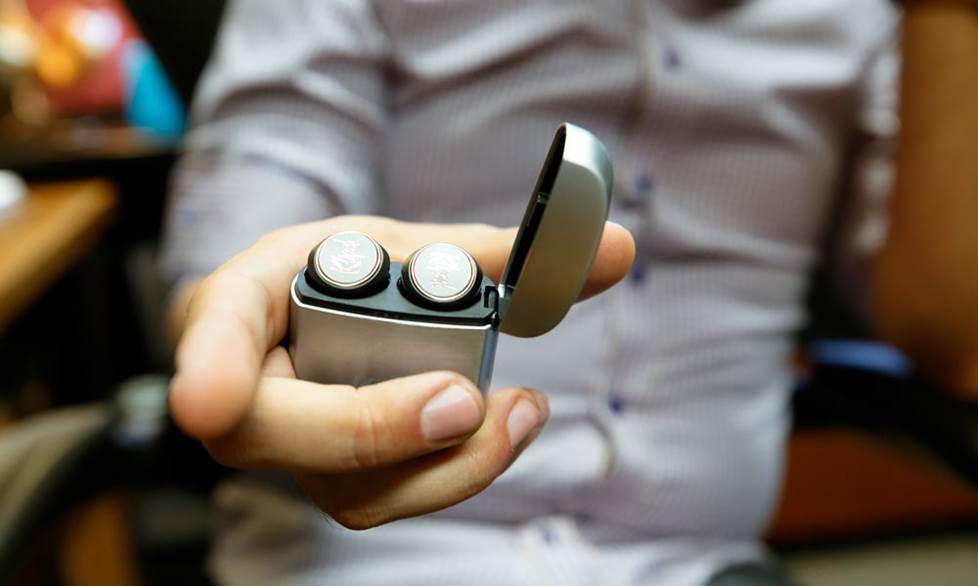 The T5 True Wireless earbuds offer eight hours of battery life, the longest I've seen so far in this category.
A sound reputation
Before we get too much further into the new gear, let's talk about the past. History is baked into everything they do at Klipsch. I was hit with it visually by a giant mural in their main lobby, and it came up naturally in pretty much every conversation around the building.
For good reason.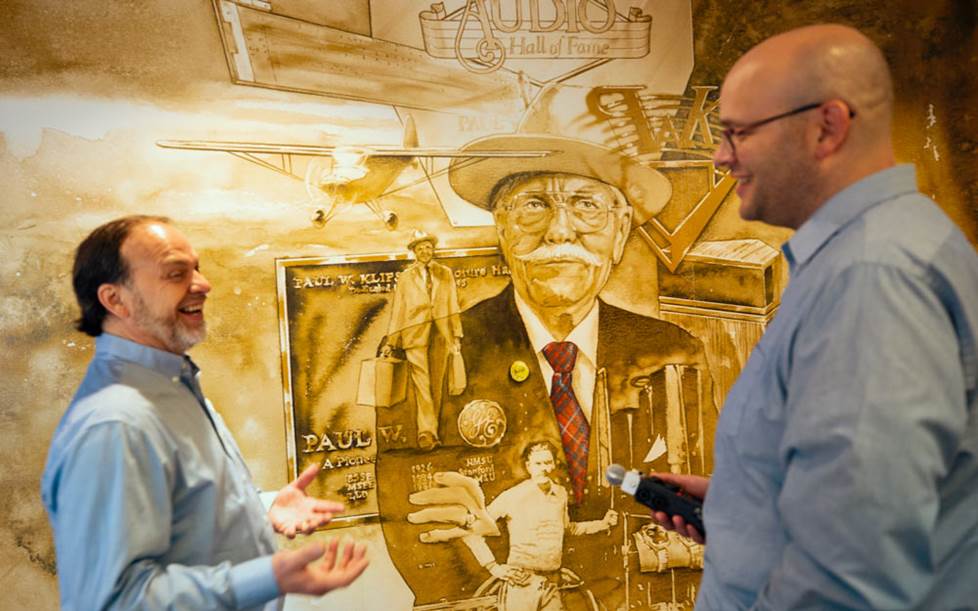 I was greeted in the lobby by Klipsch Systems Engineer Trey Cannon, along with a mural of company founder Paul W. Klipsch.
The company was founded in 1946 by Paul W. Klipsch, one of the brightest minds and biggest innovators in audio history. He's in the Consumer Electronics hall of fame (with our own Bill Crutchfield), Audio hall of fame, and the Science and Engineering hall of fame. Paul developed a staggering number of original patents that fill an entire wall in the Klipsch corridors.
Klipsch has cultivated one of the most loyal fan bases of any speaker brands. We see it firsthand here at Crutchfield, where many of our customers and employees swear by Klipsch and only Klipsch. And every April, a group of fervent Klipsch enthusiasts make the trek to Paul's hometown of Hope, Arkansas for a meet-up, convention, and huge party known as the "Pilgrimage".
"I tell our guys we're lucky," said Tommy Jacobs, VP of sales. "Every day we wake up and get to tell one of the coolest stories in the world — and it's all true! But we also understand the great responsibility that comes with that legacy."
My tour guide for the day, Trey Cannon, gave me a crash course on that legacy. Trey's job title is "Systems Engineer," but he's really a jack-of-all-trades who helps strengthen the connective tissue between all departments. He's also the in-house historian for the Indianapolis office. (You'll find the actual Klipsch historian, Jim Hunter, at the Klipsch Museum of Audio History, a nonprofit organization back in Hope.)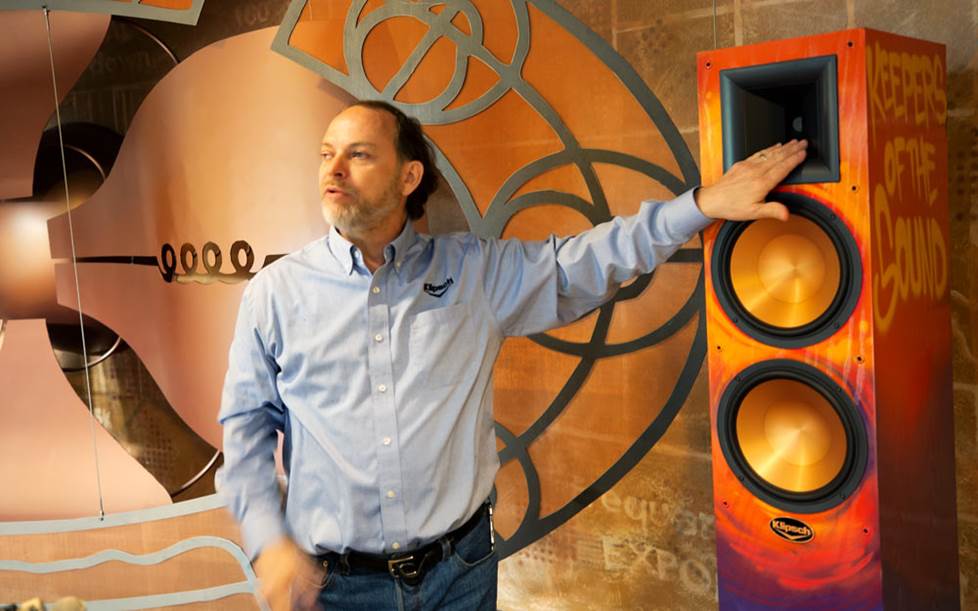 Trey, a longtime Klipsch employee and fan, points out one of several Tractrix® horns I saw throughout the building (this one on an RF-7 speaker with a custom paint job).
Trey started with Klipsch when the company's headquarters were still in Arkansas. So he brings along a charming accent and some down-home idioms mixed with deep company knowledge and sharp technical know-how. Oh yeah, and firsthand accounts of working with Paul.
"He was a 6'-3", big lanky tall fella who always dressed prim-and-proper, like most gentlemen from that era," said Trey. "But he was a hoot, man... had such a dry sense of humor. He used to say, 'I have a photographic memory, but it never quite developed.'"
Paul was a brilliant scientist and engineer who could've succeeded in countless other fields. In fact, one of his patents back in the 30s was for using sonar technology to prospect for oil. "But he loved his big band and classical music," said Trey.
He continued, "[Paul's wife] Valerie was a classical pianist in England. When they were dating, she once played a Rachmaninoff piece on her grand piano, and Paul told me 'as soon as she finished, I dropped to my knees and proposed right then.'"
On weekends, Paul would lap up the scene at the local orchestra. And he aimed to recreate that sound — that thrill — in his own living room. "He wanted to close his eyes and be in the middle of that symphony," Trey said. "To hear the horns over here, and the strings over there — all well-defined."
So, Paul started designing speakers. More specifically, he created the legendary Klipschorn speaker. This cabinet-sized speaker is still in production today in Hope, Arkansas, hand-made to order. It features what has become the company's trademark — a large horn that belts out the rich midrange and high frequencies.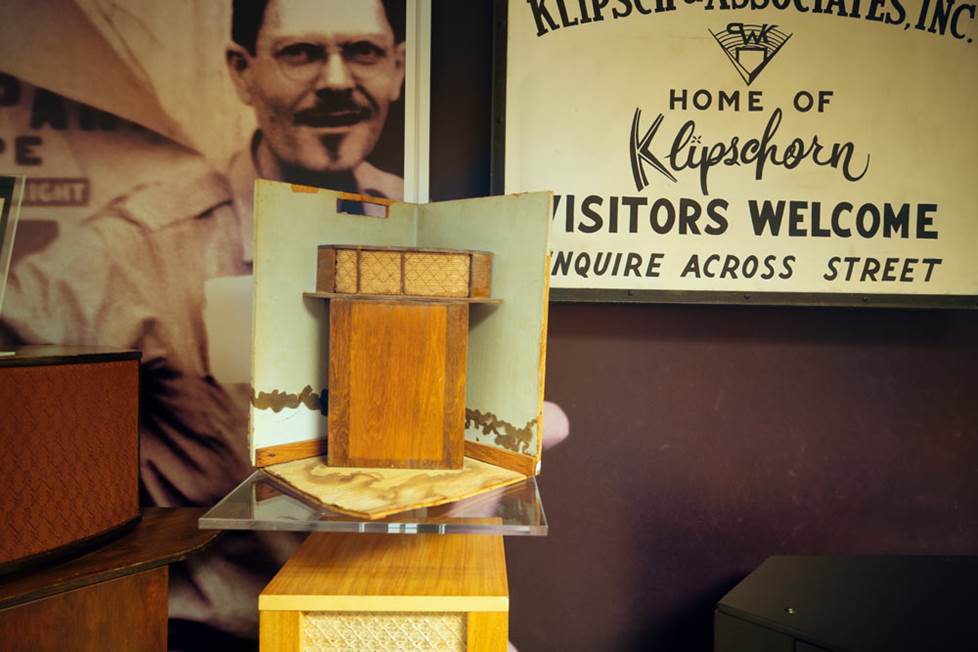 On display in the office's mini-museum: an early scale model — or "doll" — of the Klipschorn speaker, hand-made by Paul (circa the 1940s).
Trey told me that — even still today — Klipsch abides by four sound principles that Paul laid out. It's a mantra I heard repeated over and over again during my visit.
Those four principles are:
High-efficiency, low distortion
Controlled directivity
Wide dynamic range
Flat Frequency response
"What music do you listen to while tuning headphones?"
This is a question I'll often ask headphone designers and audio engineers. Before answering, Vlad stressed that at Klipsch they believe that a speaker — or headphone driver — should sound just as good, no matter what music you throw at it. That's what Paul Klipsch's four sound principles are all about.
So Vlad uses a pretty eclectic mix:
Top 40: "It's not always about what I want to hear. I want to make sure the headphone or speaker sounds good in the situation it's most likely to be used in."
Jazz: "Especially live jazz, because it is multi-faceted: wide dynamic range, lots of instruments to listen for, loud moments and quiet moments... You get that real soundstage, where you can pick out a certain instrument on the stage, and figure out where it is positioned and how deeply layered it is into the performance."
Rock: "Metallica is a good band to use for testing. Lars Ulrich can make a lot of noise, really fast. But it is as intricate as it is fast-paced. So if [a speaker or headphone driver] can't keep up with the transients, it can turn into one big, smooshed white-noise sound. Jazz music can show off how good a headphone sounds, but rock music can expose a bad one."
Hip-hop or electronic music: "We've all heard those headphones that, when you play Norah Jones through it, her voice sounds phenomenal. Everything is where it should be, and it sounds beautiful. But then you play a Jay-Z track. All of a sudden it has lost its bass. The attack of his voice is really bright and forward. Most of the other instrumentation in between is gone. It's just like him spitting rhymes with a very low-output soundtrack in the background... That's why I always test our headphones against something with a lot of bass. Because it will expose the faults and limitations. And I can see how bad the situation is. Then I can correct it."
A new generation of true wireless headphones
True wireless earbuds are one of our fastest-growing product categories over the past three years. Apple® AirPods are by far the most popular, but we have a vast selection of formidable alternatives from notable headphone companies. But until now, there have been none from Klipsch.
I asked Vlad, what gives?
"So far there have been two generations of true wireless headphones from a technology perspective," he said. "In our eyes, there were a few concerns [with those early-gen headphones]: they suffered from connectivity issues between the left and right ear, they didn't have the sound quality you would expect, and the battery life was too low for us."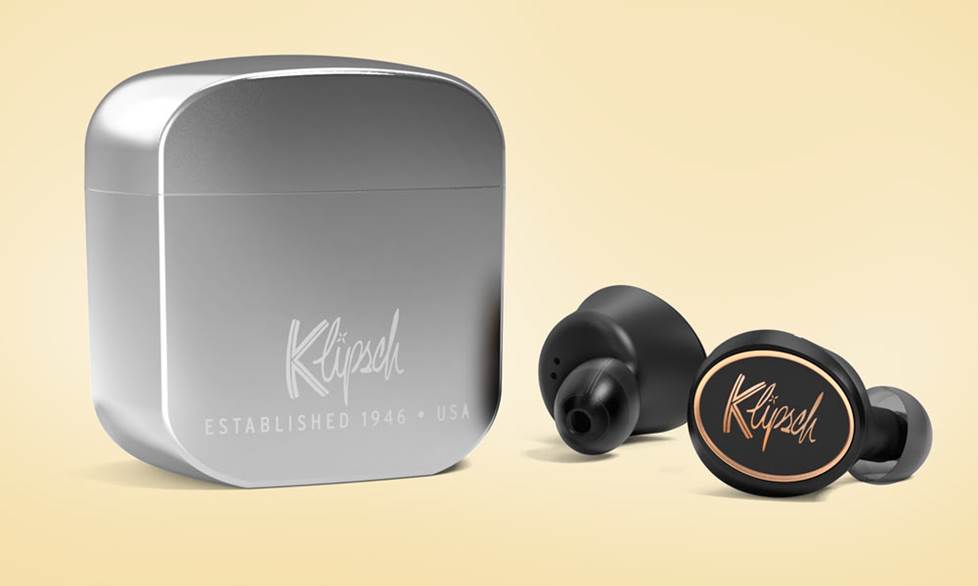 Meet the T5 True Wireless in-ear headphones, Klipsch's first 100% wire-free earbuds.
The Klipsch T5 True Wireless earbuds use a new, state-of-the-art Bluetooth chip from Qualcomm with Bluetooth 5.0 built-in. This new wireless technology offers several advantages. I think the most noteworthy is the 8-hour battery life.
"We're not making a bigger battery and shoving it in your ear," said Vlad. "We can get eight hours because Qualcomm's new Bluetooth module uses so much less energy."
The chip uses only 6 or 7 milliamps of energy. Less than half of what the previous generation chip used — about 15 milliamps, according to Vlad. With the new chip, each earbud can make an independent Bluetooth connection to your phone (or whatever device plays your music and podcasts).
That makes it less of a hassle to use. It doesn't matter which earbud you pull out of the case, they'll both pair up to the device on their own. And you can use them together or one at a time. Plus, since there's no "parent-and-child" relationship between the two earbuds, neither has to compromise — nor compensate — when it comes to sound. And sound is a pretty big deal at Klipsch.
"Since we're in the business of making products that last a long time and work really well," said Vlad, "we decided not to release a set of true wireless headphones until this year."
Klipsch's headphones heritage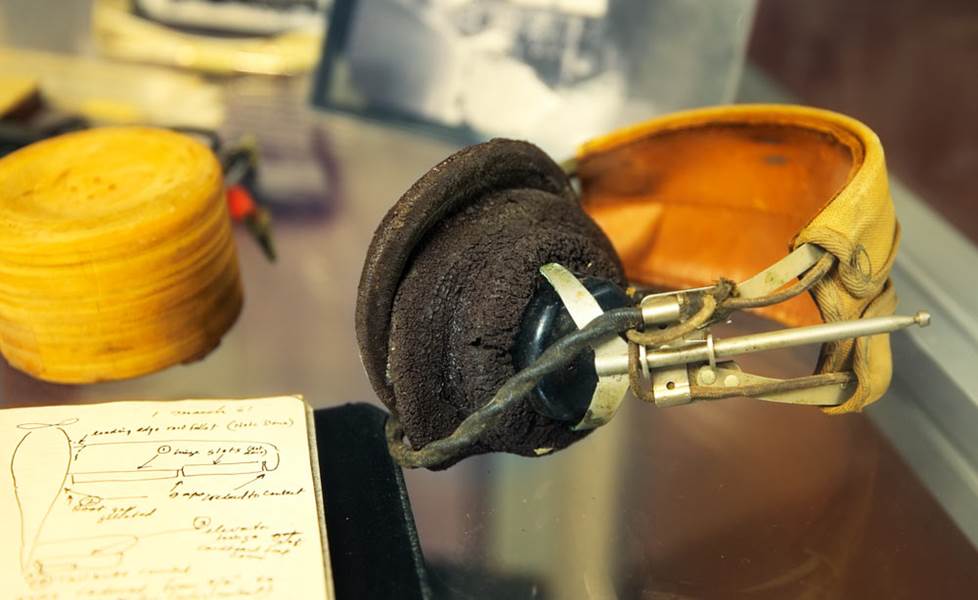 On display in the office's mini-museum: A set of early-century communication headphones, modified by Paul W. Klipsch for audio.
Way before Paul Klipsch designed the Klipschorn, or any other speakers, there were headphones. "Back in 1919, when he was in high school, Paul took New York telegram headphones and repurposed them for audio," said Vlad. "These were World War 1 series headphones that were used for communication, and he modified the drivers and used lamp cord to re-wire them."
But it wouldn't be until the mid-2000s when Klipsch as a company got serious about them again. Now, they are all-in on personal audio. Early last year, they released their ultimate statement piece — the Klipsch Heritage HP-3 over-ear headphones.
These headphones have been well-received by some of the toughest audio reviewers, Crutchfield customers, and the audiophile headphone crowd. The HP-3 serves as a shining example of modern design and engineering, and an ode to the company's roots.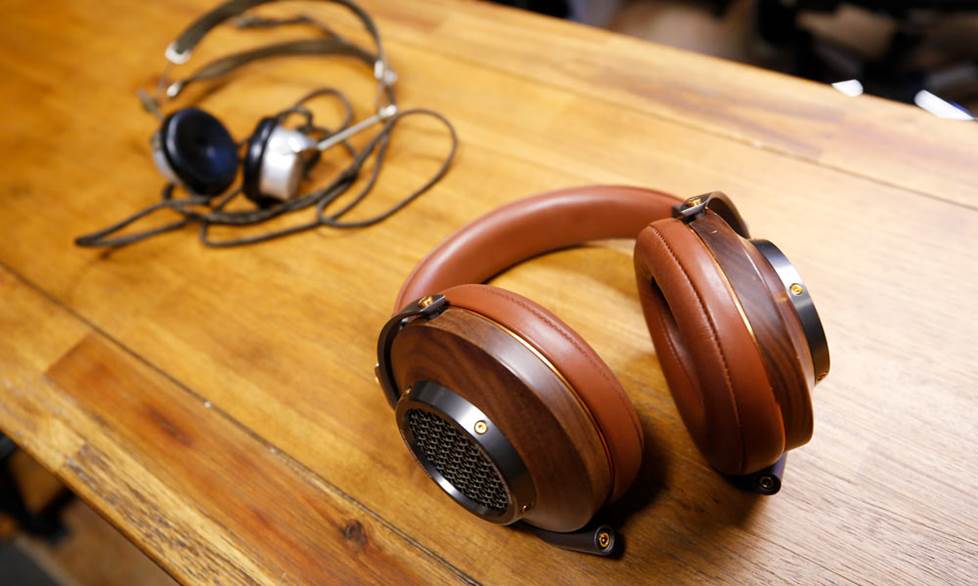 The HP-3 headphones have a timeless retro vibe that embodies early Paul Klipsch designs (like his original headphone mods and the Klipschorn speaker).
"This whole class of headphones does not allow much room for mistakes," said Vlad. "You really have to get it right, and get it right the first time. We researched [high-end headphones] to the nth degree before we ever started."
Looking back, he's proud of the HP-3 headphones — and their reception. He points to their versatility as the key to success.
"You can plug these headphones directly into an iPhone and be happy with the sound," he said. "Or you can plug it into a solid-state headphone amplifier and it will sound really clean and detailed. Or you can connect it to a vacuum tube amp, and get that warmth and emotion."
Vlad's personal headphone journey
Vlad made his way to Indianapolis by way of Michigan. He was born and raised in Ukraine but moved to Detroit at 8. He got into electronics — and headphones specifically — thanks to his old man. Vlad remembers stacks of Crutchfield catalogs around the house, and his father's deep, thorough research before splurging on a home theater system. "My first experience with good, quality headphones was a birthday gift from my dad," Vlad said.
He remembers spending hours in front of the family's desktop computer when he was 11 or 12 — playing games, reading, learning how to program, listening to music. He wanted a pair of headphones so that everyone didn't have to hear what he was listening to.
"Of course the headphones I asked for were red, flashy, and looked cool… I had probably seen them on a commercial," Vlad said. "So my dad buys me a pair of Grado SR-60s from none other than Crutchfield."
"I listened to those Grados for years and years," said Vlad. "They made me appreciate good audio and taught me that if you're going to build a product of this caliber it should be built to last."
Inside the headphone lab
"You have to tune headphones a little bit differently than a speaker because your ear almost acts like a reverse horn," Vlad told me as we entered the headphone lab. You'll find several measuring instruments, tools, machines and a cabinet packed with two sets of every Klipsch headphone ever made.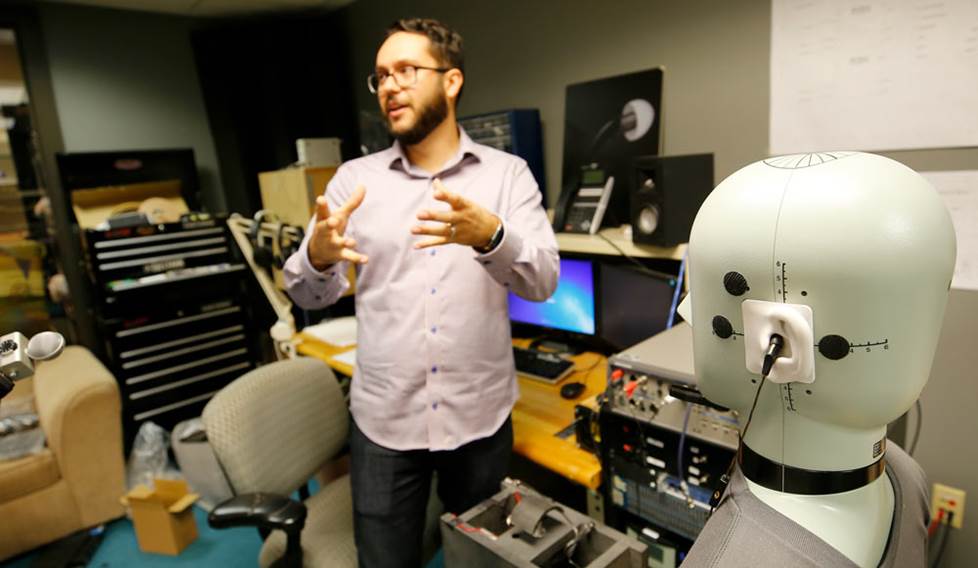 I geeked out at all the machines and headphone measurement tools when Vlad took me into Klipsch's headphone lab.
"The shape of a standard human ear intensifies certain frequencies," Vlad said. "So we have to kind of compensate for that. We basically create artificial bumps and valleys and peaks and so on, so that it sounds more natural, like a speaker with a flat frequency response."
Knowing all this, Klipsch uses two main measurements tools. One is called a "flat jig" that they created in-house. It includes two separate microphones — one for over-/on-ears, the other for earbuds. In-ear headphones are inserted into a coupler with a super-sensitive mic, so they get an incredibly accurate and consistent reading.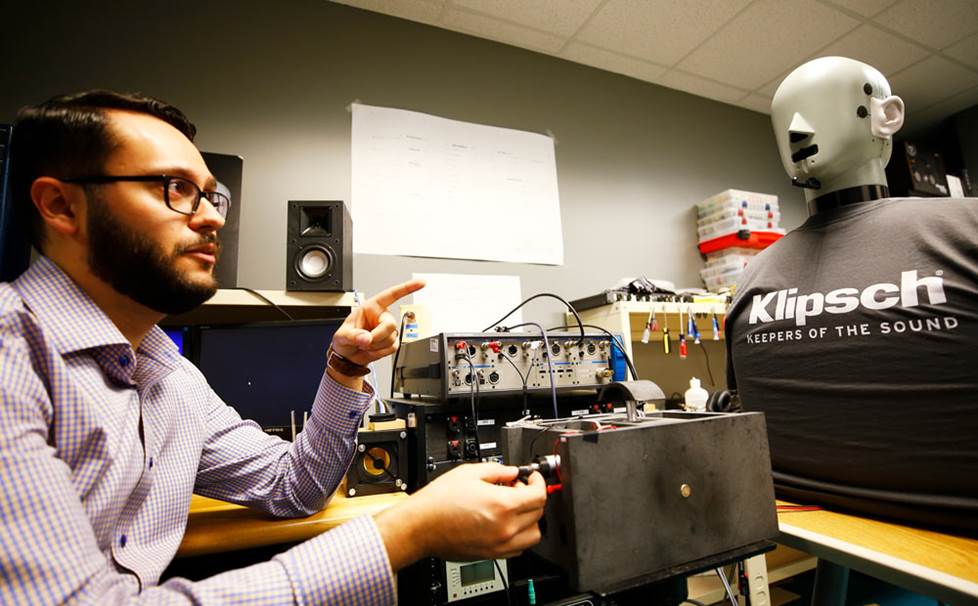 Vlad measures an earbud using the extra-powerful mic inside Klipsch's "home-brewed" jig measurement rig.
"The problem with that is ear canals don't look like metal tubes," said Vlad. So while this works best for their initial acoustic tuning, when a product gets closer to prime time, they test their sound with "Steve."
"Steve," Klipsch's Head and Torso Simulator, helps Vlad and team record measurements that are more true to life.
"Steve is our Head and Torso Simulator (HATS), and you can place the earbud inside this ear a little differently," said Vlad. "So we take measurements to ensure [the earbuds] can be moved around, and changed into different places without changing its acoustic properties."
This ensures the majority of people get the optimal experience, even if the drivers are moved into different positions. And nobody knows better than Klipsch that all ear canals are shaped differently.
In-ear study, oval ear tips, and T5 True Wireless "snap-fit" nozzle
One of Klipsch's most famous headphone patents is their oval ear tips. These cylinder-shaped silicone earbud covers just slide right in so easily and comfortably. I find they avoid pressure points and create one of the best noise-isolating seals out there — crucial for getting solid bass response.
But Klipsch didn't just stumble onto this design. Vlad pulled out a tackle-box full of rubber-ish molds of actual ear canals. "We've got boxes on boxes of these things," he said. "Back in 2007, when we did our initial study, we were looking for a common similarity among all different ear types."
So how did they convince a large group of people to shoot liquid goop into their ears, and let it solidify? Well, they hit up college campuses first. Vlad laughed and said, "I guess in college you're just like 'ear stuff? Alright, give me 50 bucks, let's do it.'"
They noticed an oval cross-section in each mold — no matter the size. So that dictated the shape of their famous tips.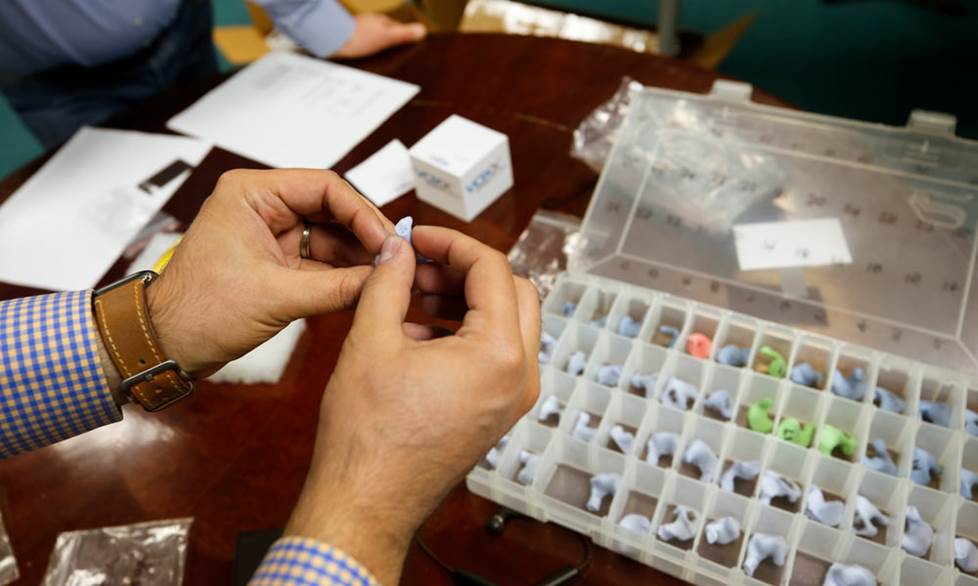 Vlad shows me an especially tiny ear canal taken from Klipsch's extensive in-ear studies.
With that study, they also set strict size parameters for the part of the earbud that you insert inside your ear canal. "So what normally happens is you have your nozzle and then over the top of that you have an ear tip," said Vlad. "And the size of both together shouldn't exceed 6mm."
That's usually not a problem. But with all the electronics packed into each true wireless earbud, the best place to house the driver is inside that long, tube-shaped nozzle. And the T5 True Wireless uses 5mm drivers, so you're already pushing the limits.
"So we engineered a nozzle that has a little step in it," said Vlad. "And that step lets you insert the ear tip directly, butted up into the nozzle. And it snaps in."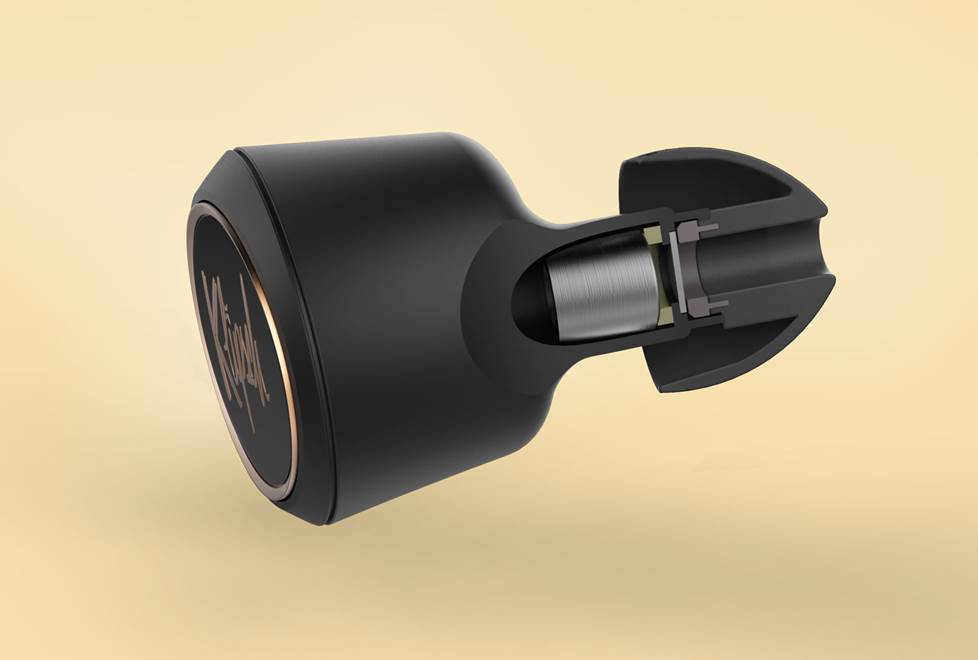 The snap-fit design helps accommodate for the 5mm driver housed inside the nozzle. It ensures Klipsch's oval ear tips have even more room and are more malleable, for better comfort and better sound. (Computer illustration by Klipsch's Tony Martin.)
Industrial design area
An even more obvious display of Klipsch's thoughtfulness? The T5 True Wireless recharging case. Like most true wireless earbuds, the earbuds sit inside the case to refuel. But Klipsch gave the case a fun, familiar Zippo® lighter design.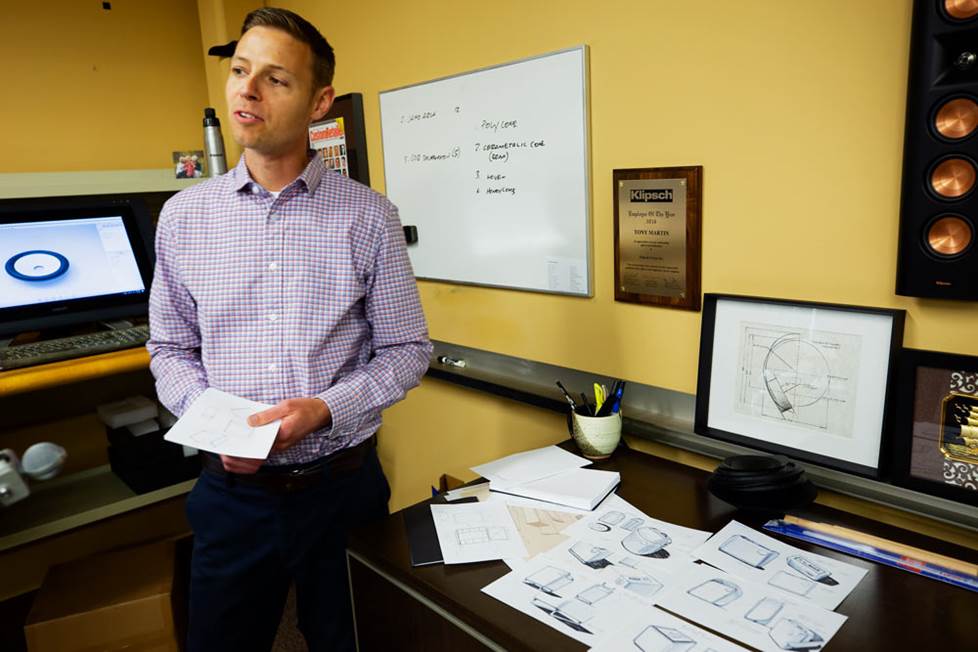 Senior industrial designer Tony Martin shows his early hand sketches of the T5 True Wireless case and other Klipsch products.
The case not only serves as a nod to the company's rock-n-roll branding, it's designed to make life easier on the customer.
"I was testing [another company's] case, and it felt really clumsy to have to hold in one hand and open the case with another," said Vlad. "Someone bumped into me and the case flew downwards. The earbuds spilled out onto the concrete. We wanted something you could hold, open, and close with one hand."
So who came up with the Zippo design?
"That was, I think, Tony Martin," said Vlad. Tony Martin is Klipsch's humble, soft-spoken, but highly decorated industrial designer. As Vlad took me to his office, he told me that every product that leaves the building was designed by Tony and his team of artists and mechanical engineers.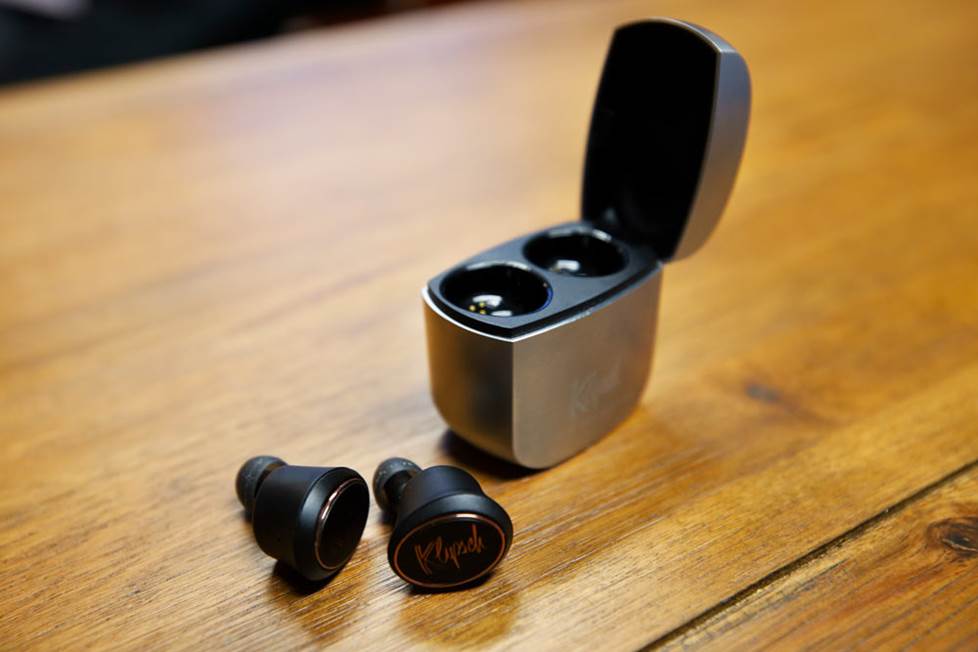 The snap-shut "Zippo style" charging case of the T5 True Wireless earbuds.
"When we start out with a new product, we'll get a rough framework or the size and shape we're looking for," said Tony. "Then I'll hand sketch the initial design and show it [to different departments] and get feedback, then do another set and continue to refine it."
At this point in the process for the T5 wireless case, nobody had made the Zippo connection. But they knew they wanted the case to open from the side. And after Tony honed in on a design the team liked, they made computer models and eventually created an early mold using their 3-D printer.
"We were curious about if it's meant to go in your pocket. How round is the corner? Will it even fit in your pocket?" said Tony. "So we printed a bunch of 3D models and stuck them in our pockets to walk around all day with them."
That's when the design really started to take shape.
"We got to our rounded corner," said Tony, "and more people got involved the ideas started flowing: like 'whoa, if we made it out of metal that would be really cool.' Then eventually someone had the big 'aha' moment: 'This is just like a Zippo lighter.'"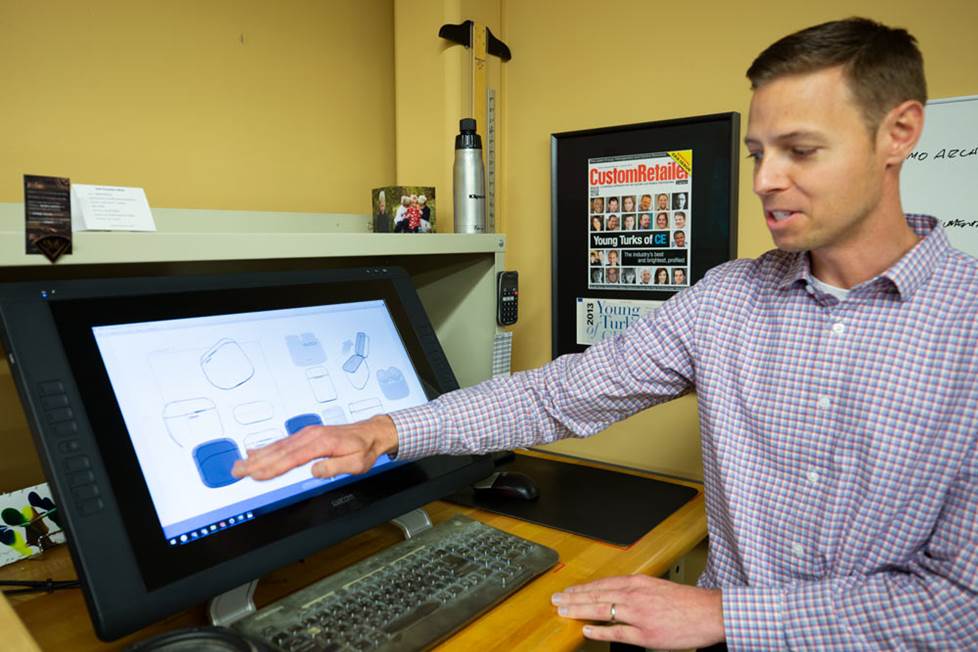 Tony shows early computer illustrations of the charging case.
Of course, it's not just the looks, shape, and weight. They also needed to get that satisfying "snap" just right.
"We do the snap a little differently," said Vlad, "The snap that you hear in a Zippo lighter is this big trigger, or more of a folding hammer that actually hits the inside of the case. We did kind of a reverse of that. So our hinge doesn't work the same way."
Tony added, "Yeah, our whole entire lid becomes the hammer… There's no extra piece [like you have on a Zippo]."
The substantial lid and powerful magnets help keep the headphones in place, so you can be sure your earbuds are secured and charging. In other words, not spilling out onto the floor.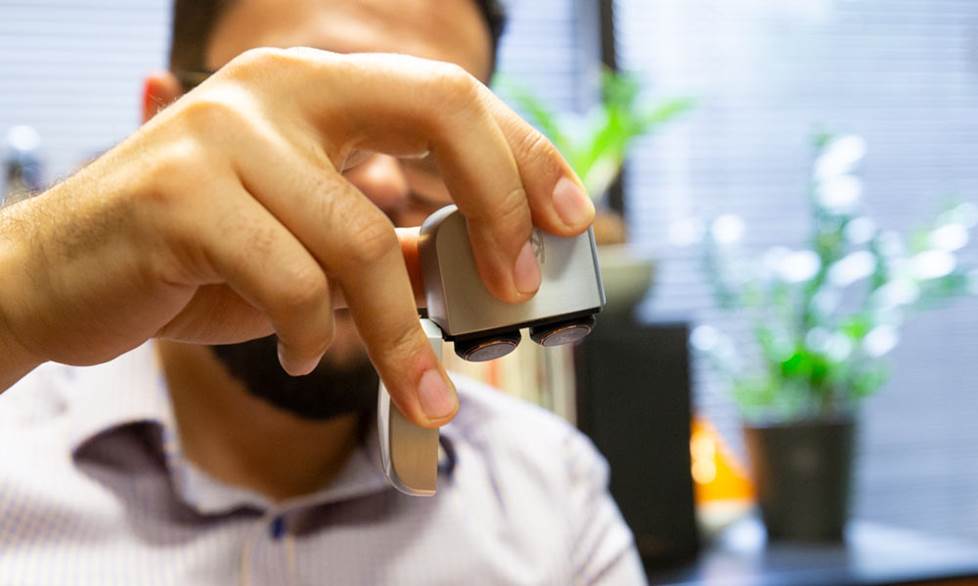 Based on his experience with another brand's true wireless headphones, Vlad made sure the Klipsch version stayed put.
Conclusion
"A lot has changed since Paul built his first speaker. But you know what hasn't changed? Physics." said Andre LaRoche, Klipsch's director of program management. "So those same four principles that reproduced great sound back then, still work today."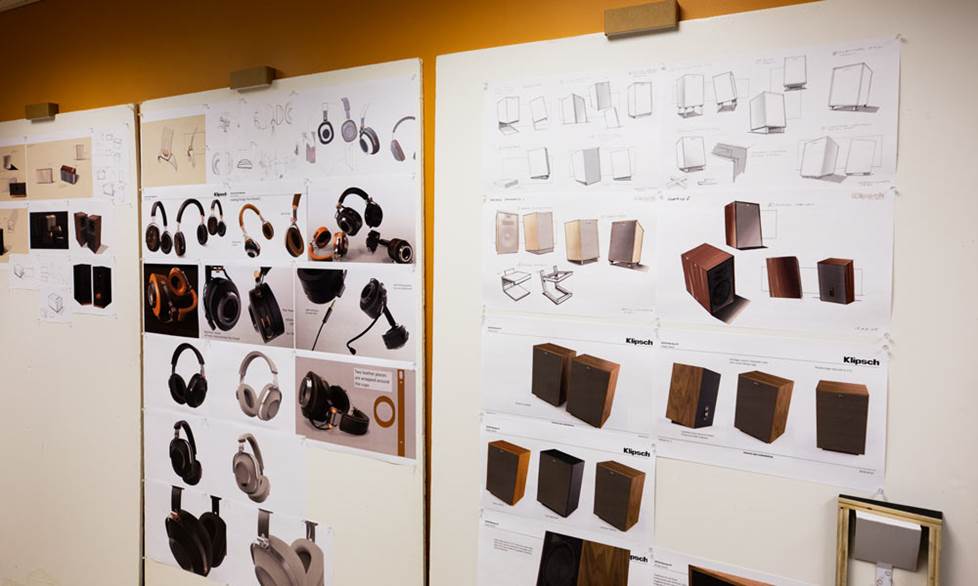 From early hand-sketches to computer models: design drawings of several Klipsch speakers and headphones.
Even more to the point? While musical tastes or technology may change and evolve, there's an emotional element involved with quality sound. And that stands the test of time.
These days, we might choose to crash on the couch and binge Netflix over a night at the symphony. We're more likely to pull up a new release on our phone from Migos or Kacey Musgrave — maybe a Stones or Stooges reissue — than throw on a classical music record.
But as long as Klipsch continues to tap into what moves us about our growing entertainment choices, they'll be successful. If they continue to deeply connect us to an artist or powerful film. It doesn't matter if that sound is delivered by two speakers the size of a cabinet, a bar that fits under our TV, or wireless buds we stick in our ears.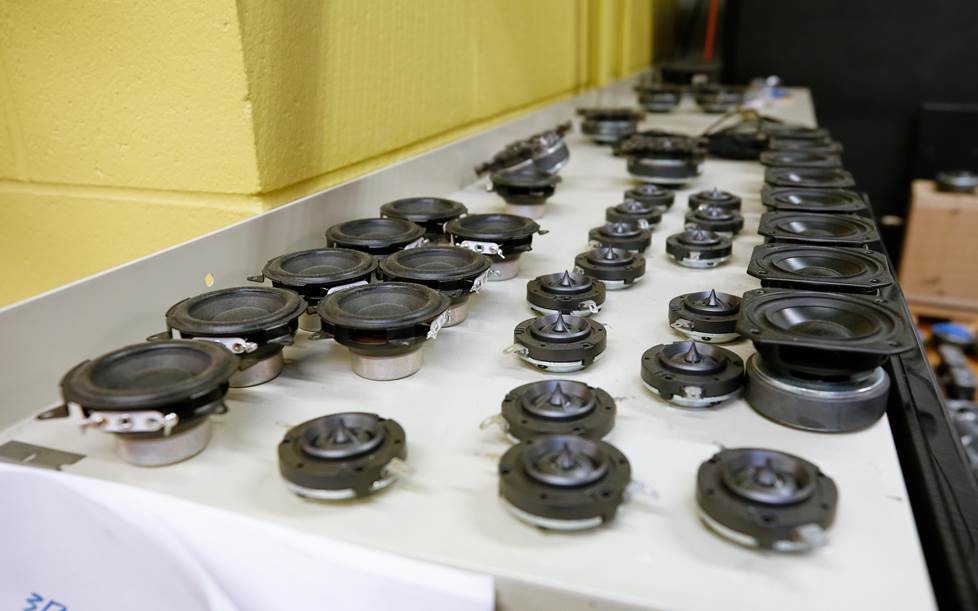 A selection of speakers and drivers pulled from production, awaiting quality-control testing from Klipsch's engineering team.
It was a treat to see all these experts at work. I find myself wanting to go on and on about all the thought and effort they put into each detail — large and small. Klipsch brings a true artisan approach to creating kick-ass sound.
But now the crafting, care, and nurturing are done. These products — Vlad and team's "babies" — are heading out into the wild. There, they'll be judged on their own merit.
Paul W. Klipsch wouldn't have had it any other way.