Factory speakers are tricky beasts. When they're new, they sound just fine. They're efficient, so they don't require much power to play at a reasonable volume, plus they're admirably accurate. In general, though, they're not really cut out for the long haul in an environment as taxing as a car door.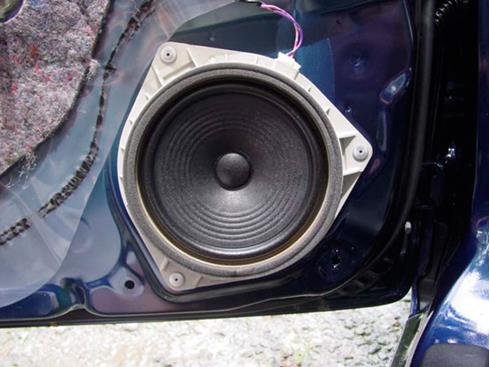 These speakers are made of inexpensive materials, like paper, that can't hold up to the extremes of heat, cold, and humidity found in a car or truck. As time goes on, these extremes take their toll on the cheap materials, and the speakers begin to fall apart. When the materials go, sound quality goes with them.
Unfortunately for our ears, this deterioration doesn't happen all at once. If we were to jump in the car and hear a deteriorated speaker for the first time, we'd know immediately that something was wrong. But the gradual degradation of the average speaker lets our brains get used to the sound. As a result, even when we know that something's wrong, we don't always realize just how bad it is.
Off to the Labs...
To demonstrate just how bad things can get, we decided to round up some factory speakers, put on our mad-scientist lab coats, and prove the obvious by running some standard tests on them. The results? Mostly hilarious.
To frame the project properly and reinforce the understanding that factory speakers start out performing just fine, we started with a set of "premium" factory speakers that were only a couple of years old and still in really good shape. We then examined three other sets of speakers that got progressively older, finishing with a set from a 1991 Honda that should have been put out to pasture years ago, but somehow lasted for 20 years. (Well, "lasted" is a pretty strong word in this case.)
We focused on three areas of investigation:
First, a visual inspection, in which we looked for deterioration. As you might imagine, this was not hard to find.
Second, we did an informal real-time analysis (RTA) with 20 to 20k Hz "pink noise" to see the frequencies each speaker was capable of producing. This really didn't tell us much, which is about what we expected. A speaker may be able to play certain frequencies, but an RTA doesn't necessarily indicate how well or poorly.
Third, we did a basic test of relative distortion levels by simply hooking up one of each of the speakers to a receiver, playing a 400Hz test tone through them, and noting the volume level at which the tone changed. We weren't concerned about the actual dB level of each distortion point; we mainly wanted to demonstrate how much headroom one loses as speakers deteriorate.
The tests
Premium factory speaker from a 2010 Subaru
Visual exam
Only a couple of years old, this speaker is still in pretty good shape. No visible wear on the cone or surround yet. This speaker also features a dedicated tweeter, which is a nice touch.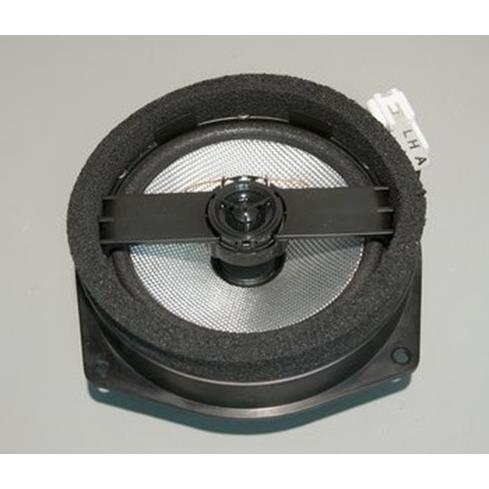 RTA frequency response curve
As we'd expect, we see a nice bell-shaped curve across the audible musical spectrum, which indicates that the speaker can still handle most frequencies quite nicely.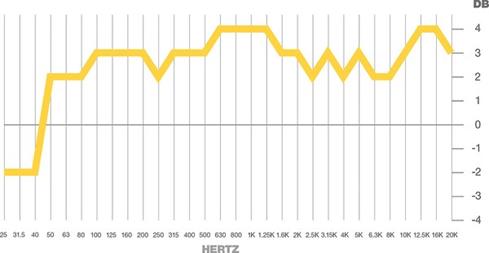 Relative distortion level
We were able to crank the volume of the receiver up to 34 before getting any distortion, which is a good level.
Factory speaker from a 2002 Honda Civic
Visual exam
The speaker certainly looks rough. It's showing strong signs of wear and tear in the cone and the surround.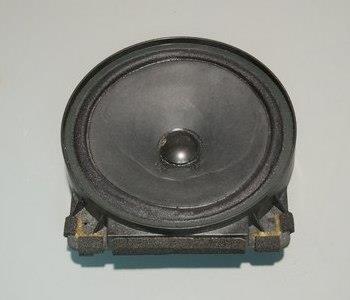 Relative distortion level
Not bad. Its curve is reasonably smooth, with only a few jagged points and flat spots where it has trouble reproducing accurately.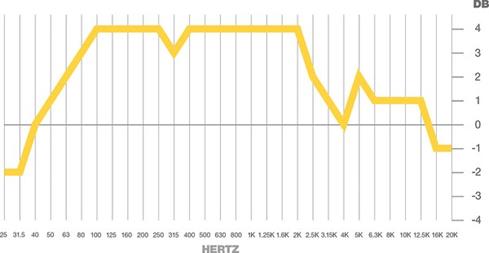 RTA frequency response
We were able to to take the volume up all the way to 33, just one mark shy of the best speaker in our bunch. Not too bad, actually. We were surprised.
Factory speaker from a 1998 Ford Taurus
Visual exam
This woofer is a mess. It came from the rear deck, which means it suffered through nearly fourteen years of sunlight streaming through the rear window. There's no surround to speak of, and the cone is cracked, torn, and on the verge of turning to dust.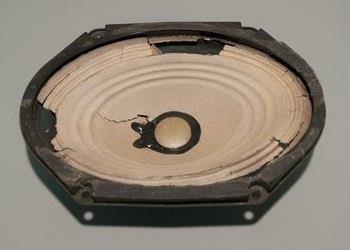 RTA frequency response curve
At first glance, it doesn't seem that bad. But there are noticeable, unpredictable drops in certain frequencies, little bass to speak of, and a huge rolloff in the highs.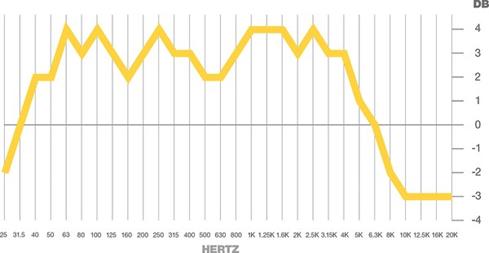 Relative distortion level
This tells the real story. The speaker distorts at 17 on the receiver's volume dial; exactly half the volume of the 2-year old speaker above. That's not nearly enough to play over road noise without distorting terribly.
Factory speaker from a 1991 Honda
Visual exam
One might ask why we bothered to test such an old speaker. The answer: people are keeping their vehicles longer and longer these days, so it's really not that unusal to run across speakers this old.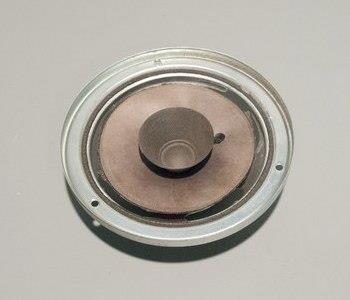 RTA frequency response curve
A surprisingly complete curve, and a reminder that frequency response doesn't tell the full story. There are definitely spots where the response drops out, and there's very little in the way of bass and treble.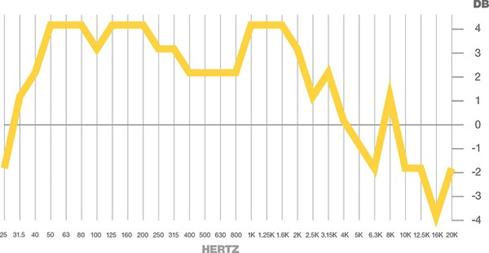 Relative distortion level
This got all the way up to 20 on the volume meter before distorting. Better than we expected, but still completely unlistenable in an actual car environment.
The prank
We asked three of our writers to do a blind A/B test with A) a set of Focal component speakers (which they knew about), and B) a "potential competitor" — actually, the set of speakers from the 1991 Honda. The factory speakers sounded so awful, each listener could tell immediately that something was wrong, which made it hard to keep straight faces for very long. Watch the fun in our video:
So if you have a set of speakers in serious need of replacement, don't live in denial any longer. Find find replacements that fit your vehicle, or give one of our advisors a call at 888-955-6000.