If you're reading this, it's likely that you either have a truck or want a truck. And it's also likely that you want to install the best possible sound system in that truck. A speaker upgrade is the quickest path to audio excellence, so we'll take a look at some of the basics.
ickups and SUVs have largely supplanted sedans and station wagons as the daily driver of choice for millions of people. And with the wide variety of engine, cab, bed, and feature choices available, it's really no wonder. In this article, we'll share what you need to know in order to replace your factory speakers with better aftermarket speakers.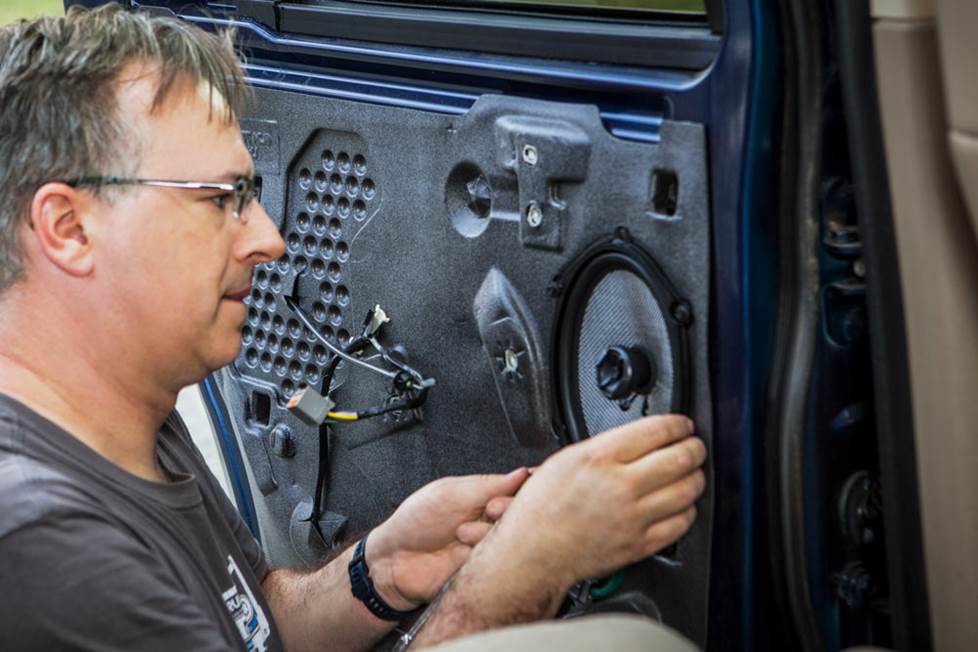 Replacing your truck's speakers is a great way to improve your sound quality
Better speakers mean better sound
Even if there isn't a diesel engine rumbling under the hood, a truck can be a noisy beast, and if you add big tires, a light bar, and other accessories, you'll hear more roar than before. But hey, you knew it wasn't a Prius when you bought it, right?
Installing new speakers is a great first step towards better sound, especially if you have a newer truck with one of those fully-integrated and basically unreplaceable factory stereo/control panel combos. Late-model Ram owners will definitely know what we're talking about!
In most trucks, the factory speakers really weren't all that great to begin with, and since speakers tend to age about as well as potato salad in sunlight, sooner is better. Aftermarket speakers will bring out the best in your stock receiver and make your music sound better than ever.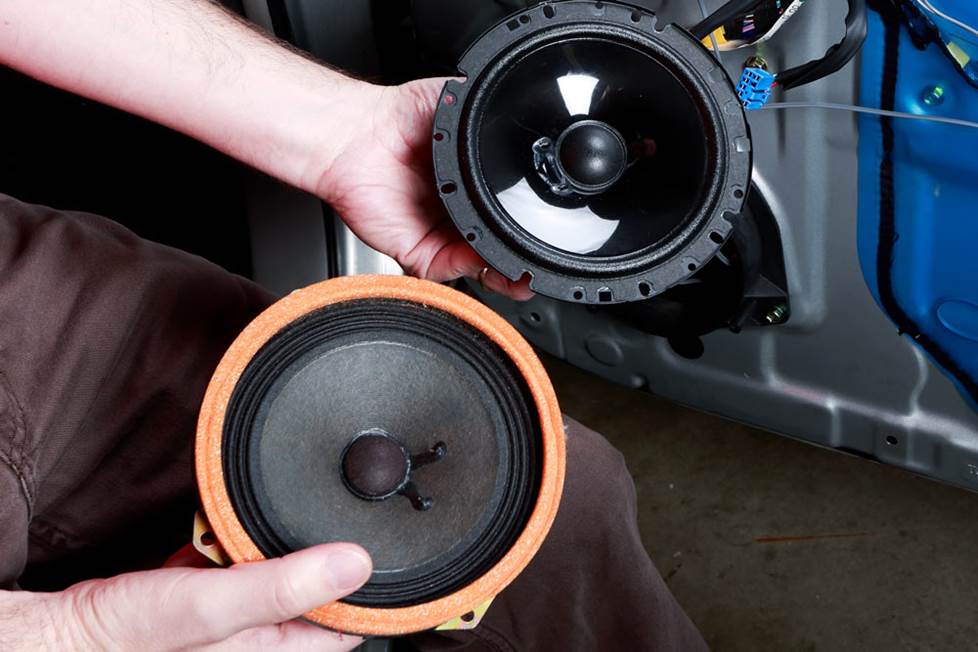 An aftermarket speaker (top) is built to a higher standard than even the best stock speakers.
So what is it that makes aftermarket speakers so much better? Well, everything, pretty much. Factory speakers are designed to a price, but aftermarket speakers are designed to perform. Bigger magnets, better materials, and smarter ideas really do make a difference – both visibly (see above) and audibly.
Whether you choose full-range speakers or a set of component speakers, you'll really notice the difference in your sound quality. And, in most trucks, removing and replacing the stock speakers is a project that the average DIY-er can totally handle. You'll definitely enjoy the results, and you might just enjoy the job, too!
To learn more about speakers in general, check out our car speakers buying guide.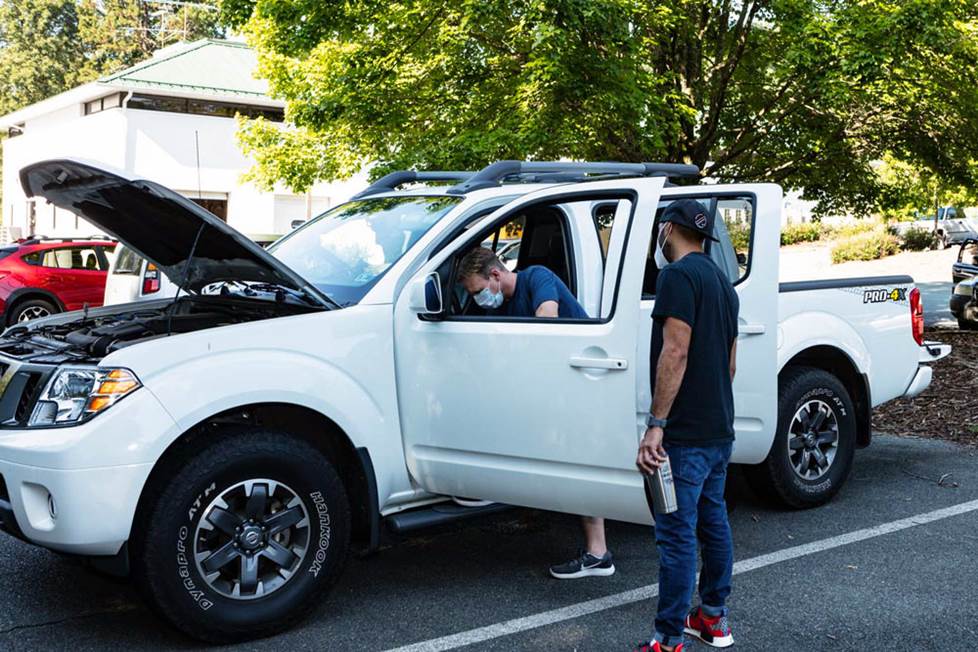 You don't necssarily have to have a bunch of people around to help replace your speakers, but it might be kind of fun.
Removing and replacing your speakers
Once you enter your vehicle info, you'll see all the speakers that fit your truck. Depending on the age of your truck and the trim level, the factory system can range from no speakers at all (old work trucks, for example) to a top-line system with ten or more speakers. In most (but not all) cases, your truck's speakers should be pretty easy to reach and replace. There are exceptions, of course, and we'll make sure you know before you buy.
The center- and corner-dash speakers found in many late-model systems usually aren't that complicated, and the same goes if the tweeters are mounted in the A-pillars. There will be full-range or component woofers in the front doors, and you'll probably need to remove the door panel, which isn't too tough for the average DIY-er. If your truck has rear door speakers, that process will frequently resemble the job you did up front.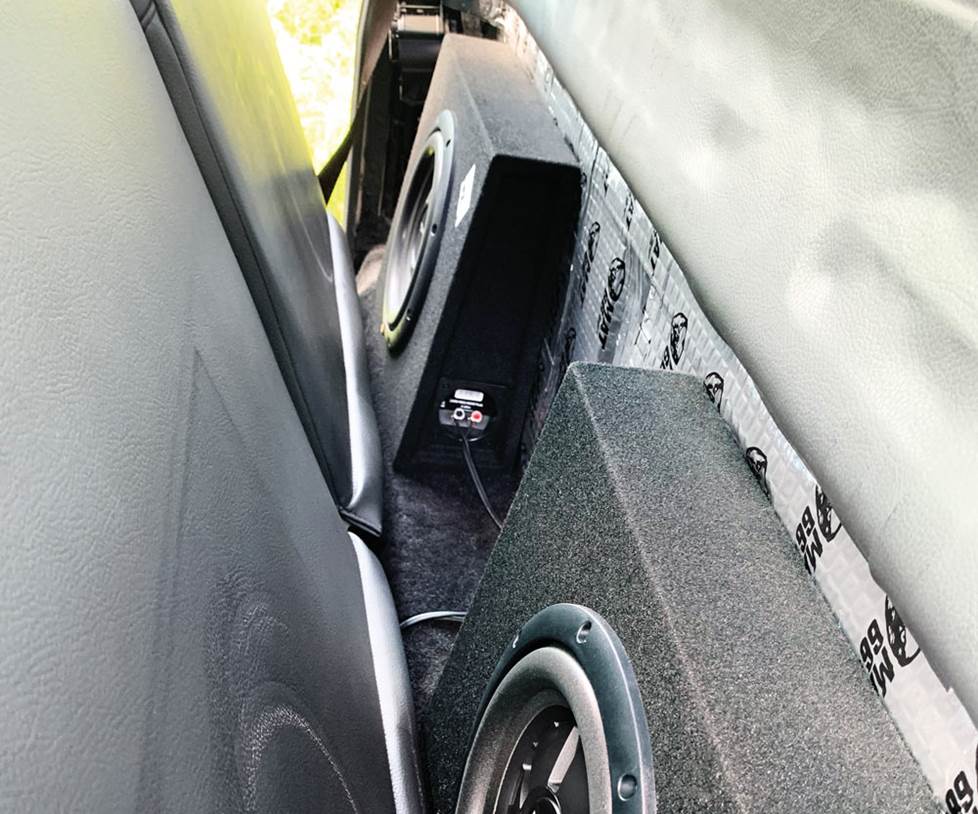 If there's space behind the rearmost seat, there's probaby space for bass.
Rear-panel speakers and subs can be a bit more challenging in some trucks, because there might be seats or tools or jacks to remove before you even get around to removing the panels. That said, replacing rear panel speakers can also be as easy as popping off a grille and swapping out the old one. It all depends on the truck.
Kick panel pods: In some trucks, especially older GM models, one cool way to improve your sound is to install a set of Q-Forms Kick Panel Pods. These unloaded, custom-fit speaker enclosures fit into the space where your kick panels are now. They hold a set of 6-1/2" component speakers (sold separately) in an ideal position, angling them to maximize sound quality. The pods are available in a variety of colors to match your truck's interior and, while installation will take some work, it's not beyond the capabilities of the experienced DIY-er. Enter your truck's info to see if there are kick panel pods for your truck.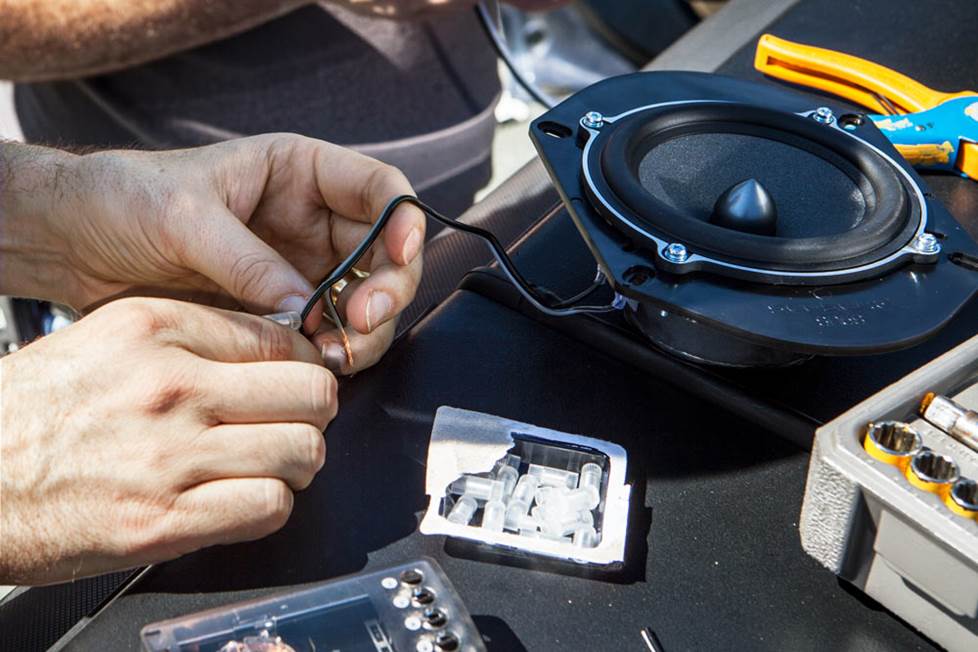 When you buy your speakers are Crutchfield, we'll make sure you also get everything you need for your installation.
Connecting and mounting speakers
Connecting the new speakers to the truck's wiring is most often accomplished with the help of the wiring harness adapters Crutchfield will include with your speaker purchase. If there is no adapter, we'll let you know up front, so you can decide whether you want to splice, solder, or use Posi-Product speaker connectors to make the necessary connections.
In some instances, you'll need mounting brackets to secure your new speakers in the factory cavity. If so, we'll include these with your order, too! If there are no brackets available, you'll need to either fabricate your own or pick up some of our universal backstraps. If this is an issue, we'll make sure you know about it while you're shopping.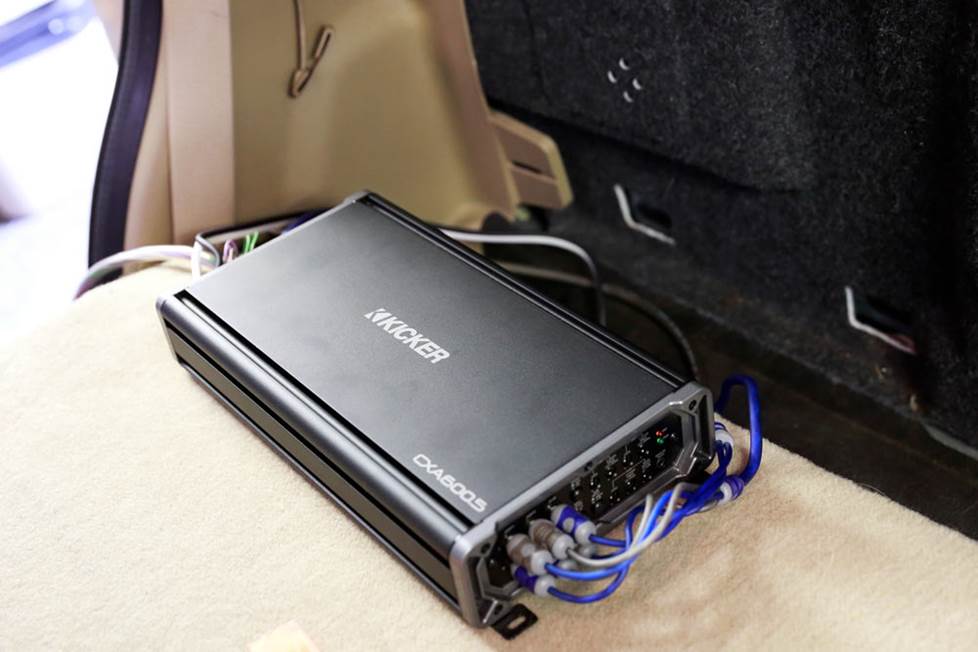 When you add an amplifier (or two) to your system, you'll get the most out of your new speakers.
Adding an amplifier
If you're building a serious system in your truck, you'll really want to add an amplifier. An aftermarket 4-channel amp, for example, will help you get the most out of your new speakers. You'll get cleaner power (and a lot more of it), which will result in vastly better sound. You can choose a 5-channel amp or even a mono amp if you also want to power your truck's aftermarket subwoofer.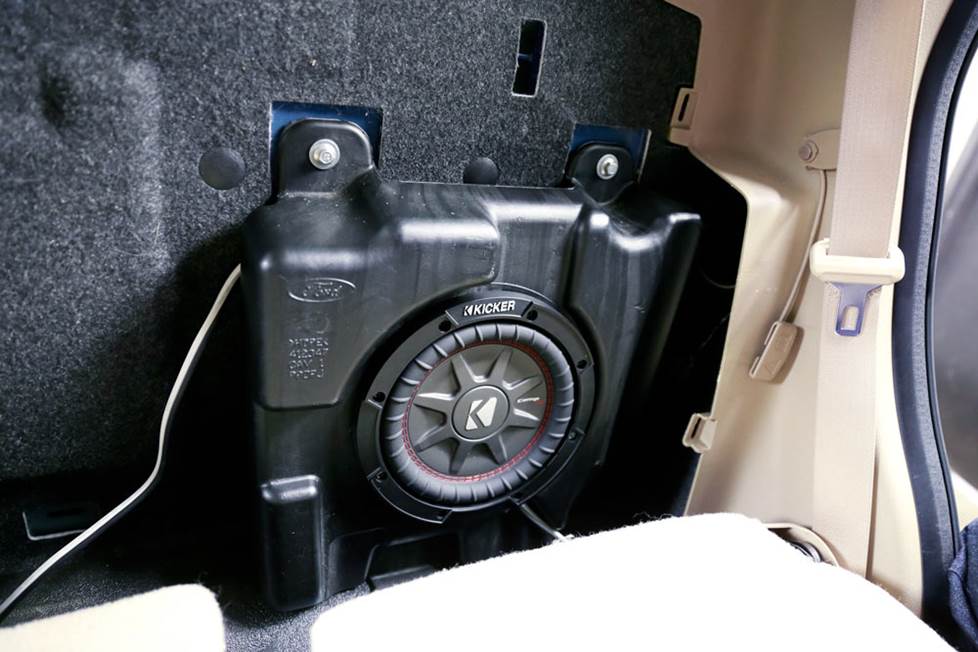 There are plenty of ways to add a subwoofer to your pickup. Enter your vehicle information to see what'll fit your truck.
Subwoofers for your truck
The bigger the cab, the more space you have for an aftermarket subwoofer – most of the time. All trucks are different, though, so there can be a real difference between what you think will fit in your truck and what actually will. It's also important to consider how much interior space you're willing to give up for better bass.
Standard Cab trucks (older or newer) don't have much extra cab space, obviously, but if you're feeling creative, you might be able to find some room for a compact subwoofer. It all depends on the available space behind the seat (if there is any) and/or under it. Measure carefully, then give us a call and talk to one of our expert advisors about your truck subwoofer possibilities.
Crew Cab and other "extra cab" designs give you more options because there's more room for a subwoofer box. If you don't want to go totally nuts on bass, a powered sub will work nicely in these trucks, too.
Depending on the year of your truck, there are some custom-fit options that'll fill the cab with bass without compromising the available space. You can choose from unloaded, loaded, and amplified versions, and they'll fit neatly into your truck's interior. To see the subwoofer options for your truck, enter your vehicle information.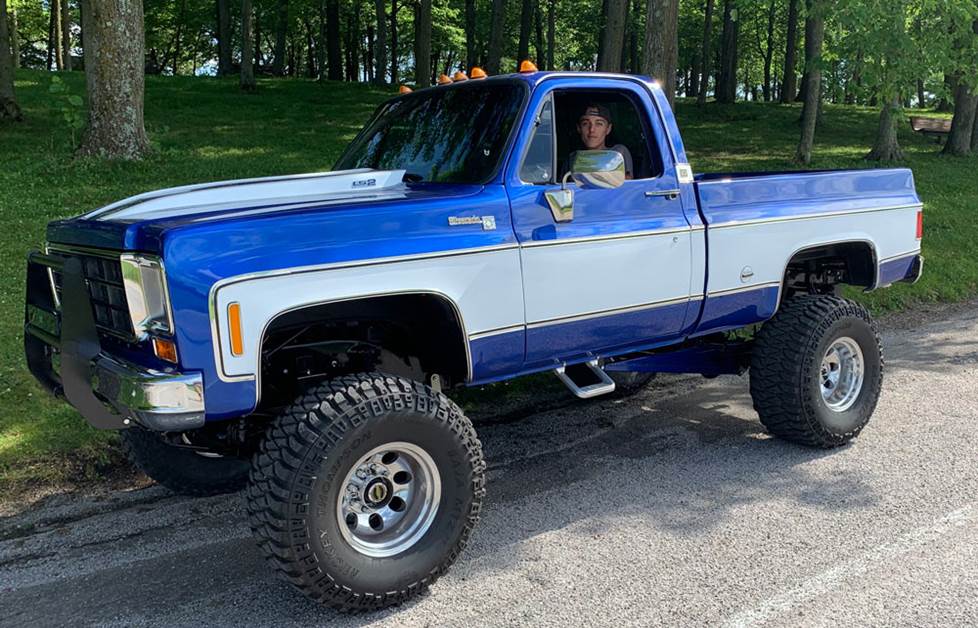 There are plenty of ways to improve the sound in your older truck, too. And if you're running big tires like these, you'll definitely want to look into it!
Better sound for older trucks
If you want to enjoy modern sounds in your vintage pickup, but don't want to hack into the dash to install a modern single-DIN receiver, Retrosound is a name you need to know. Their clever digital media receivers are designed for older vehicles, so you can replace the shaft-style radio in your older truck and keep the vintage look you love. If your trucks speakers are old, hard-to-find sizes, Retrosound can help you there, too. Enter your truck's information to see what'll work in your pride and joy.
Of course, if you're building a resto-mod or custom truck, keeping the "factory look" doesn't matter at all. Give us a call and talk to an advisor if you want some expert help designing a custom system for your classic pickup.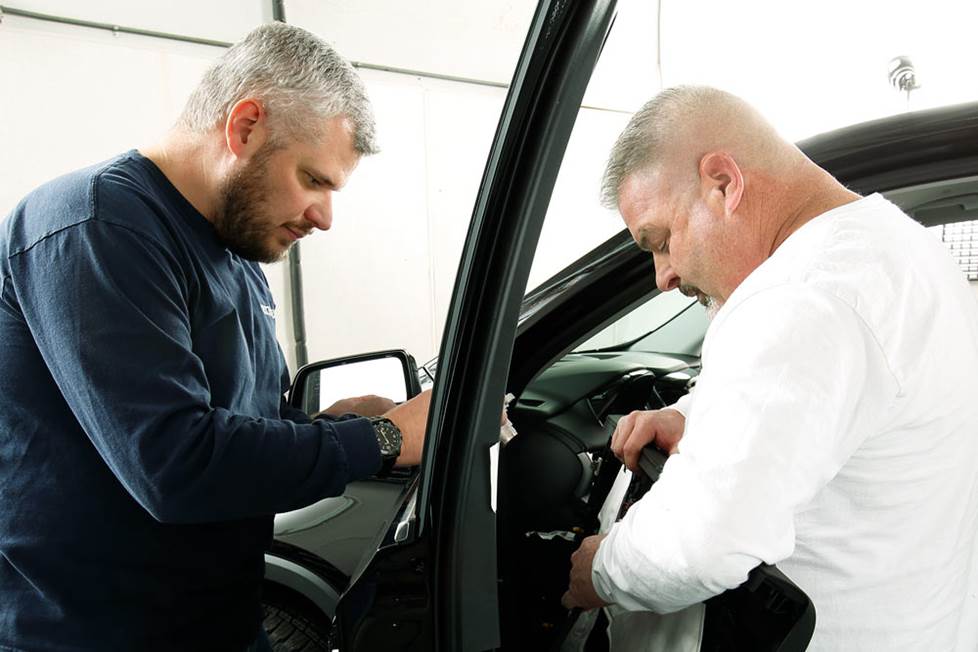 Our Research Team makes our vehicle database the finest in the industry. Their hard work makes your installation easier.
Your project starts with our research
Crutchfield's vehicle fit database includes over 28,000 cars, trucks and SUVs (and even some ATVs, too), which is far and away the largest collection of information anywhere in the car audio universe. And that database isn't just a list of makes and models, either. It's an incredibly detailed collection of measurements, photos, footnotes, instructions, and the kind of knowledge that comes from doing the same work you'll do when you upgrade your truck's audio system.
All this info will come in handy when you're shopping for speakers and other audio gear for your pickup. Whether you speak to a Crutchfield Advisor or enter your truck's information into our Vehicle Selector page, our slightly-insane amount of research will make your shopping experience a whole lot saner. At Crutchfield, you can skip the stuff that doesn't work and go straight to what does.
Want to know what you're getting into before you start?
For most popular pickups, you can check out one of our Research Garage articles. Even with step-by-step instructions in hand, a lot of people are intimidated by the idea of "doing it themselves."
These guides are designed to give you an honest assessment of what's involved in replacing the stereo system in your pickup. We'll tell you what you can replace and how challenging the job's going to be. And if replacing a particular component is especially difficult, ill-advised, or even impossible (rare, but it happens), we'll tell you why.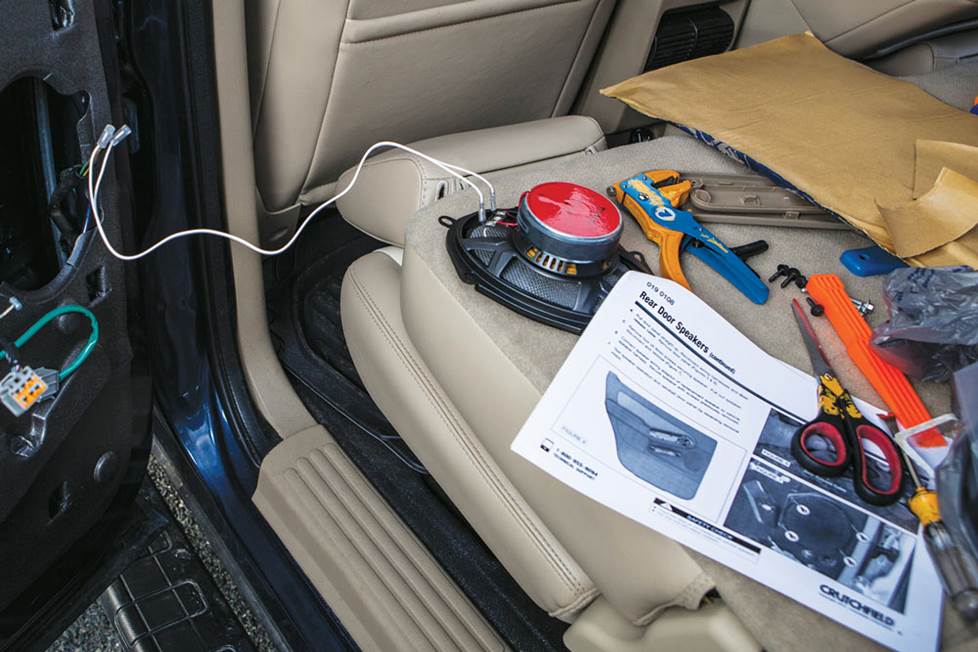 Crutchfield's vehicle-specific instructions will show you how to remove your truck's factory gear.
Vehicle-specific instructions
Another benefit of all this research can be seen in our custom vehicle disassembly guides. Created by Tom and Allen, car audio experts and Crutchfield veterans, each guide contains installation instructions, photos, wiring information, and even a tool list. They're sent via email with your order confirmation, so you can print out the sections you need, or pull up the info on your laptop or tablet in the garage. These documents are included free with stereo and speaker purchases from Crutchfield. Or you can order one separately for $9.99.
And, of course, every Crutchfield purchase includes free tech support for the life of your gear. If you have questions or run into trouble, our Virginia-based experts are here to help. Just give us a call. Our massive database comes in handy here, too, because when you need help, we'll know what you're talking about, and we'll probably know what you're looking at.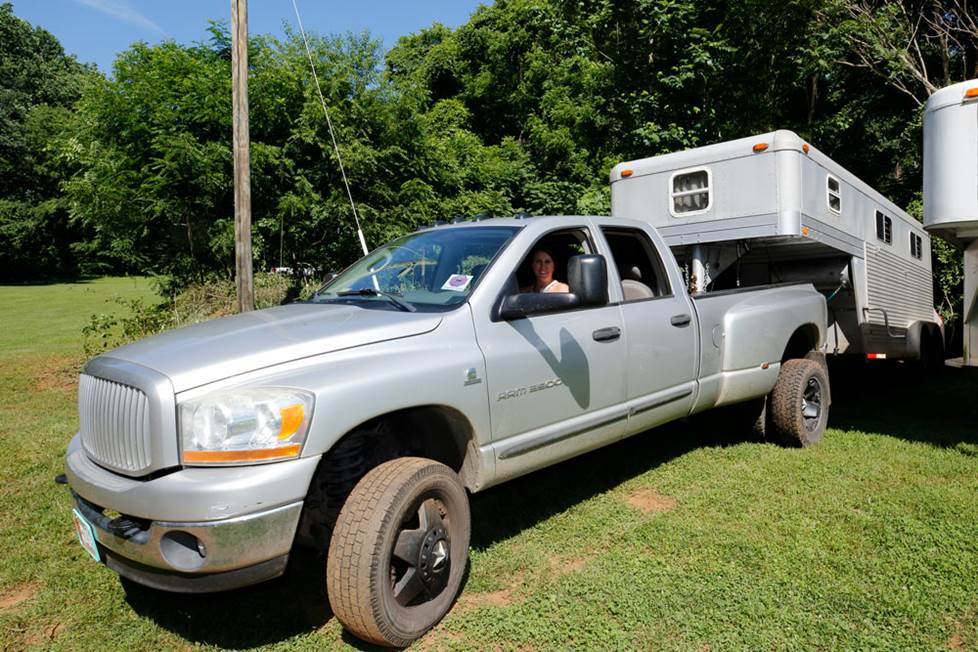 Big truck? Our experts can help you design a system that'll fill it with big sound.
Other audio upgrade ideas
New speakers will give you an immediate audio upgrade, but there's more to be done if you want to build the best possible sound system in your truck.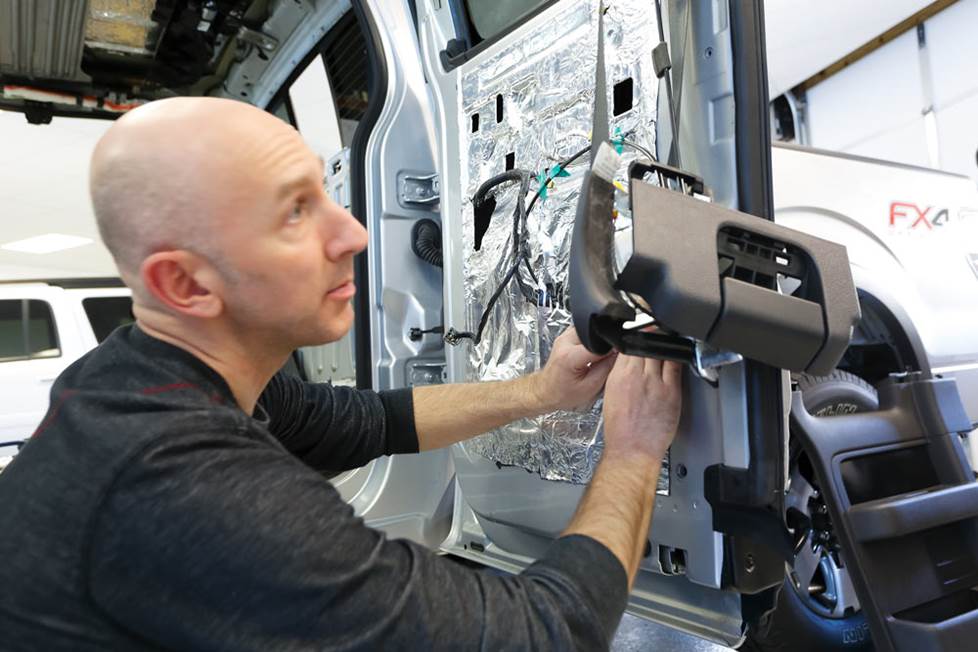 Installing sound insulation will minimize road noise and improve your truck's sound.
Sound insulation and speaker baffles
If you want to maximize your truck's sound by minimizing road noise, you should look into sound insulation. Dynamat is a fine option for any pickup truck, especially when you're replacing the door speakers anyway. This soundproofing material will dampen the sounds you don't like and let you get more enjoyment out of the ones you do.
In many cases, the sheer size and depth of a pickup's doors leaves a lot of extra space in the panels, and that can make your new speakers a bit boomy. A set of foam speaker baffles will keep the sound going where it's supposed to go, plus they'll protect the speakers from dirt and moisture.
Sound processor
If you choose to keep the stock radio, install a sound processor to send a clear, clean signal to your new speakers and amplifier. Sound processors remove any limitations on the signal imposed by the factory radio, and the better the signal, the better the sound. Read our article explaining factory sound processors to learn more.
Satellite radio
More and more pickups are rolling out of the factory with built-in satellite radio, but if yours doesn't have it and you want to add it, SiriusXM has a tuner that's right for you and your pickup. If you spend a lot of time in your truck, this is an upgrade you'll really enjoy.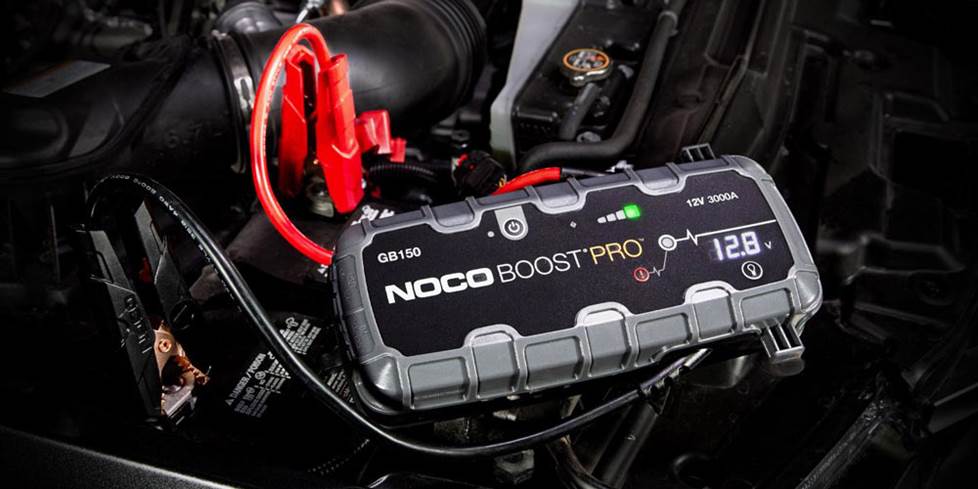 We offer a wide variety of power packs that can jump your battery and charge your phone, tablet, or other device.
Other cool upgrade ideas
There's no such thing as a truck project that's truly "done," mostly because adding and upgrading gear is part of the fun of owning a truck in the first place. Here are some other cool ideas for your pickup.
Protect your interior with custom-fit floor liners
No matter how much you pamper your pickup, you're eventually going to get involved in some sort of truck-like activity that gets you and/or it dirty. When that happens, it's a good idea to have a set of WeatherTech Floor Liners and Mats in your cab. These incredibly durable mats trap moisture, contain dirt, and keep your factory carpets looking good. Just enter your vehicle info to see what's available. There are bedliners and SUV cargo mats, too!
Get a charge when you need one
We know you're smart enough to be careful about your battery, but dead batteries still happen. And they never happen at a convenient time. What you need is a compact, powerful, easy-to-use charger that can jump your truck in an emergency – wherever you are. We offer a wide variety of power packs that can do just that, plus charge your phone, tablet, or other device.
Security systems and remote start
Installing a security system in your truck won't necessarily be easy (security systems rarely are), but it's definitely a good idea if you tow long distances and stop overnight – or if you just want to protect your truck and the cool new stereo gear that's inside. Our Crutchfield Advisors can help figure out what you need to get the job done, but we usually recommend taking your truck to a professional installer.
Adding remote start capability to your truck lets you warm it up in the winter or cool it down in the summer. Installation is usually easier than it is with security systems, but we still ask that you call to order so that we can make sure you get the right harness for your ride.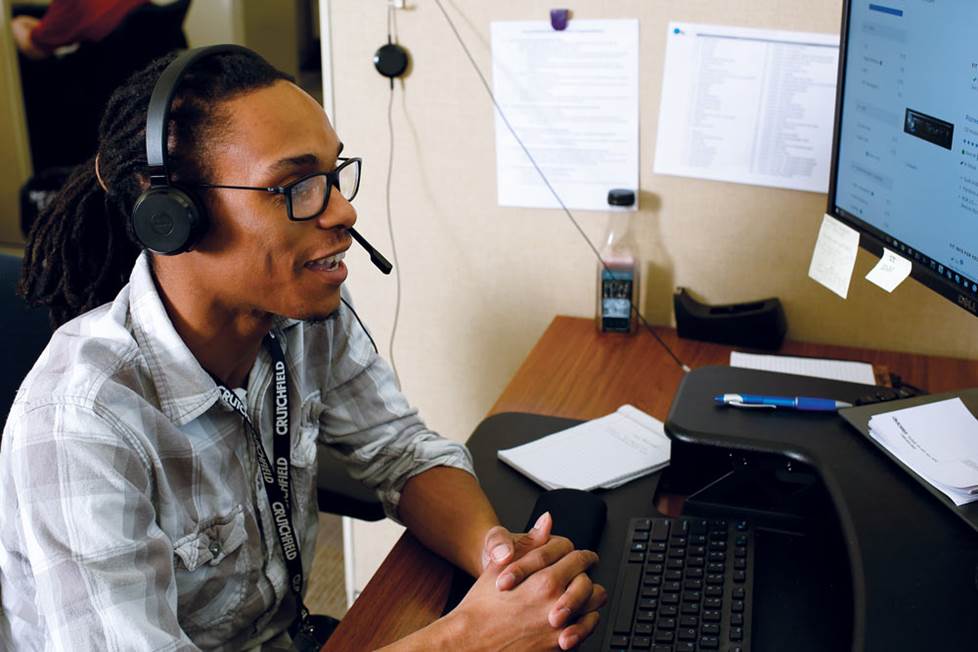 Our truck audio experts are here to help you build the audio system you've always wanted. Give us a call!
Got questions? That's what we're here for.
If you need some advice about upgrading your pickup's audio system, we can help. If you have any questions, our Crutchfield Advisors will be happy to answer them. Give us a shout via phone or chat.