In this article: We'll discuss ten well-reviewed and top-selling component speaker systems from some of our most outstanding brands:
Each component speaker system offers something unique. Let's dive in!
t's no secret that a good pair of aftermarket component speakers delivers a serious step up in sound quality from your factory car speakers. Mounting the separate tweeters higher up in the car raises the soundstage of your music, making it sound more open and present. The music plays across your dashboard instead of at your ankles.
How do you choose new speakers?
With so many options out there, how do you decide? We turned to our advisors and customers for their take on some best-selling, favorite brands.
This article is intended to get you thinking about what different speakers have to offer. After reading it, if you want a deeper dive into what to look for when shopping for new speakers, check out our car speakers buying guide.
[Check out all of our best-selling and top-rated component speakers]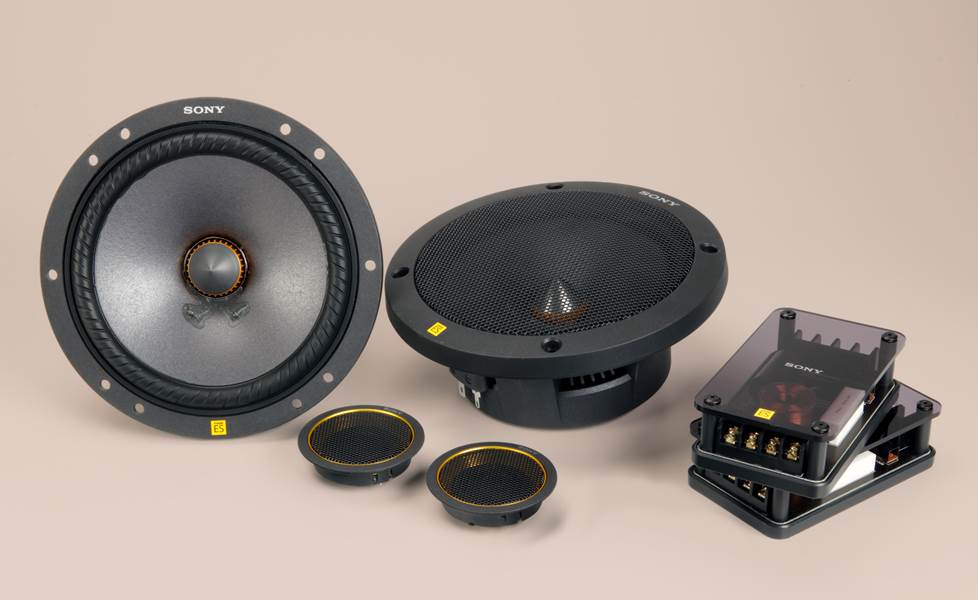 Sony Mobile ES Series — the legend returns
While this selection is new to this list, I expect solid customer support, based on my time with these speakers. Check out my full write-up of this XS-162ES 6-1/2" component speaker system for a deeper dive on my listening session, using the Hi-res Audio streaming service Qobuz. Here's a spoiler — the sound shocked me. Sony markets these speakers, inheritors of the famous Mobile ES name, as "Hi-res Audio-compatible," and at less than half the price of other audiophile-grade car speakers, that makes them a serious value.
Want to round out Sony's Hi-res Audio experience with a compatible touchscreen stereo? Check out the Sony Mobile ES Series XAV-9500 ES digital multimedia receiver.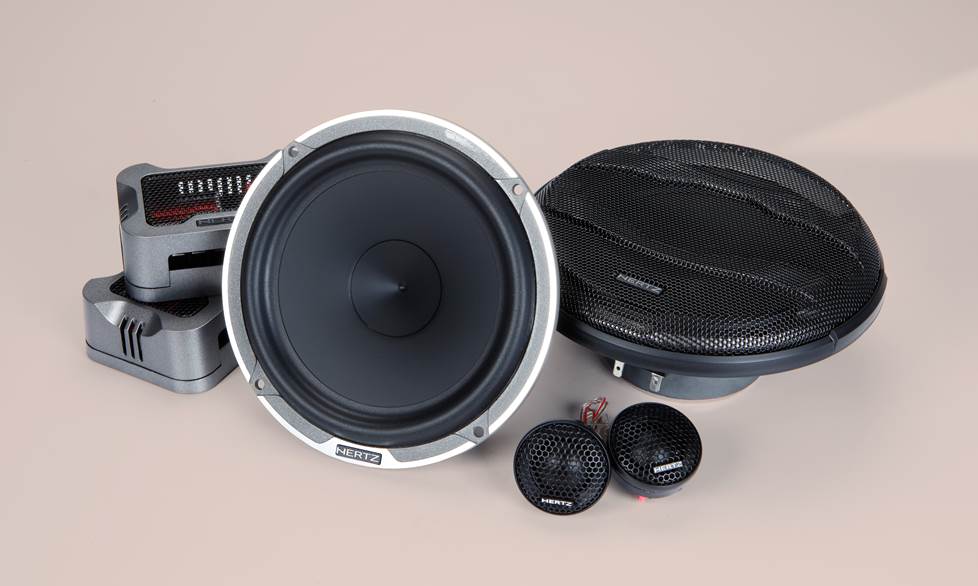 Hertz Mille Pro Series — house favorites
Internationally known Italian audio brand, Hertz, made a big impression on us when they demoed their speakers at Crutchfield HQ several years ago. Some employees installed Hertz speakers in their vehicles right away, and word quickly spread that they achieved excellent audio quality, from their flagship Legend Series all the way down to their modestly priced Uno Series. Unsurprisingly, more and more of our customers have found Hertz just as satisfying as we have.
Their Mille Series MPK 165.3 PRO 6-1/2" component speaker system gets particularly rave customer reviews. One step down from Legend, this series offers many of Hertz's premium features without the premium price tag.
For more of Hertz's famous sound, check out these component speakers.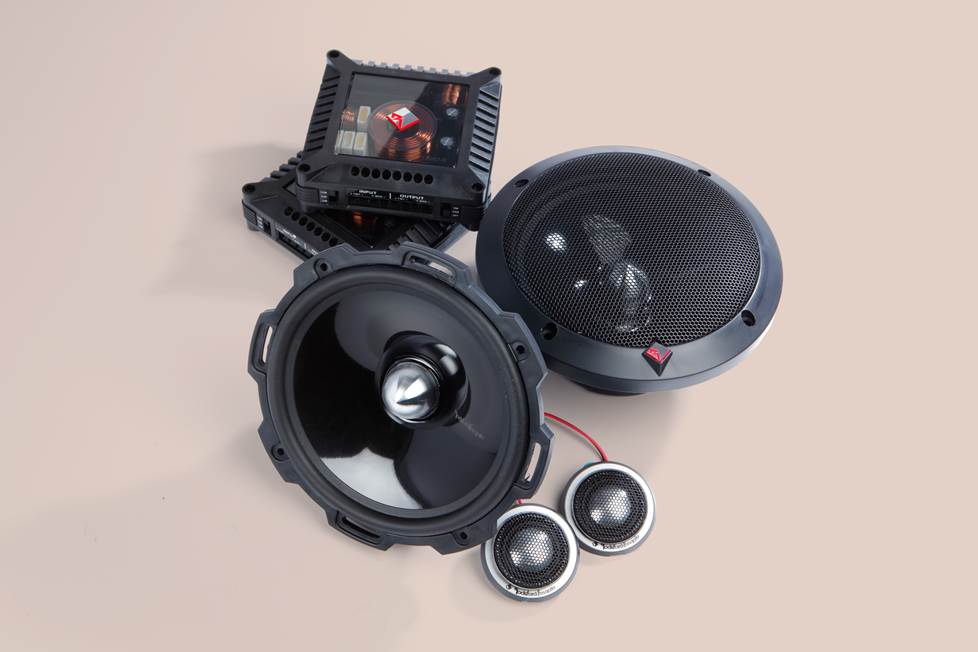 Rockford Fosgate Power Series — big, bold sound
Rockford Fosgate built this T2652-S component speaker system to excel with a whole lotta power. They also equip this set with some seriously versatile external crossover systems that let you maximize all that power by bi-amping the woofer and tweeter. Since you're spending more for this step-up speaker set, Rockford includes a slew of perks like handy mounting options, a high-performance aluminum tweeter for crisp detail, and their Vertical Attach Surround Technique (VAST™) which increases the woofer cone's area for more bass-y impact.
If you'd like to find more component speakers with high power-handling, use our "Max RMS power" shopping filter.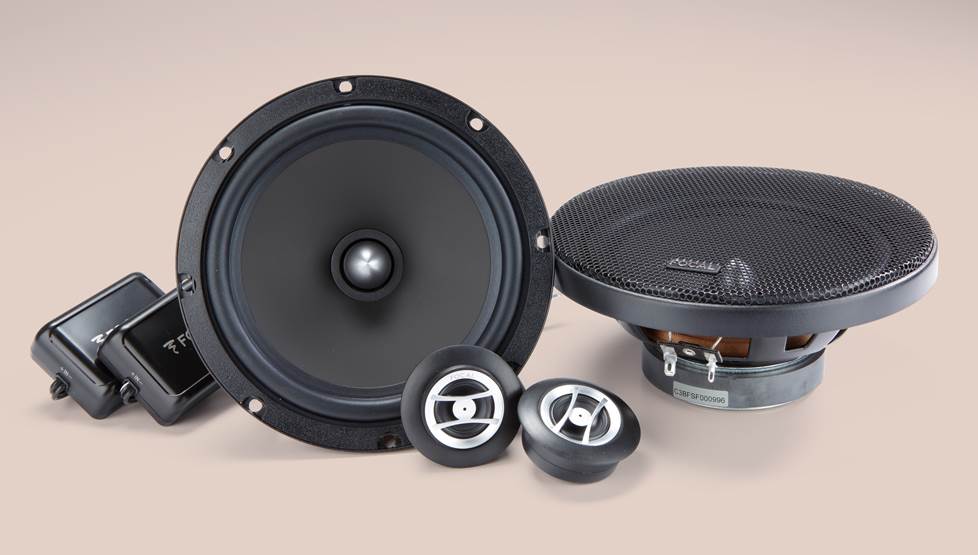 Focal Auditor Series — audiophile tradition
Focal is well-respected for their unapologetic pursuit of perfect sound. If you have a little wiggle room in your budget that puts you beyond entry-level choices, don't miss Focal's RSE-165 component system. You'll find a beloved Focal innovation at play here — inverted dome tweeters for premium sound dispersion — as well as conveniences like pre-wired compact crossovers, which save time at installation.
If you like Focal's audiophile philosophy, check out all of their component speakers.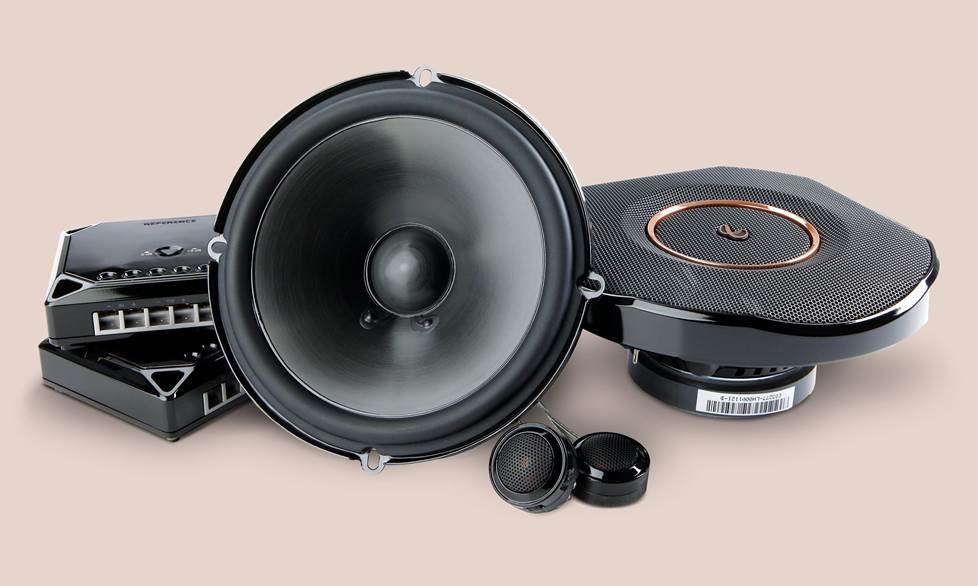 Infinity Reference Series — factory radio-friendly
There are a lot of vehicles out there with low-impedance factory systems, and we count on Infinity to create quality aftermarket alternatives for them. This REF-6530cx 6-1/2" component speaker system uses Infinity's True Four Ohm Impedance technology to work with 3-ohm systems as well as traditional 4-ohm systems, making it a superior option whether you're keeping your factory radio or going all aftermarket. Plus, you'll get favorite Infinity design perks like edge-driven tweeters and Plus One+ woofer cones, which build more surface area into the speakers for better performance.
For more of options from Infinity, check out these component speakers.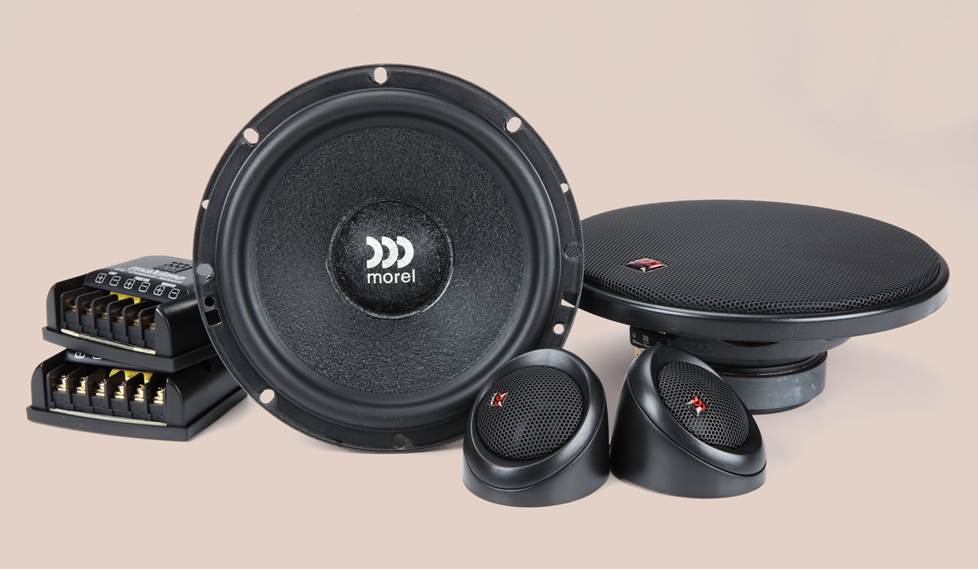 Morel Maximo Series — crowd-pleasers
This Morel Maximo 6 component speaker system has over 120 customer reviews with an average rating of 4.5 stars. If you're looking for a very popular favorite, you've found it. Like Hertz, Morel is better-known internationally than in North America, but they've quickly gained cult status as some of the best-sounding car speakers around.
Their Maximo Series provides that coveted sound at a not-so-painful price, offering treated paper composite woofers and soft dome tweeters that uphold Morel's dedication to life-like reproduction.
Check out more of what Morel offers.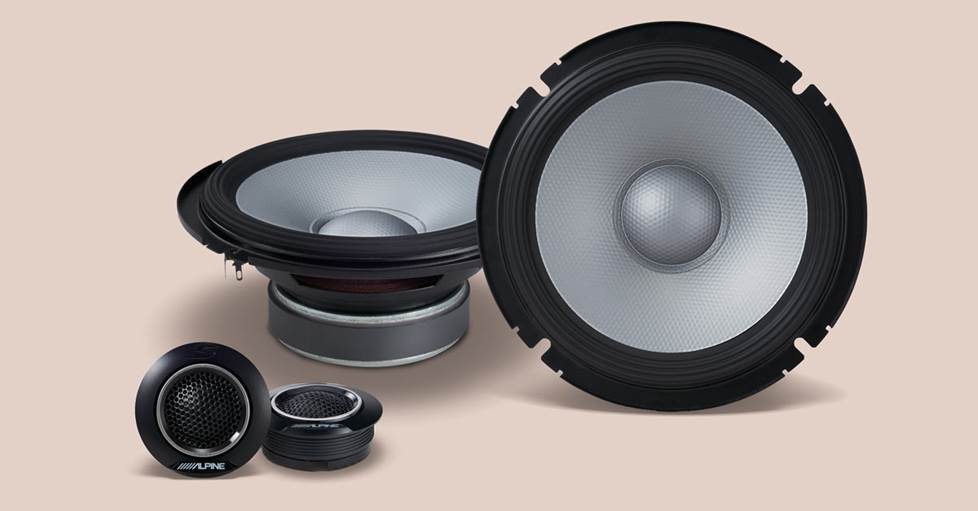 Alpine Next Generation S-Series — grab a big name on a budget
Founded only four years after Crutchfield, Alpine's decades in the industry have taught them, like us, how to make great sound possible in more cars. Alpine S2-S65C component system is a solid example of that. Materials-wise, they pack a whole lot of value into this entry-level component set. You'll get silk dome tweeters for smooth, detailed highs and glass-fiber woofers for accurate midbass response. Plus, inline crossovers make installation less time-consuming.
Looking to level up to an even better Alpine experience? Check out more of their popular component speakers.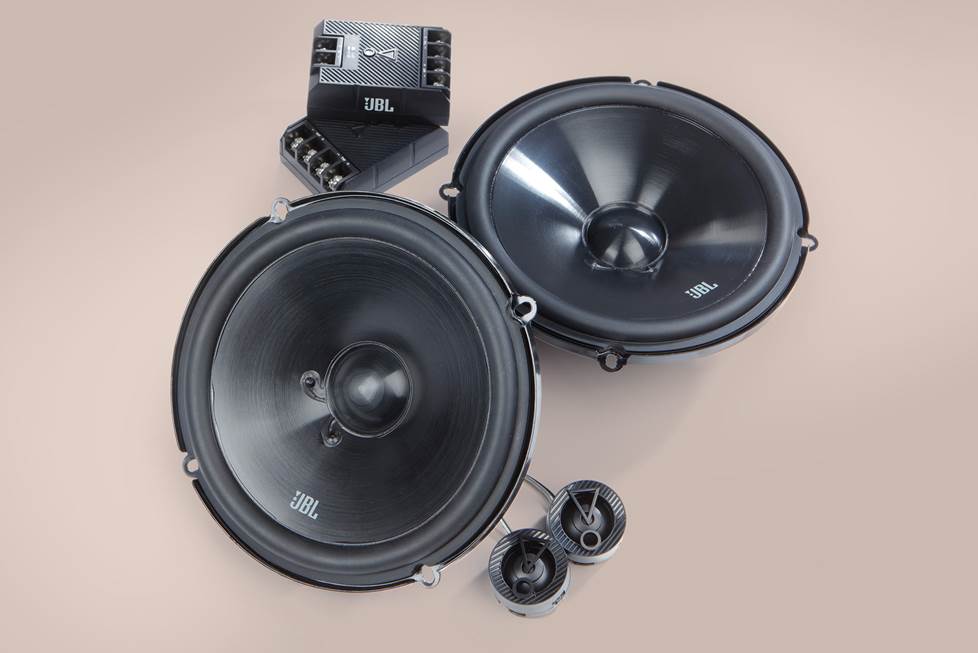 JBL Concert Series — affordable excellence
You can count on JBL to deliver legendary sound at a reasonable price, and their Concert Series 601CF component system might be the best example. You'll find features, quality, and power-handling here that are normally reserved for the over-$100 bracket. And JBL's three-ohm design means better performance with certain factory radios.
Looking for more component speakers in this price range with customer reviews of 4 or more stars? Check out these popular component speakers.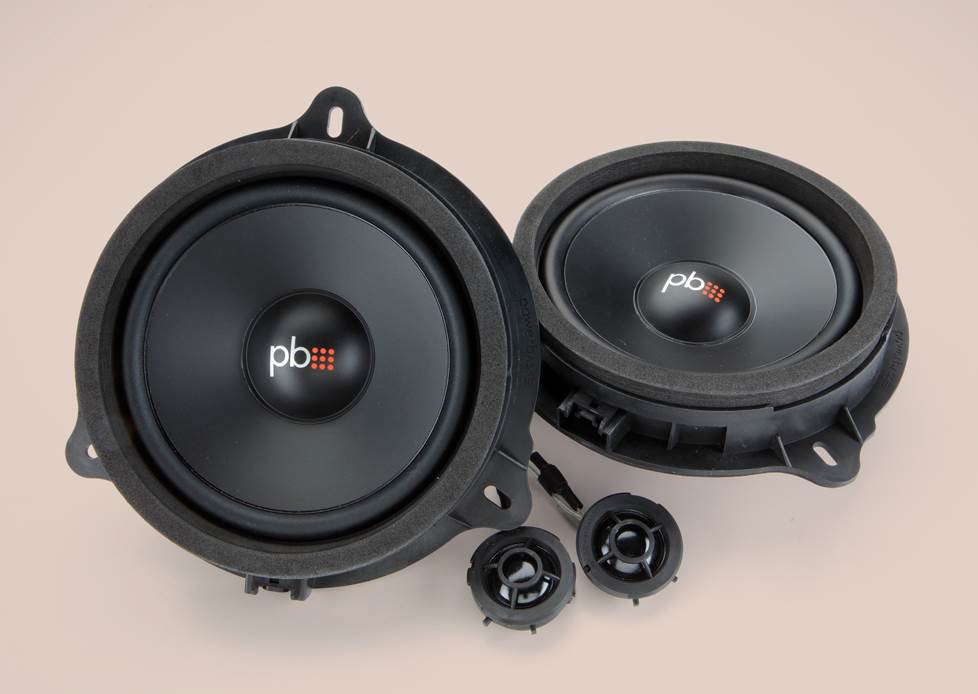 PowerBass OE Series — quality that fits
Every year, we see more vehicle-specific speakers from aftermarket audio brands, and that's a wonderful thing. Vehicle-specific speakers take some of the hassle out of installation by minimizing the need for splicing wires and fabricating mounts. This PowerBass OE65C-FD component speaker system for select Ford and Lincoln vehicles integrates compatible wiring harnesses with the included polypropylene woofers and silk tweeters. So, connection is as easy as a click, and you can happily say, "So long!" to factory sound.
Don't own a Ford or Lincoln? Check out all of PowerBass's vehicle-specific speakers.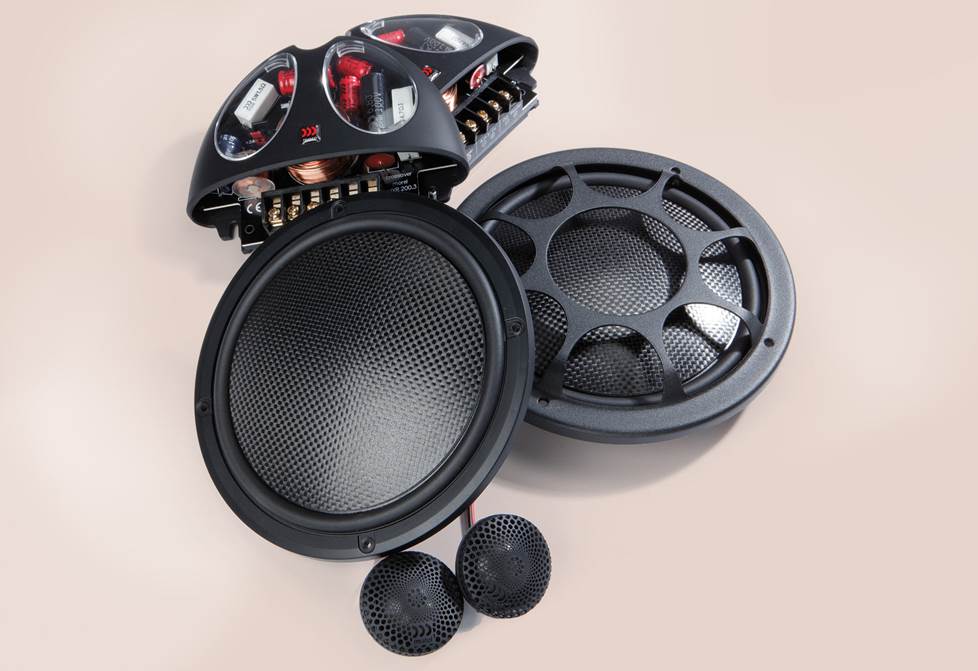 Morel Virtus Nano Series — specialty solution
Further proof of Morel's extraordinary commitment to exceptional car audio, the Morel Virtus Nano Carbon 62 component speakers allow more drivers than ever to experience premium audio in the car. With a woofer depth of under 1", this system can be installed in vehicles that had previously required a completely custom approach. Morel also uses impressively sized 1.1" silk dome tweeters to serve up stunning high-frequency detail.
If you'd like an even better fit, be sure to check out our vehicle-specific component speaker systems.
How to find what's best for you
If you're ready to upgrade, there are a few considerations that should always top your list:
What fits your car? Unless customization is your thing, you'll need to pick speakers that fit in the factory speaker openings of your car. In the case of component speaker systems, installing tweeters usually involves a bit of improvisation and custom work. Use our vehicle selector to refine your choices.

What's your favorite music? It's not the musical genre that matters, but that's a great starting point for discussion. The tone and style of the music you typically listen to will help you choose based on a speaker's strengths.

How much do you want to spend? Modestly priced speakers offer significant improvement over the ones that come with your car. But if you boost your budget, you'll get even better materials and design for an all-around more accurate sound.
For more detailed information, don't forget to read our car speakers buying guide. If you'd like to compare the sound of select car speakers to narrow down your choices, check out our SpeakerCompare tool.
And if you have any questions, contact our Advisors via phone or chat.
Popular questions customers ask
Replacing your car speakers usually involves removing trim panels (doors, dash, etc.), unbolting the factory speakers, installing the new speakers, and then reinstalling your panels. With a component system, you'll also have to mount your tweeters, which will mean some extra work and possible modifications. We include instructions for taking apart your car, and our Tech Support staff is always here to help.
Component systems will work fine when powered by an aftermarket stereo, but they'll really sound their best when powered by an external amplifier. More expensive component speakers usually need more power for maximum performance, while lower priced components can get by with less power.
It's simple - you replace your car speakers because you want your music to sound better. Car makers cut corners when it comes to car speakers, and aftermarket speakers use better materials and superior construction to deliver improved sound. Replacing your old speakers is an inexpensive way to get better sound in your car.
No! Speakers are sold in pairs, and it's common to replace your front speakers first, then later replace your rear speakers. It's a good idea to choose the same brand speakers for front and back, if possible. That way, the tone settings that sound good in the front seat will sound good in the back seat too. Of course, you can replace all your speakers at one time for the most dramatic improvement.
Most component speaker systems need, at minimum, the power of an aftermarket stereo. Like we said above, it depends on the RMS power rating of the speakers. Speakers with an upper range of 50 watts RMS or higher will definitely sound better powered by an external amplifier.