When you're shopping for car speakers, or looking for a way to improve the sound of your car's audio system, consider how important the tweeter is. Both the shape and the material it's made from have a direct impact on how your music sounds.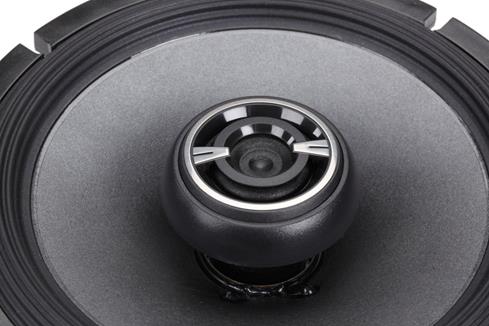 Close-up of the tweeter on a 2-way car speaker.
Tweeters reproduce the upper frequencies in your music — the vocals, guitars, horns and other high notes that make the music sparkle and come to life. They're also vital for proper soundstaging and stereo separation, so that the music sounds like it's coming from all around you, rather than from down at your knees or ankles.
Manufacturers try to balance several factors when they design a tweeter, including sound quality, sound dispersion, and cost. They want the tweeter to be light, so it moves quickly and easily, yet stiff enough to hold its shape and not distort when the volume is turned up. The ability of the tweeter to stop moving quickly when the music ends — damping — is also very important in creating accurate sound.
To these ends, they employ different tweeter shapes and materials. Understanding the characteristics of these shapes and materials will help you make a better decision about what kind of tweeters you want in your speakers.
Tweeter shapes
The shape of the tweeter determines how effectively it distributes the high frequencies in your car. Different tweeter shapes are used to get the best possible performance out of a given material at a certain price point. Here are some of the most commonly used tweeter designs.
The cone tweeter
The cone tweeter is the most common design in car audio, especially in factory speakers, because it's the least expensive to produce. Many factory tweeters use the infamous "whizzer cone" design, a paper megaphone that's built into the woofer to increase treble response. This shape doesn't spread the sound as widely as other designs, and the cheap materials used in many factory speakers do a poor job of accurately reproducing sound.
The semi-dome tweeter
A common design used in lower-cost speakers is the semi-dome, or balanced-dome, tweeter. The semi-dome features a small dome nestled inside a shallow cone. In a balanced-dome tweeter, the cone and dome are roughly equal in size.
This design allows the use of softer, less rigid materials.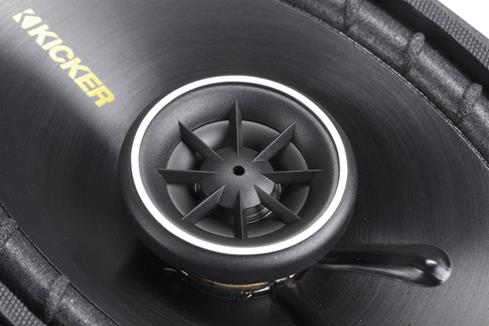 This Kicker 6"x8" speaker employs a balanced-dome tweeter.
Semi-dome tweeters have a relatively low profile that makes them less prone to damage from a too-tight mounting space. You'll find semi-dome tweeters almost exclusively used in coaxial speakers, and rarely in separate tweeters or the tweeters in component speaker systems.
The dome tweeter
The dome tweeter is a step up from the semi-dome tweeter, primarily because of improved sound dispersion.
The dome shape radiates sound with a wider dispersion pattern than the semi-dome design. Since high-frequency sound waves are very directional, a wider dispersion of the sound waves will give you a larger "sweet spot" to work with when setting up your system.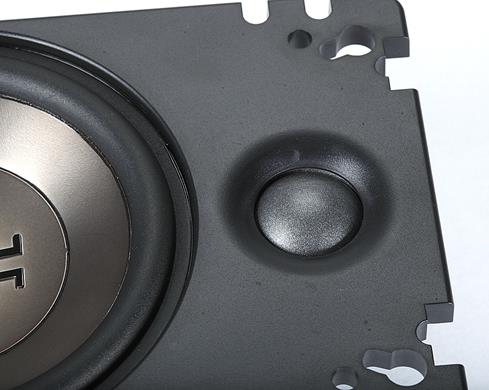 Dome tweeters, like those on this plate-style speaker, are the most common design used in component speakers.
You'll often see the size of a dome tweeter listed with the speaker's details. A larger dome will disperse sound more effectively, but may require more power to be driven properly.
Other variations
Focal turns the dome tweeter upside-down with their inverted-dome design. As the name suggests, the inverted dome doesn't protrude up from the tweeter's voice coil, but rather sits upside down, like a crater in the center. This design improves the sound radiation pattern and efficiency of the tweeter, like a cone, while providing superior control.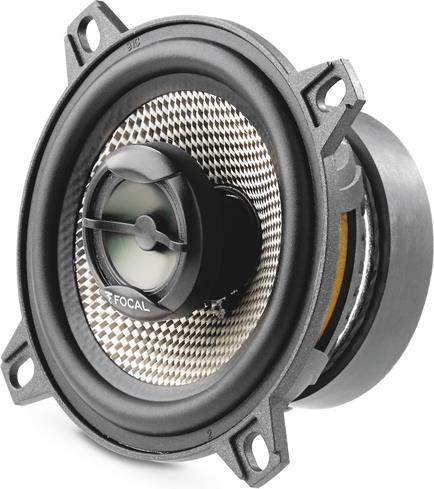 Many Focal speakers use an inverted dome tweeter design.
Materials — the big three
C.M.M.D., Kaladex, Mylar, PET, titanium, aluminum, polyimide, silk, beryllium — that's only a partial list of what you'll find when you start digging into tweeter materials. But once you get past the technical terms, you'll find there are three basic classes of materials used in tweeter construction.
Synthetic films
Synthetic films, like Mylar, polyimide, and PET have several desirable attributes. They're resistant to humidity — important in the extremes of the car environment — and they're light. Since they're light, film tweeters don't need a lot of power to drive them effectively. This makes film tweeters a good choice for lower-powered systems and speakers. On the downside, the lack of stiffness in the material means they have poor damping characteristics, and aren't the most accurate in musical reproduction.
Textiles
The big player in the textile category is silk. Silk and silk-blend tweeters tend to sound warm, mellow, and refined. And silk is commonly used in good-quality home speakers to achieve a balanced, lifelike tone in the music. Silk tweeters designed for high power handling are often reinforced with synthetic materials that add extra stiffness for improved damping, so they can pump out the volume while still keeping things smooth and maintaining accuracy.
Metals and blends
If you like your highs crisp, bright, and loud, metal tweeters may be the choice for you. Aluminum is the most common. It's light, strong, and produces a bright sound at high frequencies. It's a good choice when you want to ensure that the highs cut through road noise and big bass.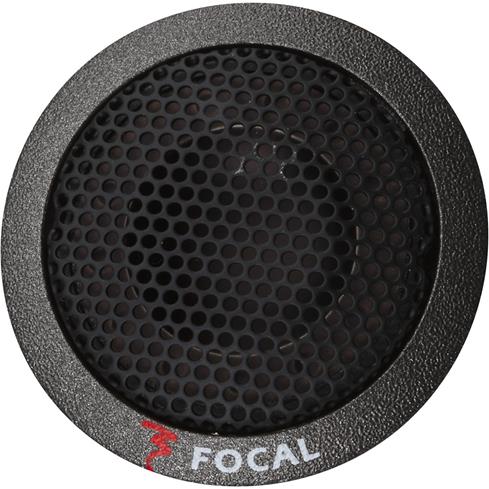 This Focal tweeter is made of an aluminum and magnesium blend.
Titanium is a popular material, because it is extremely light and less resonant than aluminum. These qualities allow it to reproduce high frequencies with extreme accuracy, but without the harsh edge that some audio enthusiasts attribute to aluminum tweeters.
Speaker manufacturers are always looking for new materials to improve tweeter designs so that they'll play music more accurately and with better clarity than the more mundane designs. Expect the range of exotic metals composite materials, like ceramic/metal and metal/metal blends, to expand over time.
Choosing between textile and metal
The real trick in buying speakers is knowing when to get silk and when to get metal.
If you have a lot of road noise or drive on the highway with the windows down, metal tweeters can cut through all that noise and maintain a clear sound.
If noise isn't a problem, or your vehicle's interior is mostly hard plastic, silk might give your music a more natural sound.
Other details about tweeter design
Knowing a little about a tweeter's shape and composition can help you understand more about the performance you can expect. Here are a few other details about tweeter design to consider.
Wave guides
Wave guides improve the sound radiation pattern of the tweeter, ensuring that the highs are more evenly broadcast. They also serve to direct the sound waves toward your listening position for better stereo imaging.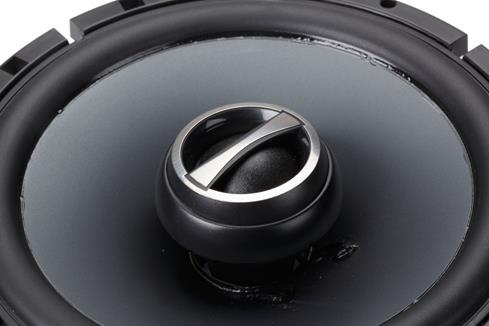 This Alpine speaker uses a wave guide to improve the tweeter's sound radiation.
Ferro-fluid cooling
Ferro-fluids are magnetic fluids that stick to the tweeter's voice coil. Tweeters designed for high power handling might use ferro-fluid cooling to help dissipate heat when the tweeter is being driven hard.
Coaxials or separates?
Tweeters are either integrated into a full-range speaker, like a coaxial speaker, or mounted separately from the woofer, as in component speaker systems or stand-alone tweeters. This positioning helps — the higher the tweeter is mounted in your car, the better it can spread the music (that's simplistic, but you get the idea). More important though, is how the tweeter is built. A low-quality tweeter is going to sound bad no matter where you mount it.
3-way and 4-way speakers
"3-way" or "4-way" speakers have more than one tweeter, and this design lets the speaker focus even more on separating the different sonic frequencies. A 3-way speaker adds either a midrange driver (for enhanced warmth in the music) or a supertweeter (for extended high-frequency response). A 4-way speaker adds both.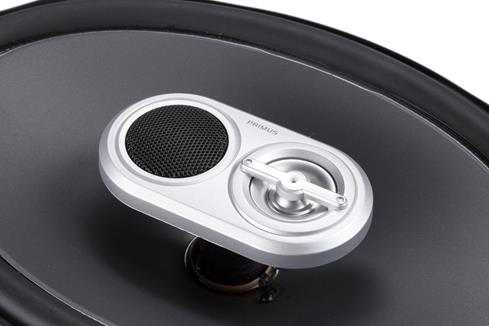 This Infinity 6"x9" car speaker has a 1" edge-driven tweeter and a 5/9" piezo supertweeter.
Get Everything You Need
Foam baffles protect your speakers from dust and moisture.
Bass blockers improve smaller speakers' efficiency by removing low frequencies they weren't designed to handle.
The right tools make removing a door panel a lot easier.
A Dynamat speaker kit lowers noise levels inside your vehicle, giving you improved clarity, volume, and bass response from your speakers.
Remember the tweeter
When you're shopping for speakers, it's easy to get carried away with checking specs — power handling, frequency response, and the like. Those numbers are important, but remember that the tweeter — how it's designed and what it's made of — will have a big effect on how your music sounds when you turn on the receiver.
For more information
Read our Glossary of Speaker Materials, or check out this entry from our Car Speakers FAQ — "What's the most affordable way to get crisper highs and better stereo imaging in my car?"
And use our Vehicle Selector to find out what fits in your car, then contact us if you have any questions.