What is Roon? It's a music player that makes your digital music experience much more fun.
It shows you artist bios, photos, reviews, lyrics, and show dates. You can surf the links from an artist to associated composers, performers, and producers. As Roon puts it, "you get a searchable, surfable magazine about your music."
What's more, Roon can control multi-room audio playback, and it lets you adjust the quality of the sound.
Let's be clear. I'm very serious about my music collection. I pore over liner notes. I read books and articles about music. There are few things I enjoy more (outside of listening to music) than connecting the dots between different recordings and artists.
I personally curate my digital music library, making sure it sorts the way I think it should and displays information that is accurate and consistent.
Several coworkers suggested I was a prime candidate to try out Roon — a subscription-based music player software service that bills itself as "the music player for music lovers."
Here's what it does:
Transforms the drab track list you see in a typical music player into something way more engaging and informative.
Directs the music to Roon-compatible speakers and multi-room audio systems.
Provides powerful controls to fine-tune the sound quality.
A Roon subscription starts at $119 a year, and a $499 lifetime subscription is available. Is it worth it? To answer that question, I put Roon to the test.
Getting started
I loaded the Roon software onto the computer that manages my digital library. It mapped out the library (without changing it), creating its own database of my tracks. Then I loaded the companion Roon control app onto a tablet (it's available for both Apple® and Android™ portables).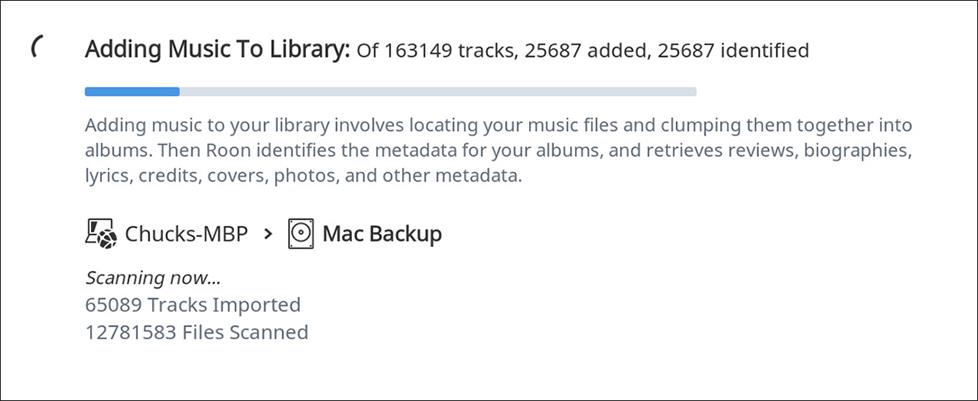 The Roon software starts by mapping your digital library — without changing anything in it.
If you're a TIDAL subscriber, Roon can offer up a world of listening recommendations far beyond your own library. It presents the TIDAL tracks and your music library tracks within the same seamless menu.
How Roon makes music fun again
I used to stand in front of my CD collection and just… look. I couldn't decide what I wanted to hear. When I digitized my collection (about 35,000 tracks), I still found it difficult to decide what to listen to.
Roon's Discover feature removed that paralysis of choice. In essence, Discover is like a daily music magazine based on the tracks in my collection. Every "article" was directly related to my music.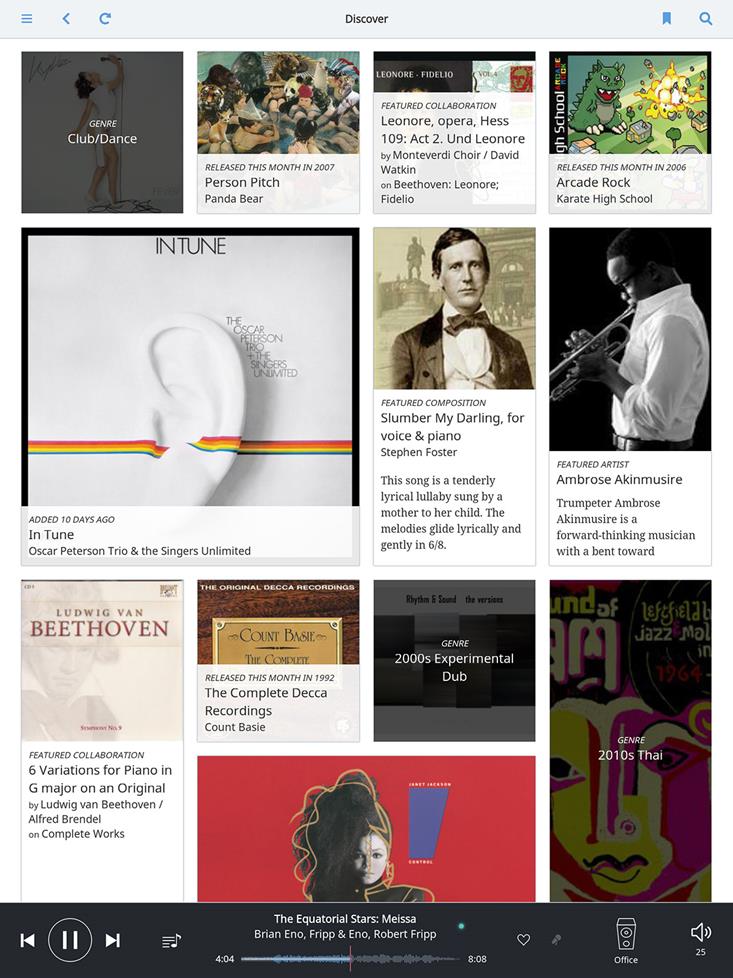 The Discover feature is like a personalized music magazine, providing additional information about the artists and albums in my collection.
The "Featured Artist" selection provided additional information about the artist, complete with links to other artists associated with them, discography, and concert dates. It also had features on labels, recordings, individual tracks, composers, and more.
The Discover feature not only offers intelligent choices, but it gives me reasons to explore them.
For example, Discover offered up John Dowland's "Katherine Darcy's Galliard" for lute. It had an article about the work, and the track found in my library. I always enjoy listening to Dowland, but I seldom remember to play his music. Good choice!
Another example: Discover noted I had added a disc by Blick Bassy just a few days before. Bassy is a singer from Cameroon that I knew virtually nothing about — I just liked his music. The Bassy article deepened my appreciation of this artist and steered me to some of his more recent releases.
For the first time in quite a while, I spent time with my collection, really exploring it. I rediscovered neglected tracks and learned of new music to look for. And if I really didn't feel like choosing, I could just let Roon's Radio function decide for me.
For me, the Discover feature alone is worth the Roon subscription.
Helpful ways to look at your library
Roon made it easy to explore my library in fresh and interesting ways. I had a complete inventory of not only artist and genre, but also release dates, file resolution and more. I could drill down deep into the data.
I found this especially useful in identifying weak areas in my collection. I'm in the process of replacing all of my older lossy files with hi-res lossless versions. I want to start with my classic rock tracks. In iTunes, I could only sort by bit rate, which had all the genres jumbled together.

Focus provided a graphic overview of my music, providing insights into its strengths and weaknesses.
With Roon, I could not only sort by genre, but also by year of release, and then filter by file type. Within seconds, I could see how many classic rock tracks released between 1973-1976 I had in mp3 format. And from there I could further sort by artist or even album.
The more you use Roon, the better it gets
Roon also pays attention to how I use my library. The more it learns of my listening habits and preferences, the more intelligent its choices and recommendations become.
Roon lets you create different profiles for different listeners. The Discover selections Roon offers my wife are different than mine.
One other little cool feature. Roon could display the lyrics for an impressive number of tracks. So I could actually sing along (or at least read along).
Wireless speaker and system control
Roon is compatible with a variety of multi-room audio systems, AirPlay®-compatible speakers, and other wireless speakers (see the list below).
The Sonos speakers in my house showed up in Roon under system output. I could select one or more of the Sonos speakers and send the music to them.
At the same time, I could select my Apple® TV, which uses AirPlay, and send a different selection to it. Bluesound is also Roon-compatible. I could have sent a third selection to any and all Bluesound components I happened to own.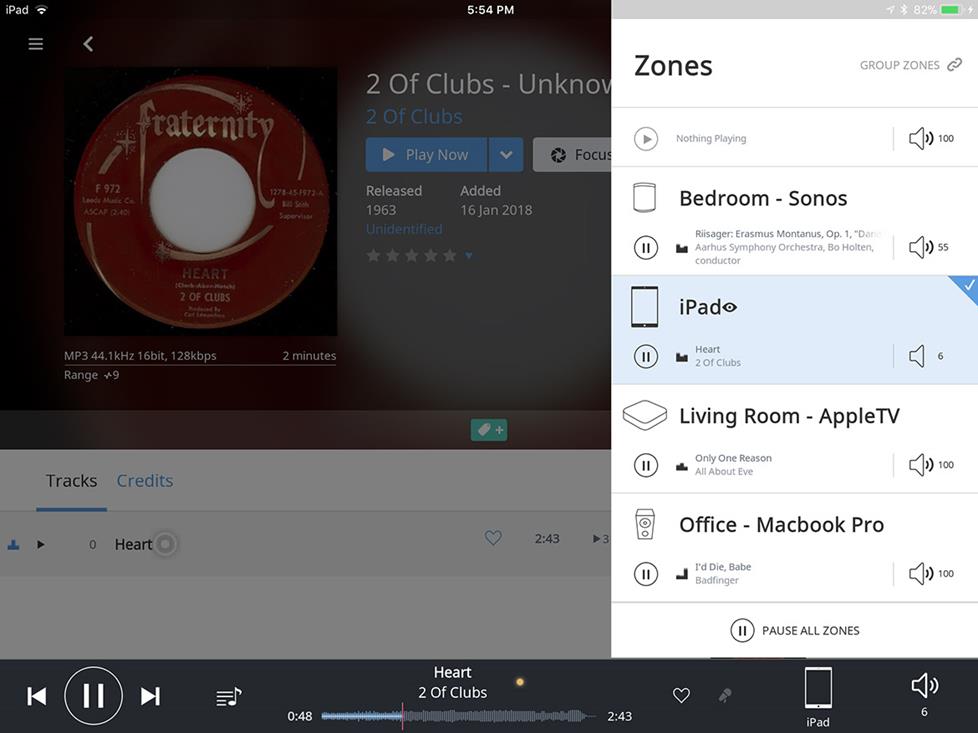 Controlling your multi-room audio system is easy with Roon. If you look closely, you'll see that I'm playing something different in every room.
And I had yet another option. Roon is also compatible with Google Chromecast and Chromecast built-in speakers. So that brought several other speaker choices into the mix (see list below).
One caveat: because different wireless systems use different protocols, Roon can only link components that share the same protocols together. So I could group Sonos speakers together, or AirPlay-compatible speakers together. But I couldn't group a Sonos speaker, Apple TV, and Bluesound speaker together to play the same track simultaneously.
Devices that are labeled Roon-Ready natively support RAAT (Roon Advanced Audio Transport). RAAT allows for multi-room synchronization of devices from different manufacturers
Controlling the quality of the sound
Roon also lets you really get under the hood when it comes to playback.
If you're streaming to a wireless speaker, you can see the signal path — from the source file size, through the up- or down-conversion of transmission and any processing the receiving speaker does to the signal.
Depending on the capabilities of the speaker, I could actually adjust the processing path, ensuring that a better quality signal arrived for playback.
The Roon app also has a variable EQ so I can shape the sound for each of my speakers exactly as I want them (when streaming through Roon, that is).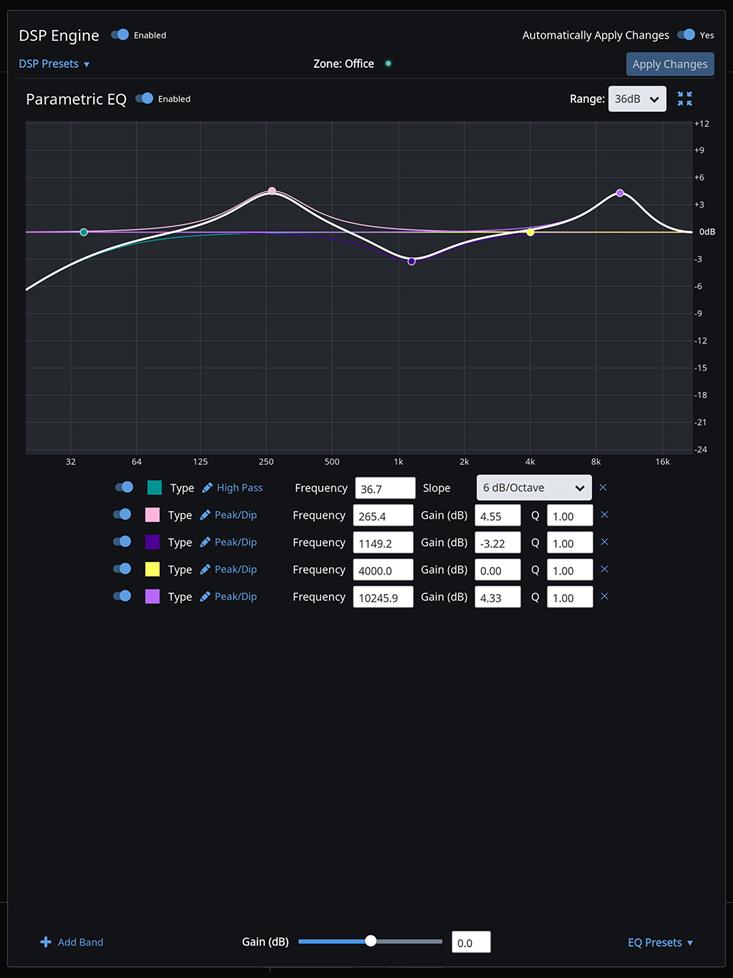 Roon's parametric EQ let me customize the sound for each speaker I was streaming music to.
There's actually more to this powerful system. After two weeks I was still discovering some additional features that pleasantly surprised me. Fortunately, Roon has a community site and an FAQ section that helps users with the finer points of control and usage.
Is Roon worth it?
I think it depends on how serious you are about your music. If you're a TIDAL premium subscriber, or regularly use HDTracks, then yes. You should give Roon a try.
If your collection is so large you no longer know where to start listening, then definitely Roon is for you.
If you are concerned about streaming the best quality signal to your high-performance wireless speakers, then you're a prime candidate for Roon.
Learn more at Roonlabs.com
Roon-compatible products
Roon-ready network players
Bluesound Hi-Res Multi-room Audio
Bowers & Wilkins Formations multi-room audio
Roon-compatible through Apple AirPlay
Onkyo TX-RZ home theater receivers
Denon AVR series home theater receivers
Marantz home theater receivers
Sony STR series home theater receivers
Roon-compatible through Google Chromecast
Bang and Olufsen BeoSound and BeoPlay wireless powered speakers
Harman Kardon Omni+ wireless speakers
JBL Playlist wireless powered speaker
Marshall Multi-room powered wireless speakers
Onkyo TX home theater receivers
Polk Assist wireless powered speaker
JBL LINK wireless multi-room powered speakers
Polk MagniFi home theater systems
JBL Playlist wireless powered speaker
RIVA wireless powered speakers
Sony STR home theater receivers
Sony LF-S50G wireless powered speakers
Roon-tested digital-to-analog converters
Roon recognizes these DACs and sends them audio that's optimized for their capabilities.
Questions?
Feel free to enter a comment below.
For one-on-one help with product selection, call our expert advisors at 1-888-955-6000.