Tara leads Crutchfield's social media and video teams. She and her husband Rob moved out to the country last year. The property has a cozy home surrounded by acres of peaceful woods, and a treehouse that's way cooler than any kids' clubhouse! With French doors leading to a balcony, and ample seating, the only thing missing was... music.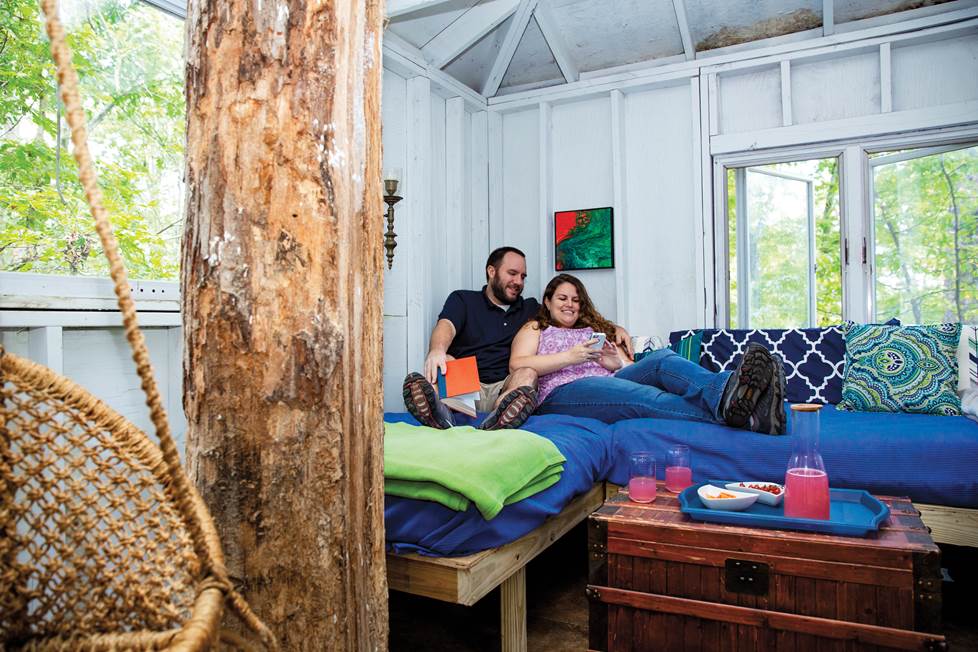 Tara and Rob chilling in their treehouse.
When Tara described her treehouse — and that it already had power run — our first thought was, "We've got to put some speakers out there!" And we wanted to check out Sonos' new outdoor speakers to hear how they sound.
Sonos takes it outside
Tara has been a fan of Sonos gear since the company's early days, and already had a 3-zone system in their house. Extending that to the treehouse seemed like a no-brainer.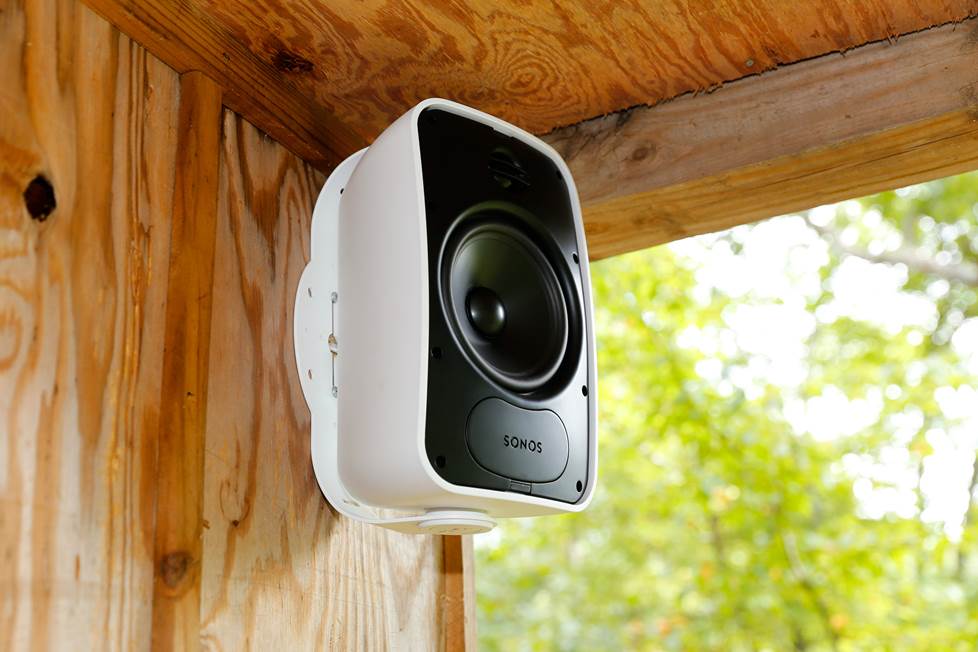 Tara installed one pair of the Sonos Outdoor Speakers in the treehouse's balcony. The speakers face the back yard and can flood that large space with crisp, clear sound.
The first step was adding a Wi-Fi extender so their home network would reach to the treehouse. Then they were ready for sound!
A helpful pro tip
Tara and Rob decided to install one pair of Sonos Outdoor Speakers in the main room and a second pair on the balcony. A single Sonos Amp would power both pairs, playing streamed music from a phone.
But before the installation, Tara and Rob got a helpful tip from Norm, one of Crutchfield's A/V installation experts.
If they'd only had one pair of speakers, the Sonos app would have been all they needed to control the volume. But with two pairs, they wanted to adjust the volume of each pair independently. The solution? Volume controls.
"I never would have thought of that," Tara told me. "I'm glad Norm did."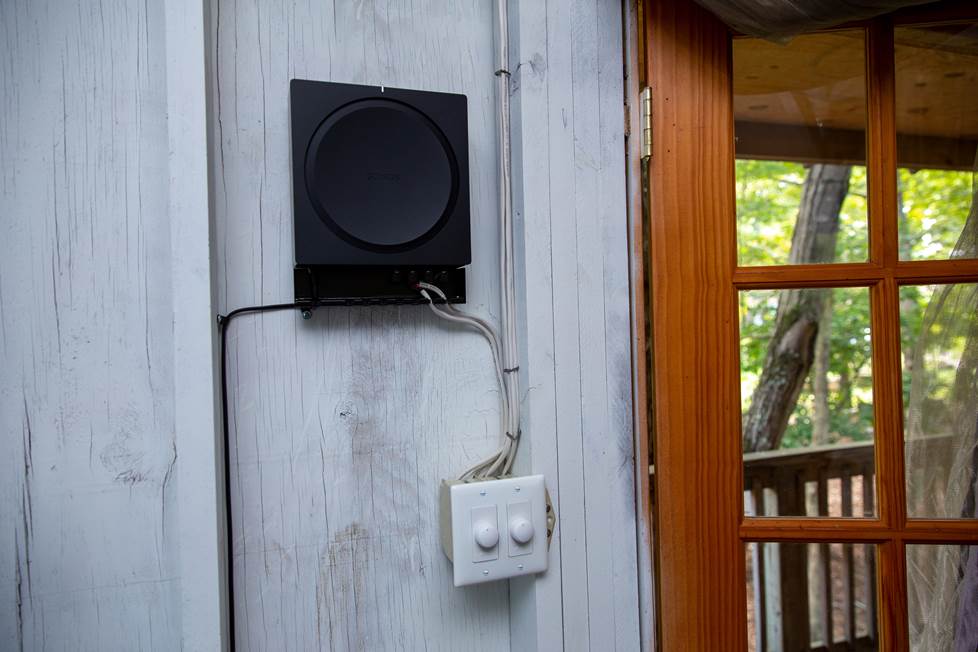 The Sonos Amp powers both pairs of Outdoor Speakers. But for Tara and Rob to be able to adjust the volume of both pairs independently, they needed to also install two Niles volume controls in-line.
Instead of running wires directly from the amp to the speakers, they installed two Niles volume controls in-line, which allowed precise volume level adjustment for each pair.
Adding movies to the mix
Having great sound in the treehouse also added a cool dimension to watching movies. Tara brings her MacBook up there and streams movies and shows from Netflix or Amazon, while sending the audio to the Sonos Amp wirelessly via AirPlay® 2.
Looking ahead, Tara plans to make two more additions to the treehouse entertainment system: a pocket projector like one of these Kodak models, for a bigger image to match the big Sonos sound, ... and a fridge!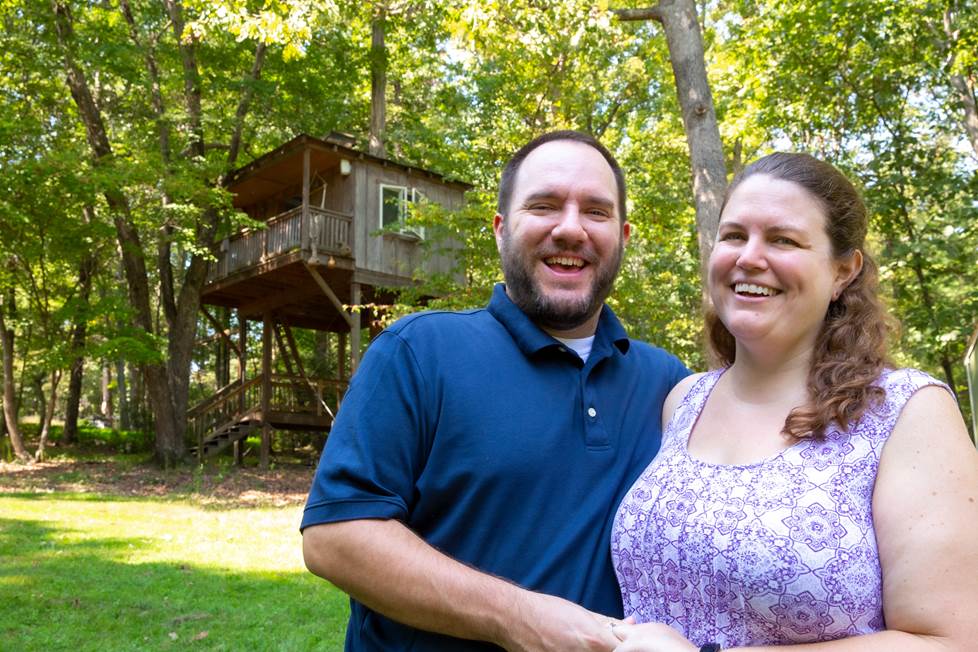 Tara and Rob were thrilled with their new system. "The treehouse is now our favorite listening room!"
Need help choosing speakers for your backyard, patio, ... or treehouse?
Our advisors know the gear we carry inside and out. You can contact us today for free. We can walk you through designing a setup that will work exactly how you want it.
Crutchfield customers enjoy free lifetime tech support with every order.