In this article... I installed a Sony touchscreen receiver primarily to add Apple CarPlay™ to my '16 Toyota 4Runner. I was excited for next-level smartphone integration but didn't quite realize how much a part of it Siri® can be. To take full advantage of the feature, I decided to go completely hands-free for three days.
held out on replacing my factory stereo in my 4Runner for a year after I bought it because I liked the Tonka-sized knobs and buttons. Weird, I know, but I only mention it to prove a point: I'm old-school when it comes to stereo control. However, a man can only take subpar built-in navigation, a goofy menu system, and a 3-band equalizer for so long...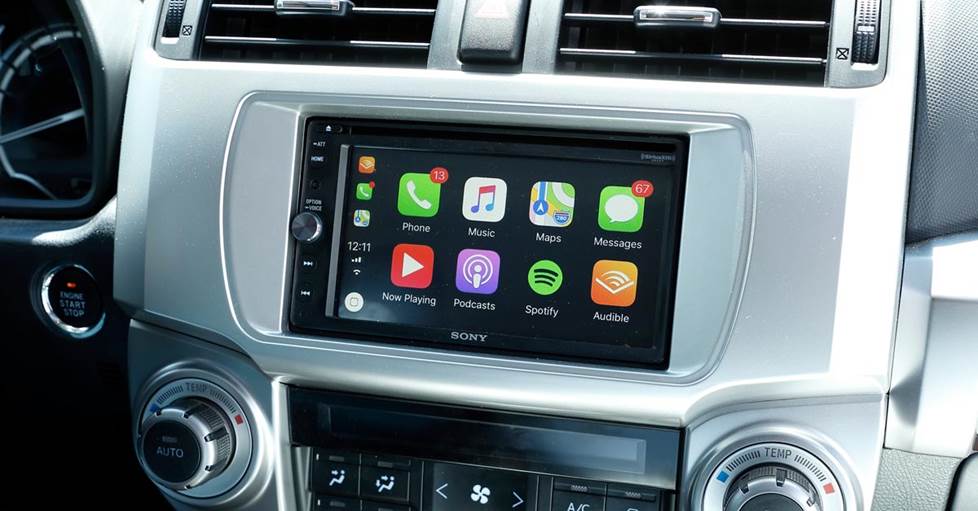 Why Apple CarPlay?
After using my iPhone 7 with Apple CarPlay in a rental car on a recent trip, I resolved to install it in my 4Runner. The interface gave me everything I've ever craved in a car stereo, especially as a big-time Spotify® user and podcast fan.
Plus, I really enjoyed having the familiar (and large) Apple interface in the dash. I have a bad habit of reaching for my phone in the car too often, so touchscreen control over large app icons and simple, intuitive menus made Apple CarPlay a smart choice for me.
First step — choosing a new car stereo
I chose Sony's XAV-AX200SXM DVD receiver (which is discontinued but here's a list of current Sony touchscreen receivers with Apple CarPlay) and used Crutchfield's vehicle selector tool to select a dash kit and factory integration harnesses. Naturally, I added a set of Posi-Products connectors to make life a little easier.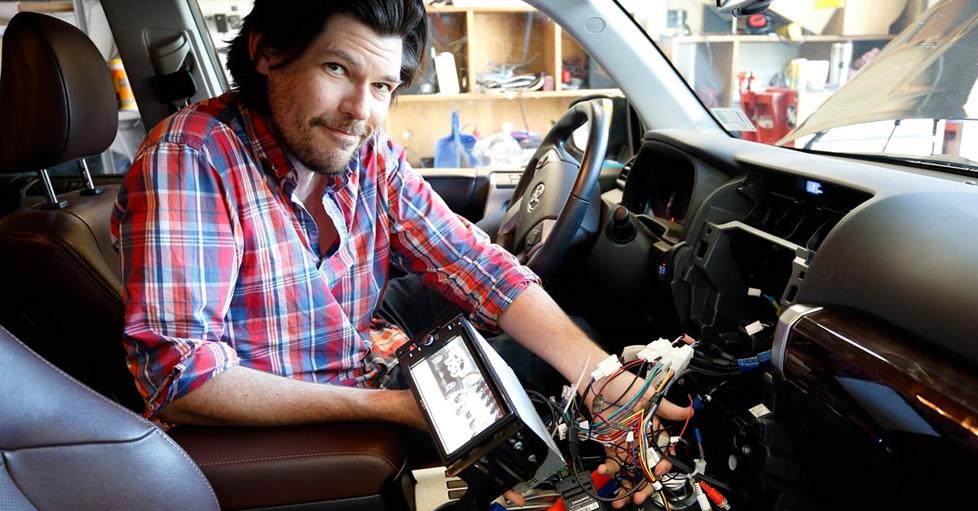 Installation was straightforward, thanks to the integration gear (and a Crutchfield MasterSheet), but took a few hours working carefully and methodically. Installed, the new radio looked fantastic in my dash.
The Siri hands-free challenge
While the Sony stereo sports a helpful, little volume/selector knob and some sleek buttons, nothing could replace my ol' tuffy, rubber-grip Toyota radio knobs and giant buttons...
Then, along came Siri.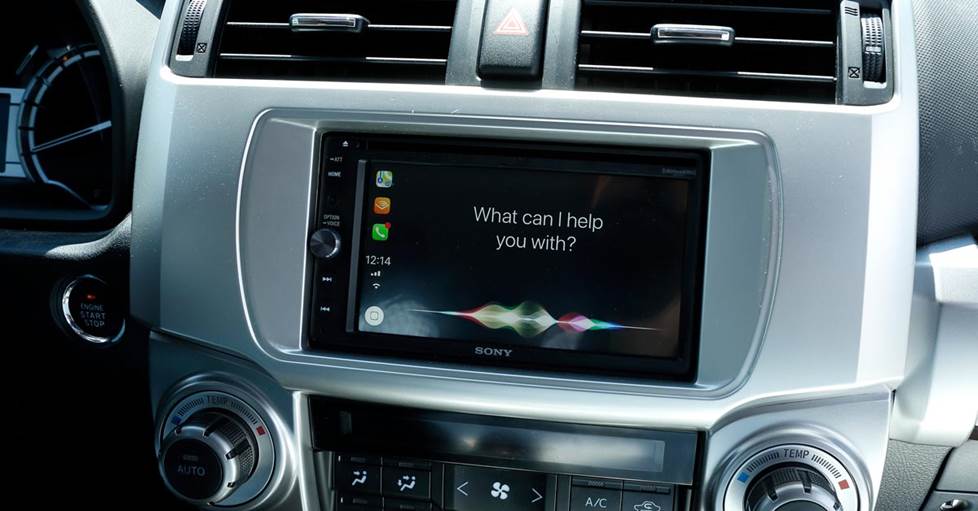 Pressing Apple CarPlay's phone app icon, Siri surprised me by asking, "Who would you like to call?" I answered and she dialed. Up until then, I'd mostly treated Siri as a novelty thing — more fun for my kids than me. I was perfectly capable of making my own calls and choosing my own music, thank you very much. But in light of a fresh start, I wondered if I ought to embrace voice control once and for all.
What followed was three days of completely hands-free car radio control, during which I banned myself from touching the radio or using my steering wheel controls. If I wanted to do anything, phone- or entertainment-related, it had to start by saying, "Hey, Siri..."
Old habits die hard
If my experiment strikes you as excessive and totally unneccesary, you're probably right (but that has never stopped us before). I discovered that for myself when I asked Siri to turn down the car stereo's volume, and she replied, "Sorry, I'm not able to change the volume," which meant that, for three days straight, I had to shout "Hey, Siri" with the fury of Gerard Butler in 300 anytime music was playing. (Note: When you're not using Apple CarPlay, Siri will adjust the volume on your phone.)
I also found out that you can't ask Siri to answer an incoming call, but with a little trickery in Settings, you can set your iPhone to auto-answer if you find yourself in an equally absurd predicament as I was.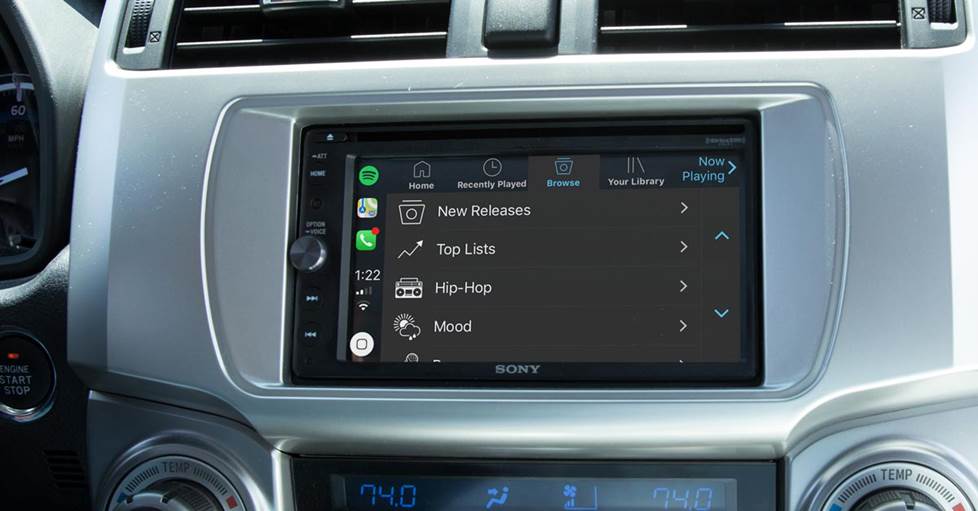 All that said, Siri was a total success for everything else I needed:
Music and Podcasts: When using Spotify, skipping tracks and play/pause was as easy as asking, but that was where voice control ended. If I wanted Siri to play a specific artist, song, or genre, that needed to happen through Apple Music®, which requires a subscription. Lucky for me, I'd recently signed up for a free trial. Comprehensive voice control also made navigating podcasts easy, letting me ask for my favorite show by name (there's nothing like shouting "Play Comedy Bang Bang!" alone at a traffic light).
Notes and Reminders: I kept track of notes for this article by asking Siri to "Make a note...," and I "Set a reminder..." to enable Auto-Answer Calls when I got home on Day 1.
Calling: Asking Siri to call a contact was so easy, and while I was in the groove, rush hour ended up being a good time to catch up on voicemails (since I couldn't get Siri to answer calls that first day).
Texting: Also, super-easy. Sending a text to my wife to let her know that I was on my way home took about ten seconds. And asking Siri to read my last incoming texts was usually good for a laugh (comedic effect may vary, depending on message content and the Siri accent you've selected).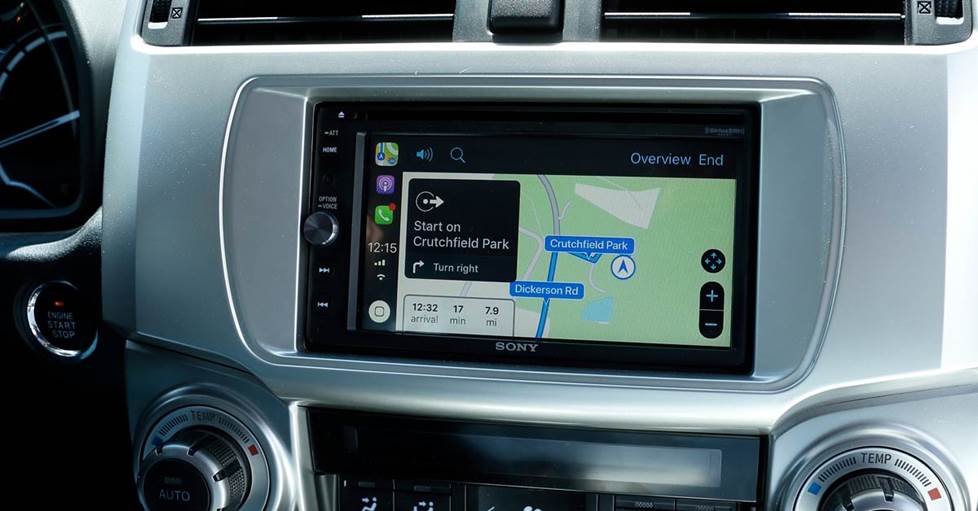 Navigation: No big surprise that you won't find Google Maps™ in Apple CarPlay, but for me, in-dash Apple Maps was one-hundred percent better than my old factory navigation. Throw Siri in the mix and let's call it two-hundred percent better.
Helpful stuff: Driving is my solace from the barrage of daily headlines, so I didn't ask Siri for the latest news. However, I did find Siri helpful when it came to the weather. And she was my go-to for any trivia questions and non sequiturs from my daughters in the backseat.
More: Check out the full suite of apps for Apple CarPlay, including SiriusXM. Siri will launch any of them, and if you discover other special voice-controlled features, be sure to give us a heads up in the comments below.
By the end of three days of running every iPhone interaction through Siri, I was anxious to get back to using my fingers for control. But was I better off for this 3-day Siri deep dive? Totally.
Eyes on the road with CarPlay
Three days of self-imposed voice control does something to a fella... It absolutely helps him keep his eyes on the road. Without this experiment, I may have tried out Siri in the car here and there, but I doubt I would have gained a full appreciation of just how well-suited voice control is for the car. It helped me see that so much of the touchscreen-poking and -swiping I do is unnecessary. Now I know that if I really need something that can't wait until I'm stopped, all I need to do is ask.
Step up the voice control in your car
In a smartphone-centric world, Apple has done a solid job of creating a car stereo experience that accomodates distraction-free driving. And Android users need not despair: my Sony receiver, like many we carry, also features Android Auto so you can benefit from streamlined smartphone integration and voice control as well.
[See our full selection of car stereos with Android Audo]
If you need help finding the right stereo for your vehicle, contact one of our Advisors.