In brief: This article gives you a quick look at some of the tips and tricks our expert installers use when we're upgrading the stereo system on a boat.
f you've ever spent any time on a pontoon boat, you know how much fun these "party barges" can be. They're ideal for cruising around, chilling out, and enjoying a day on the water with your family and friends.
Crutchfield Advisor Ziggy bought this pontoon boat over the summer, and while the fun factor was definitely there, the stock stereo needed to go. We were happy to help Ziggy with this project, because it gave us a chance to demonstrate some fundamental tips for a successful marine audio project.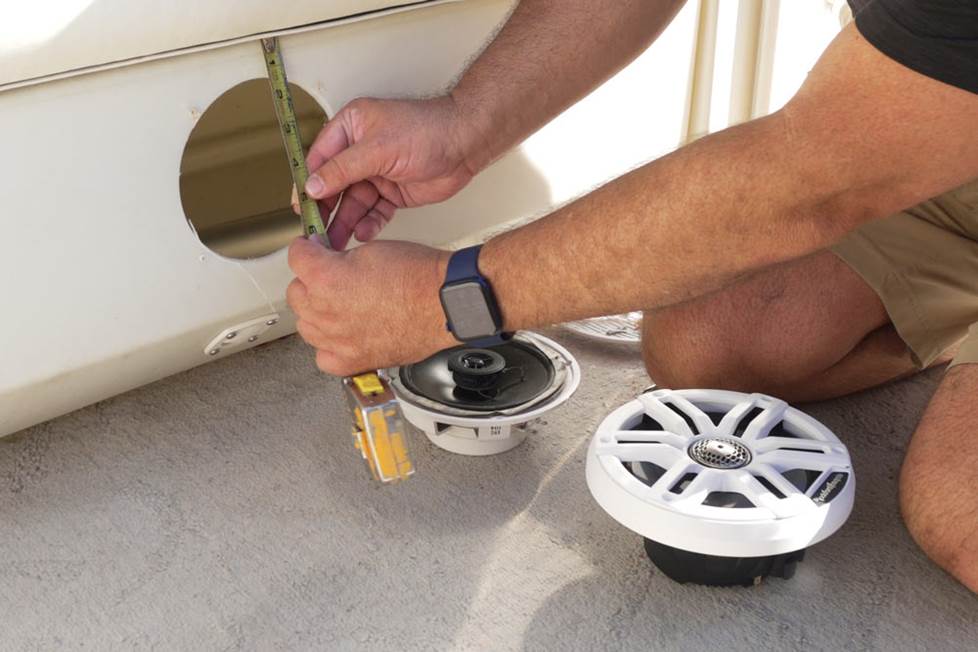 Tip #1: Measure the openings and the old gear
When you choose a new stereo or speakers for your boat, make sure you're ordering something that will fit. That sounds obvious, but the key is to measure both the old gear AND the opening itself to make sure there's enough space in the cavity. Trust us, you'll get speakers that fit without the need for more modification. This will save lots of time and hassle later. That's what we did before we installed Ziggy's new gear.
The M2 Series 6-1/2" Color Optix™ marine speakers (above) ensure that everything sounds awesome, even when the boat's underway. These 2-way marine speakers have a laminated dome tweeter and a polypropylene woofer, plus a built-in 12dB/octave crossover network concealed inside the basket.The built-in LED lighting is cool, too.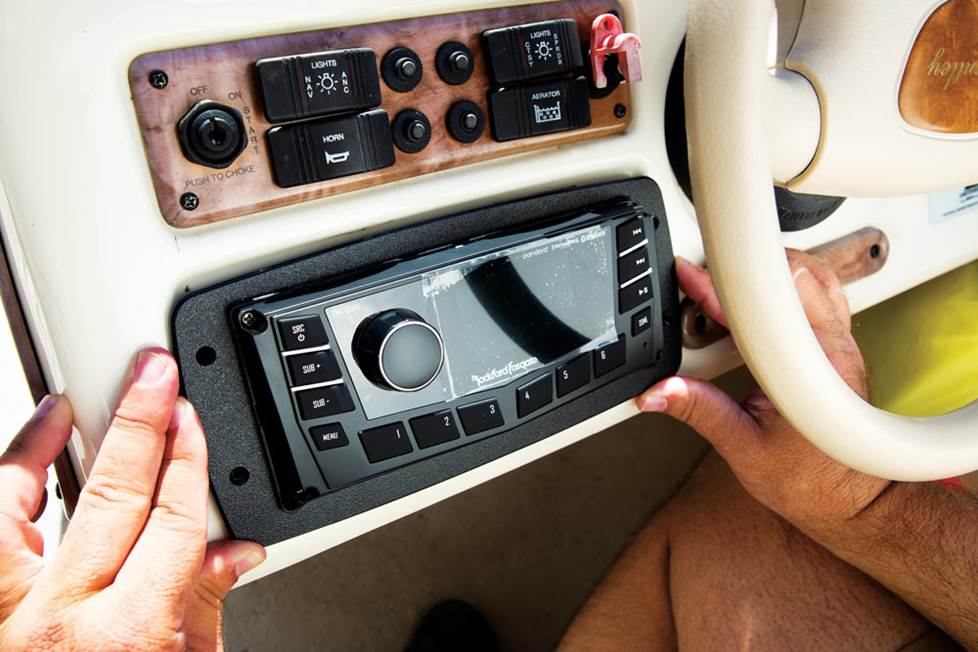 Tip #2: Mount everything neatly
Rockford Fosgate's PMX-5CAN digital media receiver gives Ziggy plenty of ways to stay entertained and informed. We used a Milennia mounting plate that covers the old cavity and provides a secure home for this high-performance receiver. These plates are available with a variety of cut-outs (DIN, gauge-style, and model-specific), so there's definitely something that will work in your boat.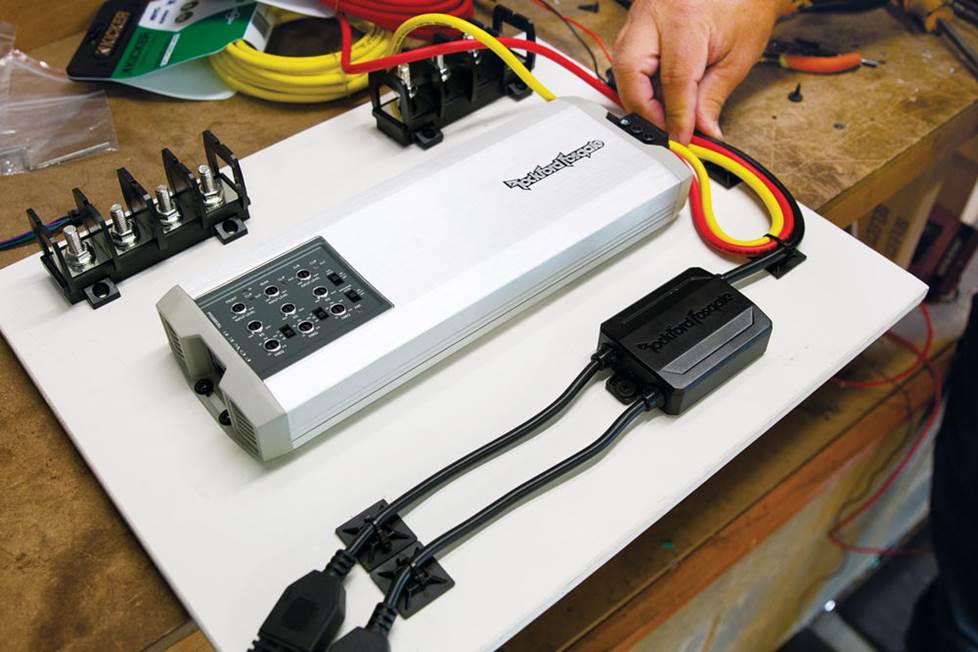 Marine systems are all about power, so you'll need an amplifier or two to maximize your new speakers and stereo. A PVC mounting board (above), available at your local hardware store, makes a very neat base for your installation. Plus, the material will stand up to moisture and heat.
We chose the Rockford Fosgate TM1000X5AD 5-channel marine amplifier for Ziggy's system. This compact, marine-rated amp pumps out plenty of power for Ziggy's new speakers and subwoofer.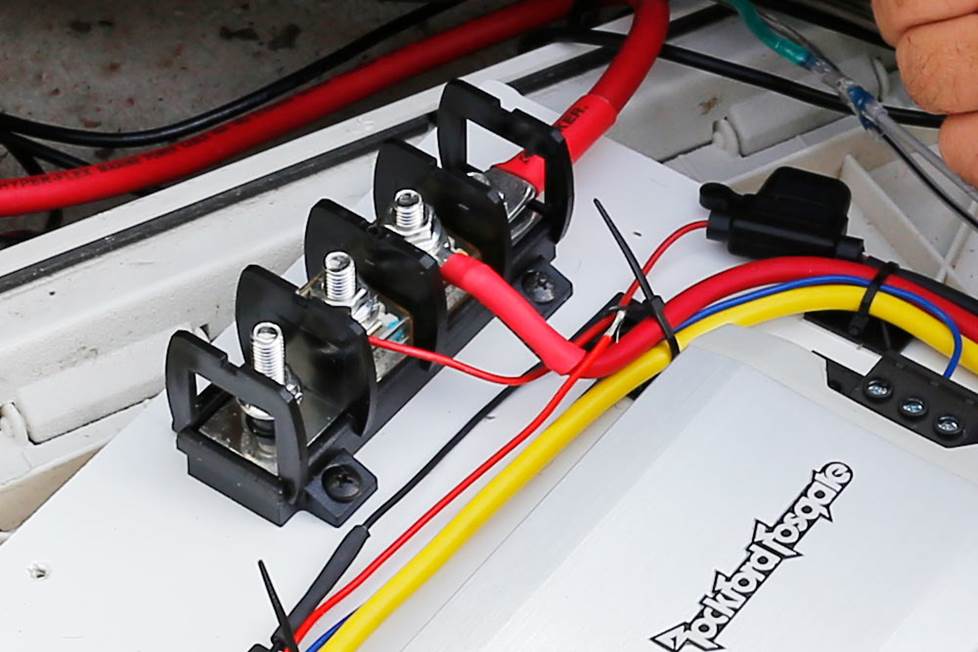 Tip #3: Wire it right
The wiring might not be the sexiest part of an installation, but it's arguably the most important. Marine-rated wiring is the key to any successful boat stereo upgrade, because it's made to resist moisture and temperature extremes. For this installation, we used Kicker's 4-gauge marine-grade amp kit. It delivers plenty of juice, and includes an ignition-free fuse that prevents dangerous sparking. Like all of Kicker's marine power gear, this kit meets Coast Guard and ABYC standards for marine use, so you'll get reliable power for seasons to come.
We used two Kicker marine distribution blocks (power and ground) to keep the wiring neat and tidy. And, speaking of neat and tidy, we also used a lot of wire loom underneath the boat and along the top of the pontoons to prevent wire damage.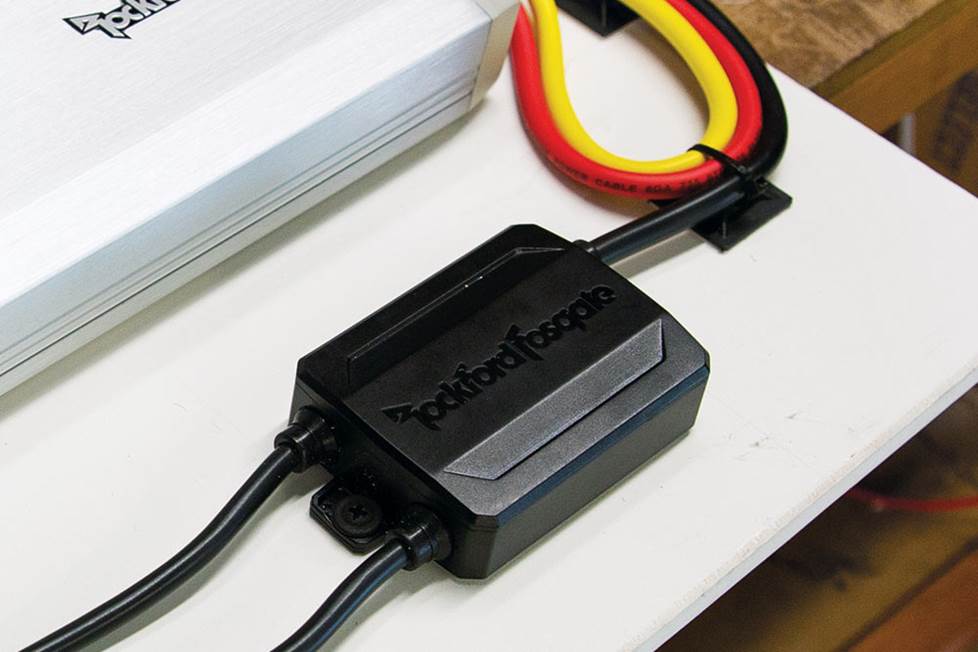 Tip #4: Get easy control for your LEDs
LED lighting is all the rage these days. It's available in spools and built into speakers. But the real key to a cool LED system is the controller. We mounted the Rockford Fosgate PMX-RGB Color Optix™ controller, on the PVC board next to the amp. Ziggy uses the free RF CONNECT™ App to choose the colors for all the speaker lights and the Wet Sounds RGB strips (see lead photo) we installed under the deck.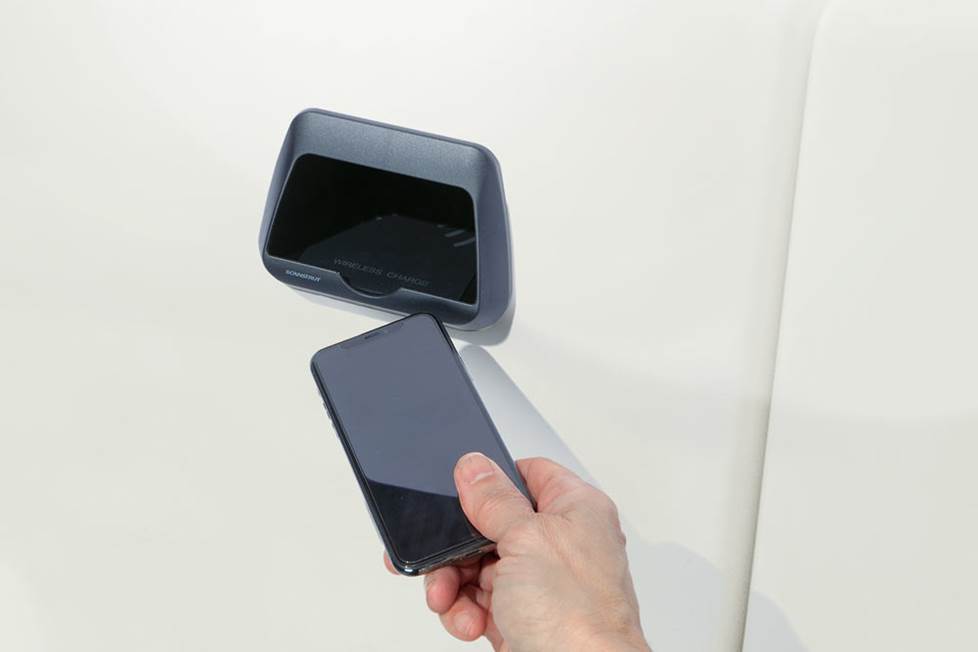 Tip #5: Secure and charge your phone
Every boater needs a place to store their phone. Keeping your phone safe and charged is one of the challenges of modern boating. The multi-purpose, waterproof Scanstrut Nest gives Ziggy a place for his phone AND it provides wireless Qi charging, all in one marine-ready cubby. This sealed, self-draining unit can go in consoles, seating, or cabinetry. We chose to install it in one of the side panels.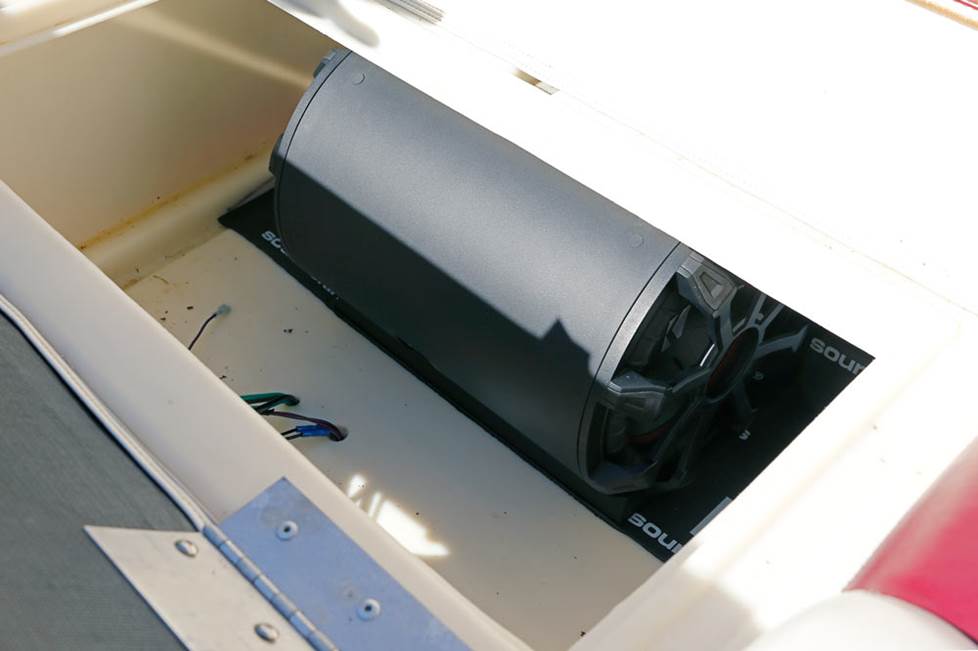 Tip #6: Install a rockin' sub that doesn't rattle
A system like this needs strong bass, but on a boat this size, it's always good to go with something that doesn't devour a ton of cargo space. That's why we chose the Kicker 46CWTB102. This weatherproof sealed tube enclosure includes a 10" subwoofer and a second passive sub (or "passive radiator") which reacts to the air pressure produced by the active sub and creates lots more bass without any port noise. The cool thing about this marine sub is that it can be mounted vertically or horizontally, which makes it easy to tuck away in a cargo hold.
This sub brings plenty of power to the party, but we wanted to make sure there wasn't any "shake, rattle, and roll" coming from the cargo lid. Installing some SoundSkins Pro sound damping material in the hold minimizes vibration and keeps the music sounding great. This package contains eleven square feet of material, which was more than enough for this installation.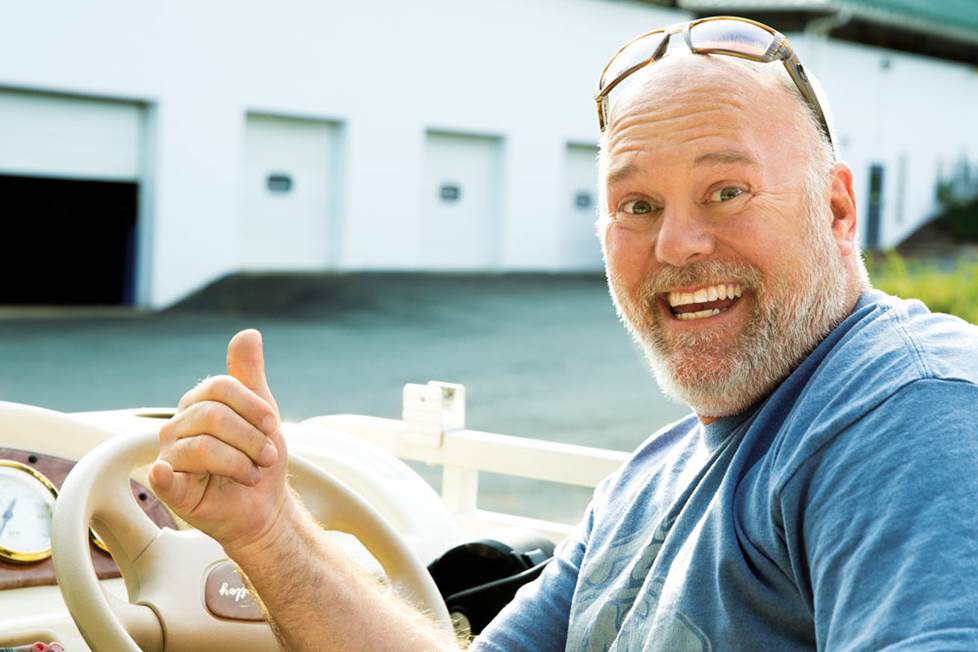 They say a bad day on a boat beats a good day at work. But if you're at work AND getting a new audio system installed on your boat, that's just a really awesome day.
Ziggy reported that the combination of the amp and speakers do an amazing job of bringing the soundstage up to ear level even though all the speakers are down at your calf.
Learn more
We have lots of great articles that will help get you ready for your DIY marine audio installation project. For more info, you can start with these two:
Pro tips from our marine experts
Building your boat's stereo system
Got questions? That's what we're here for!
Thinking about upgrading the sound on your boat? If you have any questions about choosing and installing your new system, Ziggy and the rest of our expert marine audio advisors will be happy to answer them. Give us a shout.