A sound masking system can help create an oasis of relative quiet in a crowded room. You may have been in a call center or professional office suite that employs a sound masking system without even noticing. In fact, if you don't notice much ambient noise in a crowded place, sound masking is probably working hard to keep it that way.
Let's explore a couple of ways that sound masking can enhance your business environment.
Sound masking reduces ambient noise
Many companies choose open-plan seating as a way to use space efficiently, and enable co-workers to collaborate easily. Most commonly, a company will have a large open space that uses dividers to create individual cubicle spaces. The dividers can be quickly reconfigured when departments move or staffing needs change.
The downside is that open offices tend to be noisy, which can be distracting enough to actually hurt productivity. It becomes an inadvertant game of one-upsmanship. As employees talk louder to rise above the ambient noise level, the ambient noise level rises proportionately.
We experienced this phenomenon in our busy call center here at Crutchfield. Fortunately we have access to some of the best sound masking systems around. I can attest from personal experience that the ambient sound level in our call center went from cacophony to downright mellow after we installed a custom system from AtlasIED.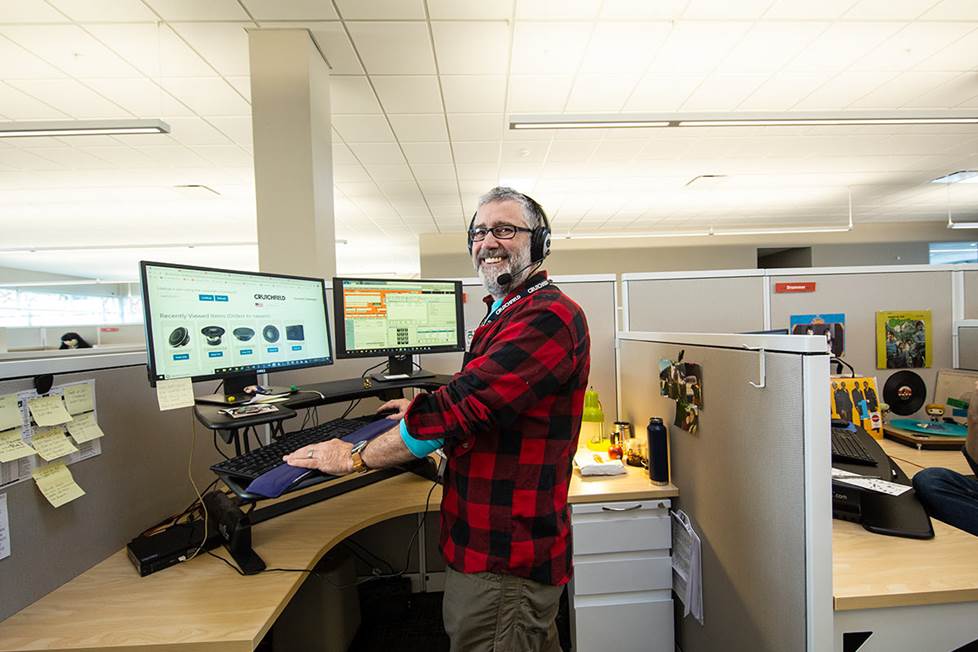 We installed an Atlas sound masking system in our new contact center building. It's remarkably quiet, even with dozens of Advisors talking to customers at the same time.
Sound masking protects privacy
In some cases, a lack of ambient noise means everyone within earshot can hear a conversation that is intended to be private. For instance, privacy is absolutely essential when discussing proprietary technology or sensitive personnel matters. Sound masking can be crucial in a doctor's office, human resources department, or bank.
How does sound masking work?
Sound masking plays certain sound waves to dampen our perception of other soundwaves that can be overwhelming. Speakers play sound in a carefully-selected bandwidth spectrum that has the effect of "muting" broadband sound that our brains interpret as noise.
What type of noise is used for masking?
There are a couple of terms you may have heard before that help define the type of noise a sound masking system uses:
white noise — like radio static — contains all audible frequencies in equal measure
pink noise is based on lower, more soothing tones — think of a steady rain or waves on a beach
Pink noise actually helps filter out the hubbub of multiple voices in a room, as in our call center example. And it likewise blocks our ability to overhear private conversations that might otherwise leak through the door of a boardroom or psychiatrist's office.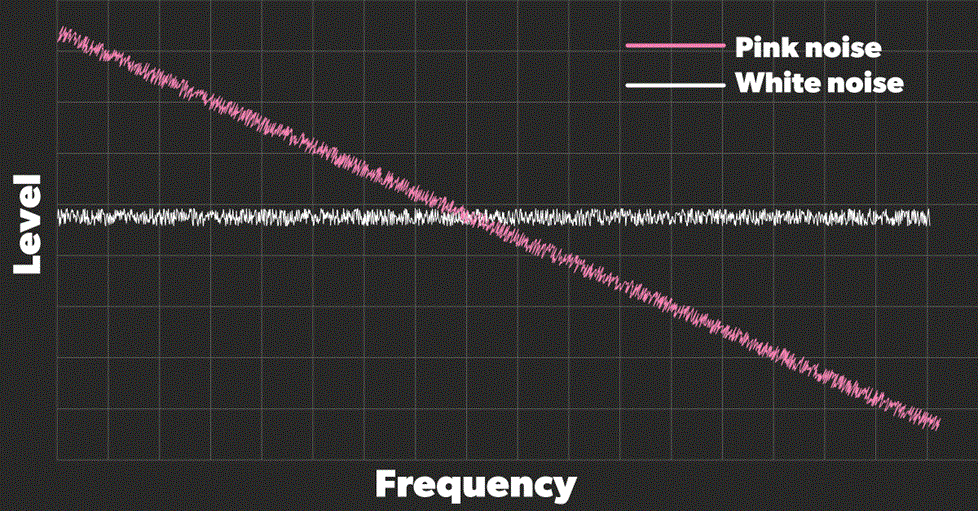 Pink noise is more soothing than white noise and better at blocking out the distracting babble of voices in a crowded room.
A good sound masking system draws on psychoacoustics — the science of how our brains perceive sound — to great effect. For instance, AtlasIED sound masking systems generate pink noise that is shaped by filters into a sound that can effectively "mask" human speech without being annoying to listeners. Some offer multiple filter options so you can customize the system to suit your specific needs.
Is sound masking safe?
Sound masking noise is barely louder than the ambient noise in an unoccupied room. Prolonged exposure to this low-level sound is perfectly safe. In fact, a properly tuned sound masking system is much safer than an inexpensive personal white noise machine, which can be easily misused.
What are the parts of a sound masking system?
The heart of a sound masking system is a sound generator/amplifier like the two-zone AtlasIED Z-2B. Of course, you'll also need several speakers to distribute the sound evenly throughout your space. The Z-2B and the four-zone Z-4B work with most 70-volt speakers.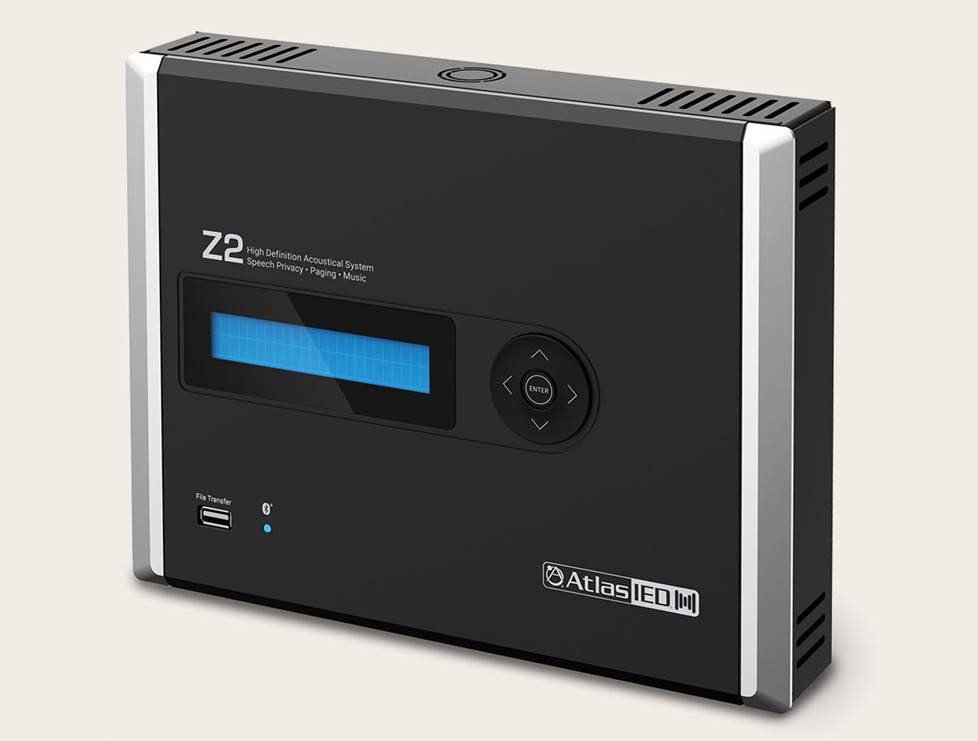 The AtlasIED Z-2B provides sound masking for two zones, covering up to 7,000 square feet in total.
Speakers like the AtlasIED M1000 are designed to be hung in the space above a drop ceiling, so the shaped sound radiates through the ceiling tiles. You can also use commercial-grade in-ceiling speakers like the AtlasIED FAP33T.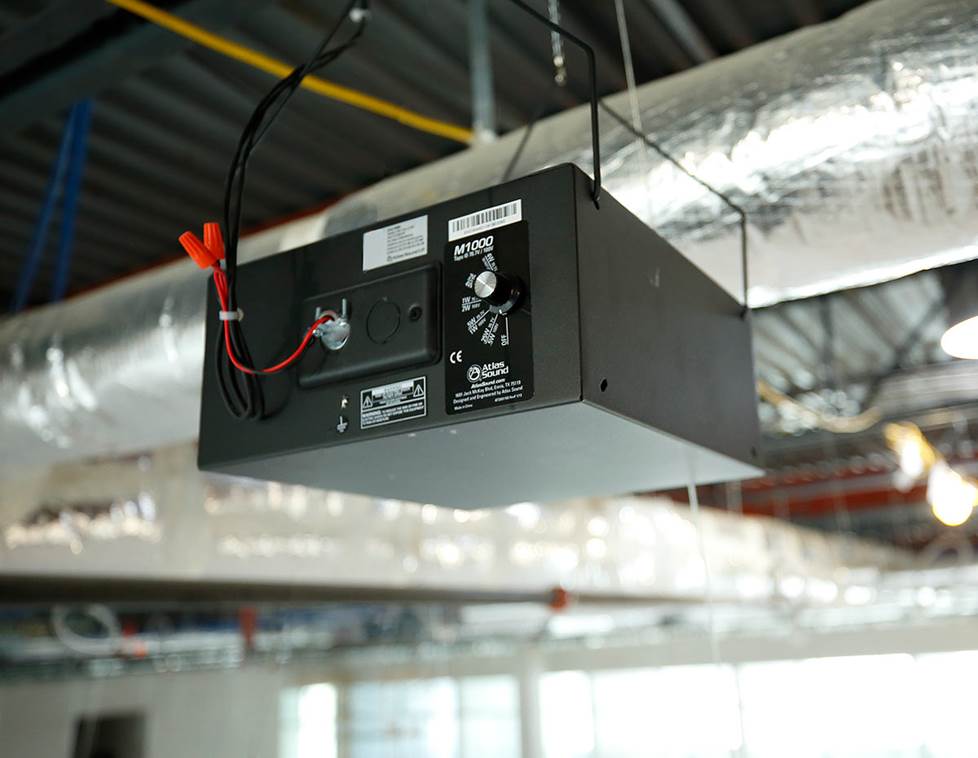 AtlasIED M100 speakers are easy to hang above your drop ceiling. They can be configured for upward, downward, or horizontal sound dispersion.
Our two-zone sound masking bundle includes 12 pairs of speakers, which should cover about 7,000 square feet, plus 500 feet of plenum-rated speaker wire. It's a pretty cost-effective way to get started.
App control for sound masking systems
The Atlas gear can be configured and controlled via a smartphone app. The Z-series app is available for iOS and Android.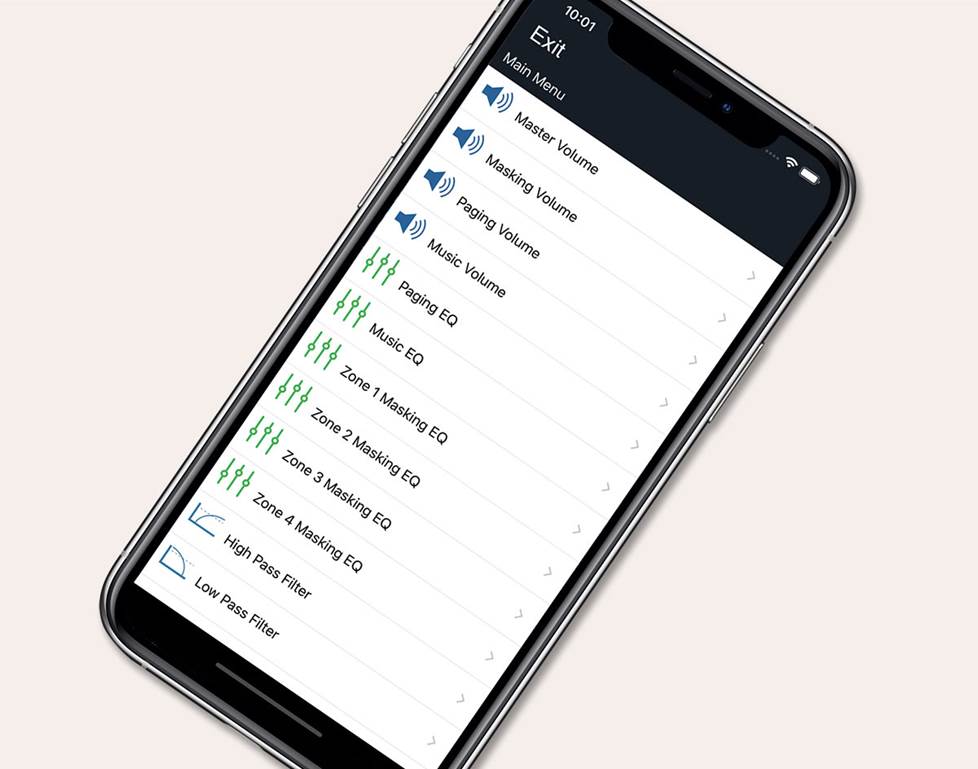 The Atlas control app for iOS makes it easy to set up and fine-tune your sound masking system.
Can a sound masking system play music?
With the addition of a music source like a Sonos Port, a sound masking system can provide background music in one zone (say your reception area) and sound masking in another zone. With an optional microphone, you can page customers in one or more zones.
Free system design service and tech support
How many speakers do you need? Where should they be placed? Can you install it yourself?
Great questions! Crutchfield's free commercial audio system design service has all the answers.
Your designer can take a look at your floorplans, hook you up with all the gear you need, and give you guidance on placement. Lifetime tech support is free with your system purchase.
Get started with
a free system design
After we gather your information, we'll send you a detailed system plan. It will include a link to a pre-filled shopping cart. Ordering is easy, and delivery is fast.