In this article: We'll introduce you to the different types of commercial speakers, including...
...We'll also cover some common features and other gear you might need, and show you how to get in touch with our Commercial A/V Design team for help planning your system.
ommercial speakers are different from the speakers you use in a home theater or stereo system. They're designed to deliver clear background music and audible announcements in retail spaces, offices, houses of worship, and similar large, open environments.
They use power efficiently, so you can run multiple speakers off of a single amplifier, which helps keep costs down. And their varying form factors offer plenty of placement versatility, no matter what type of space you're working with.
We'll start by taking a look at the different types of speakers that are available, along with some specific use cases to help you make the right choice.
In-wall and in-ceiling speakers
These speakers are very popular, because they can be installed in a low-profile manner that blends into existing décor. In-wall and in-ceiling speakers are most commonly installed in drywall, though some are designed to fit into tiled drop ceilings.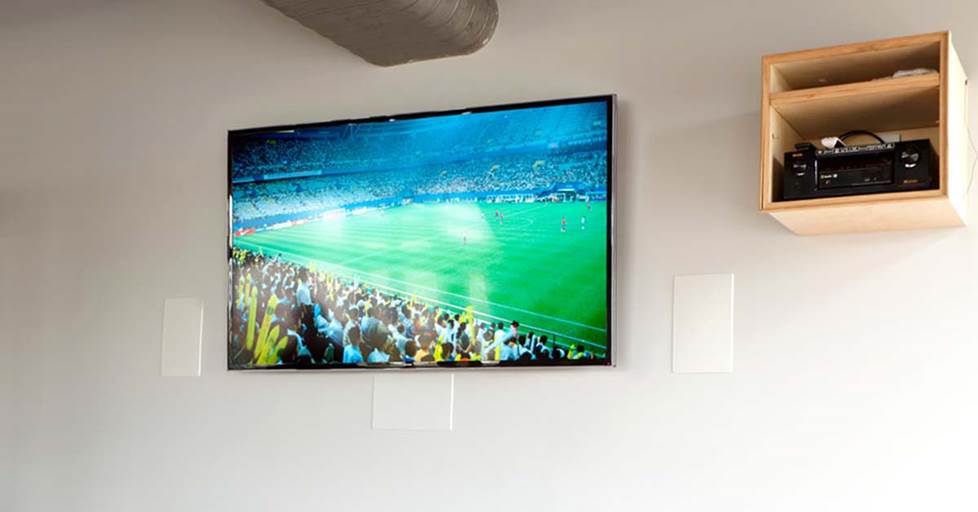 Discreet in-wall speakers are used to boost TV sound in a restaurant's reservable party room.
Since these speakers are designed to go into a hole that's been cut in a wall or ceiling, there are a couple of important specs you need to be aware of:
the recommended cutout is the exact size of the hole you'll need to cut to make the speaker fit snugly
it's important that you have plenty of room to install it inside the wall, so it's crucial to know the speaker's depth
Our experienced system designers can help you determine exactly how far apart to place speakers in order to fully cover a larger space.
Sample use case: an elegant hotel lobby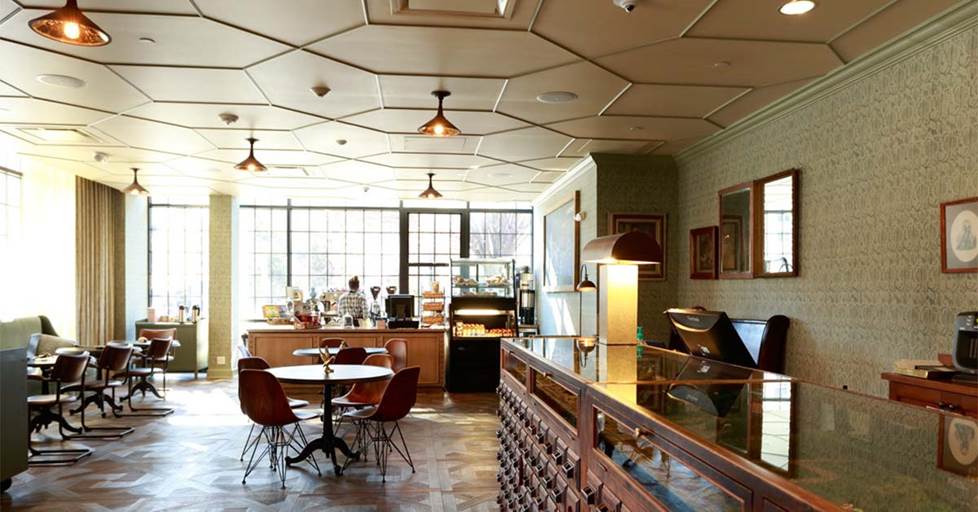 Music from in-ceiling speakers can add a pleasant vibe to a common area without disrupting the décor.
Our system designers installed several AtlasIED FAP62UL 6" speakers in the lobby of a Charlottesville hotel. The low-profile speakers blend into the welcoming décor of the main room, where they provide soothing background music for guests as they check in, grab breakfast, or assemble for an outing.
Pendant speakers
Pendant speakers — which hang securely from a ceiling joist or a track lighting rig — may be your best bet for distributing sound evenly throughout a large space with high ceilings. This comes in very handy in large conference halls and converted industrial spaces, for example.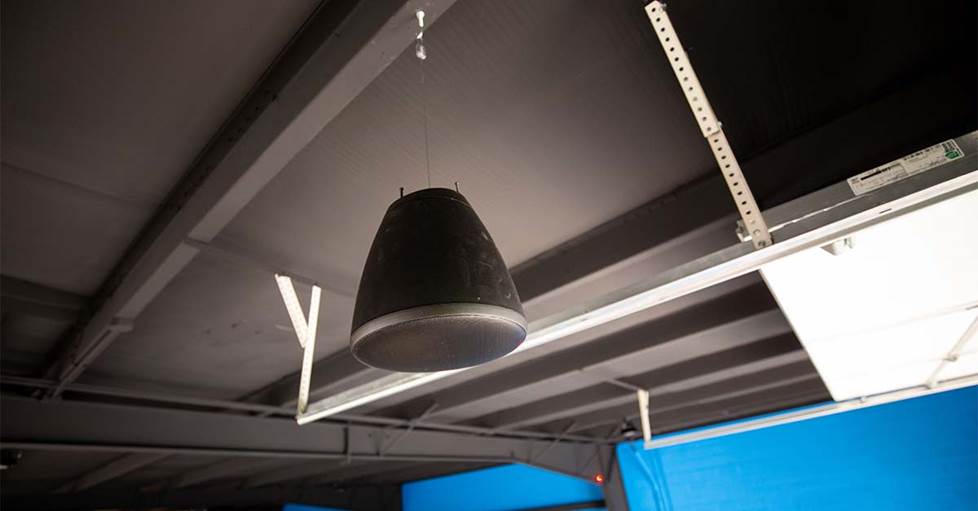 Pendant speakers are an excellent way to distribute music and announcements in large rooms with high ceilings.
Most pendant speakers have a circular driver array that points directly down toward the listener, delivering a conical coverage angle.
This type of speaker usually includes installation gear: typically a bracket that anchors securely to its mounting surface, a rugged steel suspension cable, and a locking clip that attaches to the speaker. The installation process is reasonably DIY-friendly, but our experienced system designers are always willing to offer placement and troubleshooting advice.
Sample use case: an open-plan workout space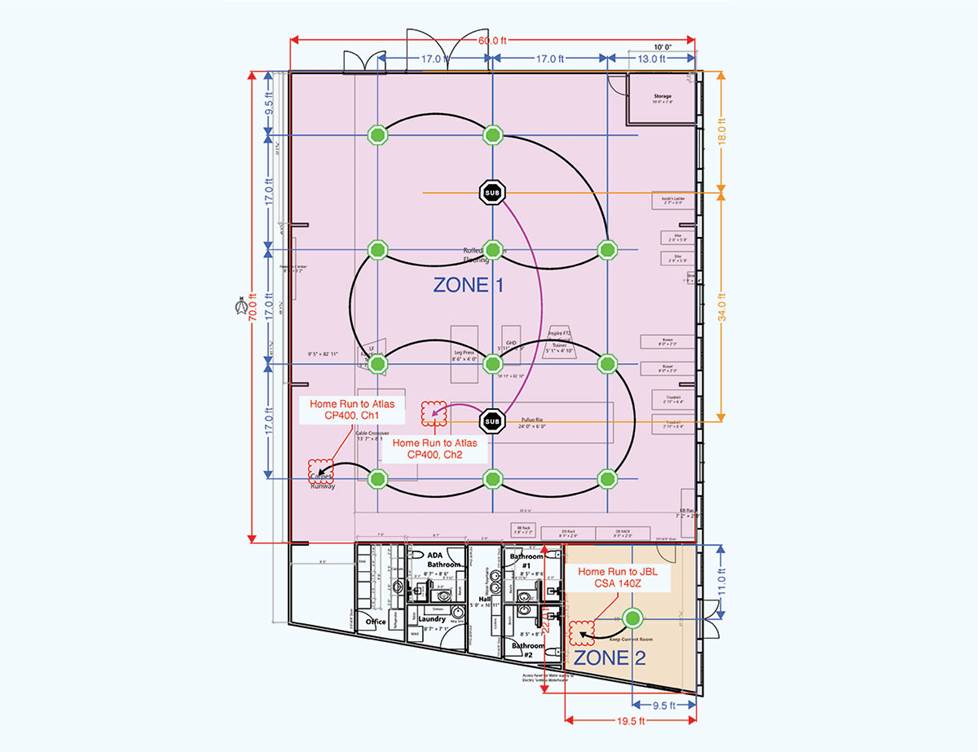 Our experts consulted building blueprints to select perfect locations for pendant speakers and subwoofers in a gym with high ceilings.
Our system designers were called upon to design a robust sound system for a gym with a wide-open floor plan. The workout studio's massive main space — 70 by 60 feet, with 15-foot ceilings — presented an interesting challenge.
The solution? We advised the gym owners to hang eleven SoundTube RS62-EZ 6-1/2" speakers and two beefy SoundTube RS1001i-II-T 10" subwoofers, evenly spaced, exactly 12 feet above the floor. A pair of amps hidden away in an office/break room cabinet powered everything. The system was perfect for pumping out tunes to keep clients motivated and working toward their fitness goals.
Surface mount speakers
Surface mount speakers are designed to be placed on a wall or similar flat surface. While not as décor-friendly as in-ceiling speakers, surface mount speakers are reasonably attractive and can be easier to install.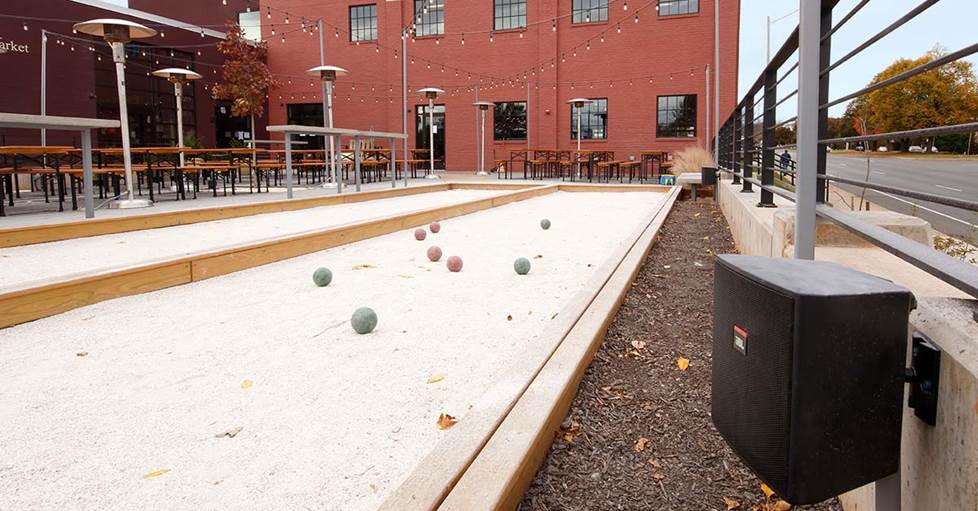 Weatherproof surface mount speakers let this restaurant's customers hear music and announcements while dining outside or using the bocce courts.
Most surface mount speakers come with a bracket and additional necessary installation materials. Make sure the speaker you choose has a bracket that suits your needs. Some are adjustable — they can tilt or pivot so you can "aim" sound where you want it to go.
Many surface mount speakers are weather-resistant, so you can use them in an entryway or on a patio. It's always a good idea to consult with one of our experts — their advice is always free — to make sure you're installing any indoor or outdoor speaker in a way that will maximize its life span.
Sample use case: a laid-back bar/restaurant
We helped install a multi-zone sound system in a German-style beer hall named Kardinal Hall. The restaurant's layout has communal tables in the center of a large room with low ceilings. Surface mount speakers in that room are used to play TV sound or background music at a reasonable level that won't overwhelm conversation.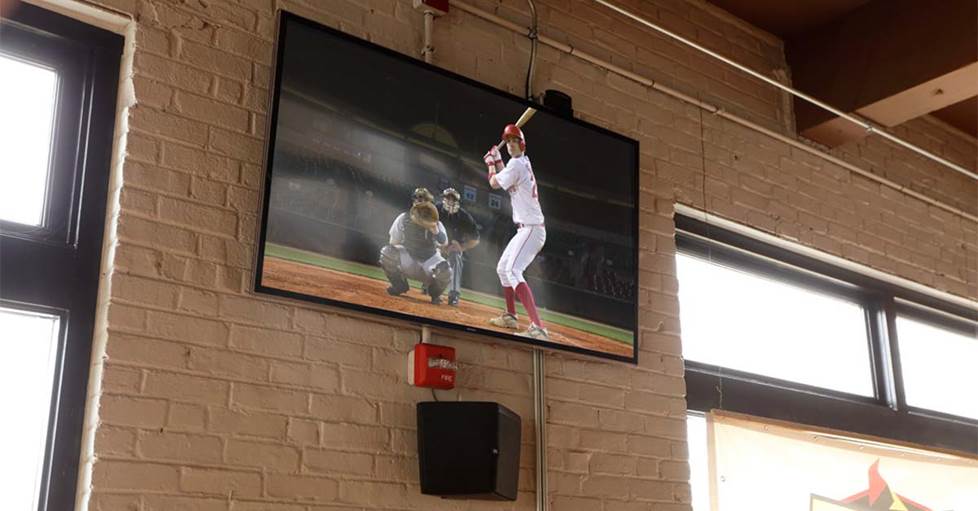 In Kardinal Hall's open-plan indoor seating area, JBL Control® HST speakers are mounted about midway up each wall, for playing background music or TV sound.
Rugged JBL Control® 25AV speakers are installed on Kardinal Hall's pleasant outdoor patio, where they can provide background sound for bocce players and guests seated at the outdoor tables. These durable, water-resistant speakers operate on a separate volume control from the indoor speakers, so they can be fine-tuned to compete with traffic noise.
Horn loudspeakers
Horn loudspeakers are surface mount speakers that are useful in very specific circumstances. For instance, when you need to broadcast an announcer's voice, instructions, or safety tones across a large outdoor space, a horn speaker like the AtlasIED AP-30 is likely to be your best choice. What these speakers lack in fidelity, they make up for in sheer clarity and durability. And all horn speakers are weather-resistant, which makes them the go-to option for public spaces like stadiums and fairgrounds.
Landscape speakers
You may wish to extend your sound system to a patio, garden, playground, or pool outside your venue. That's where landscape speakers come in. These are very rugged, waterproof speakers that are designed for full exposure to sun, dirt, and moisture.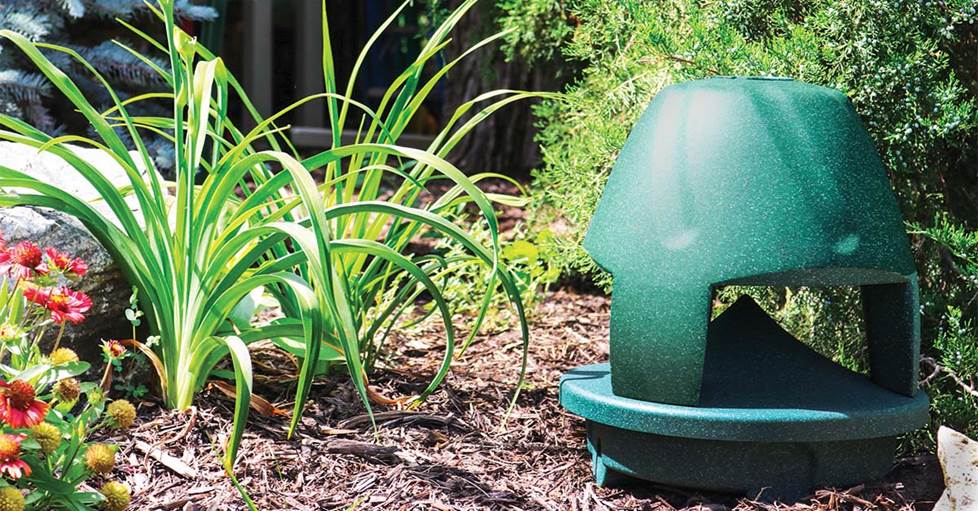 Rugged landscape speakers can be unobstrusively placed in garden beds to liven up outdoor seating areas.
That said, they're also designed to blend in as much as possible. Some can be partially buried in the soil, and others are disguised to look like rocks. Some even have built-in illumination that provides a little extra visibility at night.
Commercial subwoofers
If you're playing music, you'll probably want bass. And you can easily integrate low end into your system with a commercial subwoofer.
In a home system, your subwoofer is probably a cube that sits directly on the floor — that won't work in a busy venue with lots of foot traffic. Fortunately, commercial subwoofers can be installed in every way we explored above: there are surface mount, pendant, landscape, and in-ceiling options.
Important features and specs
There are some specs and features that come up often when researching speakers. These are applicable to all the specific speaker types we covered above.
Frequency response
A speaker's frequency response — measured in Hertz (Hz) — indicates the range of tones it can produce. The first number tells you how low the speaker plays; how deep its bass goes. The second number indicates the upper limit of the speaker's tonal range (high frequencies). The wider the frequency response, the fuller the sound a given speaker can produce. The range of human hearing is generally considered to be 20-20,000 Hz.
Sensitivity
A speaker's sensitivity rating tells you how effective it is at converting power into volume. If two speakers are given the same amount of power, the speaker with higher sensitivity will play louder than the speaker with a lower rating.
Maximum SPL
SPL stands for sound pressure level. This is how loud the speaker can play and still sound good. You might assume it's always better to get the higher SPL, but not all venues are made the same. We recommend high-SPL speakers for high-energy exercise studios, but you'll probably be happier with a low-SPL speaker in a grocery store.
Transformer tap settings
Speakers that are designed for use in a 70- or 100-volt distributed audio system have built-in transformer taps that allow you to choose how much amplifier power each speaker will use. This offers a great deal of flexibility when deciding how many speakers to connect to a single amplifier.
For instance, if you have a 400-watt amplifier, and your speakers have a 10-watt tap setting, you could conceivably connect 40 of them to the amp (though we recommend leaving some headroom and not maxing out the amplifier's capacity).
Many speakers will also have an 8-ohm bypass setting that turns off the transformer, so you can use them with a standard home stereo amplifier.
Coverage angle
This spec — which some manufacturers refer to as "dispersion angle" — lets you know how much of your space will receive full-range sound from each individual speaker. It's expressed in degrees of coverage: commonly horizontal x vertical, but sometimes conical if the speaker is going to be placed directly above the listening area. Our experienced designers can look at a floor plan of your venue and help you decide exactly how far apart to place the speakers to ensure good sound for every occupant in a given space.
Installation information
A speaker's product page will usually give you some idea of how the speakers are installed, and which installation equipment is included. It should also tell you whether the speaker is protected against moisture and dust, so you know if it's suitable for outdoor installation.
Common specs like the speaker's height, width, depth, and weight are included, so you can make sure they'll fit where you plan to install them.
What else will you need?
Speakers are the all-important business end of your sound system, but you'll need at least one amp to provide power, some microphones and source components for music and announcements, and likely a few other things to make the whole system work together.
Commercial amplifiers
Commercial, distributed sound systems often employ a single commercial amplifier to run all the speakers in a single listening zone. Our designers can recommend an amplifier that has enough power and features to handle all of your speakers.

This modest-looking commercial amplifier can efficiently power multiple speakers in two separate listening zones.
Commercial audio mixers
If you plan to use multiple wired or wireless sources for music, announcements, and TV sound, you'll need a commercial audio mixer that allows you to connect all of them and choose how loudly each one should play.
Speaker wire for commercial installations
Speaker wires for a 70-volt system can be thin, as narrow as 18-gauge, because the system's electrical current is very low. Your designer will recommend the right kind of wire.
Volume controls
In a venue with multiple zones, it's nice to have local volume control. For instance, a house of worship may want to broadcast services at a relatively high volume in the sanctuary, while listeners in the nursery might need to be able to lower the level.
Check out this video for a Crutchfield design tip about speaker volume management.
Who will install your system?
In some places, a commercial sound system can only be installed by a qualified professional company licensed to install electrical equipment. Check with your local authorities before attempting to install a system on your own.
Whether you hire help or decide to do it yourself, our experienced, helpful system designers are here to help design a custom system for your unique venue, and troubleshoot during installation and later use. Use the form below to get started.
Get started with
a free system design
After we gather your information, we'll send you a detailed system plan. It will include a link to a pre-filled shopping cart. Ordering is easy, and delivery is fast.