Installing a digital sound system in a cooler
We deck out a cooler, Crutchfield-style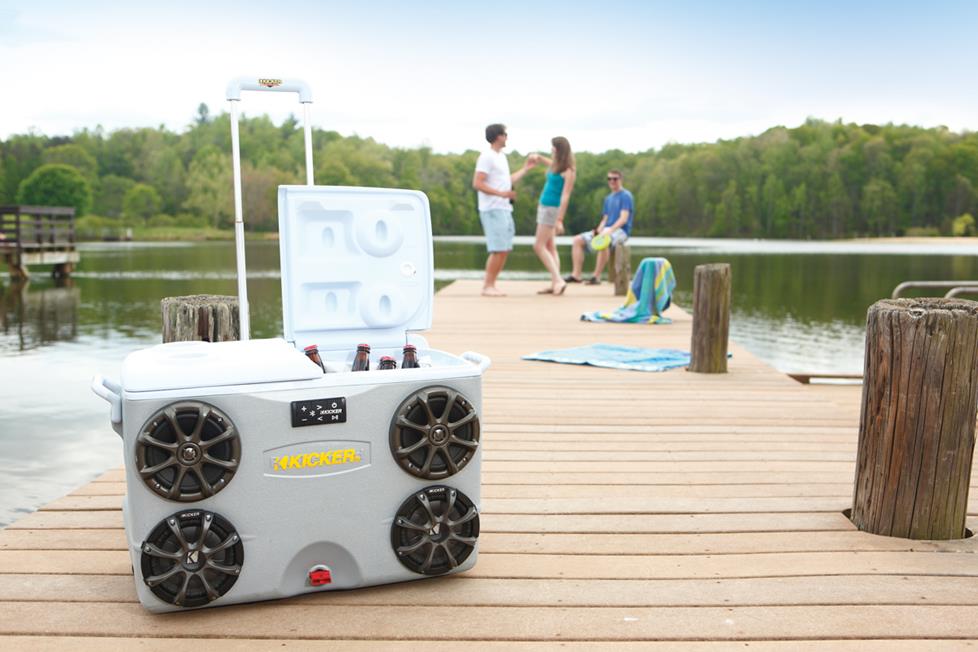 In a nutshell: Here's how we installed a Bluetooth digital audio system and marine speakers in an ordinary cooler. If you're inspired to do one for yourself, give us a call and talk to our advisors!
The portable cooler is quite possibly one of the handier innovations of the 20th century. Without our coolers, we'd probably just hang around the house all weekend and stay close to the refrigerator. Instead, we're loading up our coolers and hitting the road for a weekend of boating, camping, or tailgating. Life's just a lot more fun when you have a cooler full of food and beverages.
But did you ever wonder how much more fun it could be if you had a cooler that was also a digital media sound system? We did, so we built one. And, as we suspected, it's really, really awesome.
We used rugged, water-resistant, marine-grade gear to transform this ordinary 50-quart cooler into a high-performance portable stereo that still has room for a few sandwiches and a chilled six-pack. This cooler really is a "party on wheels."
Check out our video and let our Car A/V Editor, Matt, tell you all about it:
Very cool – we build a cooler with a sound system
After deciding how we wanted to position the speakers and double-checking our measurements, we used a template to outline the speaker openings on the front of the cooler. We then used a jigsaw to cut the new openings. Cutting through plastic and foam can be tricky, so we worked carefully and let the saw do its job. Finally, we sanded the openings to ensure a smooth finish.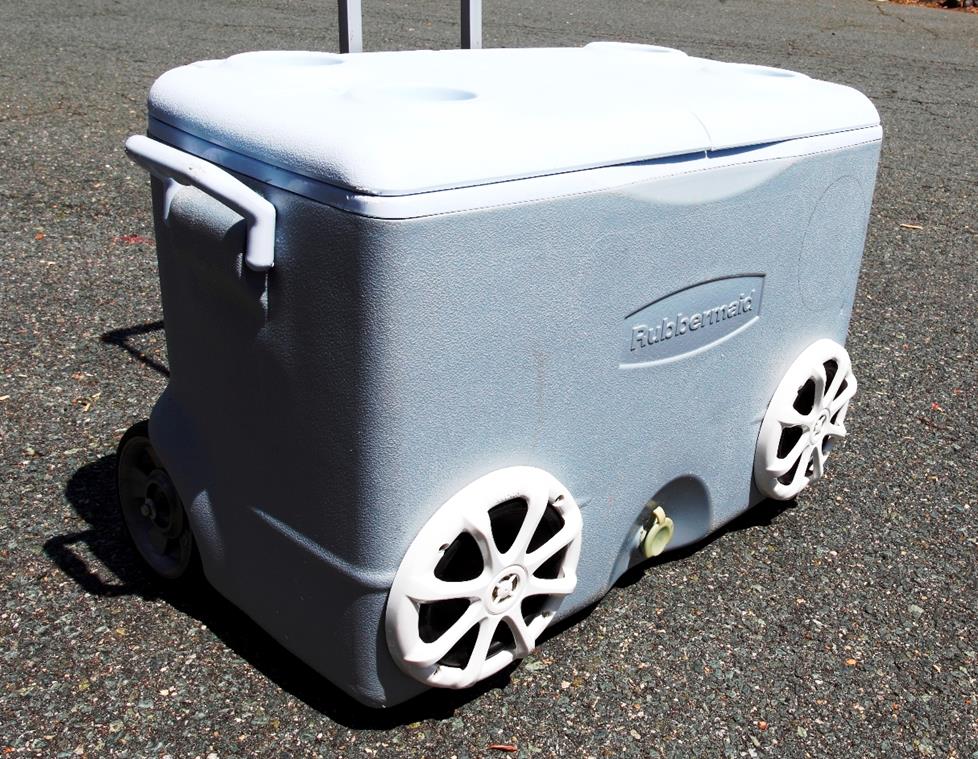 Our original design featured two Kicker marine speakers
Our initial design featured 6-1/2" Kicker marine speakers connected to a Bluetooth® enabled Kicker amplifier, and a compact battery designed for boats. The amp and the battery fit neatly underneath a shelf we made with lightweight foam and ABS plastic. This arrangement left plenty of room inside for snacks, beverages, and a few cooler packs to keep everything chilled.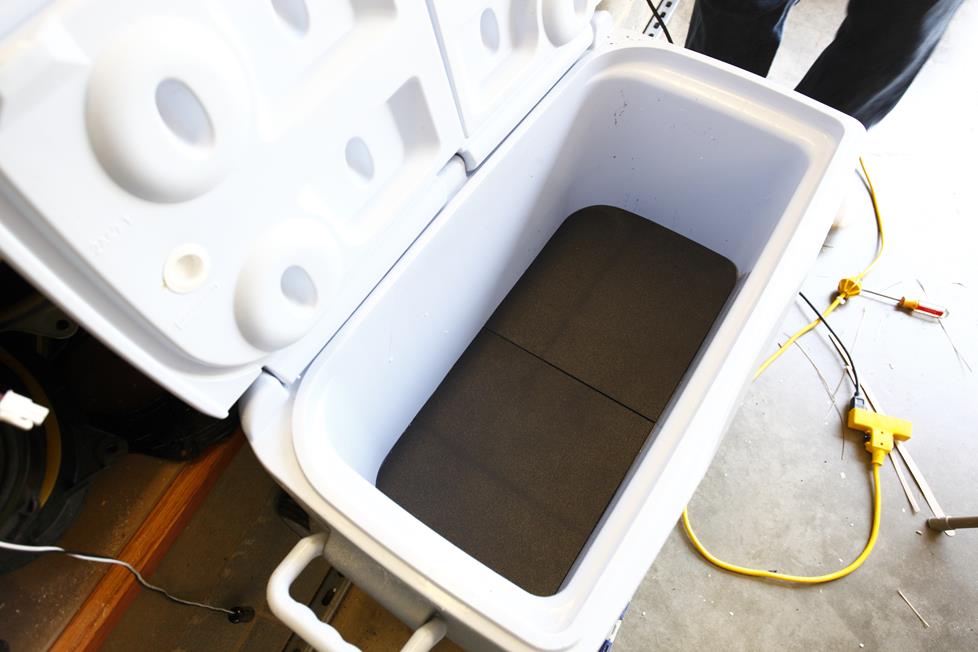 The lightweight plastic covers a sheet of soft foam, which protects the gear beneath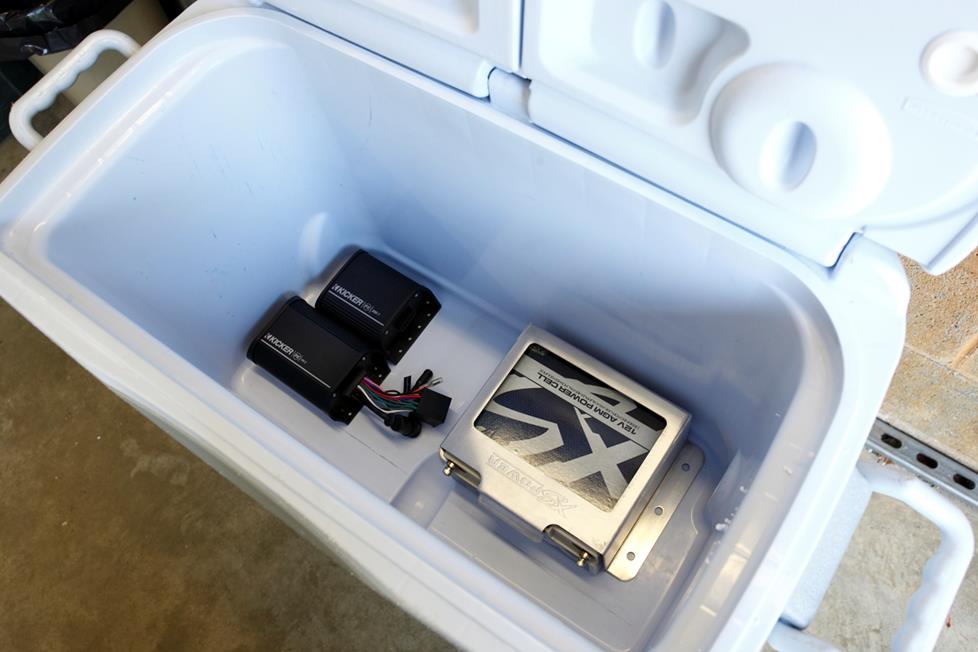 Here, we're just roughing in the location of the amp and the marine battery
The Kicker amp features built-in Bluetooth connectivity for wireless streaming. It also includes a wired remote for iPod® or iPhone® control, so we cut a hole in the front of the cooler and mounted it in an easy-to-reach spot.
The Bluetooth is great, but we also like the included 6-foot iPod/iPhone cable, which lets us play music and charge the device while it's stored in the cooler.
Amazingly cool – we add more power and subs
Our basic system sounded great, but, being us, we just had to make it bigger and better. We wanted more bass, so we cut new openings, moved the original speakers up, then added a pair of 6-3/4" Kicker subs down below. A compact Kicker mono amplifier provided the power that took our cooler's sound from, "Hey, that's really neat!" to "Wow, that's totally amazing!"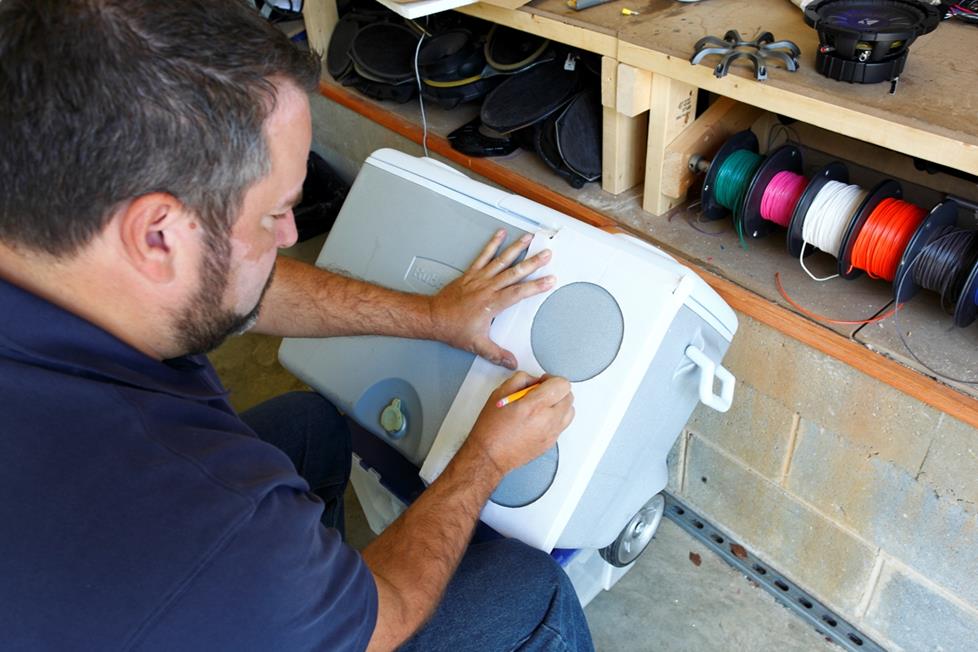 When creating the openings, be sure to "measure twice, cut once"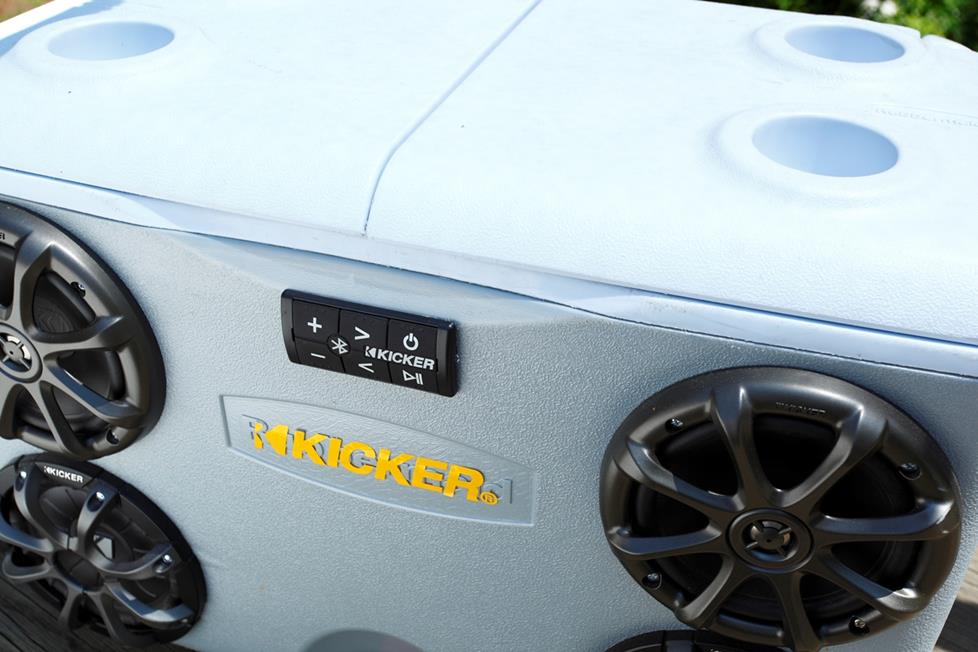 The amp's weather-resistant controller (top center) is backlit, so it's easy to find in low light
Totally cool – just for kicks, we add a hotspot
Sometimes, it's great to get out and get away from it all. But it's also nice to be connected to music and social media. An Autonet mobile router turned the "cooler cooler" into a 3G Wi-Fi® hotspot. The high-speed connection is great for streaming music, surfing the web, or (occasionally) checking in on the real world. A one-year service plan ($29.95 or $59.95) is required.
Want to build your own "cooler cooler"?
If you're thinking about doing it yourself, we have all the gear you'll need, and we've even created an illustrated Crutchfield MasterSheet™ to help you along. It's just like our traditional MasterSheets that show you how to install gear in your car. And here's the rundown of all the gear we used:
Rugged, rockin' Kicker 6-1/2" marine speakers sound great and stand up to the demands of outdoor life. They're magnetically shielded, so they won't interfere with compasses or sensitive marine electronics.
An all-weather amplifier similar to the now-discontinued Kicker model used in this cooler project, will offer an auxiliary input for your music source and Bluetooth connectivity, so you don't need to plug the phone in at all. These water-resistant amps are ideal for 12-volt powersports vehicles.
We used a set of compact, powerful Kicker marine subs that are no longer available. Here is our selection of similar, non-marine certified 6-3/4" subwoofers.
To power those subs, we added the Kicker 12PX200.1 subwoofer amplifier. It fits in the palm of your hand—or the bottom of your cooler—and delivers up to 200 watts RMS of bass power to your subs.
Since the subs didn't come with grilles, we added some. Made with impact-resistant ABS plastic, Kicker GR650 grilles will protect your subs from damage.
We used an XS Power XP750 battery to provide up to 750 amps of power to the sound system. The ventless design means you can install this marine-rated 12-volt battery in tight spaces without worrying about leaks or corrosion.
Finally, to take the cooler "over the top," we added an Autonet Mobile router.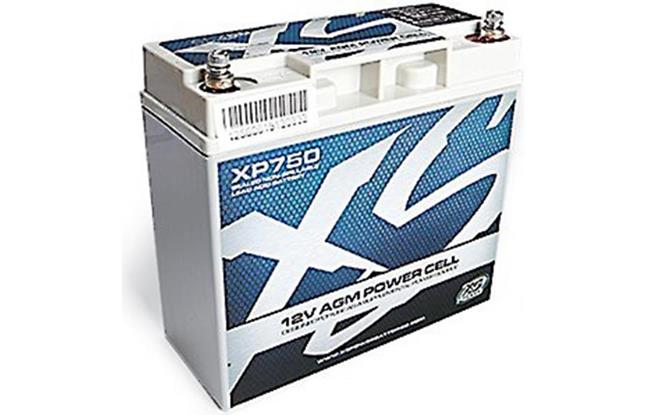 This XS Power battery keeps our cooler rockin'.
Questions?
If you want to build your own incredibly cool cooler, our Crutchfield Advisors can help. Just give us a call!