What you need to know about HDR TV
How to enjoy the latest leap in TV picture quality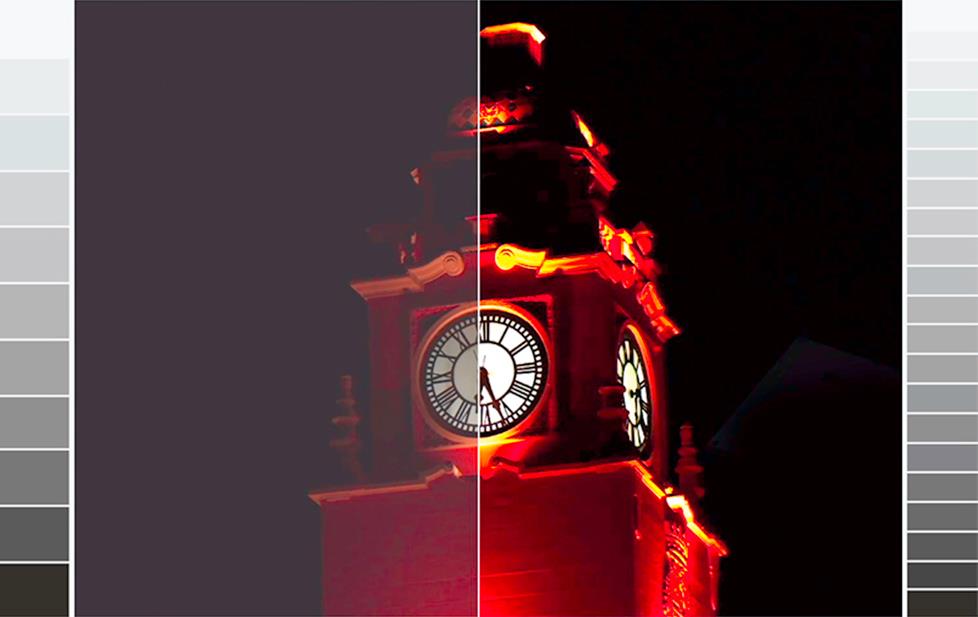 HDR programs have much more brightness information than standard programs. HDR TVs can display the extra information, giving you a dramatically better picture.
If you've read any articles or reviews about 4K Ultra HD TVs recently, you probably ran across references to a technology called HDR (High Dynamic Range). As 4K Ultra HD takes over as the new standard for TV screen resolution, we have enough pixels to display very realistic picture detail. Now, TV makers and content producers are focused on "better" pixels — making each pixel do more to produce pictures that look as vivid and lifelike as possible.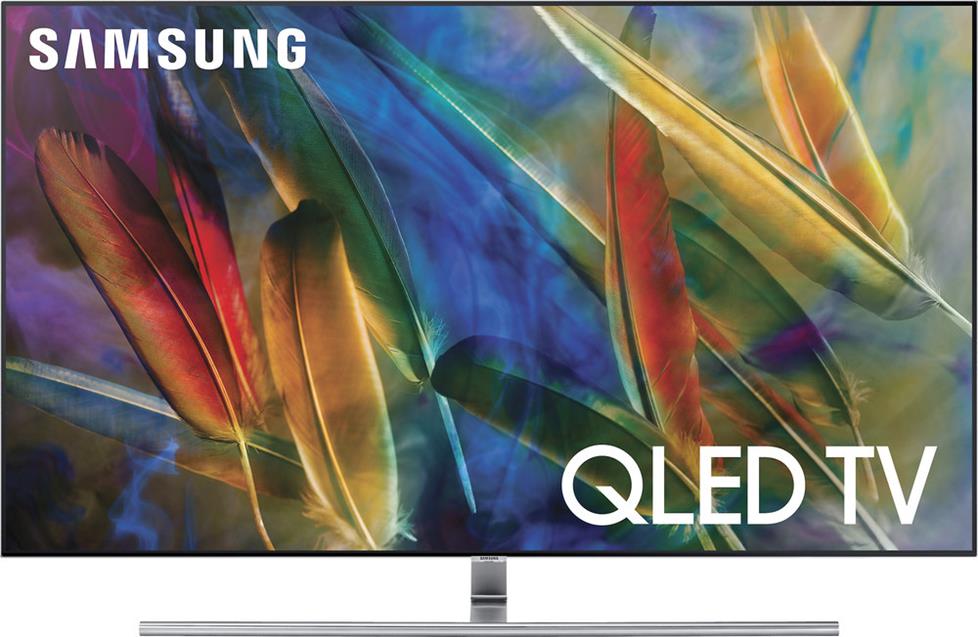 Samsung's QLED 4K TVs feature the high peak brightness and wide color range necessary to make the most of HDR-enhanced content.
Since TV experts consider contrast to be the most important determiner of picture quality, increasing TV's contrast range has become the top priority. And that's what HDR is all about — expanding the range between the darkest blacks and the brightest whites in a TV picture.
As a side benefit, boosting picture brightness also gives colors extra pop. HDR's enhanced picture quality is easily visible from across a room — you won't have to get up close to see it.
The brightness and contrast standards for regular SDR (Standard Dynamic Range) TVs, as well as for current broadcast, cable, and satellite TV signals, are all based on the limited capabilities of old-school tube TVs.
Today's flat-screen TVs can produce much brighter pictures than tube TVs, but they're limited to the narrow dynamic range of TV signals. HDR does away with those limitations, dramatically improving the home viewing experience. In fact, an HDR-enhanced TV picture can actually surpass what we see in a movie theater in some ways.
What is HDR TV?
The first thing to know is that HDR for TVs has nothing to do with the HDR on your camera or smartphone. HDR on your camera/phone takes several images and creates a composite combining the best aspects of each image. HDR for TVs expands the contrast ratio of the display, either by making blacks blacker, whites brighter, or both.
When movies or TV shows are originally filmed, the contrast range is very wide. But when that content is processed to be broadcast or streamed for TV viewing, or placed on a DVD or Blu-ray disc, the contrast range is squeezed to fit the limited range of SDR TVs. By removing those limitations, HDR-compatible TVs and content make movies and shows look much closer to the way the director intended.
HDR is an "encode-decode" system. The expanded-contrast HDR information is encoded as "metadata" in the video signal. Metadata isn't actual video; it's additional information or instructions that ride along with the signal, whether you're watching a streamed show from Amazon or an Ultra HD Blu-ray disc.
When viewed on an HDR-capable TV, the set's built-in decoder recognizes and reads the metadata, allowing the TV to re-create the full HDR image, with superior contrast and color.
Non-HDR TVs simply ignore the metadata and show the regular un-enhanced SDR image. Some HDR TVs will include video processing designed to "upconvert" non-HDR content to HDR. The result isn't as impressive as true HDR, but has some of its look.
What makes a TV HDR-capable?
In addition to having built-in decoders for the HDR metadata, HDR-capable TVs have special display capabilities that help them produce images with brighter highlights and deeper backs.
Screen brightness is measured in "nits," and regular TVs have a peak brightness of 300-400 nits. HDR-capable TVs can produce peak brightness of 600-2000 nits. For reference, commercial movie theaters are calibrated for screen brightness of around 50 nits.
Of course, TVs need to be much brighter because most of us don't watch in total darkness. In fact, you might be thinking, "Hey, my current TV is already plenty bright!" But while SDR TVs can have impressive screen brightness, HDR TVs will deliver far superior image brightness.
As you probably know, there are two different flat-panel TV display technologies: LED-LCD and OLED. Both can display HDR beautifully, but they use different methods to achieve a wider contrast ratio. LED-LCD TVs can produce a very bright picture thanks to their backlights. But because the backlight is always on, it's difficult for LED-LCD TVs to block every bit of light to produce absolute black.
In contrast (so to speak), OLED screens are self-lighting. No backlight is needed, and when an OLED pixel is turned off, it produces no light at all, so these screens can create absolute black. But most OLEDs can't get as bright as LED-LCDs. So, both display types can support the extra-wide contrast range of HDR, but their specific dark-to-light ranges are different.
Practically speaking, only recent 4K Ultra HD TVs and 4K video sources have the up-to-date connections necessary to support HDR. Specifically, your TV and video source both need HDMI 2.0a connections to support HDR (your receiver too, if the signal will be running through it). Fortunately, some HDMI 2.0 connections can be upgraded to 2.0a via a firmware update. If you own a 4K TV, it's a good idea to install any firmware updates that become available.
Of course, if you're using your TV's built-in apps to stream HDR content, you don't have to worry about HDMI connections. Several video streaming services, like Amazon and Netflix, already offer a limited amount of 4K content enhanced with HDR. For lots more details on streaming and other 4K options, see our 4K content article.
HDR 10 vs Dolby Vision vs HLG
You can choose from dozens of HDR-capable 4K TVs from most if not all of the major TV brands. As often happens with major new technologies, not every company takes the same approach.
An open format called HDR 10 has been selected as a mandatory HDR format for the Ultra HD Blu-ray disc format (see below). HDR 10 is a "static" system — the HDR metadata establishes picture settings at the beginning of the movie or TV show, and they remain constant throughout.
Dolby® Labs has created a different HDR approach called Dolby Vision™. Dolby Vision is a "dynamic" system — the HDR metadata can tell the TV to change picture settings on a scene-by-scene basis. The dynamic nature of Dolby Vision means it can potentially provide a more accurate, lifelike picture.
In 2017, a few 4K TVs appeared with HLG (Hybrid Log Gamma) HDR. While HDR 10 and Dolby Vision are used for streaming (Netflix, Amazon, etc.), Ultra Blu-ray discs, and video games, HLG is intended for broadcast, cable, and satellite TV.
While HDR 10 and Dolby Vision employ metadata — instructions — to tell a TV when to get extra-bright or extra-dark, HLG is actual picture information.
As of today (11/8/17), there is no HLG-encoded content available. We carry LED-LCD and OLED 4K TVs from LG that support all three flavors of HDR. And Sony's 4K projectors support HDR 10 and HLG.
Where can I get HDR content?
Although there's now lots of streamed 4K content available, only some of it is HDR. Amazon and Netflix offer HDR on some of their original 4K series. And some pay-per-view streaming sites like Vudu offer 4K content with HDR.
All of our 4K Ultra HD TVs have built-in apps for streaming services with 4K/HDR content, like Netflix and Amazon Instant Video. But if you own a 4K projector, or just don't love your 4K TV's streaming app interface, you can get a 4K/HDR-compatible media streamer, like these Roku models, or the Apple TV 4K.
The video source that makes the most of HDR is Ultra HD Blu-ray. Because Ultra HD Blu-ray discs can hold much more data than standard Blu-ray discs, Ultra HD Blu-ray deliver pictures with 4K resolution (3840 x 2160 pixels), plus HDR and enhanced color.
The bit rate for Ultra HD Blu-ray playback is many times higher than the bit rate for video streaming services, providing much more picture information. And that's why Ultra HD Blu-ray will be the new gold standard for picture quality for the forseeable future.
Personalized advice from our team of experts
Need some help choosing HDR-compatible products for your setup? Our expert Advisors know the gear inside and out. Contact us today.
Free lifetime tech support is included with every Crutchfield purchase.