In this article: I'll help you find the best weatherproof speakers for your yard, deck, pool, or patio...
... so you can enjoy your favorite tunes while you work and play outdoors.
Warm weather presents a golden opportunity to get outside and enjoy the sunshine. And it's nice to have your favorite tunes playing when you garden, host a family get-together, or relax in a hammock.
You can tote along a portable Bluetooth speaker everywhere you go, but they offer somewhat limited fidelity and battery life. To really rock out in the yard, by the pool, or on the patio, we recommend installing weatherproof outdoor speakers.
Outdoor speakers are similar to the hi-fi speakers you use indoors, with a couple of big differences:
They can stand up to the elements. Many outdoor speakers are weatherproof, meaning they can withstand direct exposure to rain, sun, salt water, and cold. Other speakers are weather-resistant, so they require some additional protection from rain and ice.

They come with outdoor mounting hardware. In the shipping box with the speaker, you'll find a bracket or similar mounting hardware that attaches the speaker securely to the exterior of your home.
Our top outdoor speakers
We've written about how to choose outdoor speakers, and how to plan your outdoor system, so if you're starting from scratch, we can certainly help with the research. Our expert Advisors are always ready and willing to discuss your unique layout and offer up installation tips, too. That said, here are some well-known customer favorite outdoor speakers that work well in specific scenarios, to help get you started.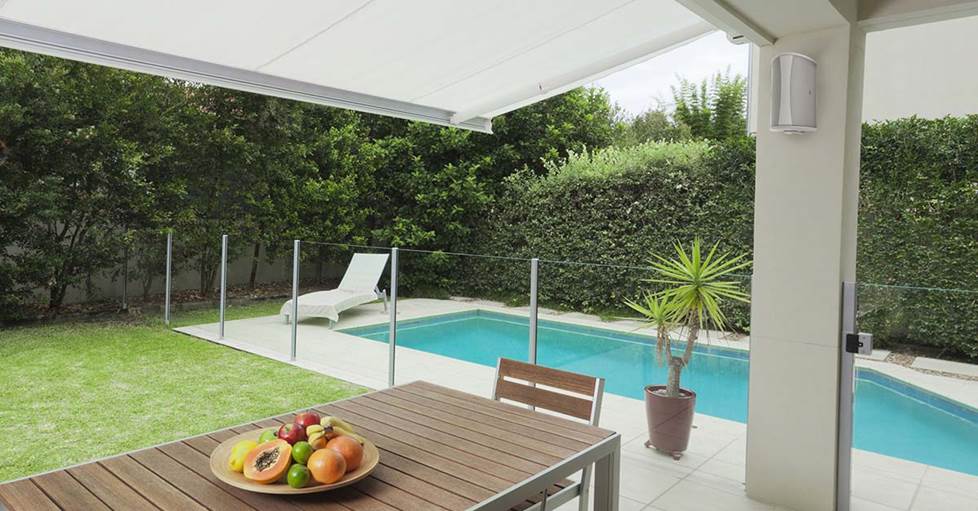 Best all-purpose outdoor speaker — Definitive Technology AW6500
Simply put, our customers love Definitive Technology AW6500 speakers. We started carrying them in 2009, and they've been a perennial best seller ever since. They get rave reviews for ease of install, sound quality, and impressive bass response, no matter the setting.
If you need a value-priced surface-mount outdoor speaker to cover a large area with excellent sound, this one should be at the top of your list.
Details
1" pure aluminum dome tweeter
6-1/2" BDSS cast basket bass/mid driver
5-1/2" x 10" racetrack-shaped Planar Low-Bass Radiator (produces bass equivalent to that of a 10" woofer)
frequency response 40-30,000 Hz (±3dB)
sensitivity 92 dB
handles up to 200 watts
fully sealed, rugged PolyStone enclosure
paintable aluminum speaker grilles
galvanized steel mounting brackets that allow 360° rotation for maximum placement flexibility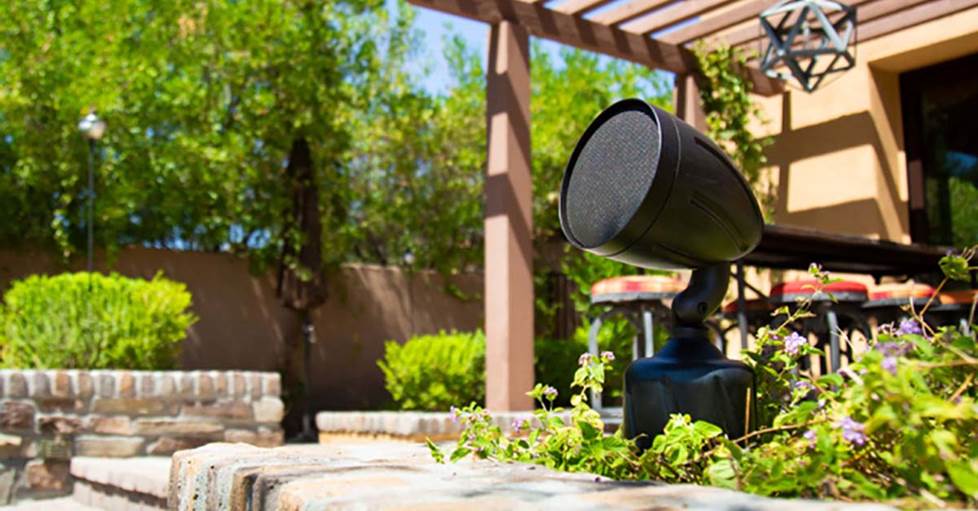 Best landscape speaker — Rockustics Cherry Bomb
It's not easy to pick one favorite landscape speaker, because they come in so many different form factors, depending on where you plan to place them. I chose the Rockustics Cherry Bomb because it's so darn efficient. The single weatherproof, burial-rated enclosure includes a woofer, a tweeter, and even a built-in subwoofer — it's an all-in-one solution for the full range of sound.
Having all of the drivers in one enclosure eliminates phase issues that can arise when you're using multiple separate speakers to handle bass, mids, and highs.
And the Cherry Bomb is versatile enough for business or home use. It features a built-in 64-watt transformer for use with a commercial sound system, plus an 8-ohm bypass for compatibility with standard home amps and receivers.
Details
full-range speaker in a partial-burial outdoor enclosure
5" dual-chamber band-pass subwoofer
4" long-throw polyethylene midrange woofer
3/4" titanium dome tweeter
maximum program power: 100 watts
frequency response: 42-22,000 Hz
pan and tilt angle adjustments let you aim sound where it's needed most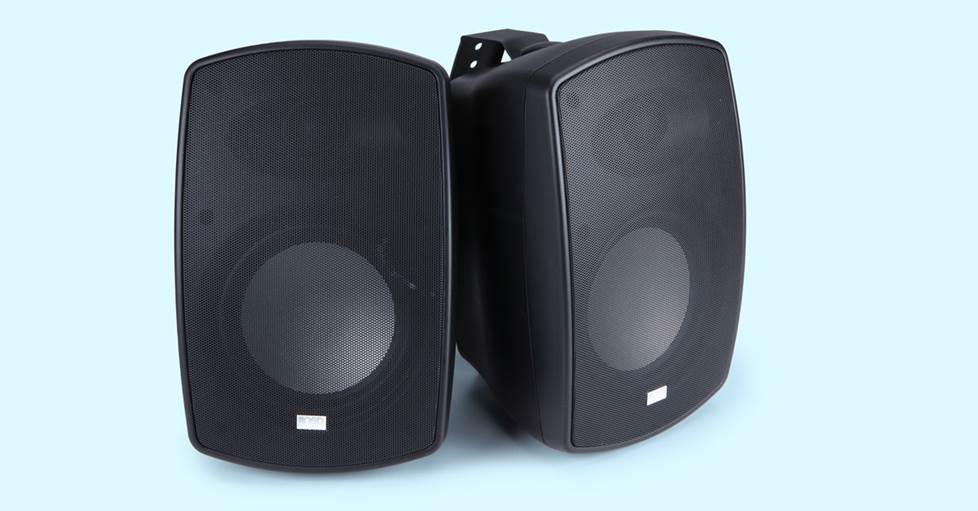 Best outdoor Bluetooth speaker — OSD BTP-650
Most outdoor speakers require a wire run to an indoor amplifier. That definitely allows them to get more power, but we still field plenty of requests for convenient on-wall Bluetooth-enabled speakers for simple outdoor fun. These compact, self-powered OSD BTP-650 speakers fill that bill, and they've become an instant hit with our customers.
If you've always made do with a portable handheld Bluetooth speaker for BBQs and parties, these speakers can take your backyard entertainment game to a whole new level.
Details
one active speaker and one passive speaker
passive speaker connects to active speaker with included speaker wire
included power supply provides power to active speaker
IP54-rated all-weather housing
built-in Bluetooth for wireless music streaming
approximate Bluetooth range: up to 50 feet
full-motion mounting brackets included for easy vertical or horizontal installation
1" silk dome tweeter
6-1/2" polypropylene woofer
frequency response: 32-20,000 Hz (±10 dB)
rust-proof aluminum speaker grilles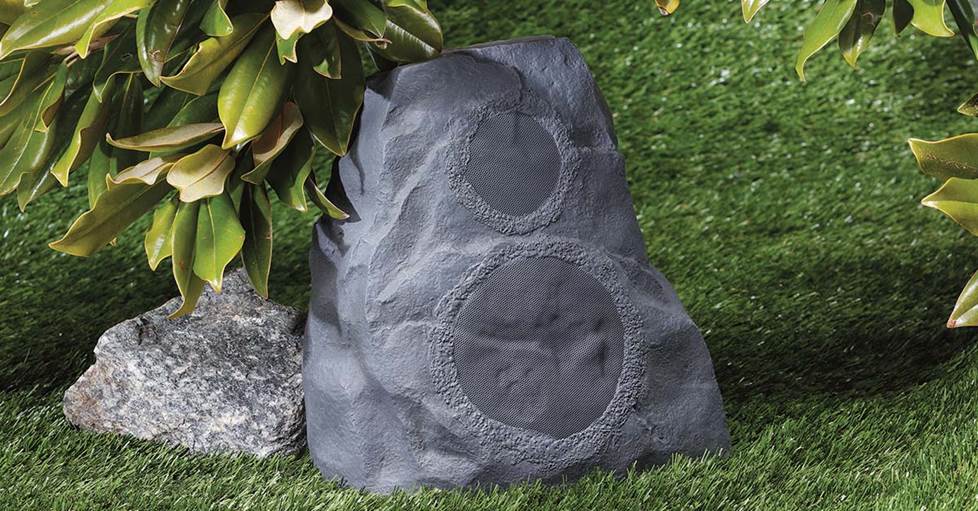 Best outdoor rock speaker — Klipsch AWR-650-SM
Rock speakers are such a cool idea — they blend into your landscaping so you can enjoy how great they sound without worrying about how they look. The Klipsch AWR-650-SM is another speaker we've been carrying for more than a decade, and it only seems to be gaining in popularity. It comes in a couple of different colors so you can match it to your garden's visual vibe.
We know customers love this speaker for the way it looks and sounds, but several have mentioned that the included 5-year warranty gives them some additional peace of mind.
Details
bass reflex (ported) design
frequency response 66-20,000 Hz (±3dB)
handles up to 50 watts
sensitivity 94 dB
impedance: 8 ohms per channel
two 3/4" dome tweeters
6-1/2" dual voice coil woofer
rust-proof aluminum grilles
3-foot pre-attached speaker cable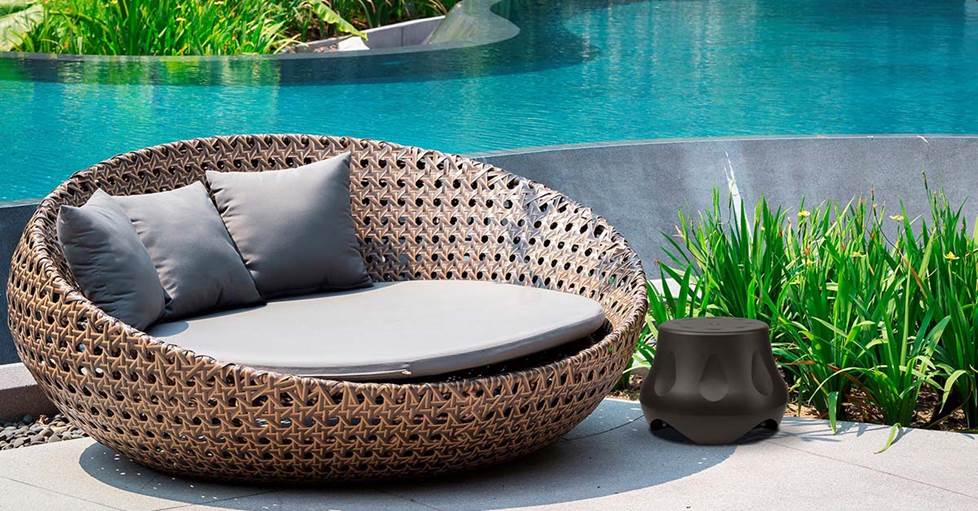 Best outdoor subwoofer — OSD Forza-10
Outdoor subwoofers come in many different shapes and sizes, so you should choose the one that suits your space the best. I've always liked the form factor of the OSD Forza-10, which not only looks like a nice piece of patio furniture, but can actually function that way if you don't mind your drinks getting a little extra mixing from the deep bass vibrations it produces.
I like its classy-looking antique bronze finish, too. And there's an eybolt on the bottom that lets you tether it securely, so you can leave it outside and not worry that it will "get up and walk away."
Details
10" polypropylene cone woofer in weatherproof enclosure
frequency response: 50-300 Hz
power handling: up to 300 watts
nominal impedance: 4 ohms
sensitivity: 86 dB
attractive antique bronze finish
IP66 weatherproof rating
built-in anti-theft eyebolt
14" speaker cable included
passive design makes an ideal match for OSD's SMP300 subwoofer amplifier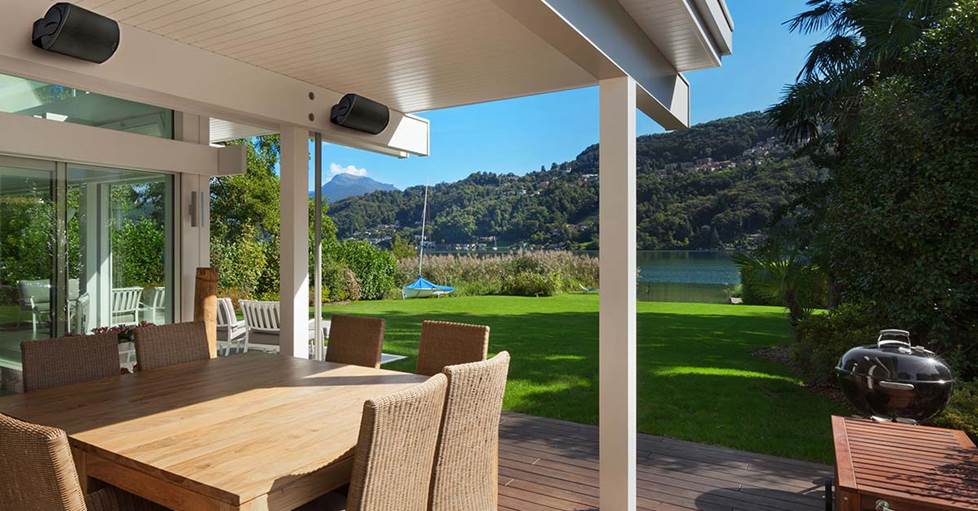 Best stereo input outdoor speaker — Polk Audio Atrium8 SDI
It's pretty common for outdoor speakers to be set up in stereo pairs, with one playing just the left channel of your music, and another playing just the right channel. But what if you can't mount the pair an equal distance from your listening area and the left/right information gets out of phase and sounds weird? Or you need three speakers to cover the space well?
In those scenarios, a stereo input speaker like the Polk Audio Atrium8 SDI really shines. It has dual tweeters, so it can play left and right channels from a single speaker, and make your tunes sound just right.
It's important to note that the stereo input feature is selectable. You can start out with a pair in a traditional stereo mode, then flip a switch if you decide to expand the system later.
Details
all-weather enclosure
one 6-1/2" woofer
two 1" aluminum dome tweeters
tweeter placement is designed for better stereo separation in single-speaker setups
PowerPort® technology for better bass response
frequency response 45-27,000 Hz
sensitivity 91 dB
impedance: 8-ohm stereo (dual-input) or 4-ohm mono (single-input)
handles up to 125 watts per channel
includes mounting hardware
Need help choosing?
If you've narrowed down your options, but need a little help deciding between a couple of strong contenders, we're here to help. Contact us, and we'll make sure you end up with everything you need.
Popular questions customers ask
Outdoor speakers are built to handle repeated exposure to all kinds of weather. But even if you could, you wouldn't want to submerge them in water. And you might get longer life out of surface-mount speakers if you can install them under your eaves.
That depends on the size of your outdoor space and the size of your speakers — and your amplifier power. You can fill a small yard or patio with sound using a pair of speakers with 5.25" woofers, but a larger space might need a quad of speakers with 6" or 8" woofers.
Outdoor speakers come in all kinds of shapes and sizes. You can get more traditional-looking speakers, plus speakers that look like rocks, or even a planter speaker that you can really plant stuff in. There are also hanging outdoor pendant speakers as well as above-ground and in-ground outdoor subwoofers.
Most outdoor speakers connect to your receiver or amplifier just like indoor passive speakers with speaker wire — you'll need direct-burial-rated wire, and even then we recommend running it in conduit. We also carry some powered Bluetooth outdoor speakers that need to be plugged into AC power.