How do you get decent bass in a small vehicle without taking up most of your precious cargo space? Two solutions have become increasingly popular in the last few years: vehicle-specific enclosures and shallow-mount subs.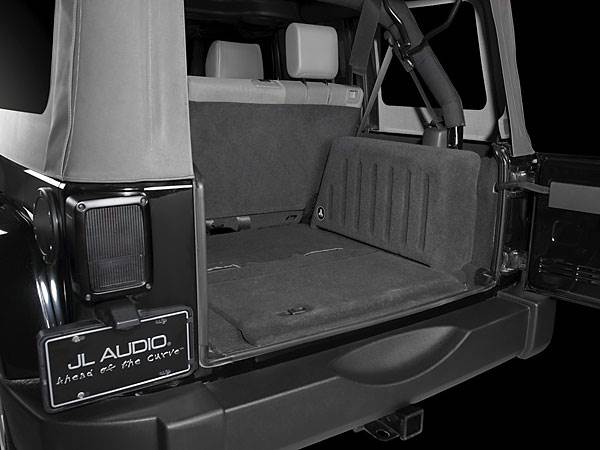 Custom-fit subwoofer enclosures for your car
JL Audio, for example, makes a Stealthbox® enclosure for the Jeep Wrangler Unlimited that fits up against the passenger-side wheel well, housing a high-performance 13" sub that handles up to 600 watts. MTX has created a ThunderForm enclosure for the Ford Mustang that puts a 12" sub up against the wall on the passenger side of the trunk.
Some vehicle-specific enclosures even come with a built-in amp, so you get space-saving, all-in-one bass solution. You'll find these enclosures available for a wide range of vehicles, including some unexpected rides, like the Smart fortwo, Mini Cooper, and Scion xB.
[Shop for custom-fit subwoofers]
Shallow-mount subwoofers
For bass heads who are handy with tools, the shallow-mount sub opens up a whole new world of possibilities. For instance, the Kicker L7T 10" sub handles up to 500 watts RMS, yet its unusual design keeps its top-mount depth to less than 3-3/4" inches. That means an inventive box builder could construct an enclosure that would house this sub under the rear seat of many compact automobiles, and get monster bass with no loss of cargo area.
[Shop for shallow-mount subwoofers]
Subs in your car, not in the trunk
Another cool option: you may be able to fit two smaller shallow-mount subs in your rear speaker openings if you're willing to make some modifications, like cutting a little bit of metal or building some brackets. For example, you might be able to fit 8" subs in the 6-1/2" openings in the rear of your vehicle.
The Pioneer TS-A2000LD2 8" sub is only a little over 2-1/2" deep, handles up to 250 watts, and works in "free-air" applications, which means it doesn't need an enclosure. You'll have to make a couple of adapters out of wood or plastic that allow the 8" sub to fit into the 6-1/2" hole by lifting it up a little, and you'll want to use a lot of Dynamat on the relatively thin metal around the speaker openings.
You won't get the earth-moving low-end boom that you'd get from a couple of 12" subs, but you will get strong, powerful bass and you won't take up any cargo space in your car. If you don't want to modify your 6-1/2" speaker openings, Kicker's CompRT 6-3/4" subwoofer will drop right in most cars; it handles up to 150 watts, it's only 2-3/4" deep, and it's also suitable for free-air use.
So, don't worry: you can downsize your vehicle and still satisfy your jones for great bass. And if you need any advice for finding a way to add bass without taking up a lot of space, contact our Advisors. They're full of great ideas!