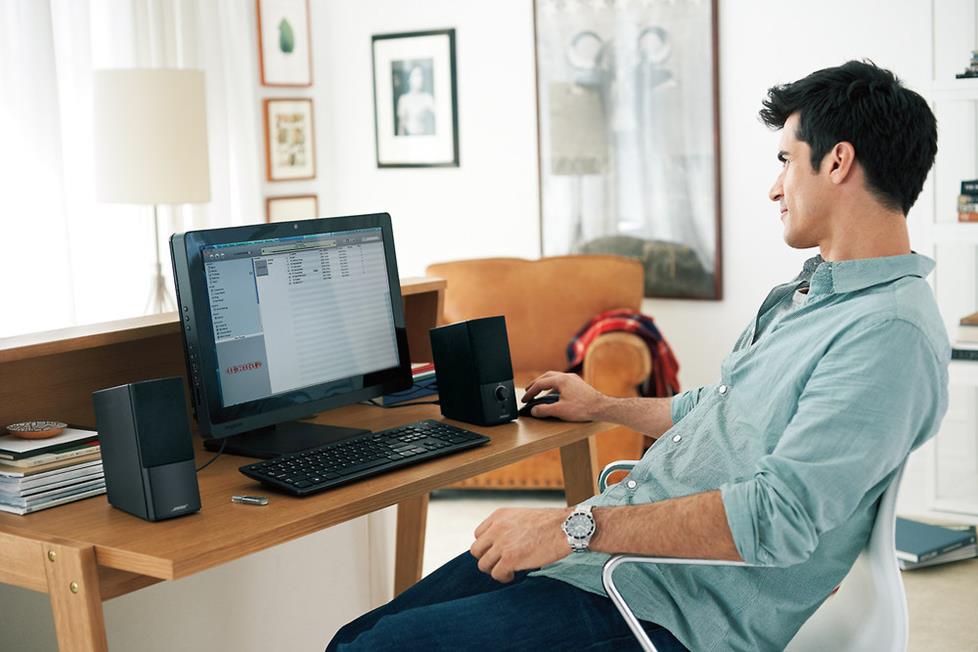 The Bose® Companion® 2 Series III speaker system produces enhanced sound at your connected workstation.
I don't often use my desktop computer at home anymore. Instead, our family laptops, tablets, and smartphones carry the weight of our browsing and working these days.
But there's one place where those portables simply can't perform as well as my old desktop: audio. A decent pair of external speakers can make listening a pleasant experience – something I really can't say for the tiny internal speakers on our laptops and smart devices.
Portable and deceptively powerful
That's why I was eager to give the Bose® Companion® 2 Series III multimedia speaker system a try. They provided an instant upgrade for my fixed desktop station in my home office, and their portability and power made them easy to hook up to my laptop. Plus, an additional 3.5mm minijack stereo input made it easy to plug in my smartphone or tablet for a quick injection from my music library.
In fact, pretty much anywhere you'll be perching to do some work on a connected device is a perfect place to have a set of these speakers. Their footprint is small, but they're thoughtfully constructed for near-field listening, angled so that their sound travels to create a sweet spot around your head.
Good for words and music
I first plugged the Companion® 2 Series III's into my work laptop while working at home, and chose a YouTube file of The Yes Album for background listening while working. I was struck by the fact that the bass was a lot fuller than I would normally expect for a pair of personal computer speakers, and that the first impression was one of rounded warmth. The first word that came to mind was "friendly."
The overall sound was pleasing and easy to listen to, with a solid stereo image and a surprising amount of volume available from the large control knob on the right speaker. A stereo minijack headphone output resides below the knob for those times when you need to keep your listening private.
Later, I took some time to watch one of my favorite writers deliver a TED talk on YouTube, and once again, I was very satisfied with the audio — crisp and clear, without any straining on my part to discern consonants or sibilant sounds.
Put a pair anywhere you like to sit and work
I wouldn't call listening to these speakers an audiophile experience, that's not their intention. Instead, the aim is simply to provide an enhanced listening experience from devices that are typically equipped with marginal built-in speakers. They're a dependable and pleasing bang for the buck.
They'll be a great addition to any home office, garage, recreation room, or wherever you find yourself spending time with your computer, tablet, or laptop. They run off AC power, and three wired connections are all it takes to get you going.