How to build a killer desktop audio system
3 ways to create a high-quality stereo music system at your desk
work remotely most of the time, which means a good portion of my day is spent in my home office, writing copy or editing photos. As much as I enjoy both activities, parking myself at my desk for long stretches of time requires a great deal of focus.
Sure, I could drink more coffee to stay clear-minded (and often do!). But more than anything, my attention-sharpening elixir of choice is music. Letting my imagination intertwine with what I'm hearing allows me to express myself far more vividly than if I'm working in a quiet room. It's a completely different creative experience.
This article was born out of my desire to help you get the most out of your desk time. Let's look at three ways you can enjoy great sound while you work. Have questions as you're reading? Leave me a comment below, or give one of our friendly advisors a shout.
Listening to music allows me to focus my creative energy while working.
1. Powered computer speakers are simple and effective
Over the years I've bought tons of different computer speakers. One of my favorites happens to be quite modest in price. The Bose® Companion® 2 Series III speakers are slender, yet offer clear, crisp sound that adds depth and texture to music.
These speakers are ideal if you have a small desk since they take up precious little space. Simply connect them to your computer's headphone jack, plug them into the wall for power, and you're ready to rock.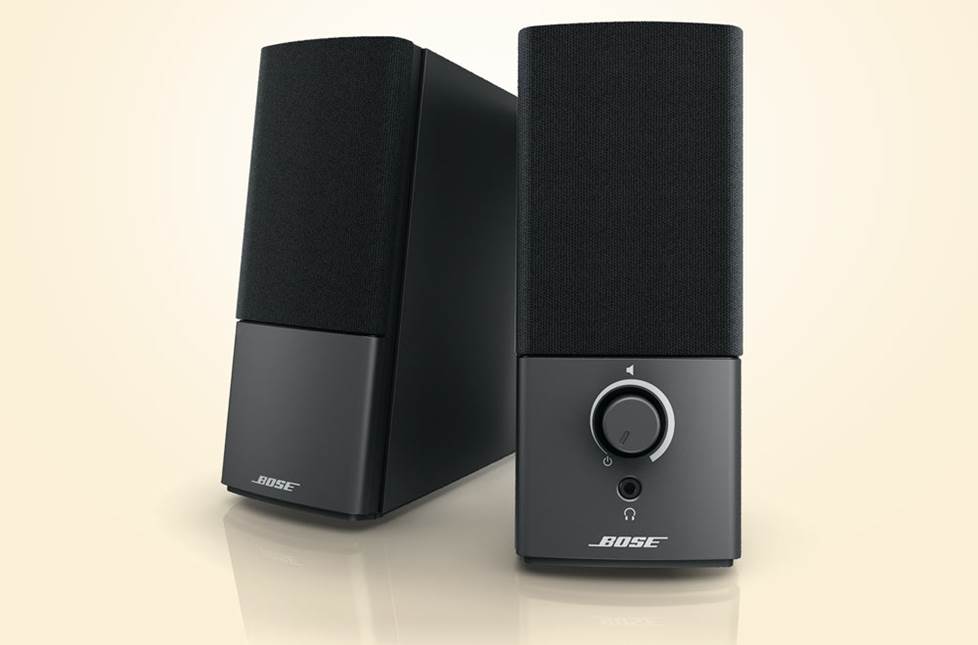 The Bose® Companion® 2 Series III are a great way to improve your listening experience without spending a lot of money.
Enjoy better volume and deeper bass
If you want to step things up a notch, consider a pair of Audioengine A5+ bookshelf speakers. These powered speakers offer huge sound with tight, punchy bass and exceptionally clear highs. I love them for a home office where you can crank 'em up without bothering anyone around you.
To get the best sound out of your speakers, space them apart so that they form an equal-sided triangle with you. Then, angle them inward so that they fire directly toward you. This creates a tightly focused audio "sweet spot" that makes music — especially live performances — sound incredible.
If you go with the A5+s, I highly recommend buying the matching desktop stands, which decouple the speakers from your desk to reduce vibrations. They also angle the speakers upward, directing high frequencies toward your ears for a better listening experience.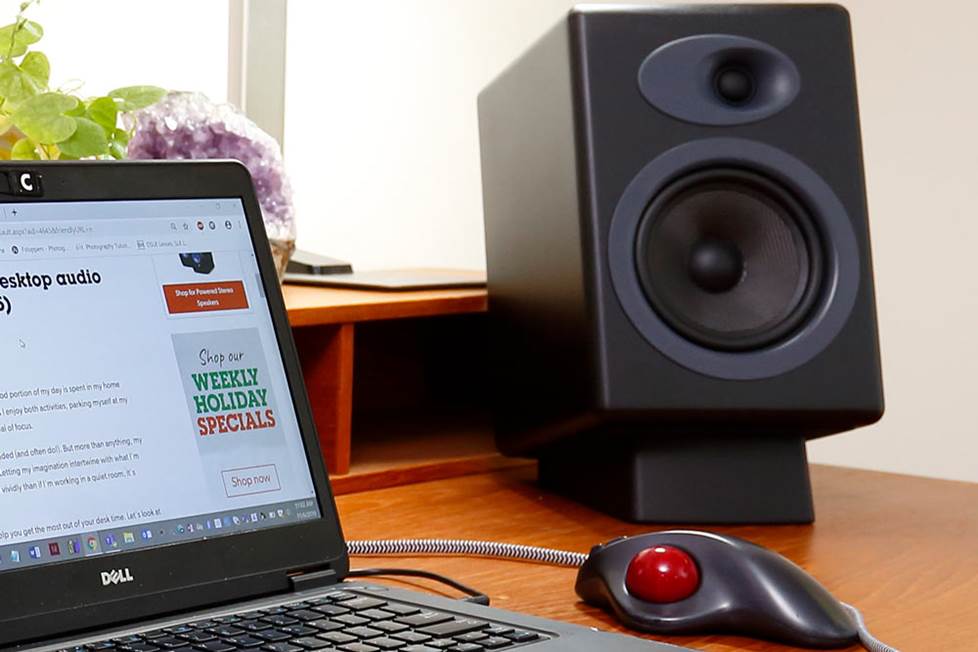 If you have the space, the Audioengine A5+s are a terrific choice for a desktop audio system. Pick up the matching stands to angle the tweeters up toward your ears.
2. Use an external amplifier with traditional speakers
It's a wonderful time for the world of desktop audio, thanks to compact amplifiers that sound sweet but don't require gobs of real estate.
Take this really cool vertical amp from NAD, for example. The D 3020 V2 lets you drive a pair of bookshelf or in-wall speakers, which frees up space for that awesome laser clock you keep on your desk. You can even stream music from your phone or computer through Bluetooth®.
Another great option is the compact Denon CEOL RCD-N10. This all-in-one unit can power speakers, play CDs, stream music through Apple® AirPlay® 2 or Bluetooth, and even has an AM/FM tuner.
I recommend choosing an amp that has a subwoofer output, in case you want to expand your system with deeper bass down the road. If you want a hand matching up speakers and an amp, give us a shout!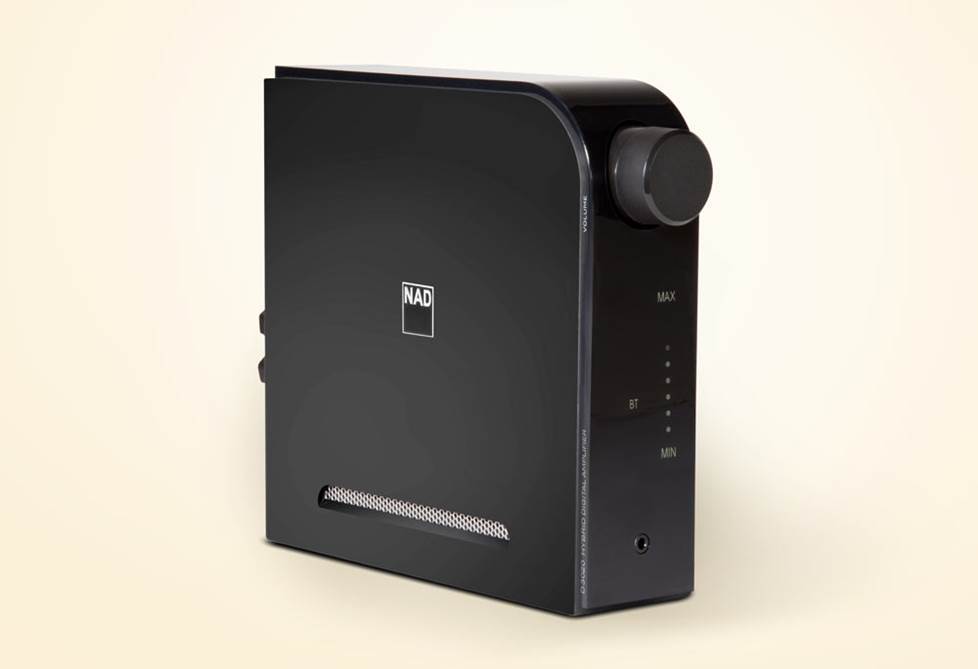 The compact, vertically oriented NAD D 3020 V2 is packed with features, but is only a fraction of the size of a traditional amplifier.
Improve the sound of any computer speaker system
No matter which type of system you choose, an easy way to improve your playback quality is to use an external DAC (digital-to-analog converter). This bypasses your computer's soundcard for improved audio processing and reduced noise.
My favorite by a country mile is the AudioQuest Dragonfly. It's the size of a pack of gum, and is super easy to connect and use. It also doubles as a pretty sweet headphone amplifier that you can use with your phone.
The Audioquest Dragonfly plugs into an open USB port, and bypasses your computer's sound card for improved audio fidelity.
3. Can't listen loud? Rock headphones instead
I'm currently at my desk at Crutchfield's headquarters. And since I can't jam out here the way I do at home, I'm rocking my Bose QuietComfort® 35 noise-cancelling headphones.
I'd be lost without these things. Not only do they block out any semblance of noise, but they let me stay laser-focused while I'm working. So if traditional speakers aren't suitable for your work environment, I highly recommend buying a good pair of on-ear or over-the-ear headphones.
If you work in a noisy environment, consider a pair that has noise cancelation. My friend Jeff's headphones buying guide offers a comprehensive look at choosing the right pair for you.
Get the most out of your wired headphones
One big benefit to traditional wired 'phones is the ability to drive them with a headphone amplifier to get the best performance. Thanks to a much larger power supply, you'll enjoy better bass, a wider dynamic range, and tighter control versus plugging directly into your phone or laptop.
Just like with stereo amps, headphone amplifiers range from compact units to huge, high-current models that drive even the most power-thirsty headphones with ease. Many also have an onboard DAC for the best possible playback quality.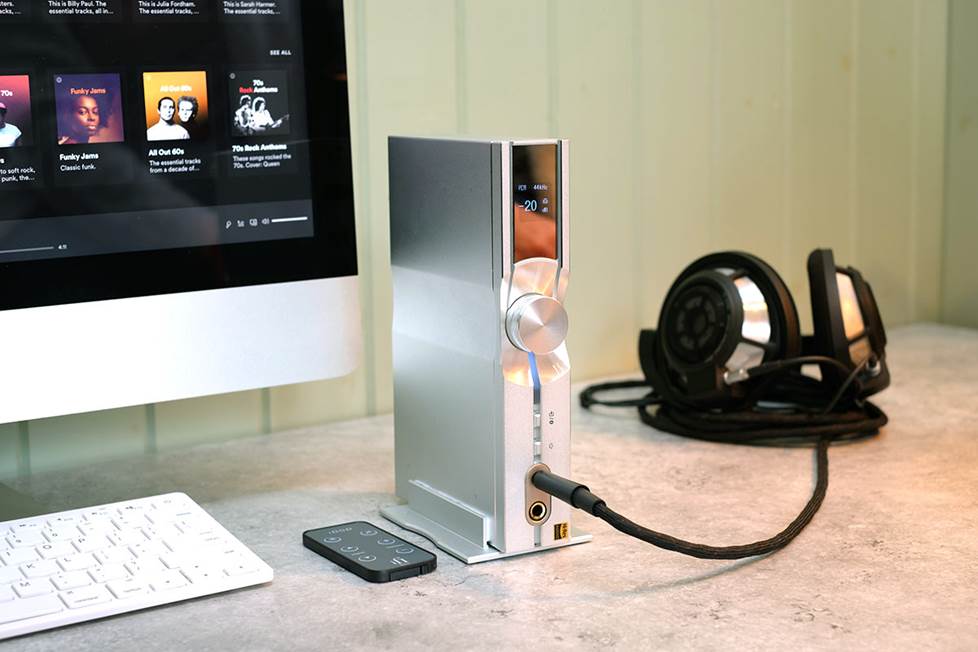 Headphone amplifiers, like the iFi Neo iDSD shown here, offer super-clean, high-quality power for wired headphones.
Need help choosing?
We have a team of experts who would love to help you find the right pair of headphones or speakers for your desktop system. Give one of them a shout today!
Free lifetime tech support is included with your Crutchfield purchase.