s a music lover, I'm always down to listen to some high-end audio gear. When I found out we were getting a new integrated amp AND I would get to write about it, I knew I had to try it out.
I was super-excited to experience the LEAK Stereo 230 in our Vendor Training Room at our Southwest Virgina facility in Norton. But first, I couldn't resist taking it home for a test drive. Check out the tech and ride along with me as I explore what this amazing amp can do.
Classic look and contemporary sound — now with more power
The British company LEAK Audio recently made a splash with their return to the audiophile world with the LEAK Stereo 130. The LEAK 230 builds on that debut by adding more power and an HDMI connection.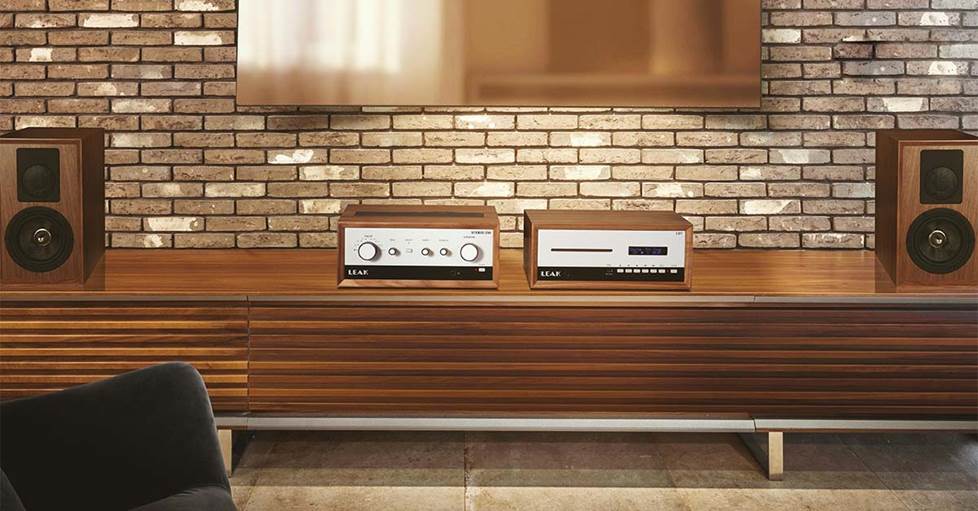 The Stereo 230 delivers 75 watts of clean power per channel for driving a pair of speakers — it pairs particularly well with LEAK's sibling brand Wharfedale.
Of course, the vintage good looks are still there, from the Art Deco-inspired logo to the chunky volume and source knobs. That attractive exterior houses carefully designed, modern hi-fi circuitry that makes your analog and digital sources sound great.
Connections for your components
The Stereo 230 has a superb ESS Technology 32-bit Reference DAC inside that makes digital sources sound their best. There's an HDMI ARC port to connect your TV, enabling you to use smart TV apps to stream music. One coaxial and one optical digital input let you connect a CD player or similar sources, and a USB Type-B input lets you connect a computer. Built-in Bluetooth with high-quality streaming gives you convenient playback from your phone, tablet, or computer.
Plenty of connections for audio gear, plus HDMI for your TV.
Analog music fans have plenty to work with, too. There are two sets of auxiliary RCA inputs, and a dedicated phono stage for connecting a turntable with a moving magnet cartridge. A single set of RCA preamp outputs let you upgrade to a more powerful amp while still using the Stereo 230's preamp and DAC. And if you like to listen privately while working, there's a 1/4" headphone jack on the front panel.
Unboxing
The unboxing experience is luxurious. The moment I pulled the (quite hefty) amp out of the box, I got a whiff of newly sawn wood from the walnut finish. Even the user manual felt like a work of art, being printed on a thick, parchment-like paper with a muted brown typeface.
My home test rig
For a worthy audio source, I had the matching LEAK CDT on loan — it's a CD "transport" that relies on the integrated amplifier's internal high-quality DAC. I connected my Klipsch Heresy III speakers, along with my SVS PB-2000 Pro subwoofer. Then I grabbed my CDs, and it was off to the races!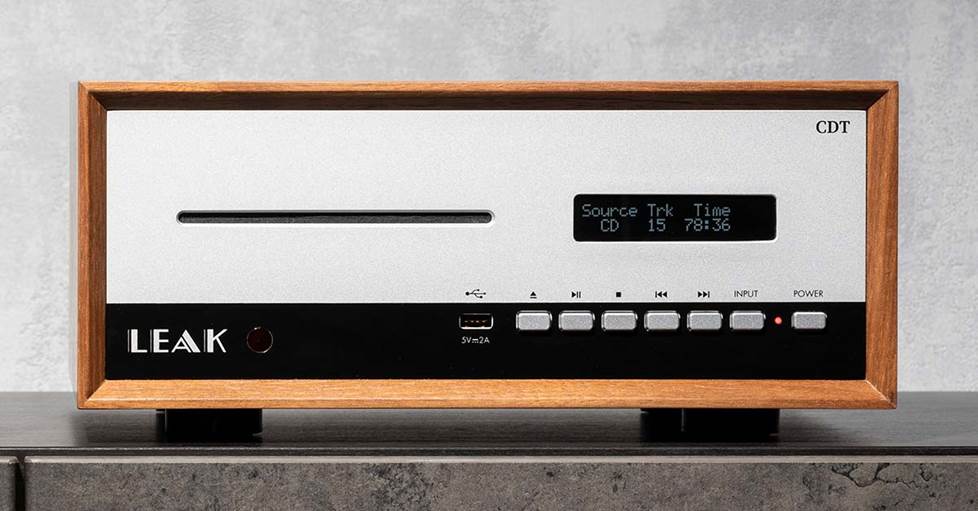 The LEAK CDT delivers a pure digital signal to the Stereo 230's outstanding DAC.
A royal entrance
First up: Queen's Greatest Hits, 1981 edition. Now, Freddie Mercury never hit an incorrect note in his life, and the LEAK system gave him the soundstage he deserved. Not only that, every lick of Roger Taylor's drum kit was crisp and clean, from the shimmer of the cymbals to the thump of the bass drum. Brian May's guitar growled throughout the arrangements, and John Deacon's bass thrummed in the background, ever-present. Every bit of instrumentation was just as clear as Freddie's operatic delivery.
Bluetooth on the side
Switching to Bluetooth, one of my go-to TIDAL albums that I use as a reference with new equipment, Pink Floyd's Momentary Lapse of Reason. The creak of the boat and the lapping of gentle waves at the beginning of "Signs of Life" brought in the swelling synths that always give me chills on audiophile equipment. The Stereo 230 did not disappoint.
A demo at Crutchfield's Southwest Virginia facility
When I moved the Stereo 230 and CDT to our Vendor Training Room, I was excited to connect the Wharfedale EVO4.3 floor-standing speakers. The walnut finish of the Stereo 230 and the matching finish of the EVO4.3s gave me a wave of nostalgia, taking me back to the 1970s, standing in my grandmother's wood-paneled living room in front of the giant console stereo (complete with 8-track tape player and turntable).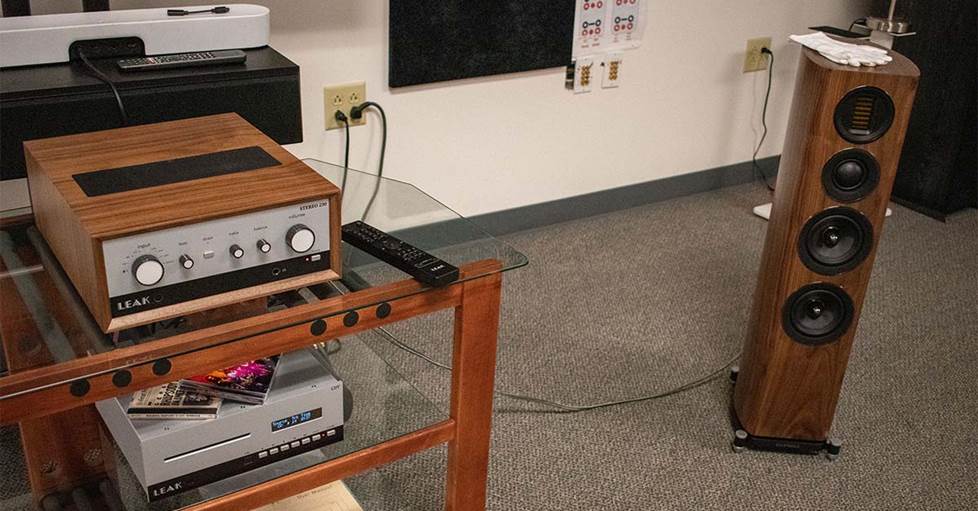 The Leak/Wharfedale demo set up and rollin' in Norton.
After connecting the speakers and the SVS SB16-Ultra, I eagerly popped in one of my favorite CDs, the Alice in Chains performance on MTV Unplugged. The Stereo 230 and the EVO4.3s teamed up beautifully, as the warmth and intimacy of this performance were immediately apparent. Stereo imaging was excellent, and I could imagine the position of each of the musicians on stage. Crutchfield Advisor Gigi commented that the sound was very clean, an accurate assessment, with no audible background noise coming from the amp.
A symphonic soundstage
To give a little variety to the demo, I had a CD of my favorite orchestral score, George Gershwin's Rhapsody in Blue as performed by the Columbia Symphony with Leonard Bernstein playing the piano and conducting. From the slinky opening notes of the clarinet to the closing crash of cymbals, this piece was a treat to listen to on the LEAK amp and CDT. Every note was cleanly rendered, and when the piano led into a swelling string arrangement, the hairs on the back of my head stood up — ASMR, indeed!
At this point, I couldn't resist streaming Pink Floyd over Bluetooth again. I cued up Momentary Lapse of Reason from Tidal once more, but this time the size of the room allowed the music to "breathe" in a way my cramped living room had not, and the EVO4.3s softened the highs in a pleasant way.
Movies, anyone?
A gorgeous OLED TV deserves gorgeous sound with it. I tested the HDMI ARC port on the amplifier with the Sony XBR-65A8F and pulled up the Netflix app on the TV. I wanted something with action to see how the dialogue meshed with the sound effects. I decided King Kong would be appropriate and checked out different scenes. Dialogue was clean and detailed, and it wasn't overpowered by the action. It was cool to hear the rumble of the ship engines lending ambiance to the feel of the movie. Once again, stereo imaging was impressive as the audio moved from one speaker to the other, mirroring events on the screen.
Final thoughts
It was a joy to experience the LEAK Stereo 230. If you're looking for outstanding sound for a dedicated two-channel system, this would be a fine addition to your collection!
Details:
75 watts x 2 channels into 8 ohms
115 watts x 2 channels into 4 ohms
powerful, efficient Class AB amplification
total harmonic distortion: 0.003% (30 watts, into 8 ohms)
signal-to-noise ratio: 109dB
built-in Bluetooth® with aptX and aptX LL audio coding for a better-sounding connection to compatible devices
built-in phono stage for turntables with moving magnet cartridges
premium ESS Sabre32 Reference ES9038Q2M DAC supports high-res digital files up to 32-bit/768kHz
Need more help? Contact us!
Have questions about the LEAK gear or Wharfedale speakers? Contact us today.
Our expert Advisors know audio inside and out. Your Advisor can send specific Crutchfield pages to your screen, saving you a lot of browsing time. You'll get a shopping cart loaded up with everything you need.
Free lifetime tech support is included with your Crutchfield purchase.