New audio system in Wendy's 2013 Jeep Wrangler
This JK Jeep gets a Crutchfield-style makeover
Wendy's 2013 Jeep Wrangler is an awesome off-road vehicle, but the stock stereo was muddy – and not in the good way. With help from our expert installers, this JK got an audio upgrade that really rocks.
Bigger sound for "Lil' Buro"
When Wendy, one of our amazing admin assistants, bought a Jeep Wrangler Rubicon to beat the new empty-nester blues, she discovered the Jeep community...and found a new passion. The off-roading was great, but the factory sound system was just…off. Like most Crutchfield folks, Wendy knew that the stock stereo wasn't gonna cut it. So, with the help of our experts, she set out to design a sound system to help her "Li'l Buro" sing loud!
The gear installed in Wendy's Jeep
Wendy started with a simple speaker replacement. Then she chose some Jeep-specific gear for her upgrades and rounded out the system with a great amplifier and big powered sub.
Alpine Restyle i407-WRA-JK receiver for select '07 - '17 Jeeps
Alpine SPV-65X-WRA 6-1/2" speaker system for select Jeep Wrangler JKs
JBL DSP4086 8-channel car amplifier with digital signal processing
Rockford Fosgate Punch P300-12 12" powered subwoofer enclosure
Polk Audio DB 652 6-1/2" 2-way speakers
Polk speakers for clarity and volume
Not long after buying her Wrangler, Wendy upgraded the knee-panel speakers. She installed 6-1/2" Polk DB 652s because they're efficient enough to get the most out of the power they're fed. They're also marine rated, which is a must considering the heavy-duty off-roading she and her husband enjoy.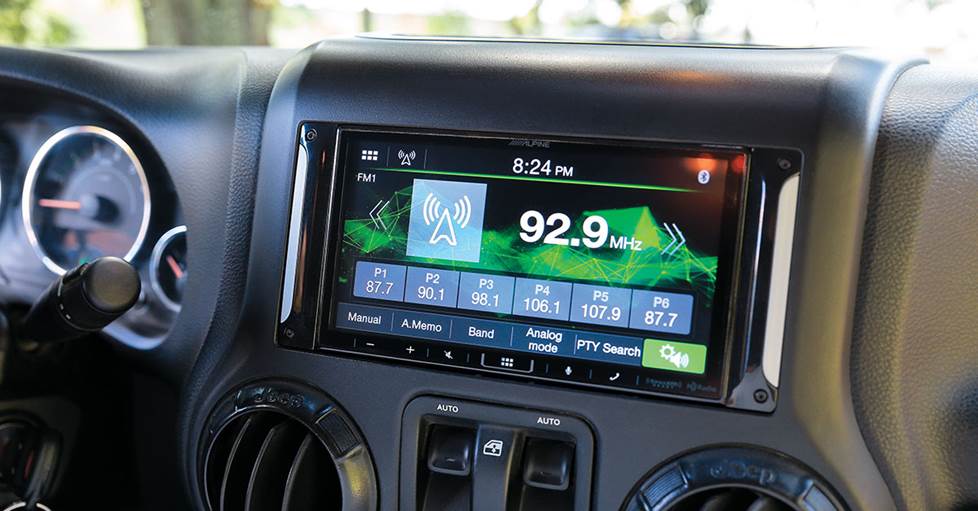 Alpine Restyle stereo looks right at home
Alpine's i407-WRA-JK is designed for Jeeps like Wendy's, so it was a perfect addition to her dash. It looks great, it sounds great, and it fits right in. "The sound quality is absolutely amazing," Wendy said. "Little sounds I couldn't hear before are now audible, and phone calls are crystal clear. The screen is easy to use and having Android Auto for my music is great!"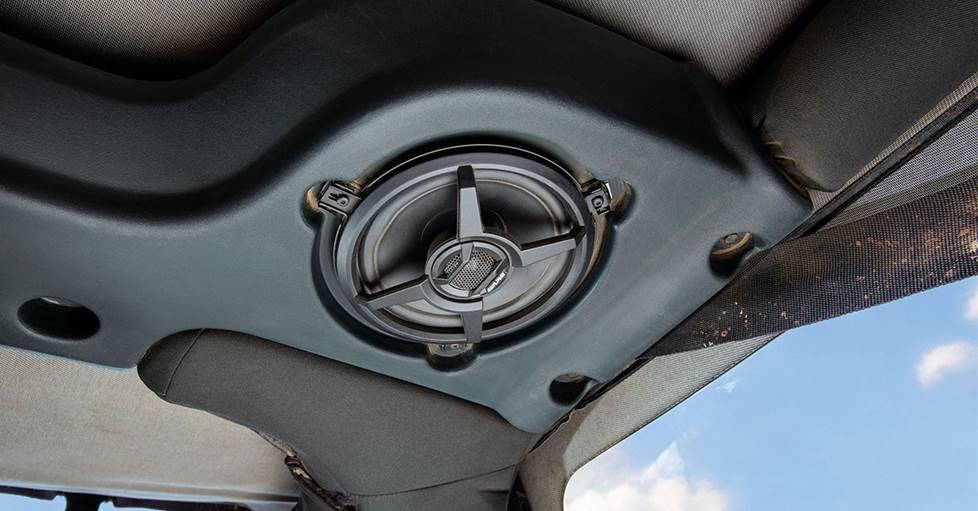 Custom-fit Alpine speakers in the roll bar
For the roll bar locations, Wendy went custom, with a set of Alpine SPV-65X-WRA 6-1/2" speakers that were also specifically designed for use in these Wranglers. "They actually blend so nicely with the other speakers. I get really great-sounding music all around me, even when I've got the doors and top off."
Added power for better sound
Sonic power is a must with vehicles like the Wrangler, and a nice helping of tone control doesn't hurt either. In Wendy's case, that meant powering her speakers with a JBL DSP4086 amplifier with a built-in digital signal processor. She gets all the volume she needs, plus dialed-in settings so it all sounds just right, even when she's out playing in the dirt.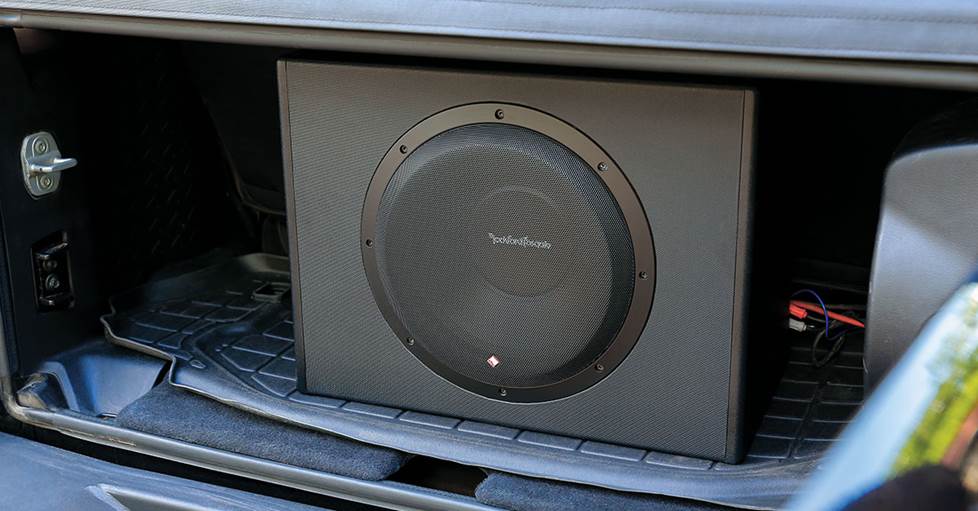 A powered sub provides big bass
Wendy really like to hear the bass in her music. "I do! When we have a Jeep-wash party after mudding, we gotta have the bass." And that thump is provided nicely by a 12" Rockford Fosgate Punch P300 powered subwoofer. This 12" sub delivers tons of output, but it's also slim enough to fit right behind the Jeep's back seat.
What we learned
Jeep Wrangler owners are a passionate bunch, and many of them start modifying their Wranglers as soon as they get home from the dealership. There's a tremendous amount of aftermarket support for these vehicles, and that includes audio gear. The custom-designed receiver and speakers in Wendy's Wrangler are just two of the many Jeep-centric products we sell.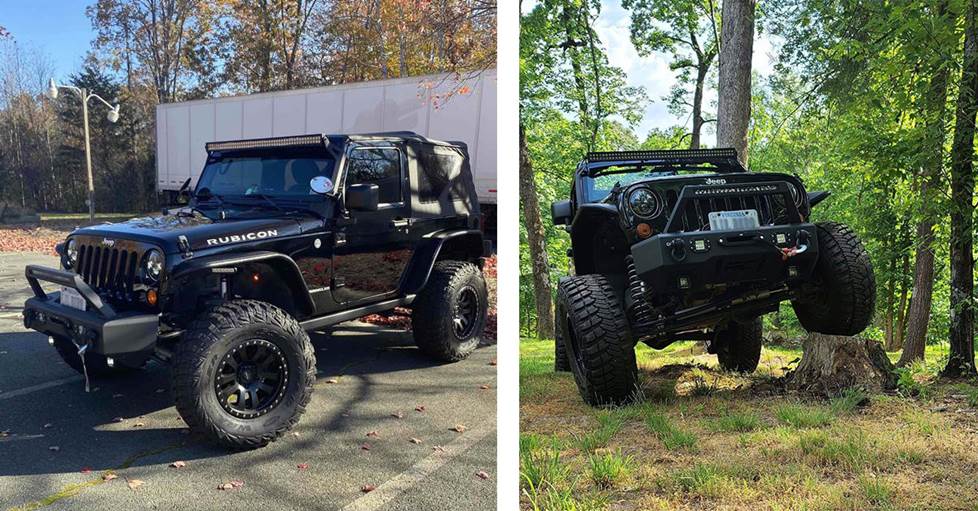 Check out the podcast!
Did you know Crutchfield has a podcast? Well, we do, it's terrific, and this episode goes into further detail about Wendy's Jeep and the system she designed and all the fun she with her Jeep.
Let's get started!
Ready to shop? Use our vehicle selector to find the gear that will fit your car or truck. If you have questions of your own, give us a shout via phone or chat.
---
To read more stories about car audio installations, check out our Custom Car Showroom. You'll find more of our own installations plus stories submitted by customers and fans, edited by Crutchfield writing staff.
Last updated 11/11/2022