A pontoon boat gets a serious stereo upgrade
This party barge is ready for summertime fun
In brief: Thinking about upgrading the stereo in your pontoon boat? This article gives you an inside look at a installation we did right here in our parking lot. The job had its challenges, but the results were absolutely amazing. Want to lean more? Read on....
We're big fans of pontoon boats around here. We like being outdoors, we like relaxing, we like hanging out with friends, and we like the water, so what could be better than a sunny afternoon on a party barge?
Well, definitely not a cold, gray afternoon (several, actually) upgrading the stereo gear on a party barge, but hey, it wasn't snowing (much), so there's that.
This Sylvan Mirage 8520 belongs to our friend Tim, and it's is a big part of his family's summertime fun. The stock stereo, however, was no fun at all, so he really wanted to get that fixed in time for boating season. Cold weather or not, we were happy to help.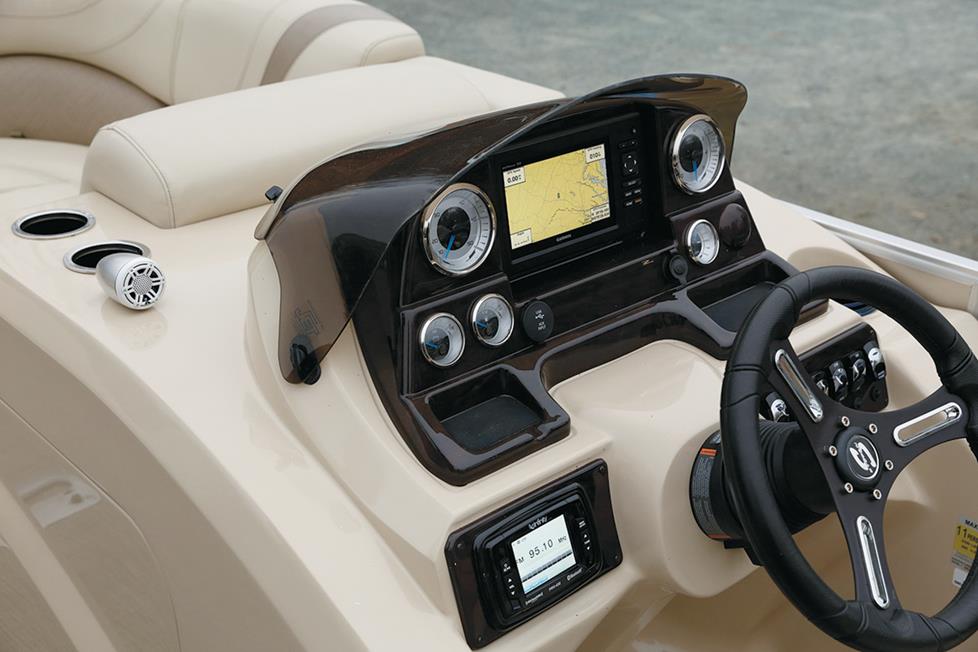 A new receiver and a pair of tweeters help the functionality and sound, while a chartplotter will come in handy when Tim's out fishing.
While this pontoon boat is a very impressive vessel in most respects, the stock sound system was definitely not getting the job done. The Infinity receiver was pretty nifty, but the speakers were small, weak, and mounted below the seats, so they sounded muffled and weird. Bringing this system up to our standards (and Tim's) took some work, but wow, were the results worth it. This pontoon boat is easily one of the most transformational, rewarding installations we've done in a while.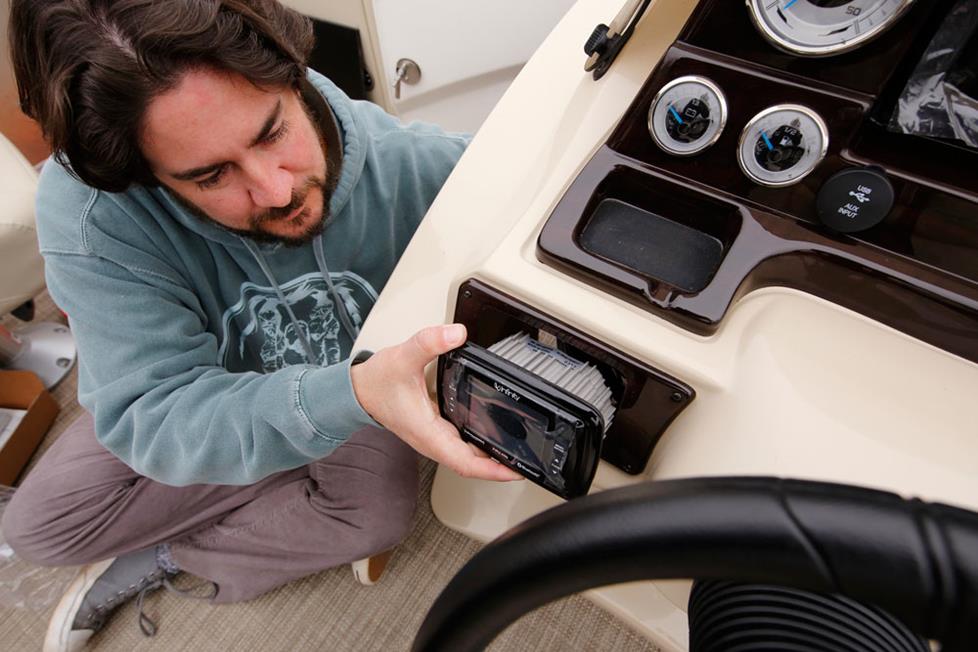 We needed more preamp outputs for the system, so we replaced the original Infinity receiver. The new one fit right into the stock opening.
Replacing the receiver
The stock receiver wasn't bad, but we needed a marine receiver with more functionality and more preamp outputs for this system. We chose Infinity's INFPRV450 digital media receiver because it has three sets of preamp outputs. We added an Infinity INFMC30 color wired remote that's mounted just below the rear swim deck.
With built-in Bluetooth connectivity®, Tim will be able to cue up music using his smartphone or a music player, which means there's no need for a bulky box of CDs. The INFPRV450 is also compatible with SiriusXM tuner (sold separately) and, while there isn't one on this boat, NMEA 2000 systems. Check out our informative article if you want to learn more about NMEA 2000.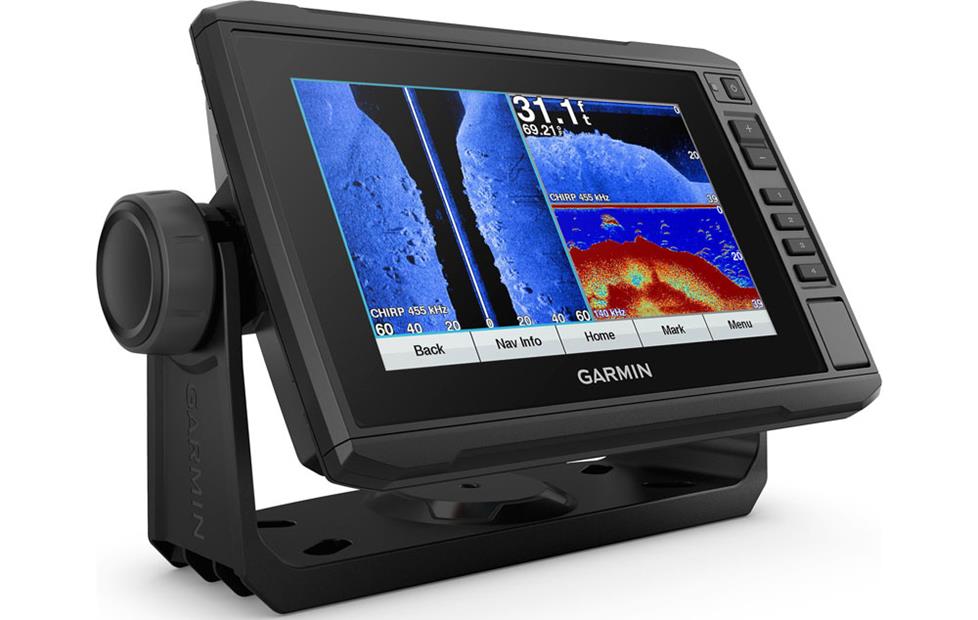 Chartplotters like this Garmin model can be mounted in or on your boat's dash
Adding a chartplotter for fishing days
Tim enjoys fishing when he takes his boat out on Virginia's Smith Mountain Lake, so we also installed a chartplotter. Garmin's echoMAP CHIRP 73sv provides a clear view of the fish, thanks to Garmin CHIRP SideVü and CHIRP ClearVü sonar. It comes preloaded with over 17,000 U.S. lakes, rivers and reservoirs, and it's also fully compatible with NMEA 2000 networks.
We had to create a space for the chartplotter in the console. Thankfully, the Sylvan had a very useful space in the center of the dash. We measured twice (always), used a template to draw the opening, then used a rotary tool to cut the opening into the dash plastic. We ran the transducer cable down the starboard side, along the top of the pontoon. The transducer itself was mounted on a factory bracket.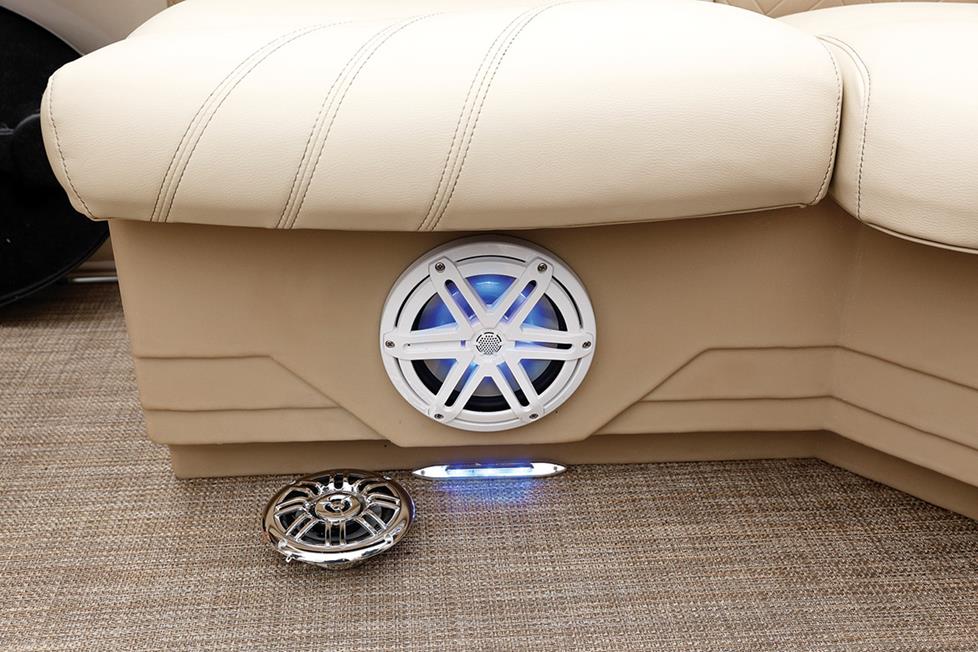 The old speakers (on the deck) were pretty weak. The new JL Audio speakers sound great and they also have built-in LED lighting.
Installing new main speakers
As we said earlier, the stock speaker situation was less than ideal. In fact, the helm was kind of an audio dead zone where only one speaker was actually audible. Bad sound is bad sound, especially when you're only hearing 25% of it.
We couldn't do much about the speaker locations, but we could install bigger, better marine speakers. We chose a quartet of 7.7" JL Audio full-range speakers, and they did the job quite nicely. We used a rotary tool to enlarge the openings, then lined the protective speaker covers inside the storage cubbies with sound deadening material. And, of course, we used plenty of marine-rated speaker wire.
Besides sounding awesome, these speakers also have built-in LED lighting that brightens up any nighttime cruise. The subtle blue glow really looks cool, and it's also helpful for people moving around the boat.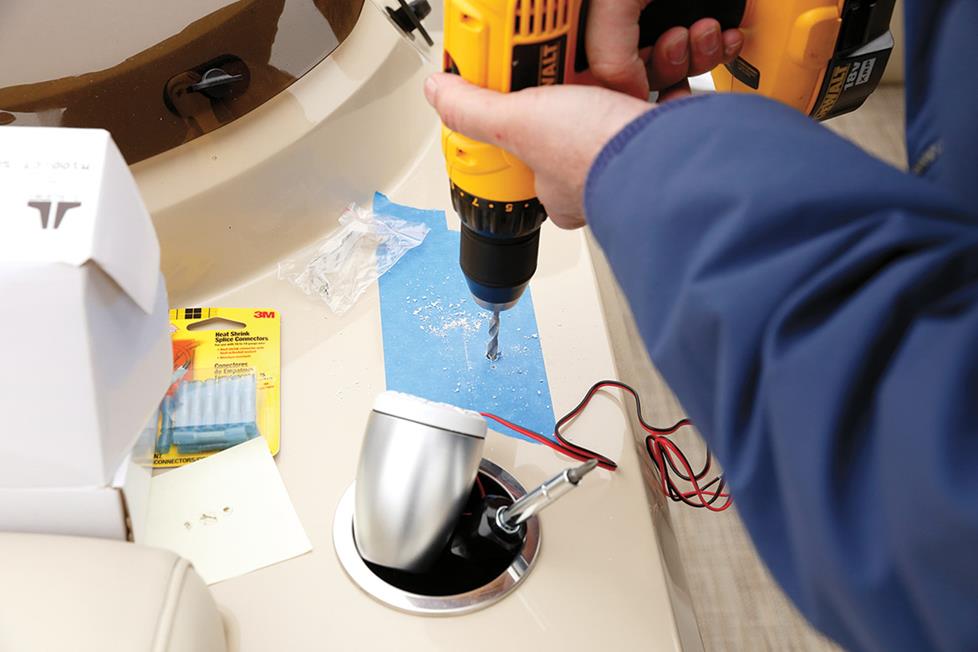 Tip: when drilling or cutting fiberglass, use painter's tape to help prevent splintering.
Raising the soundstage with a set of tweeters
The new speakers have enough power to overcome the dead zone, but they also have to compete with wind, water, and engine noise. We wanted to do more to make sure the captain got to enjoy some music, too.
A pair of 1" JL Audio marine tweeters mounted in sleek enclosures on either side of the cockpit brought the soundstage off the floor and handled the highs beautifully. Once we got the placement and the measurements just right, mounting them and wiring them to the amp (see below) was actually pretty easy. The improvement to the sound staging was seriously impressive.
These tweeters are out in the elements, but the marine-rated speaker design and the rugged enclosures will protect them from moisture and damage.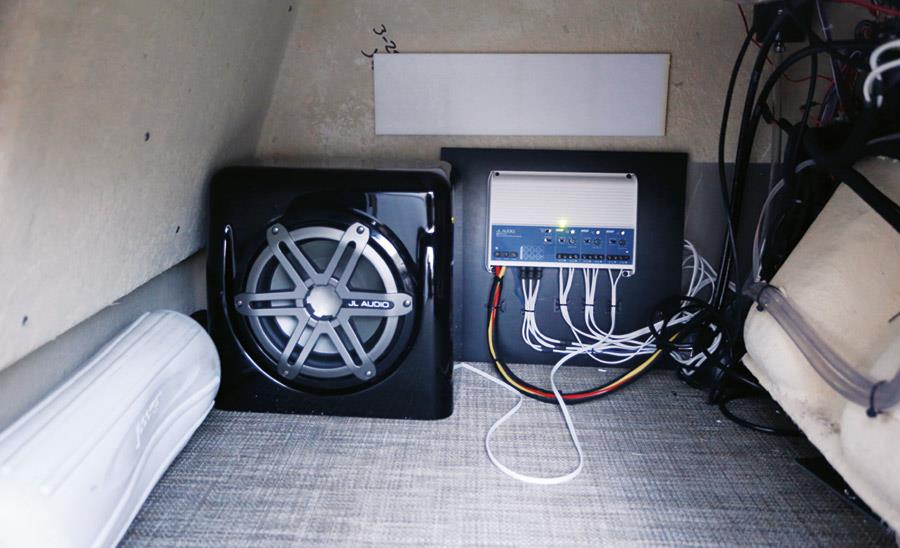 The Sylvan's storage cubby makes a great home for a 10" subwoofer and a 6-channel amplifier. There's plenty of space left for gear, too.
Boosting the bass with a subwoofer
This Sylvan features a spacious storage cubby beneath the helm, so we took full advantage and installed a 10" JL Audio marine subwoofer mounted in a waterproof fiberglass enclosure. The box is finished in a durable black gelcoat, while the 10" driver is designed to stand up to moisture and heat.
The subwoofer box is not drilled for speaker cable, which is actually a good thing, because it gives the installer a lot more flexibility for positioning the sub. Once you know where and how you want to install it, you can do the drilling, wiring, and sealing.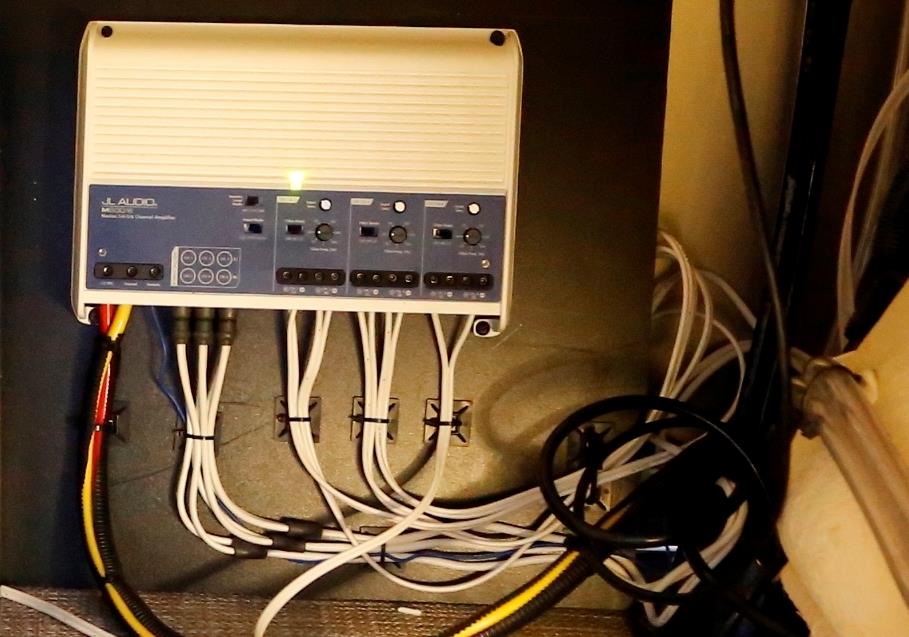 Peter came up with this neat and tidy amp installation. It looks terrific, and the marine-rated wiring will stand up to life on the water
Powering it all with a new amplifier
We powered this system with JL Audio's M600/6 marine amplifier, neatly mounted on a board that's also secured in the storage cubby. This compact (less than 11" wide) Class D amp can deliver up to 100 watts from each of its six channels with excellent efficiency and very low distortion. In our set-up, it's running 75 x 4 and 200 x 1.
We used a marine-rated JL Audio amp wiring kit that's made to handle big power and also the big weather extremes of life on the water. This kit includes the circuit breaker, power and ground wires, and a 20-foot remote turn-on wire. You can choose from 10' or 20' versions.
Installing an amp is kind of a must on a marine stereo system like this, but even smaller systems can benefit from a little more oomph. Adding a marine-rated amp brings more to your boat than just volume – you'll also hear details. Instead of losing your tunes to wind and engine noise, you'll hear them the way they're supposed to sound.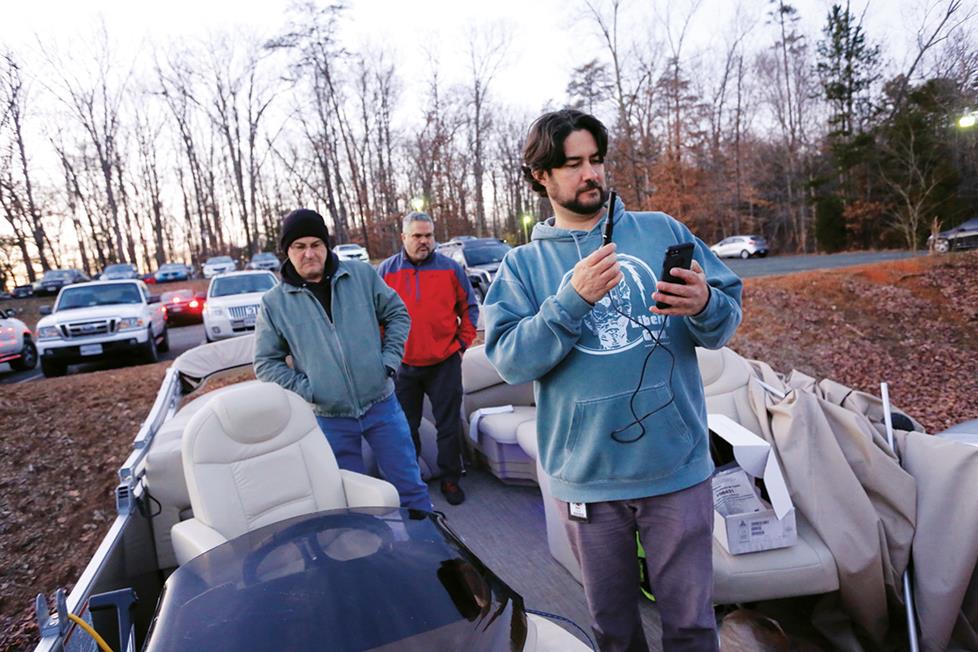 Matt tests the sound pressure levels while Jon and Peter practice the gentlemanly art of "standing around looking concerned."
Testing the new sound system
We're not easily impressed, but we were absolutey blown away by how much better this boat sounded with all the new gear. The sound was big, detailed, and bright. And bright is good in the noisy marine environment. The dreaded dead spot was gone.
Just to make sure our ears (which were pretty cold by the time we finished up) didn't deceive us, we took sound pressure level measurements before and after the installation to see how much more volume we'd added. Quite a bit, as it turned out. The stock system hit 93 dB before it began to distort. The new stuff reached over 100 dB without any distortion at all. That's a massive improvement!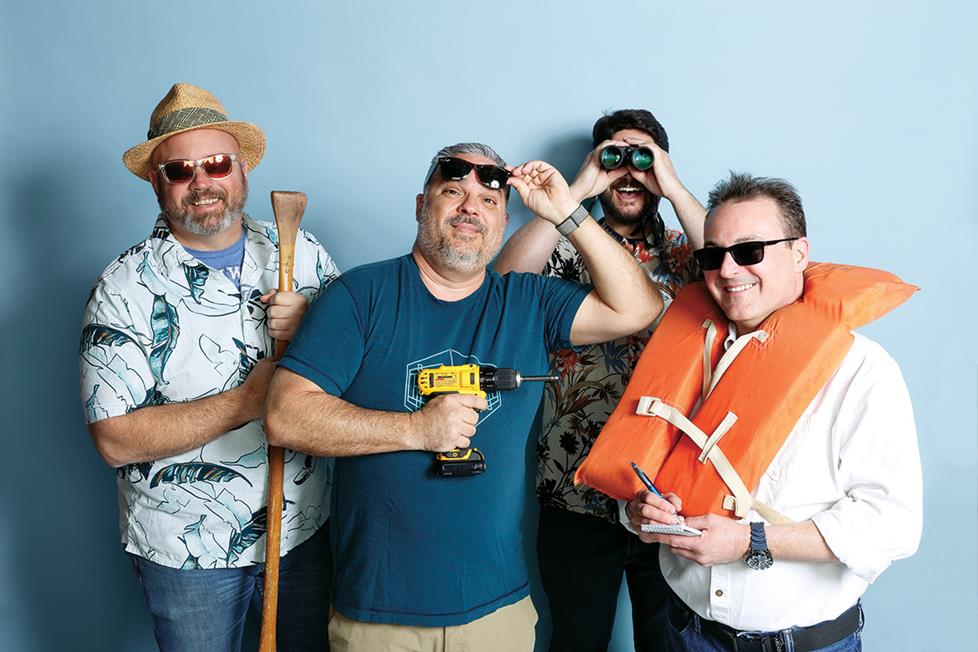 Our hard-working marine stereo installation team. And their touring drummer.
You're on a boat...
And you're ready to build you own marine stereo system. We can help with that. Click on any of the links above and start choosing the gear that's right for your vessel. From kayaks to cabin cruisers, our Marine Audio & GPS section has everything you need to build the system you want. If you have any questions, just give us a call or chat. Our experts are ready to help.