Elliot from West Hartford, CT, recently snagged a beautiful low-mileage 1990 Mazda Miata. However, on the long drive back home from the seller, its factory speakers decided to call it a day. Since he was already in the market for some new speakers, he decided to add a feature-rich head unit and a small powered subwoofer for some extra punch when he's got the top down.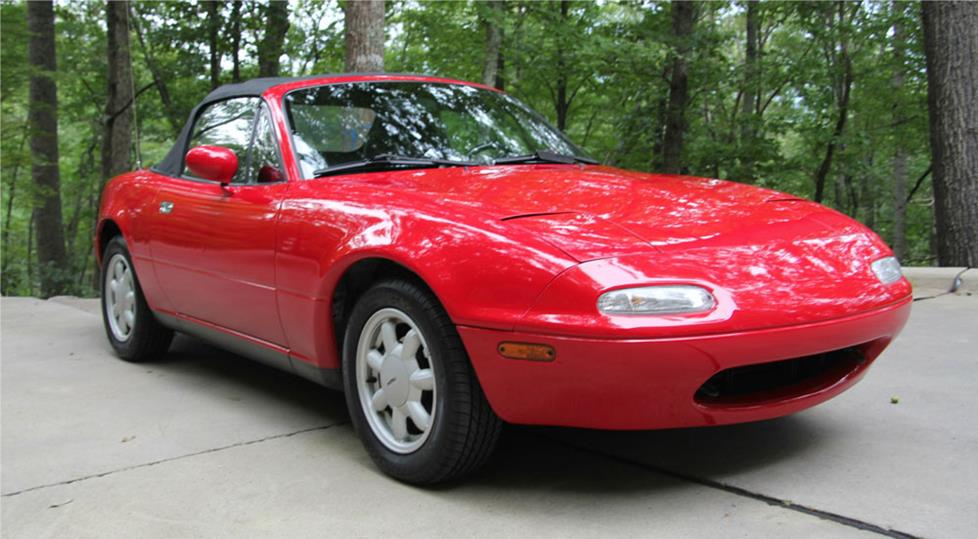 Elliot's 1990 Mazda Miata is a real head-turner, but the factory speaker (below) was not doing so well after 20-plus years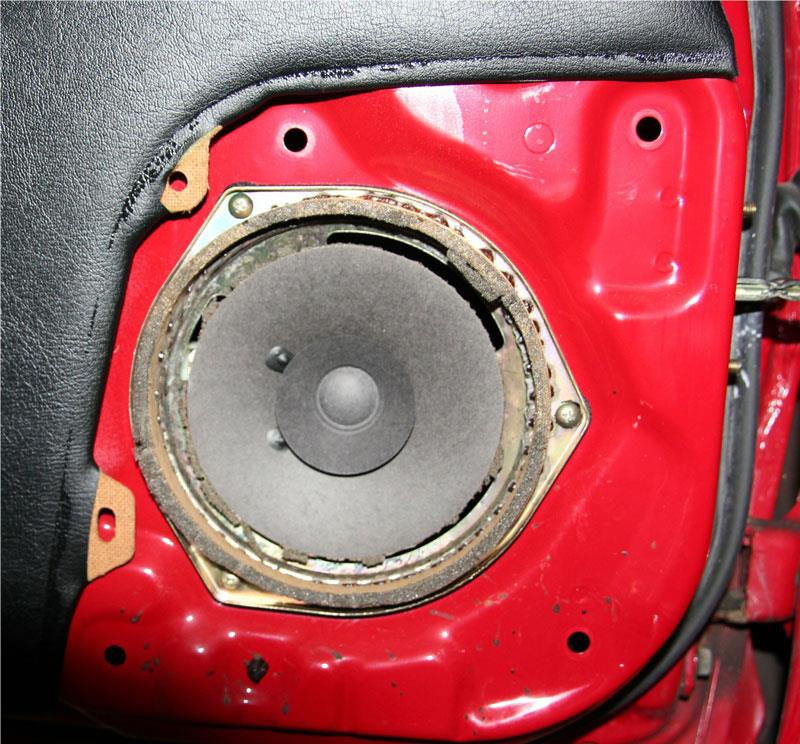 This is one tired factory speaker.
Items installed:
Crutchfield to the rescue
Elliot wanted to add Bluetooth® capability, a USB input, and an auxiliary input to his stereo for some different options for playing music, as well as hands-free calling through his phone. He chose Crutchfield based on our "reputation and recommendations." The Alpine CDE-136BT fit his needs and his Miata perfectly, as did the Polk Audio speakers for replacing the car's original speakers. The Sound Ordnance B-8PT is a long-time customer favorite for adding bass in tight spots—Miatas aren't known for being terribly spacious!
Elliott also picked up some headrest speakers elsewhere to round out his new sound system.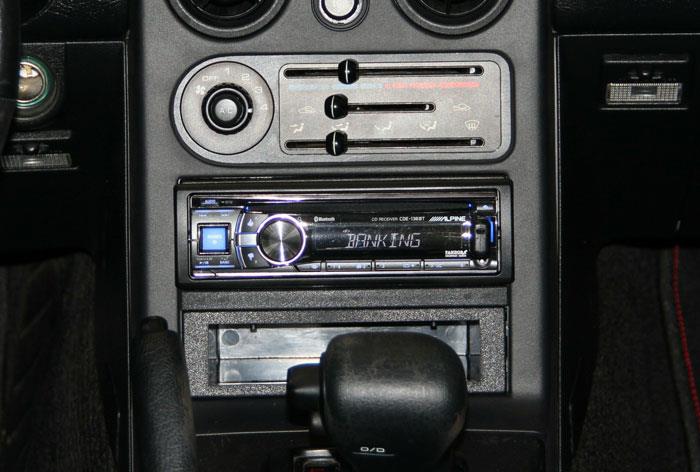 The Alpine CDE-136BT receiver really livens up the Miata's dashboard.
Adding the stereo
According to Elliot, "the installation process was pretty straightforward. The Metra kit was a perfect fit, so the Alpine slid right into place." But he was definitely concerned about placing the Alpine's Bluetooth microphone where it would work without interference from wind and road noise. "I mounted the mic on the dash cowl to try to get it as close to me as possible."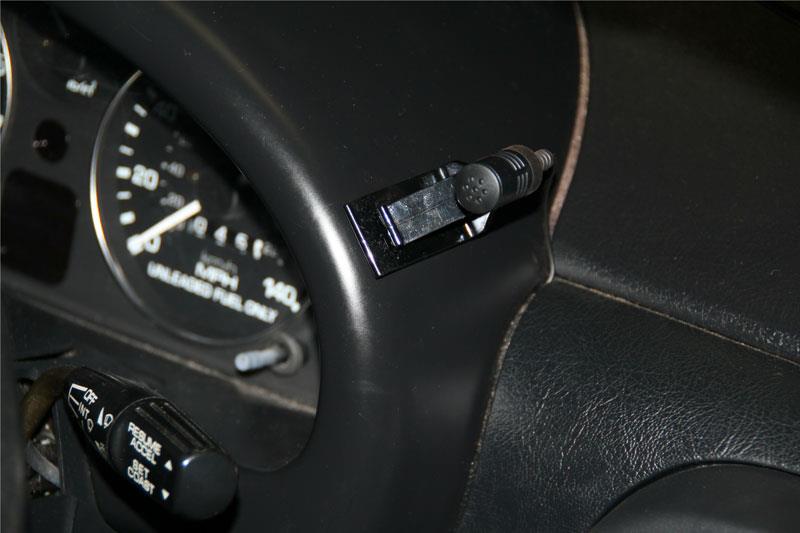 Elliot placed the Bluetooth mic for the Alpine stereo on the dash cowl for the best sound.
Replacing the speakers and adding the subwoofer
Next up was adding the Polk Audio shallow-mount speakers. "The speakers were a simple replacement of the factory speakers in the original locations." As you can see, these speakers look much more ready to perform than the old ones!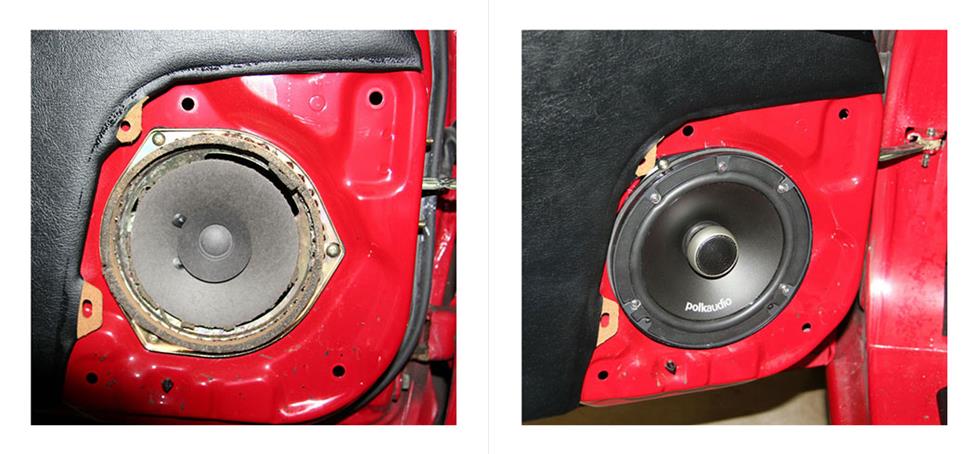 Elliot's new Polk Audio speakers (right) look and sound fantastic compared to his old ones (left)

He adds: "The Sound Ordnance sub was compact enough to fit behind the passenger seat which made the route for the power lead to the trunk real easy. The sub remote I routed to the center console glove box." He told us that running the wires for the subwoofer was the most difficult aspect of this installation, but now he's ready to enjoy his sporty little convertible with a rockin' new system.
The Sound Ordnance B-8PT powered sub is compact enough to fit behind the Miata's passenger seat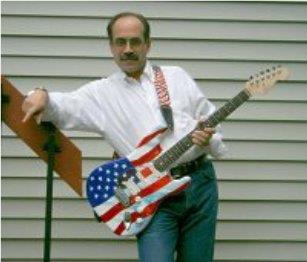 Elliot and his very patriotic Stratocaster.
---
Vehicles in the Custom Car Showroom are submitted by customers and fans, and edited by Crutchfield writing staff. You can find more of these articles on the Showroom main page.