Eric C's 2003 Chrysler PT Cruiser GT
Sound and sizzle
Eric C. of Streamwood, IL, seems to enjoy a bit of practicality to go with his flash. Sure, his 2003 Chrysler PT Cruiser GT has a throwback feel to it, but he made over its drab all-purple colorway into a radiant combination of eggplant and chrome. And while Eric might want to add some hard-hitting bass and powerful sound to every nook and cranny this car has to offer, he's also savvy enough to custom build a system that can leave him a little extra cargo room when needed. That the sound system also sports some eye candy in the form of lights — well, that's just what makes Eric one of those "car guys" we at Crutchfield love so much.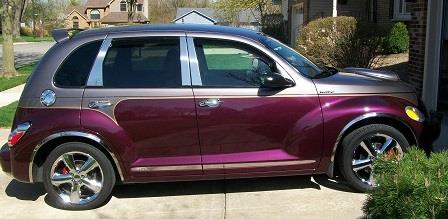 Eric added a 2-tone paint job, window tinting, and some eye-catching wheel polish to his 2003 Chrysler PT Cruiser GT.
Items installed:
Pioneer Premier DEH-P980BT CD receiver
Boston Acoustics S35 3-1/2" 2-way speakers in the dash
Eclipse SC8355 3-way 6.5" speakers in the front doors and rear panels
Eclipse SC8264 2-way 6.5" speakers in the rear doors
Pioneer GM-D8604 4-channel car amplifier for the doors
MTX Thunder Elite 801D mono subwoofer amplifier for the subs
2 MTX TR7512-22 12" DVC subwoofers
Customized ported subwoofer enclosure
2 Eclipse EQ1000 6-band equalizer/crossovers
Rosen T8 8.4" overhead video monitor
Various capacitors, distribution blocks, and additional wiring and LED lighting
Fix up, look sharp
Eric tells us the stock CD player "was messing up," so he got started on this audio overhaul with the Pioneer Premier head unit. After that, he took on the speakers. He made custom front door panels for the Eclipse 3-way speakers, as well as custom back door panels for the 2-ways. He also cut out the door panel pockets and used 3/4" medium-density fiberboard (MDF) to fabricate door pods for the drivers. Here are the front doors, mid-installation: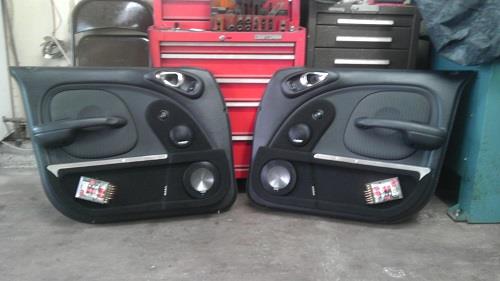 And one of the rear doors getting fitted: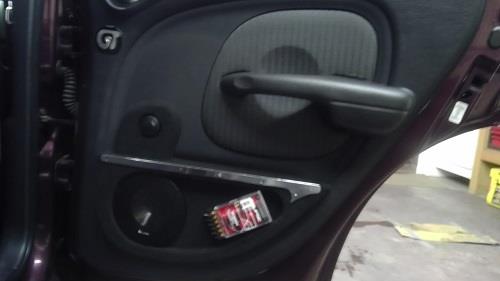 The Boston Acoustics 3-1/2" speakers went into the car's dash after he removed some plastic from the stock tweeter locations without too much fuss. Eric also tells us that he stowed the Eclipse EQs (one for the front and one for the back) in the PT Cruiser's glove box. He also got creative and started adding plexiglass and LEDs to the mix to backlight various parts of his system, including the EQs and distribution blocks.
Rack 'em up
To get some big boom in the Chrysler's cargo space, Eric did some customization work on an off-the-shelf dual 12" ported subwoofer enclosure to add some lighting. He also built an amp rack that sits on top of the enclosure. Finally, he made a "cover" which encloses the sub box and amp rack, and carpeted the whole thing so that it all looks almost like one piece. He made his own Chrysler logo by hand and added the badge to the cover, to give the cargo area a feel that was close to factory.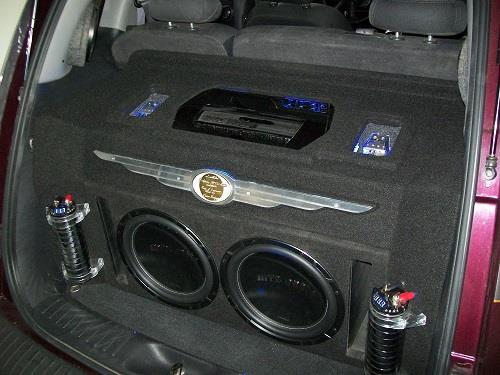 One cool feature of this setup is that Eric rigged it up so that he could easily detach the cables and slide out the amp rack and sub box in case he needed the cargo area for something other than low end.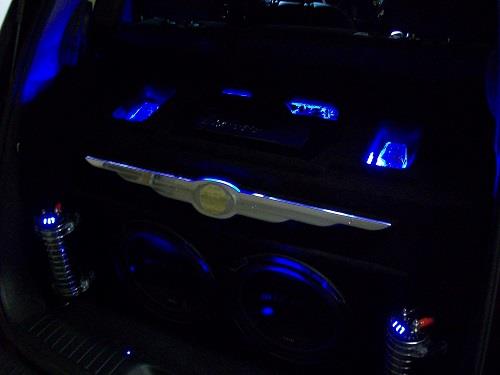 The blue backlighting Eric added makes the MTX subwoofers look as great as they sound.

It's obvious Eric put a lot of work into sprucing up his PT Cruiser inside and out. He enjoys showing off the rear subwoofer cover and amp rack, which was also the hardest part of this installation, but when asked about future plans for this system, he let us know that "I traded in my PT at the dealership I bought it from 9 years ago for my next project." We look forward to seeing what you come up with next, Eric!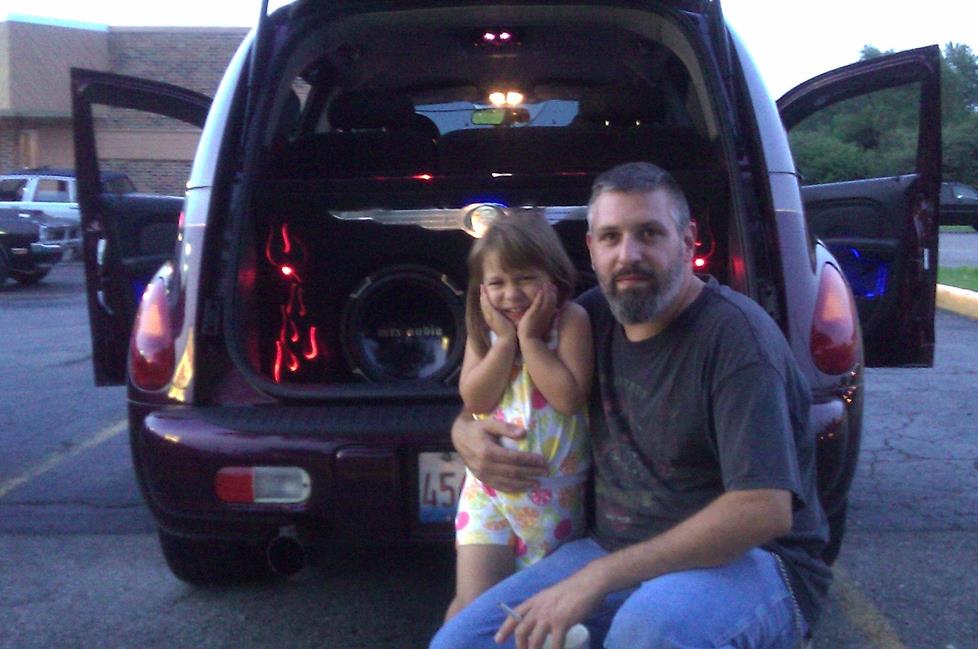 Eric C and friend appreciating his system at a local car show.
---
Vehicles in the Custom Car Showroom are submitted by customers and fans, and edited by Crutchfield writing staff. You can find more of these articles on the Showroom main page.