In this article... I'll show you how to tune your amplifier to get your subwoofers to sound just the way you want them to. Just follow these simple steps for great bass:
One of the things I like most about subwoofers is that I can feel the musical emotion directly with my body. The low frequency beat often forces me to dance around, or, at the very least, nod my head along with the rhythm. That's why we all like music in the first place — it moves us.
It can take a little time and effort to get the exact bass sound you want from your subs, but the rewards of a well-tuned subwoofer system are overwhelmingly cool and physically satisfying.
Before we get started...
If you are looking for information about buying subwoofers, please read our Subwoofer Buying Guide and check out our selection of top-rated subwoofers, then come back here to learn more about setting them up to deliver great sound.
First, set your speaker level
Keep in mind, distortion is the enemy — it destroys speakers, subs, and eardrums. Distortion sounds like crackling, flapping, crunching, or hissing that interferes with the distinct sound of a musical instrument. If you power your full-range car speakers with an amplifier, it is crucial that the amp's gain is properly set to prevent distortion.
[Need an amplifier? See our full selection.]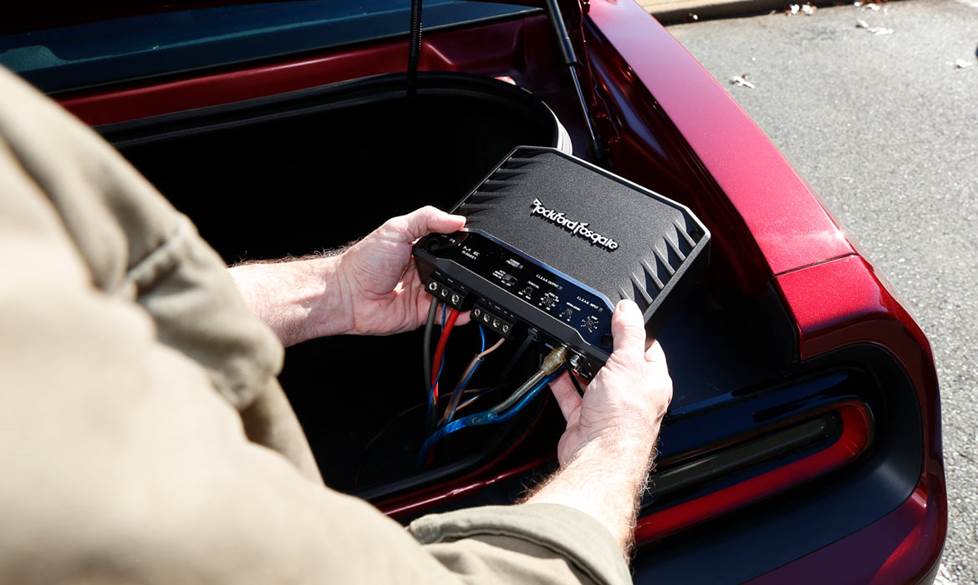 Step 1: Remove the distortion
With the amp gain set low, play some music and turn up your receiver's volume until you hear the music distorting; then back off the volume until the music sounds clean again. Note or mark where the receiver's volume is. This setting is the maximum volume your receiver can go to and still play cleanly.
Now, turn the amp's gain up until you hear distortion again; then back off the gain slightly until the distortion goes away. The amp gain is now set, so you can lower the receiver volume to a more comfortable level. Even if your speaker system does not have an amplifier, you still need to find that maximum volume point on your receiver by turning it up to just below distortion level.
Now you're ready for some bass
Step 2: Flatten the signal, open the low-pass filter
Turn your sub amp's gain to its lowest, most counter-clockwise position. Switch its low-pass filter on and set it as high, clockwise, as it will go. If it has a bass boost, turn it off. If it has a remote level control, set it to its middle position so, later, you have the choice of boosting or cutting the bass on an individual song.
Adjust your receiver's bass tone control to its middle, zero, or "flat" setting, whichever it's called on your stereo. If it has a subwoofer level control, set it, also, to its middle, or "no gain" setting. Sometimes receivers have a crossover, low-pass filter, or bass boost on their subwoofer output. Make sure those are all turned off, too.

Start by turning the gain down, and turn off your filters and bass boost.
Note: Do not use the low-pass filters, crossovers, or bass boosts on the receiver and the amplifier at the same time. Use one or the other, but not both. The reason is that something called phase distortion generates around each filter or boost's crossover frequency, muddying up the sound.
Step 3: Adjust the subwoofer gain and low-pass filter
Play music through your receiver at about one-quarter volume. Turn up the gain of the subwoofer amp until the sound from your subwoofer completely overpowers the other speakers, without distorting.
Turn the gain up until it distorts, then back it off until the sound is clean again.
While listening to the music coming out of your sub, slowly adjust the sub amp's low-pass filter downward until all the high- and mid-frequency notes disappear.
The low-pass filter eliminates the notes you don't want your subwoofer to play. It also acts like a tone control to capture the "edges" of the kick drum's sound; the attack and release of its boom. Filter out the cymbals, strings, vocals, and guitars. Leave the bass and the low drums.
Step 4: Bass boost and subsonic filter
If you have a bass boost, try carefully turning it up to hear what the bass drum sounds like when you do. Applying just a little bass boost will bring up the kick a lot. Be careful with the bass boost, if you choose to use it — this is where distortion is often introduced into a system. If you hear distortion, lower the sub amp's gain until it goes away. Use the bass boost to feel the beat in the air your sub moves.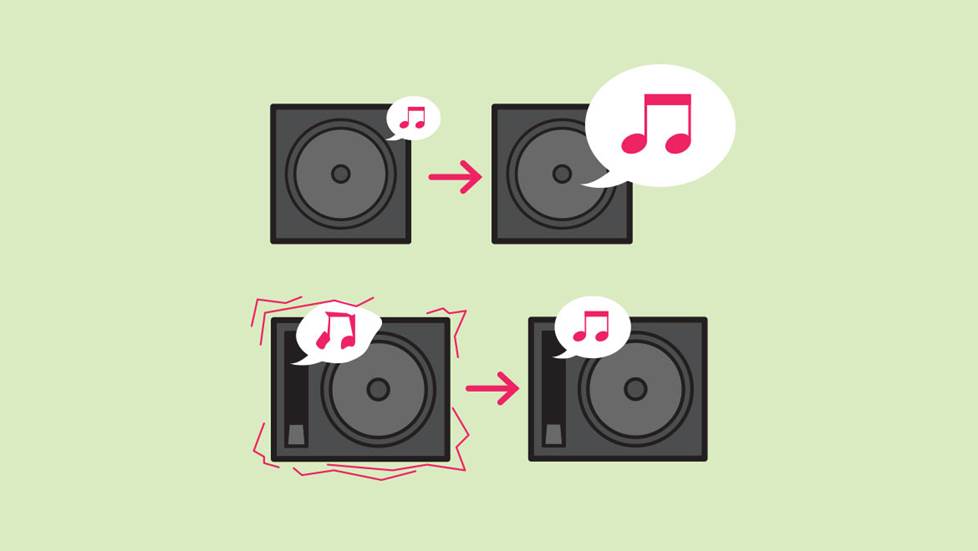 Now play with the bass boost.
For ported subwoofers, use a subsonic filter on your amplifier to tame any overly loud low notes. This will help decrease the levels of the notes at which the enclosure resonates. Fine-tune all the filters some more to make the bass drum sound tight and dry or loose and reverberant, according to your personal taste. I like reggae and soul, so my bass is plenty loud, but it's a bit drier than most people might like.
The important thing is to keep adjusting your system until you hear something you like. When you're satisfied with the tone of your system's bass and kick, turn the subwoofer's volume down as far as you can, using the subwoofer level in the receiver's sound adjustment menu or the remote bass knob if you have one.
Blending all the frequencies
Now that each piece of the puzzle is set, it's time to bring all the music into focus.
Step 5: Matching the subwoofer level to the receiver volume
Turn up the receiver's volume to its maximum, distortion-free position. Then slowly turn up the subwoofer volume until the bass sounds balanced with the rest of the music. That should do it.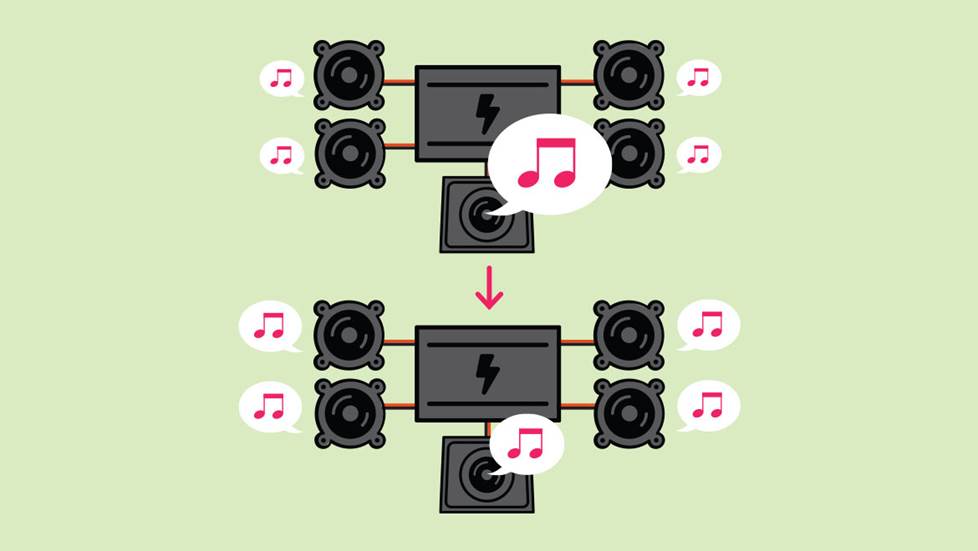 Run your remote bass boost or level control up and down a little to hear what it does. Because of the size of the acoustic space in a car, subwoofers sometimes don't combine their sound constructively with the rest of a system's sound waves. If your bass has plenty of volume but seems to lack punch, you can sometimes help it by reversing your sub's speaker leads. This reverses the subwoofer cone's forward and backward movements, which might put all the sound waves together better than the other way. Whichever way sounds best is the right way.
Troubleshooting any problems
If you hear distortion coming from your subs, turn down the sub amp's gain. If, at this point, you cannot get enough bass out of your subwoofer to keep up with the other speakers without distorting, then you will need to get a bigger subwoofer and amplifier combination, with higher power-handling abilities.
You shouldn't lower the gain of your full-range amplifier to try and match your lack of subwoofer volume. Doing so could allow the amp to send out distorted, clipped signals to your full-range speakers, defeating your goal for clean, full sound, which is why you put in a subwoofer to begin with. More power, especially in the bass, is always better than not having enough.
Now you should be able to enjoy the robust fullness and beat of your music with your sub tuned up to match your system's capabilities and your ear's preference. Just remember to be polite, and turn your boom volume down when it might bother other people.
Learn more about sound tuning
For more information on how to tune your car sound stystem, see Adding a 4-Channel Amp. To learn more about getting the best sound out of your amplifier, take a look at our Amplifiers FAQ and Glossary articles.