In this article: We'll explore different types of weather-resistant speakers to help you find the right ones for your outdoor sound system. For example...
... and I'll include links to recommended products and helpful advice from our experienced system designers and installers.
hen the weather warms up, most of us find more and more reasons to be out in the yard. Whether you're digging into the garden, reading by the pool, or grilling with family, outside time is more fun with your favorite tunes on hand.
Fortunately, there are plenty of outdoor speakers that can help you take your music outside. This guide will show you a number of different options, so you can decide which ones will look and sound best in your unique outdoor space.
The most common type of outdoor sound system features wired outdoor speakers that are surface-mounted on the side of a building, and powered by an indoor receiver or amplifier. A larger yard with a pool and garden beds may call for longer wire runs to free-standing landscape speakers that can help fill the space.
We'll talk about planning an outdoor sound system the traditional way, and explore a few additional options that might work better for your specific needs.
Wired outdoor speakers
Passive stereo speakers — the type that get power and signal via wires attached to a home receiver — are the best option if you want to enjoy detailed, immersive sound on a deck or porch, or in a small backyard. The outdoor-rated speakers are similar to their indoor-only hi-fi cousins, with two big differences:
They can stand up to the elements. Many outdoor speakers are weatherproof, meaning they can withstand direct exposure to rain, sun, salt water, and cold. Other speakers are weather-resistant, so they require some additional protection from rain and ice.
They come with outdoor mounting hardware. In the shipping box with the speaker, you'll find a bracket or similar mounting hardware that attaches the speaker securely to the exterior of your home.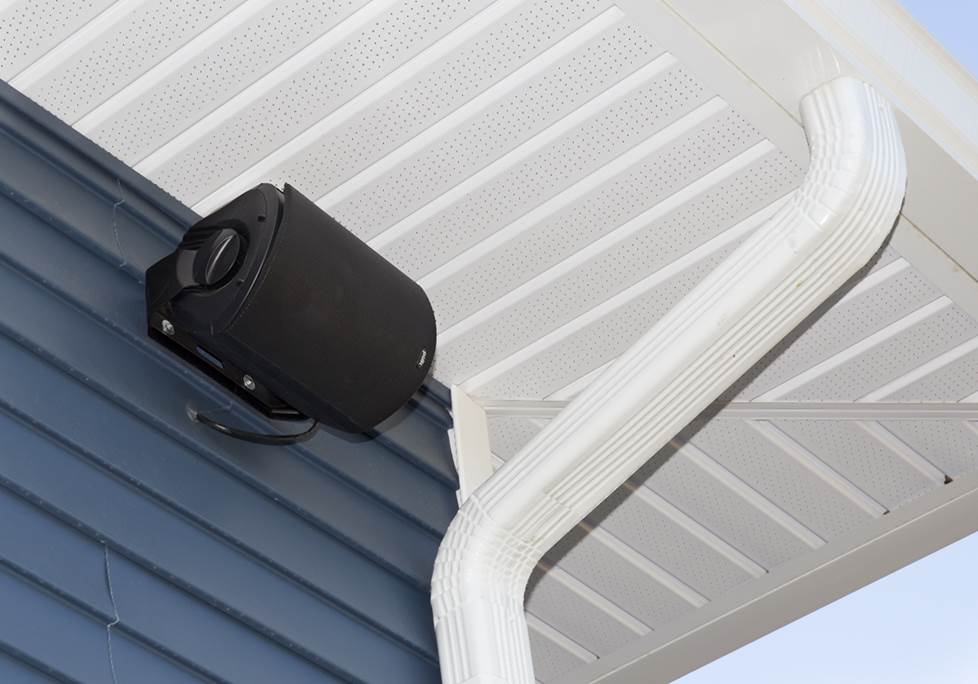 Speakers that mount to the side of your house offer robust stereo sound for your outdoor space.
Pay attention when ordering. Some speakers, like the popular Polk Audio Atrium 4, ship in pairs. Others, like the best-selling Definitive Technology AW5500, are priced "each."
Most outdoor speakers also have paintable grilles and enclosures, so you can match them to your color scheme.
Stereo-input speakers
Typically, an outdoor system has two main speakers — a left and a right speaker in a stereo configuration. In some cases, you only need one speaker, say for a small breakfast nook. Or you may have the opposite issue, where your space is so large that you need three speakers to get ideal coverage.
You need a stereo input speaker for these types of situations. They have have inputs for both left and right channels, and two tweeters that handle the stereo channel separation.
Use four-conductor cable for stereo-input speakers. These cables contain wires for both left- and right-channel inputs in a single casing.
When should you opt for a wired system?
A wired system will likely require a lot of planning, more time spent on installation, and a certain level of comfort with power tools and DIY installation. It's worth the effort, because it offers the best possible sound fidelity and system customization options.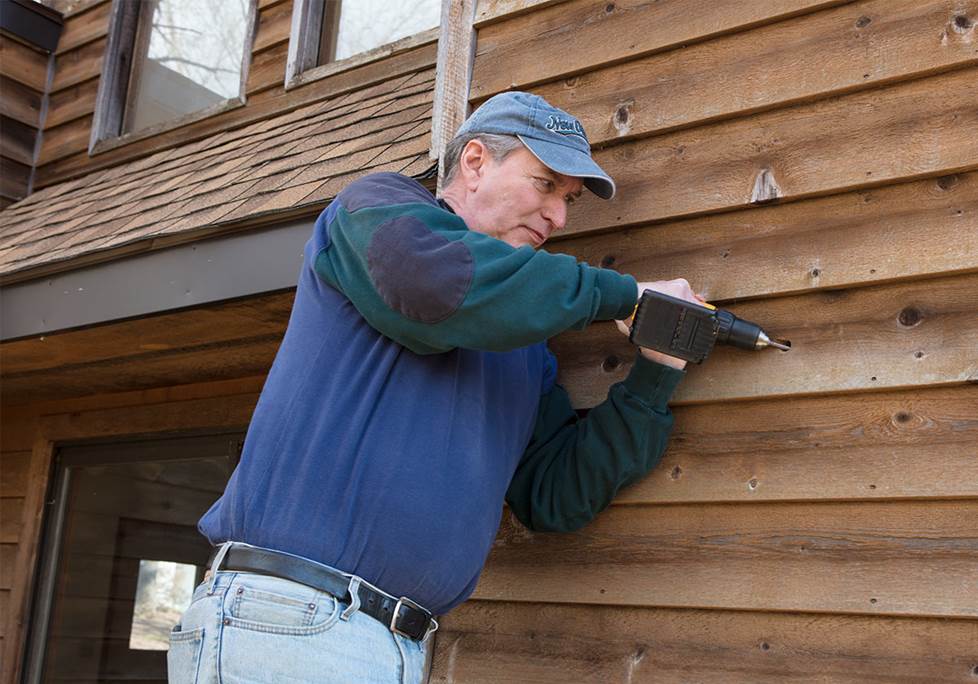 Our outdoor A/V design experts have years of experience installing outdoor speakers, and they're ready to give advice when you need it.
We have tips for installing outdoor speakers on your own, but don't hesitate to check in with one of our experts to help plan out your system before you start.
Landscape speakers
Landscape speakers let you extend your wired sound system out into the yard. I'm going to discuss them in a separate section for a couple of reasons. First, they're a better option than simply blasting music from the side of your house way out into the yard, which usually presents a sub-optimal experience for those sitting close and listeners who are farther away. And they're designed to bring music to locations where there may not be a handy wall to attach them to, so they offer some different form factors that allow them to work in specific settings.
Let's look at some popular designs.
Rock speakers
Rock speakers are exactly what they sound like — speakers disguised as large rocks. They offer solid sound and blend into your landscaping in a way other speakers can't.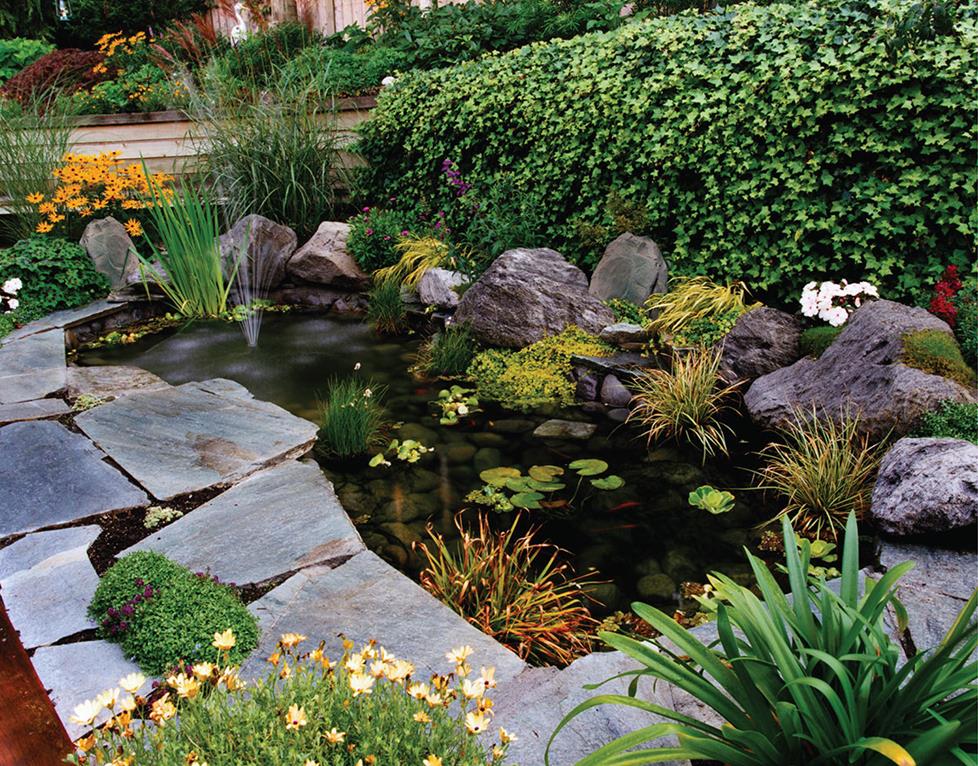 Landscape speakers are designed to blend into their surroundings. Can you spot the rock speakers in this photo?
A similar "hidden in plain sight" effect can be achieved with planter speakers.
Bollard speakers
Rugged, high-fidelity bollard speakers offer a different form factor for landscape applications. A speaker like the Coastal Source 10.0 2-Way Ellipse Bollard can be mounted as a freestanding speaker on a deck or by the pool, or be partially buried so it's less visible.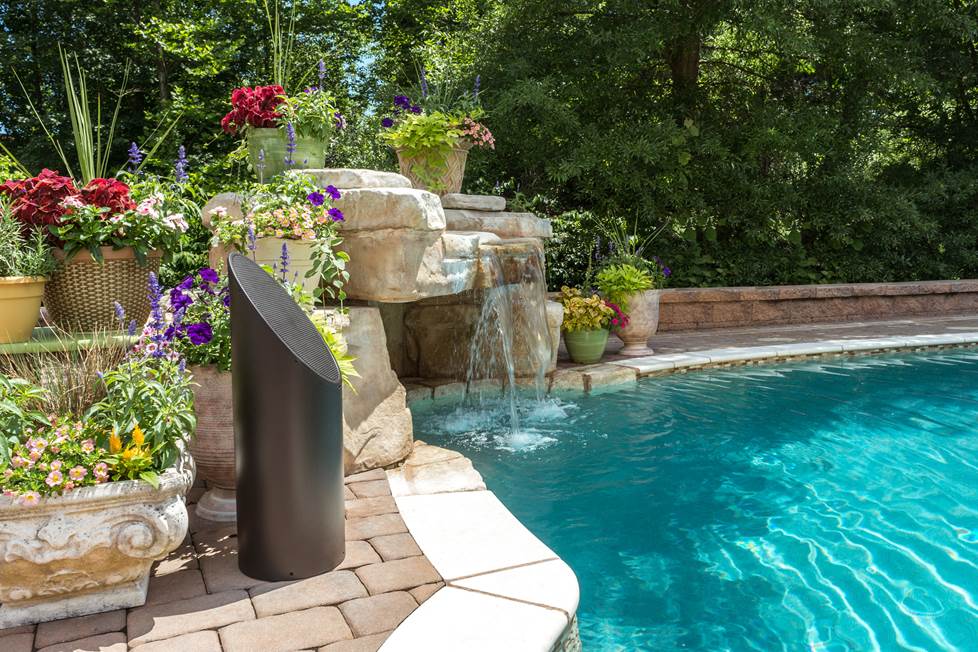 Weatherproof bollard-style speakers offer multiple landscape placement options.
Stake-mount speakers
Stake-mount speakers are usually fairly small and easy to conceal. They're designed to be mounted on stakes that can be driven into the soil. Since they usually house relatively small full-range drivers, they can really benefit from the addition of a subwoofer. The MartinLogan Outdoor Living Foundation 8.1 system bundles eight stake speakers with a sub in a convenient package for that exact reason.
When should you opt for landscape speakers?
When you're trying to cover a large space, you want speakers to be evenly spaced throughout, so everyone can hear the music at average volume. Landscape speakers help you get full coverage.
Our outdoor speakers system planning guide offers some handy advice to help you come up with ideas for your unique outdoor space.
Running wire outdoors
You can buy burial-rated speaker wire that's designed for outdoor projects. It's a good idea to run buried cable through a hard plastic conduit like PVC pipe to give it a little additional protection.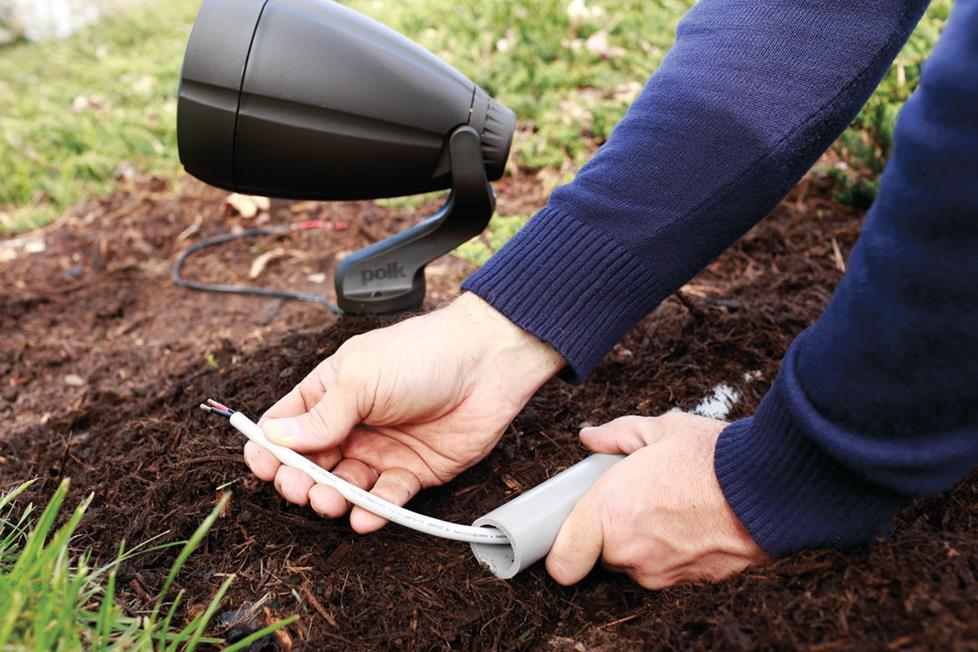 A PVC conduit protects buried wire from lawn mowers, gardening tools, and critters.
Outdoor subwoofers
Just because you're listening outdoors, doesn't mean you have to sacrifice the low end. An outdoor subwoofer can enrich your backyard work and play time by adding deep, musical bass to your all-weather sound system. Some models — like the OSD Forza-10 — almost look like patio furniture. Others — the Wet Sounds VS-12 LS-SUB is a good example — are designed to be partially buried in the ground.
Outdoor powered speakers with Bluetooth
Recently, a whole slew of wall-mountable Bluetooth-enabled outdoor speakers have been introduced to the market. Many of us prefer to stream music from phones or tablets, and these speakers make that a convenient option. The OSD BTP-650 is a speaker pair that offers built-in amplification in addition to a Bluetooth receiver, so you can use it without drilling holes to run wire to an indoor receiver.
Portable Bluetooth speakers
If you want a really fun, versatile, budget-friendly option, a portable Bluetooth speaker may be ideal for your needs. You can use one indoors, outdoors, and even on a road trip, as long as you keep the battery charged.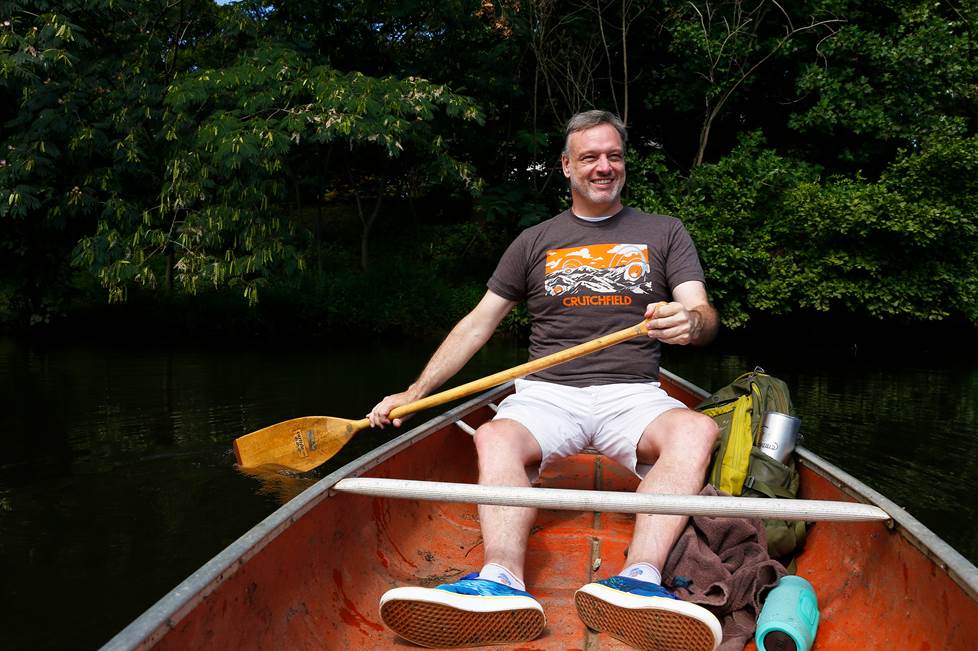 Can you take a waterproof JBL Bluetooth speaker to provide tunes on a canoe trip? Yes, you absolutely can!
Not all portable speakers are weather-resistant, and none are designed to be left outdoors permanently. Be sure to read the specifications on our website to determine if the speaker is water- or weather-resistant, and always bring them inside when not in use.
Wi-Fi enabled outdoor speakers
If you have a whole-home wireless system indoors, there may be wall-mountable and portable Wi-Fi enabled speakers that use the same ecosystem — Sonos is a good example — so you can add an outdoor "zone" to your existing network.
Sonos outdoor speakers
If you want to use use Sonos with outdoor speakers, you're in luck. The company offers Sonos by Sonance Architectural speakers for just such a purpose. You can easily run speaker wire from them to a Sonos Amp, like our video team leader Tara did in her treehouse Sonos system.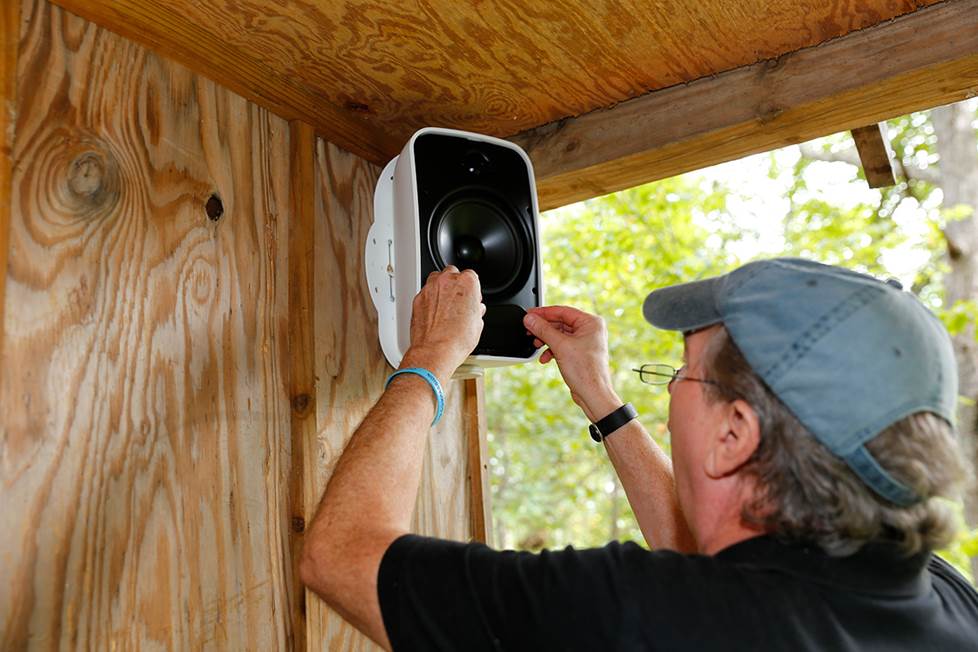 Sonos by Sonance outdoor speakers let you expand your wireless Sonos system to outdoor spaces.
If you have an existing outdoor system, the Sonos Port lets you add Sonos capability for an easy upgrade. And the Sonos Move 2 and Sonos Roam are similar to the portable Bluetooth speakers we discussed above, with the addition of Sonos compatibility.
In similar fashion, Bose fans can take their tunes outside by adding a Bose® Portable Home Speaker to their existing system.
Whole-home audio with outdoor speakers
If you're starting from scratch and want to build a convenient whole-home audio system, you can include outdoor speakers in the mix. Our system designers can help you plan a flexible system that suits your unique layout.
And, if you're hoping to use wireless sources to stream music throughout your home, a multi-node mesh router system can make sure you're getting strong, fast Wi-Fi everywhere you need it.
70-volt speakers for commercial use
If you want music to play in several discrete outdoor zones, a 70-volt system is a smart choice. Designed primarily for commercial use, 70-volt systems can drive several speakers with a single amplifier. They're more efficient than a traditional wired system, but may lack the power and fidelity you'll get from a home system.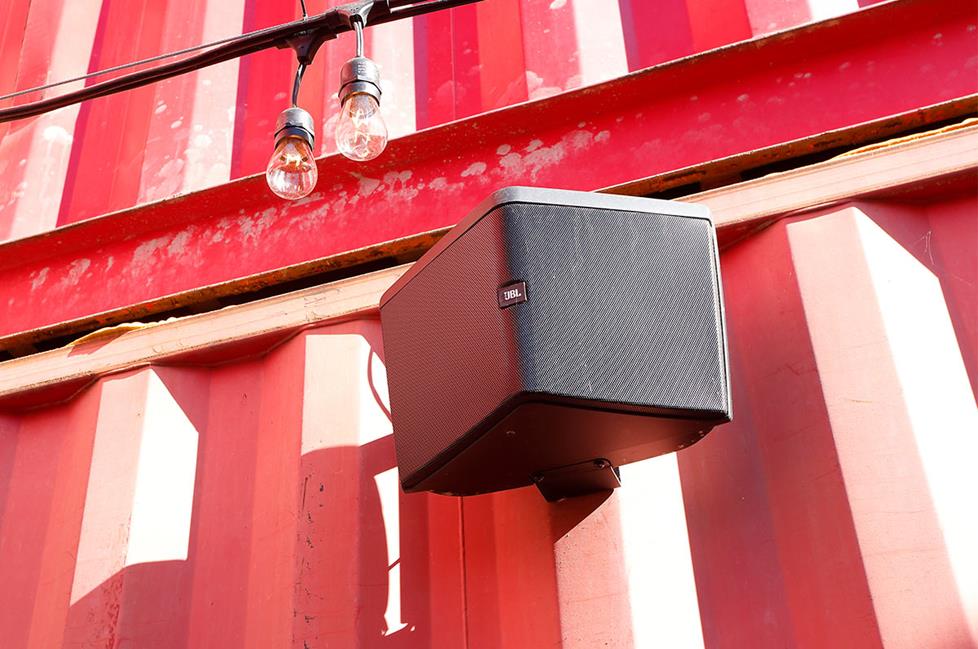 70-volt outdoor speakers — like this JBL Control® HST we installed at a local brewpub — are great for commercial sound systems.
Need help designing and choosing a 70-volt system for your business? Check in with our commercial design team.
Get started with
a free system design
After we gather your information, we'll send you a detailed system plan. It will include a link to a pre-filled shopping cart. Ordering is easy, and delivery is fast.
We can help you choose
Have questions about choosing the right outdoor speakers? Contact us today.
Our expert Advisors know the gear inside and out, and we can help you design a great-sounding outdoor sound system that suits your unique space.
And, as always free lifetime tech support is included with your Crutchfield purchase.