In this article, we'll help you find the best way to connect your subs to your amp. We begin with some basic – and important – subwoofer and amplifier terms. But if you want, you can skip straight to the wiring diagrams.
There are many ways to wire subwoofers and amplifiers together. The ideal setup is when subs and amps match their impedance and power capabilities to optimize performance.
Power with care
The diagrams show wiring configurations for amplifiers and subwoofers that have already been matched for power capabilities. You should never connect subs to an amp that could give them more power than their total watts RMS power ratings. Doing so could damage the subs or the amp. See How to match subs and amps for further guidance.
Here's an example diagram for connecting two 4-ohm DVC subs to a mono-channel amplifier: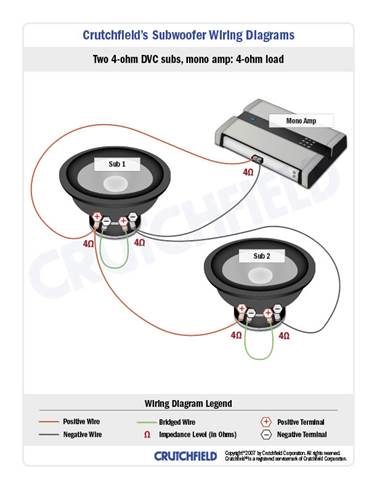 Wiring terms you need to know
The diagrams are below, but first let's explain a few important terms.
SVC
A single voice coil sub with two wiring terminal posts, one marked positive and the other marked negative.
DVC
A dual voice coil sub with four wiring terminal posts, two positive terminals and two negative terminals. This gives you more options for wiring the sub in different situations.
Ohms
The impedance load, or resistance against the amplifier's output signal, of a subwoofer coil. Subwoofer voice coils usually come in 2-ohm, 4-ohm, or 8-ohm impedances. The value is often found printed on the magnet, if you're unsure of what you have.
Series wiring and parallel wiring
These terms refer to two ways of routing the speaker wires to properly manage the overall impedance load. Whether you need to use a series wiring configuration, parallel wiring, or a mix of both, our diagrams will show you exactly the best way to wire your speakers, without using confusing technical terms.
When you wire dual voice coils and multiple subs together, the resulting total impedance is not always simple to figure out or practical to use. In the example diagram above, the voice coils of each sub are wired together in series, while the two subs themselves are wired together in parallel.
Amplifier output
An amplifier will put out more power through a low-impedance sub than it will through a high-impedance sub. But a lower impedance also means more stress on the amp. Some amplifiers (marked "low-imp" in the links below) can even drive a 1-ohm load safely, and achieve maximum output. Refer to your amp manufacturer or owner's manual to determine whether or not yours can handle a low-impedance load.
Bridged mode
Bridging an amp combines two amplifier channels into one, to get more power. The disadvantage of bridging is that bridged channels can't drive impedance loads as low as they can when unbridged. The proper way to bridge the amp is usually indicated at the amp's speaker wire terminals. For more information, read our How to bridge an amplifier article.
Wire
All the wires depicted in the Subwoofer Wiring Diagrams are speaker wires. For wiring subwoofers, we recommend using wires of 12- to 16-gauge in size.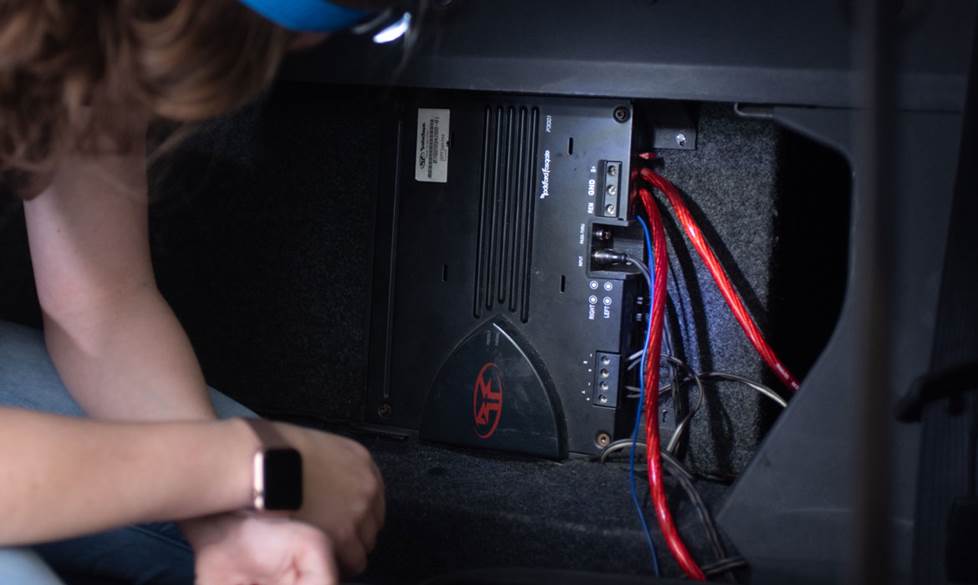 Find the right wiring diagram
Now, let's get those subs hooked up! All of our wiring diagrams are listed below. Select the diagram for the number and type of subs you have. Depending on your gear, there might be more than one way to safely wire the subs.
A note about multi-channel amplifiers
5-channel amplifiers are a popular way to get "full system" power in one box — four channels to drive your four speakers, plus a fifth, higher-powered channel for your subwoofer. 6- and 8-channel amps are similar and offer even more flexibility. When it comes to connecting subwoofers to these amps, keep it simple:
If you're connecting your sub(s) to the subwoofer channel, treat it like a mono-channel amplifier.
If you're bridging two channels of your amp, simply treat it as a bridged 2-channel amp.
Start building your bass system today
Now that you've seen how to wire subwoofers and amplifiers together, you can knowledgeably shop Crutchfield's extensive selection of subwoofers and amplifiers. We also carry amp wiring kits, speaker wire, RCA cables, capacitors, and much more.
Contact us by phone, chat, or email and an Advisor will help you get what you need. If you want to learn more about amplifier systems, check out our Amplifier Installation Guide.