In this article: We'll take a quick look at what a dash cam is and the best reasons for adding one to your system. And to help you get started shopping, we'll do a deeper dive into these noteworthy dash cam systems (some of which include a rear-view cam):
A dash cam is an easy-to-install, relatively inexpensive way to record video of the road ahead for every second of every drive. It's as simple as that. Why do so many drivers want a video document of their daily travels? These are the top benefits...
Peace of mind: Having video of your drive can be helpful if you're involved in an accident and need to provide information to your insurance provider or the police. If you drive professionally, a dash cam is a worthwhile expense. And if you're a parent of a newly-licensed teen, it's a great way to keep an eye on them when you can't be in the car with them.
Accountability: If you have employees driving company vehicles, some dash cams let you keep tabs on your fleet with useful tools like remote video access and geo-tracking.
Security: If your dash cam allows parking monitoring, the camera's built-in G-sensor and/or motion-sensor will trigger video recording.
Posterity: Dash cams are also the easiest way to record your adventures behind the wheel. If you love an epic road trip, add one of these cams to your dash and relive the memories when you get home.
At the very least, you can count on all dash cams to loop-record the road ahead and save the video files onto a memory card. If you're involved in a crash, a built-in G-sensor will trigger the camera to auto-save critical video of the incident.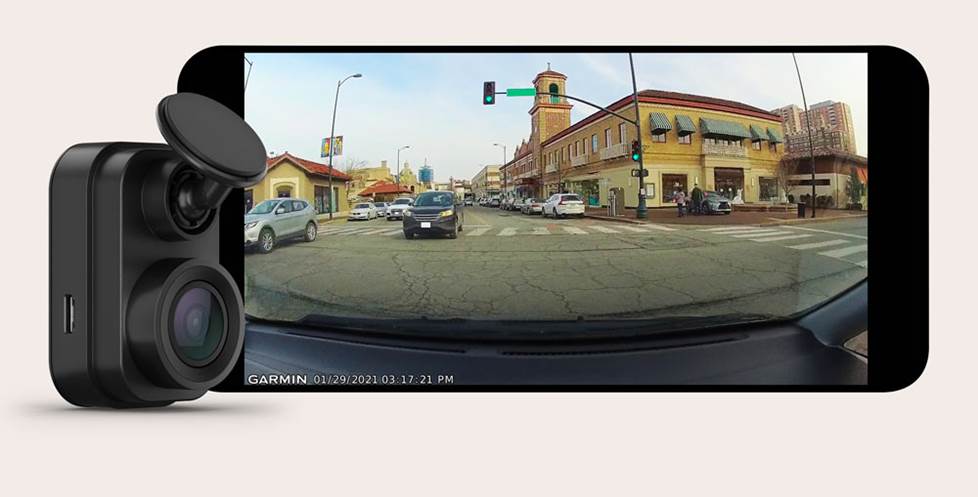 The cameras below include built-in Wi-Fi for syncing video with your phone and built-in GPS for geo-stamped details like time, date, location, and speed of travel. You can also count on them for HD video quality if you need it. Let's jump into the list for even more cool features...
Best-reviewed dash cam — Kenwood DRV-A301W
Kenwood's best-reviewed cam is also our best-reviewed cam overall: the DRV-A301W. You'll get great video quality with full HD recording capability and HDR for a clear image night or day. Like most dash cams with built-in Wi-Fi these days, you can sync recorded video with your phone if you don't want to review it on the cam's 2.7" LCD display.
A cool addition here is a suction-cup mount in addition to a standard, adhesive-backed mount. With Kenwood's optional hardwire solution, this camera will wake up when your vehicle is parked (and its built-in motion sensor or G-sensor is triggered) to record what's in front of it.
Heads up:
This dash cam does not include a rear-view camera, but if you want a two-camera system that includes the DRV-A301, check out Kenwood's DRV-A501WDP or their stepped-up DRV-A601WDP.
Best permanent-install dash cam — Pioneer VREC-Z710DH
Pioneer's VREC-DZ710DH dash cam/rear-view camera system is the newest version of a customer favorite that adds enhanced recording perks like Rear Proximity Monitoring and Sudden Brake Detection. These features ensure critical video is saved when traffic gets bumper-too-close-to-bumper.
This system gives you two great cameras with impressive video resolution. A Sony STARVIS image sensor and Wide Dynamic Range help provide the best possible picture in bright light and at night.
You'll get a 2" display to keep an eye on both feeds, or you can use a wireless connection to access video files on your phone. While there's no option to incorporate a cabin-view cam, you can turn this dash cam into a cabin-view cam with an easy twist of the viewing angle.
Most importantly, Pioneer includes hardwired power, so you'll gain parking mode without the need for an optional hardwire kit. That means the VREC-Z710DH dual cam system keeps two eyes out (front and rear) for any unfortunate hit-and-run incidents while your car is parked and the engine is off. If a vibration (or motion within the system's field of view) is detected, the system will activate and save a recording of the related incident.
All these great features add up, but my favorite thing about it is its streamlined look. With hardwired power, you won't have to look at dangling wires or plugs sticking out of your vehicle's power port.
Heads up:
Unlike some other models, Pioneer's Dash Camera Interface app does not currently incorporate any additional driver assistance alerts like Forward Collision, Lane Departure, and Stop & Go.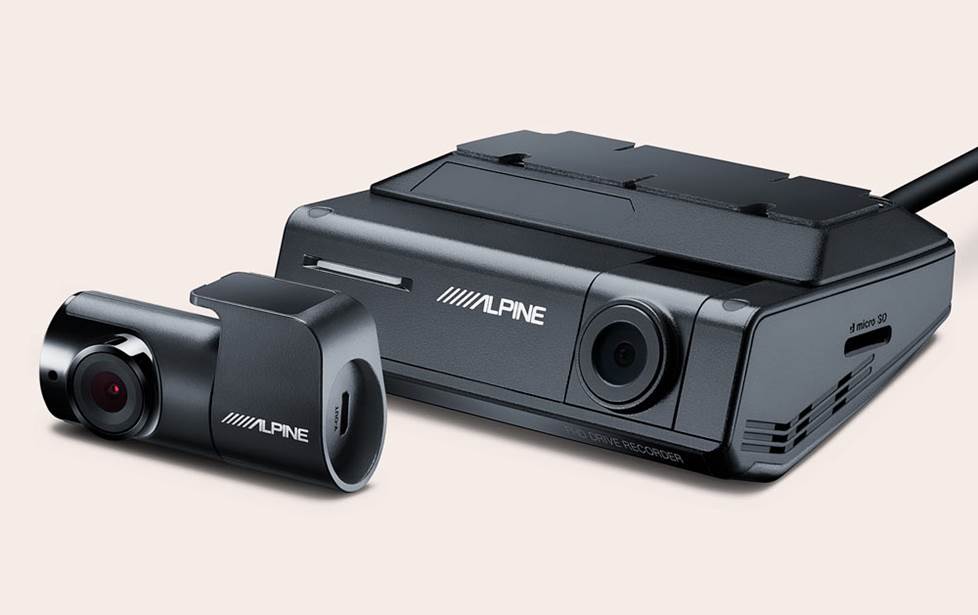 Best brand-specific dash cam — Alpine DVR-C320R
Alpine's DVR-C320R dash cam and rear-view cam system provides all the essential functionality of the systems above, but it levels up the game by working with compatible Alpine car receivers like the popular INE-W970HD receiver.
This system provides front and rear video monitoring as well as helpful driver assistance features, all viewable on your stereo's touchscreen display. The dash cam keeps an eye on the road ahead to give you an audible Forward Collision warning if you approach a car too rapidly, a Lane Departure warning if you veer from your lane, and a Stop & Go alert if you're stopped and traffic ahead starts moving.
If it's Kenwood that makes your favorite car stereos, check out their brand-specific DRV-N520 Drive Recorder that works with select Kenwood DDX, DNX, and DMX Series in-dash multimedia receivers.
Heads up:
In case it wasn't obvious already, it bears repeating that this dash cam system will not work without a compatible Alpine receiver installed in your dash. Check the Details tab on the DVR-C320R product page to find out more.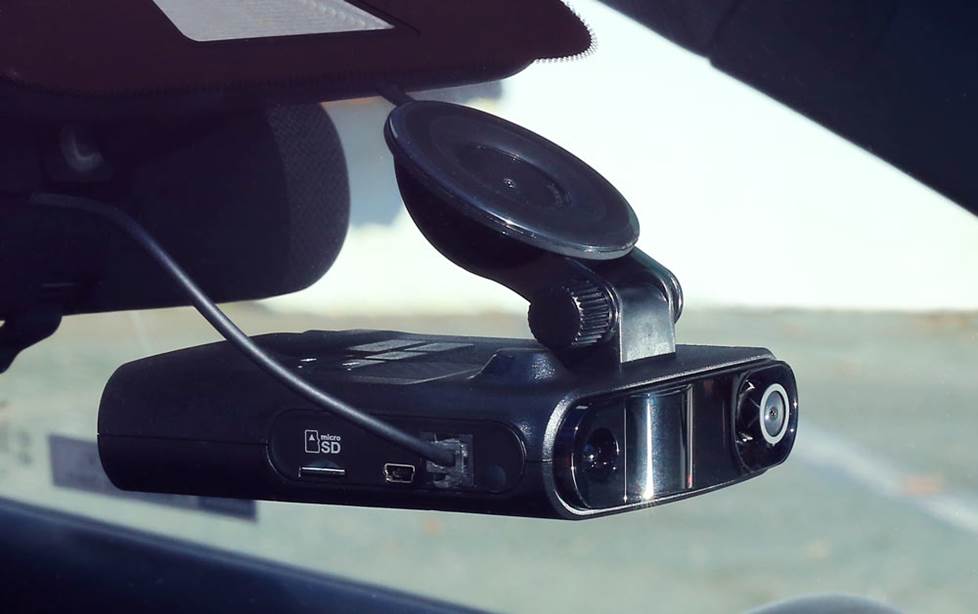 Best dash cams for road warriors — Escort MAXcam 360c
And now for something completely different. Escort's MAXcam 360c — it's a radar detector with a dash cam built in. If you're springing for radar detection, then why not incorporate video recording capability while you're making room on your dash or windshield?
The Escort MAXcam 360c shields you against X-, K-, and Ka-band radar signals, plus multiple laser threats. And all the while, it records the road ahead in resolution up to 1440p. You can also tap into the perks of Escort's free Drive Smarter app, which lets you stream and share your videos, access safety and security features, and receive shared community alerts about road conditions, law enforcement sightings, and travel hazards. You can even set up a "Mayday Alert" that automatically sends an email and/or text message to an assigned emergency contact if you're involved in an accident.
Heads up:
This dash cam does not include a rear-view camera. Also, Escort's parking mode, which allows the system to monitor your vehicle while you're away, is not available without optional hardwired power or without the included adapter plugged into a vehicle power port which supplies constant power.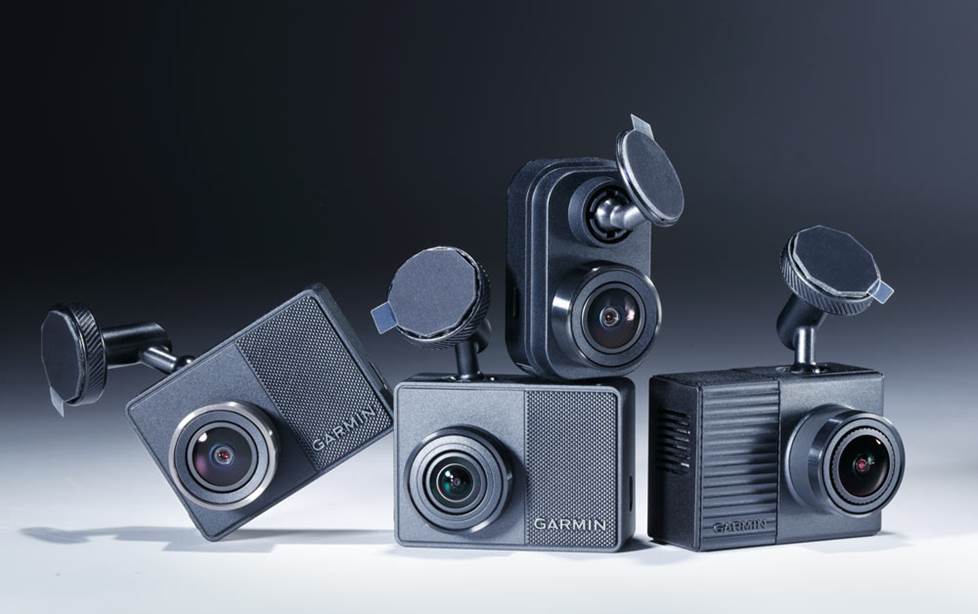 Best dash cams for fleets — Garmin Dash Cam Series
I love Garmin because of the dialed-in design and cross-compatibility across their whole line of dash cams. Starting with the Dash Cam Mini 2 (When they say mini, they mean it.), Garmin packs essential HD quality video, Garmin Clarity HDR, and cloud storage via built-in Wi-Fi into their cost-effective, entry-level cam.
Garmin's Dash Cam 47, 57, 67W, and Tandem offer a variety of cool features including driver assistance alerts and voice control, but you'll always get access to the Garmin Drive app, which makes video playback and sharing a snap using your phone.
Their app also acts as your hub for all the Garmin Dash Cams you own, which means you can install multiple cameras in the same vehicle or connect Garmin Dash Cams from multiple vehicles to the same phone. You can even create composite picture-in-picture videos from simultaneous recordings. If you own a fleet of vehicles or just want to keep an eye on all the cars in your family, Garmin makes it simple.
Heads up:
Garmin's parking mode features, which allow the system to monitor your vehicle while you're away, is not available without optional hardwired power or without the included adapter plugged into a vehicle power port which supplies constant power.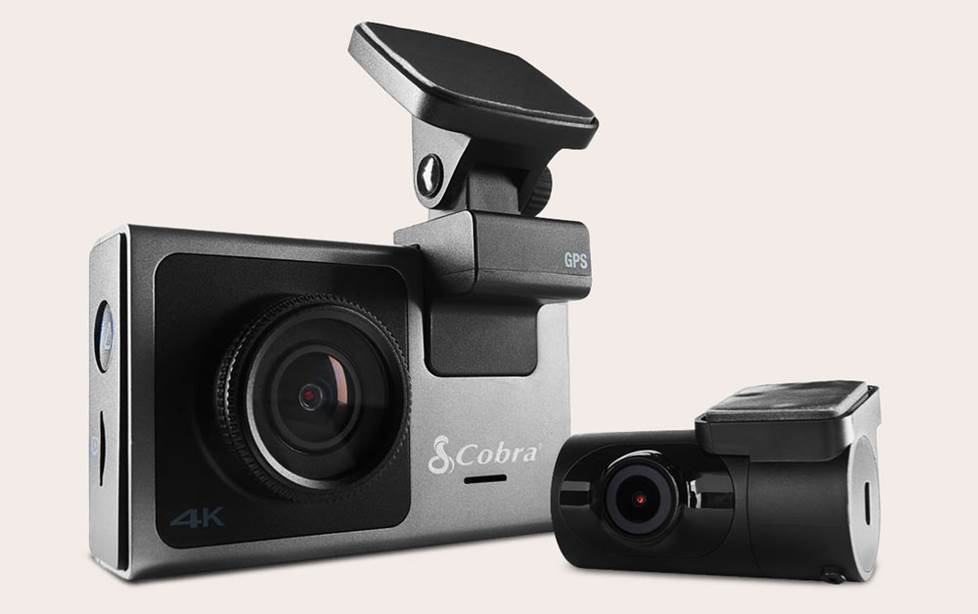 Best dash cam for voice control — Cobra SC 400D
Cobra's SC 400D dash cam and rear-view cam system gives you a double dose of voice control. Like some of the Garmin Dash Cams, you can control essential camera features like turning the display on and taking a snapshot with the power of your voice. But Cobra goes a step further, by building Alexa compatibility into this system.
With a Bluetooth® connection to your vehicle's radio and a Wi-Fi connection to your phone, you can chat with Alexa on your phone via the SC 400D's built-in mic and hear the results over your vehicle's audio system. That means that anything you can do on your phone with Alexa, you can do through your camera. If you can't replace your radio, this is a handy way to add voice control to an older factory system. Plus, with the Drive Smarter app on your phone, Cobra opens up a host of driver assistance features for a safer experience in the car.
That's not all this camera system brings to the table either. Let's talk image resolution — you can't beat Cobra's Ultra HD 4K video quality. Of course, you can scale back the resolution for file size if you need to, but it's nice to know your videos can have that crystal-clear detail. Built-in Wi-Fi lets you access your video files on your phone, but if you want to review anything on the 3" touchscreen, you can do that too. That includes video recorded on the included rear-view cam as well.
Attention ride-share drivers
Add Cobra's optional FV-C1 cabin-view cam, which plugs right into the dash cam, and you can incorporate a video stream of your vehicle's interior.
Heads up:
Cobra's parking mode, which allows the system to monitor your vehicle while you're away, is not available without optional hardwired power or without the included adapter plugged into a vehicle power port that supplies constant power.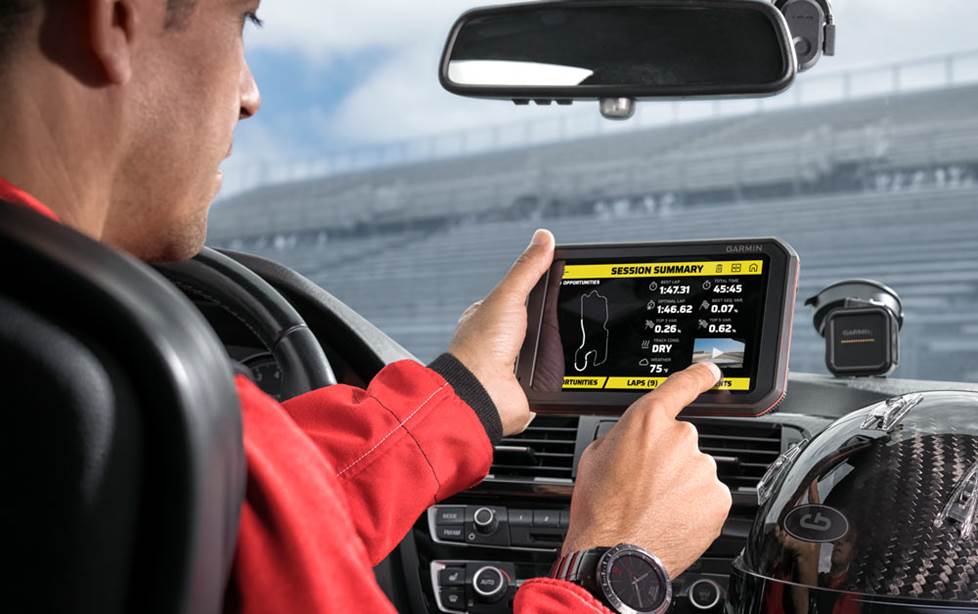 Best dash cams for track enthusiasts — Garmin Catalyst
If you have a passion for driving that takes you to the track on weekends, it only follows that you'd want a way to share your accomplishments with friends and fellow enthusiasts. Garmin's Catalyst dash cam and driving performance optimizer not only does that, it also provides essential stats to help you improve your driving.
Garmin gives you cool tools to help you identify where you can find more speed during your laps. It also works as a virtual pit crew chief offering real-time audio cues to your compatible headset or car stereo to help you save seconds as you drive. The built-in camera lets you record your track runs and view the video for deeper analysis, and True Track Positioning shows your racing line on the track right on the 6.95" display.
Heads up:
As you may have guessed, this is not your average dash cam and is designed for use on pro-am tracks and driving courses.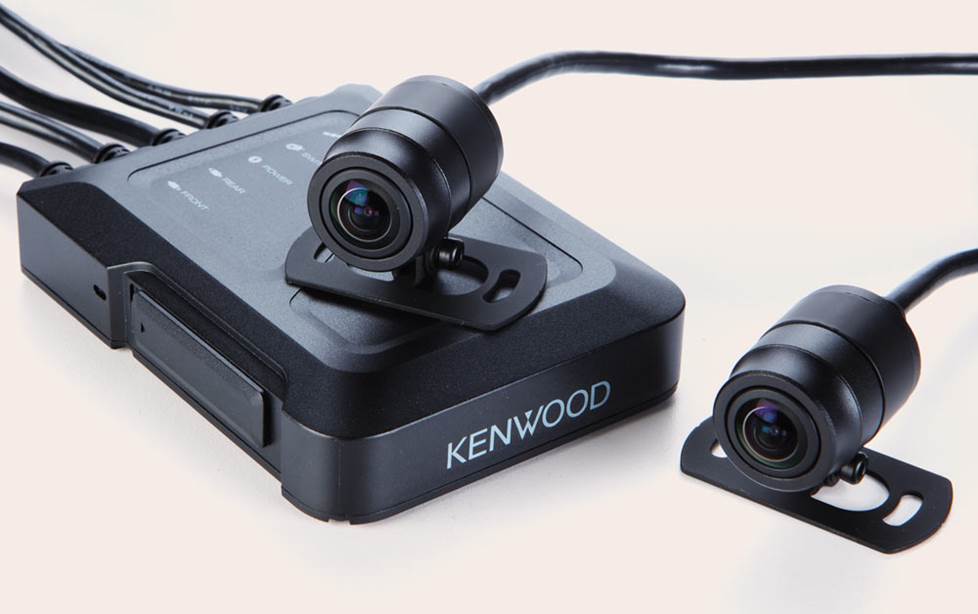 Best dash cams for powersports — Kenwood STZ-RF200WD
Kenwood knows that the road isn't the only place worth recording, and their STZ-RF200WD dashcam and rear-view cam system is designed to capture your off-road adventures too. Its adjustable design uses two tiny cameras and a central module that saves video to an included microSD card and provides wireless syncing to your phone.
That's convenient for the limited real estate of a motorcycle but works just as well for ATVs and golf carts. Whether you're hitting the highway, the trails, or the greens, Kenwood provides everything you need for full HD video recording with an extra-wide, 195-degree view from the front and rear of your ride.
The IP66/67 weatherproof rating means you don't have to sweat the rain, dust, and mud that comes with driving motorcycles and off-road vehicles. And since Kenwood knows things can get bumpy out there, too, they use Electronic Image Stabilization for a steady picture. If you want to be sure you catch that magic moment, Kenwood gives you a mountable remote control. All the while, the system's built-in GPS antenna logs time, location, and speed information to enhance your videos.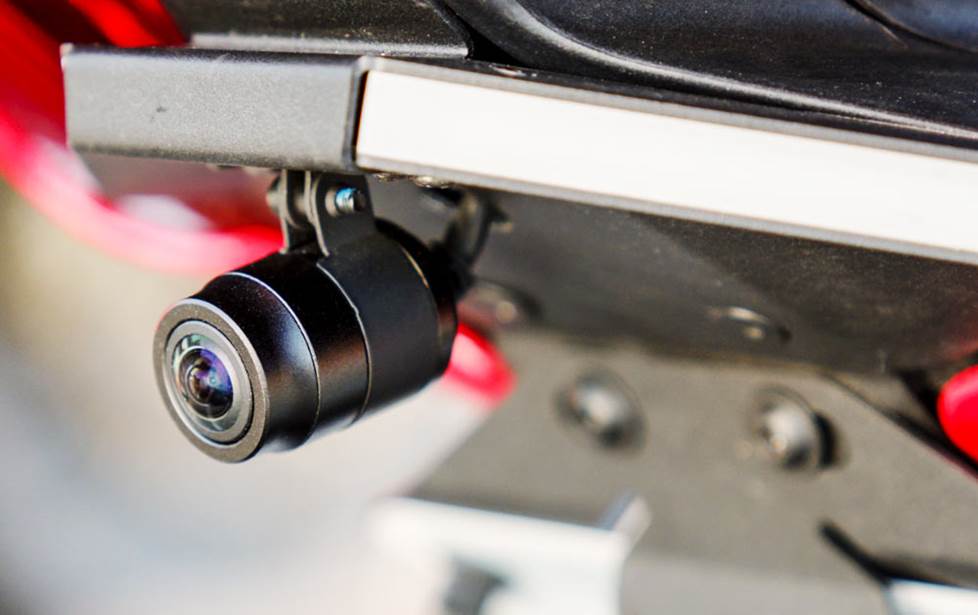 Heads up:
Because of its design and the variety of use cases, Kenwood requires you to hardwire this system for power.
Any questions?
Check out our dash cam buying guide for the full scoop on dash cam systems. Also, don't hesitate to reach out to our advisors. They're extremely knowledgeable and get hands-on with a lot of the gear we carry.
Popular questions customers ask
Dash cams let you download your camera's recordings to another device, like your laptop or phone, to do with as you please. Download options include using a USB cable, a removeable micro SD card, or a Wi-Fi connection.
Some cameras feature low-light enhancements, such as LED or infrared illumination, that really do let the camera and you see what's going on better at night.
Most dashcams feature a parking mode that triggers the camera to record after sudden movements and impacts are detected while the vehicle is off. The camera system must be internally battery-powered or have a constant, non-switched power connection to your car. However, you should note that some newer vehicles, like BMWs, do not work well with constantly-on accessories, and might throw out computer trouble codes and experience system malfunctions when such devices are installed.
These systems come with two separate cameras — one dash-mounted pointing forward; and the other aimed to record your vehicle's interior and its inhabitants and what they're doing, or out the back window to see and record what's behind you.
Some dash cams can display and record time and GPS data as well as sound, so you'll have a record of your speed, location, and the conversations and music going on in the background.