In this article: We'll look at what a DAC is, and how it makes your digital music sound better. And then I'll recommend a few that stand out from the crowd, to help you get started shopping:
Digital music is all the rage nowadays. I know when I want to check a new album out all I have to do is fire up TIDAL, search for it, and stream away. That's much simpler than scouring record stores to find a physical copy of the album. If you've found yourself in that same position you might be thinking: "How do I make sure I'm getting the best sound possible when I'm playing digital music?"
That's where a good DAC comes in handy.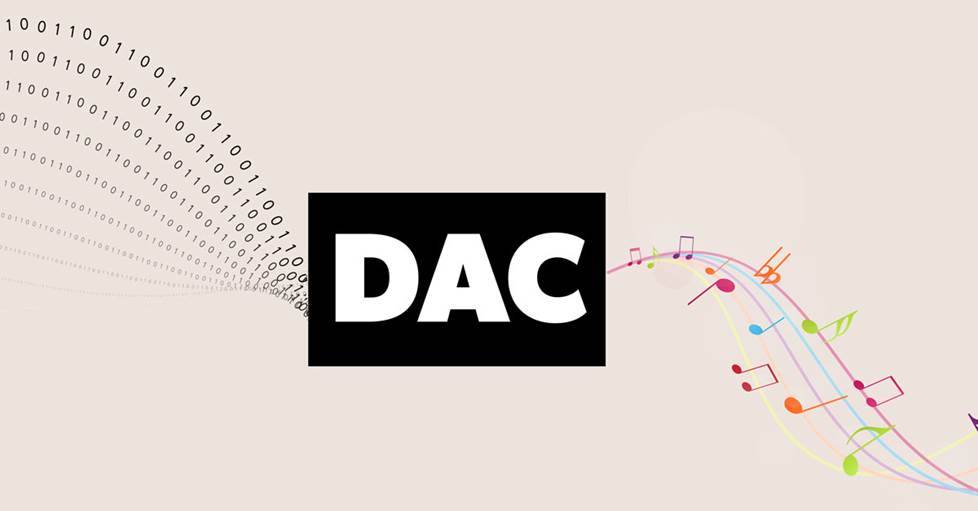 Digital-to-analog converters take the 1s and 0s of digital music files and turn them into an analog signal
Okay, so what is a DAC?
DACs, or Digital-to-analog converters, convert digital data into an analog audio signal. However, not all DACs are built for sound quality. Your smartphone, tablet, and computer all have DACs built into them. Those DACs are more rudimentary, however, serving only to handle the conversion process and nothing else.
A dedicated outboard DAC is what you'll need to bring your music to life; that is especially true for high-resolution tracks. Those are files that have a higher-than-CD-quality bit depth and sample rate. Outboard DACs support higher bit-depths and sampling frequencies than most "stock" DACs. That greatly improves the detail, clarity, and overall soundstage of your music.
There are many different flavors and shapes of DACs. Some are small and portable, others are large and are more geared towards home setups. In a sea so vast and deep it can be challenging picking the right DAC for your system. Here are my top picks for 2024.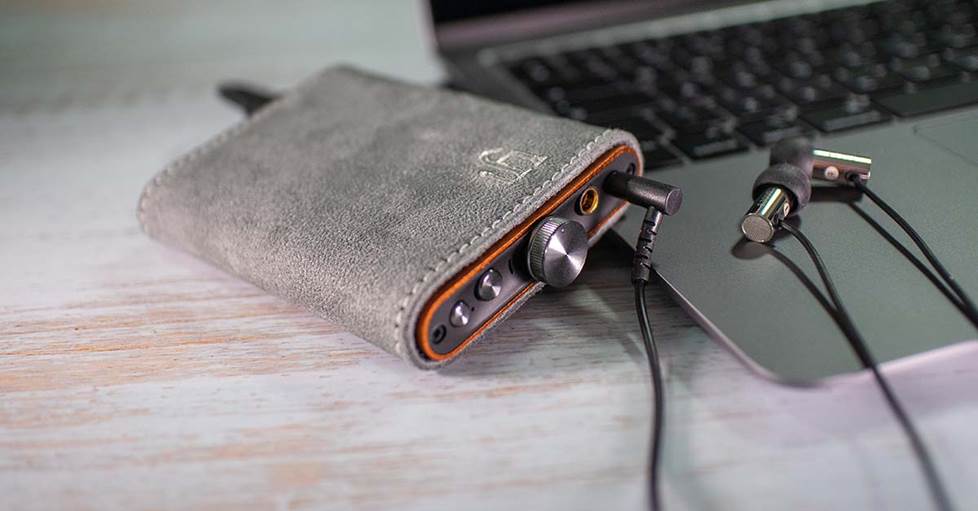 Best budget DAC — iFi Audio hip-dac2
When I first saw the original hip-dac I had to do a double take. For a second, I thought the trainers from iFi had brought in an old hip flask they'd painted for display. Upon closer inspection, I found that they'd brought in a potent portable DAC that offered a whole host of handy features. Since then, iFi has released a second iteration: the hip-dac2.
The hip-dac2 is, like its predecessor, a lightweight machine, coming in just shy of 4.5 ounces. Its light weight coupled with its slim profile makes it easy to handle and cart around while you're out and about.
It is completely self-powered and has an 8-hour battery life so you'll have ample time to listen to your favorite tunes throughout the day. It uses a 32-bit Burr-Brown "True Native" chip to handle the digital-to-analog conversion, and also features a 16-core XMOS processor that was optimized by iFi's engineers to deliver the best sound quality possible. As an added bonus, it can also render MQA — a handy feature if you stream from TIDAL
The hip-dac2 boasts a solid headphone amplifier, too. The headphone amp plays well with lower-impedance headphones. On that note: it has built-in PowerMatch technology that can be turned on or off to match different headphone and earbud types. Keep it off if you'll be using sensitive In Ear Monitors (IEMs for short) or flip it on if you're using headphones with a low efficiency to get the most out of the amp section.
Connections
Type A USB input for connecting PC, smartphone, and other mobile devices
unbalanced 3.5mm headphone output
balanced 4.4mm headphone output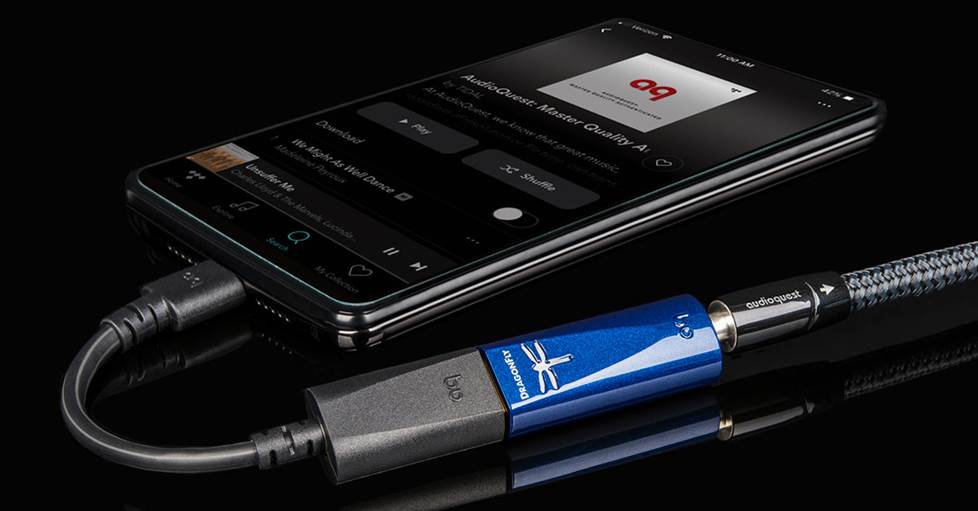 Best portable DAC — AudioQuest DragonFly Cobalt
The DragonFly series of DACs from Audioquest has always held a special place in my heart. The Cobalt is a tiny DAC — roughly the same size as a flash drive — and it packs quite a wallop.
When I demoed the Cobalt, I could tell it was in a whole 'nother league compared to the other DragonFly DACs. The soundstage was considerably wider. The vocals had a better, more frontal presence, and the mids seemed tighter. The bass was more tightly controlled and less prone to drown-ing out the mids, too. That cemented the DragonFly Cobalt as my pick for a portable DAC.
The 32-bit ESS Sabre ES9038Q2M chip it uses is one of the best out there for the cash. It doesn't utilize an internal battery — rather, it draws its power from your smartphone. Thankfully, the 9038 chip is very efficient so it won't drain your battery too quickly.
The Cobalt plugs into your smartphone via one of the included adapters, making connection a breeze. You could also plug it into your PC using the standard Type A USB connector built onto the unit itself. The headphone amplifier section is surprisingly powerful.
I tried the Cobalt out with a set of Sennheiser HD660 S over-ears, and the two paired extremely well together. It can handle all but the most inefficient and high-impedance headphones.
Connections
Type A USB input for connecting PC, smartphone, and other mobile devices
unbalanced 3.5mm headphone output
Budget-friendly alternative
Audioengine's DAC3 is another potent portable DAC that delivers exceptional sound quality. It uses a USB Type-C connector and resolves details in your music with authority.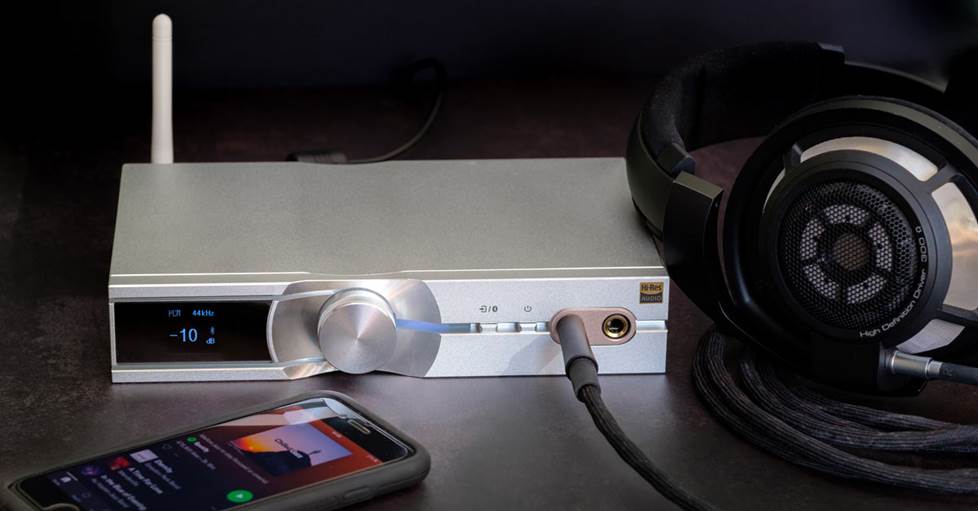 Most versatile DAC — iFi Audio NEO iDSD
British hi-fi legend iFi brings another stellar piece of equipment to this list with their NEO iDSD. It's one of the most versatile desktop DACs on the market. It can serve as a dedicated DAC for your favorite headphones or as a preamp for your home stereo system. Its slim design makes it work well in either case.
The NEO iDSD features a four-channel 32-bit Burr-Brown "True Native" DAC chip on the inside that allows for separate signal pathways for the left and right channels. That, in turn, gives you a more accurate, more detailed stereo image. The sound is intricate, with a good amount of soundstage depth and a high level of clarity.
If you'd like it to serve as a dedicated preamp, this DAC has you covered. It features a pair of unbalanced RCA preamp outputs, plus a pair of balanced stereo XLR outputs. You can select if they're fixed or variable, making it an ideal choice for a two-channel stereo system.
Connections
USB, coaxial, and optical digital input(standard Toslink to mini optical adapter included)
stereo unbalanced RCA and balanced XLR preamp outputs with selectable fixed/variable level
unbalanced ¼" headphone output (3.5mm mini to ¼" adapter included); balanced 4.4mm headphone output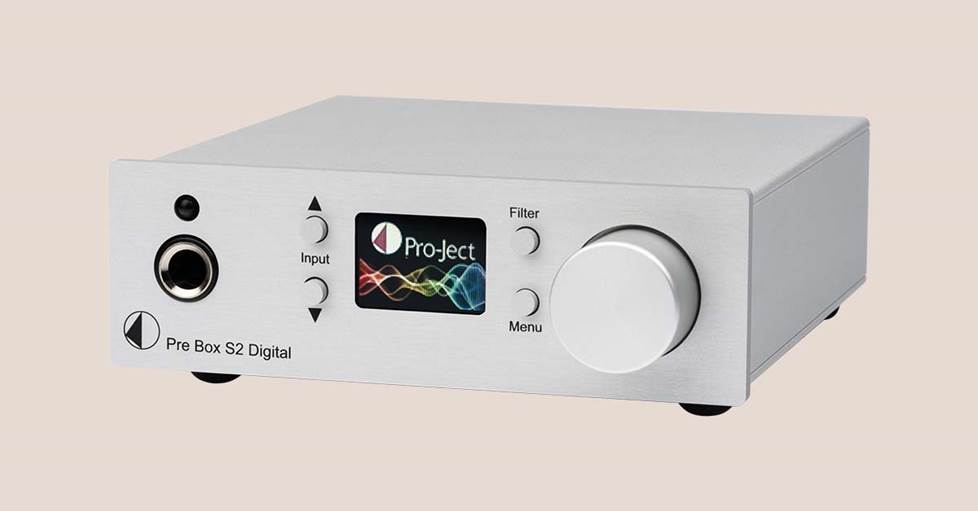 Best compact desktop DAC — Pro-Ject Head Box S2 Digital
Pro-Ject's Head Box S2 Digital is a robust solution for desktop audio. The sleek design and all-metal chaissis makes it a eye-catching piece that should integrate well in any desktop setup.
It has ample processing, thanks to its premium ESS Sabre ES9038Q2M DAC chip. The chip can handle a 32-bit/768kHz signal (through USB) so no need to worry about losing anything from your digital sources. The Head Box S2 Digital also features five different digital filter options for fine-tuning the DACs sound to your ears and headphones.
Want to use it as a DAC for your main stereo system? This magic box has you covered there too. There are optical and coaxial digital inputs on the rear alongside the USB Type-B input, plus a pair of stereo RCAs to take care of the output connection to your receiver.
Connections
USB (Type B) input for connection to a computer
two digital audio inputs: one optical (Toslink) and one RCA coaxial (S/PDIF)
one pair of unbalanced RCA outputs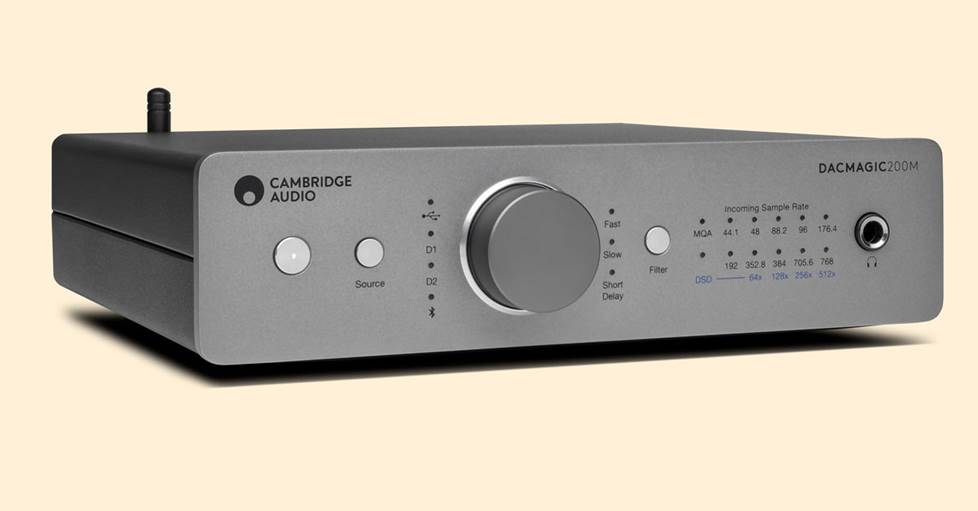 Best desktop DAC — Cambridge Audio DacMagic 200M
An elegant successor to the legendary DacMagic Plus, the DacMagic 200M brings a bit more to the table than its predecessor. Granted, the DacMagic Plus stole my heart the first time I got to play around with it — I'd used the same set of HD660s from Sennheiser that I mentioned earlier and the results were astonishing. The DacMagic 200M takes that same kind of performance and cranks it up to eleven.
Cambridge decided to switch things up a bit and employ twin ESS Sabre 9028Q2M DAC chips in this iteration. Those 9028Q2M DAC chips don't mess around! They offer a cleaner, punchier sound overall compared to other DAC chips.
They also decided to beef up the headphone amp section, this time utilizing a high-performance Class A/B amplifier with a very low noise floor. It can handle inefficient headphones or higher-impedance headphones with ease — the output is pretty stout.
No need to grab an external Bluetooth receiver if you want to wirelessly stream your tunes. Unlike its predecessor, the DacMagic 200M has Bluetooth 4.2 built in with aptX support. It's also the first Cambridge Audio product that has full MQA support, serving both as a renderer and a decoder.
It'll take up a bit more space than the DacMagic 100, but the audio upgrades are significant. It can integrate into most home systems with just a couple of cables. You can connect it up to a CD player, a home stereo, or PC thanks to the various inputs and outputs on the back.
Connections
2 optical digital inputs
2 coaxial digital inputs
1 USB Type B input
balanced stereo XLR outputs
unbalanced RCA stereo outputs
1/4" front-panel headphone output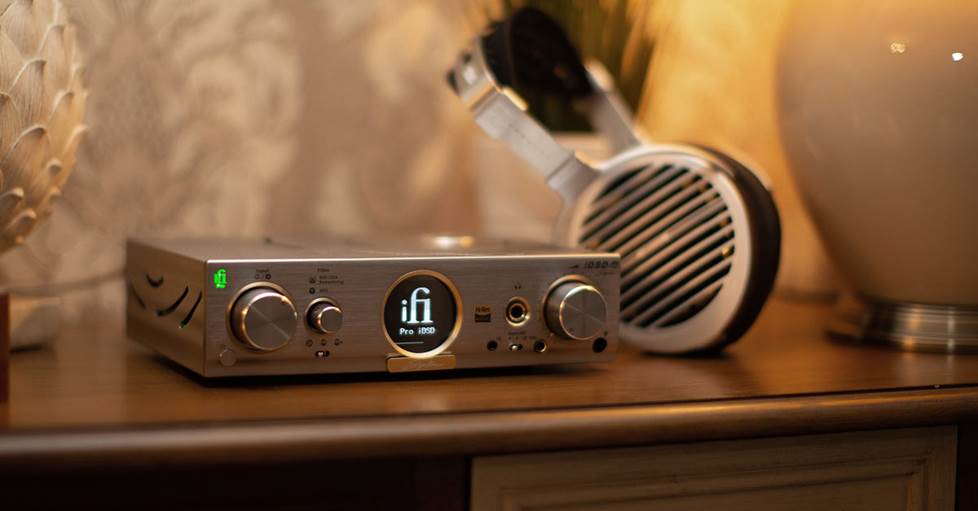 Best high-performance DAC — iFi Audio Pro iDSD Signature
Topping off our list is the powerful Pro iDSD Signature. Housed inside its gorgeous all-aluminum case are four bit-perfect, quad core Burr-Brown DAC chips that are the workhorses of the operation. The sound from the iDSD is clear and detailed. Cool enough, this DAC also features a tube section that adds more warmth and liveliness to your music.
The built-in Class A headphone amplifier is able to deliver a lot of clean power to any cans you'd like. It eats higher-impedance headphones for breakfast. Want to use it in your stereo setup? No problem. The outputs on the rear can be set as fixed or variable which allows you to use the iDSD as a preamp to your home system.
There's no shortage of ways to get your tunes going. Streaming can be done via Wi-Fi using the MUZO Player app (which supports TIDAL) or Apple AirPlay. You can hook up an external hard drive or USB drive, your computer or music server, a CD player or transport, and even a Digital Audio Work-station (DAW) if you plan on doing some mixing.
Connections
USB Type A input for connecting a thumb drive or an external (self-powered) hard disk drive (HDD)
asynchronous USB Type B input for connecting a Mac® or Windows® computer
coaxial/mini-optical digital input
balanced AES/EBU digital XLR input
balanced stereo XLR and unbalanced stereo RCA outputs
Any Questions?
Check out our DAC buying guide for the full scoop on DACs. Also, don't hesitate to reach out to any of our advisors. They're extremely knowledgeable and get hands-on with a lot of the gear we carry. I should know — I used to be one myself!
Popular questions customers ask
DAC stands for "digital-to-analog converter". The DAC chip found inside external DACs is what converts the incoming digital audio signals into an analog one. DACs will always have some form of digital input and analog output.
The incoming signal enters the DAC through one of its digital inputs. The signal then hits the actual digital-to-analog converter chip, at which point the digital 1s and 0s are converted into an analog signal. The signal then goes through the analog circuitry to the DAC's analog outputs (like a 3.5mm headphone jack or unbalanced RCAs).
While you might not need a DAC, getting one is a great idea. DACs help you get the most out of your music files by cleaning the off the digital "grime". Plus, most DACs have headphone amplifiers that provide clean power to headphones.
DACs are great for improving the sound of digital files. They help give your music more clarity, depth, and imaging. External DACs also can sport audiophile-grade headphone amplifiers, giving your favorite pair of cans all the clean power they need to sound their best.
Most external DACs feature built-in headphone amplifiers. These amplifiers have specialized circuitry for maximum performance and minimum distortion. They can also drive most headphones (including those with high impedances). Just check the specs to make sure the DAC you're looking at will work for your headphones.