Setting up a nice sound system is one of those things that can make a house feel more like a home. Having a dedicated system for watching movies and listening to music can really enrich your life. We've come up with ten tips to improve your existing system and elevate your home listening experience from ho-hum to electrifying.
In each of these ten tips, I'll give you some general advice about how to improve some aspect of your sound system. And I've included a few specific ideas contributed by Crutchfield Editor Charlie Pastorfield — he's a top-notch professional musician who's worked with audio gear for decades, and he's constantly upgrading and improving his own home sound system.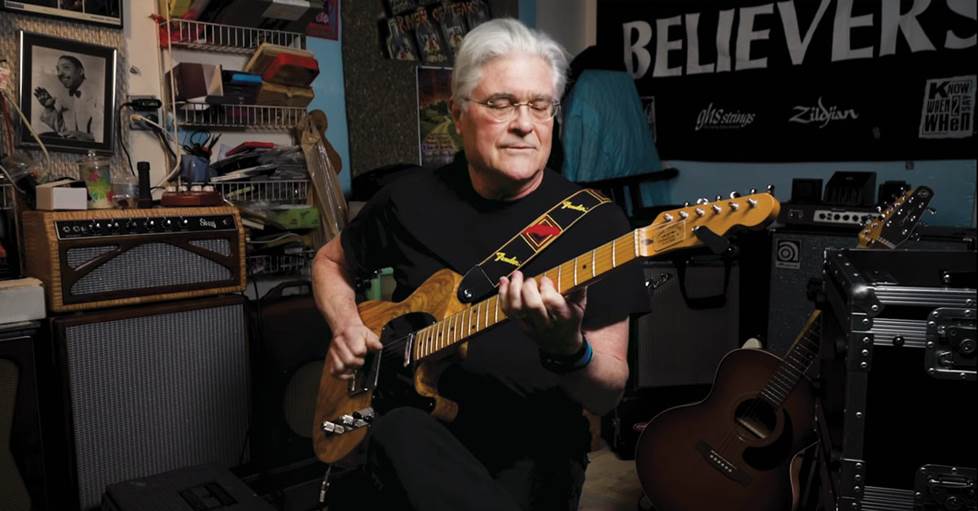 Crutchfield editor Charlie Pastorfield has spent decades honing his chops, and upgrading his home sound system.
1. Evaluate the gear you already own
If you feel like your existing system isn't performing as well as it used to — or worse, has begun to make noise or cut out altogether — do a general maintenance check. See if your audio cables are fraying or making a poor connection. Remove speaker grilles and examine the drivers for signs of rot or damage.
If you bought the gear from us, and can't diagnose the problem yourself, remember our tech support is free for the lifetime of the equipment.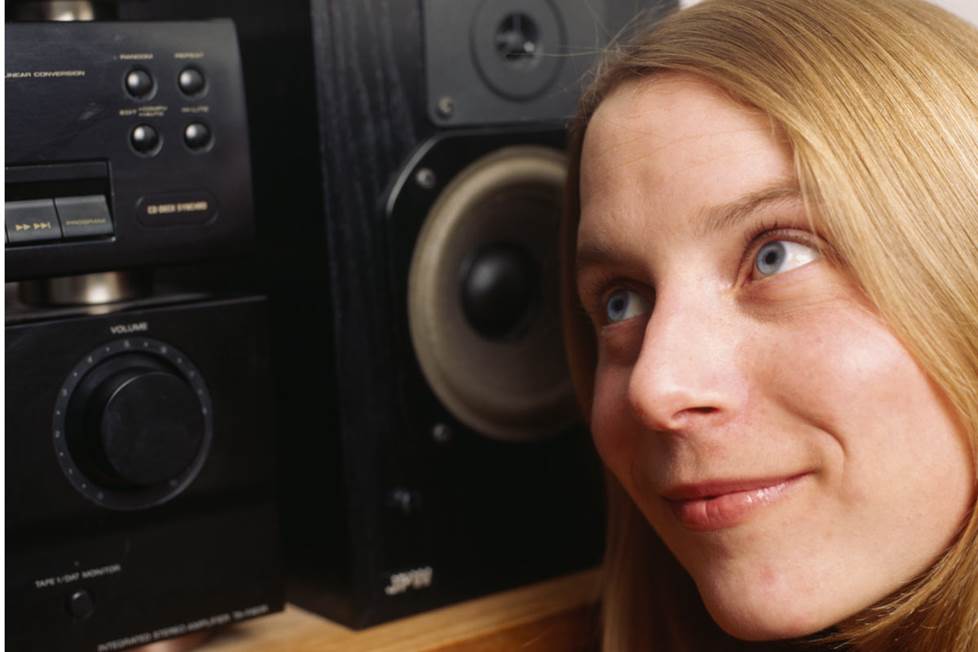 Get a knowledgeable friend to lend an ear and offer a second opinion on your audio setup.
And if you have music-loving friends, consult them for their opinions. "Invite knowledgeable audiophiles to check out your system," says Charlie. "You'll be amazed at the little fixes they suggest that produce big results. They know what to look for."
2. Check your receiver settings
Your receiver comes out of the box with default settings in place. These may not be the settings you prefer, but you may not even be aware of what your choices are. Look at the manual and see what some of those menu options do.
Many audiophiles prefer to eliminate any type of EQ, even the basic bass and treble knobs that can be found on most stereo receivers. "Try defeating the tone controls," Charlie recommends. "If it sounds good, leave them out of the chain unless you need them for a particular recording."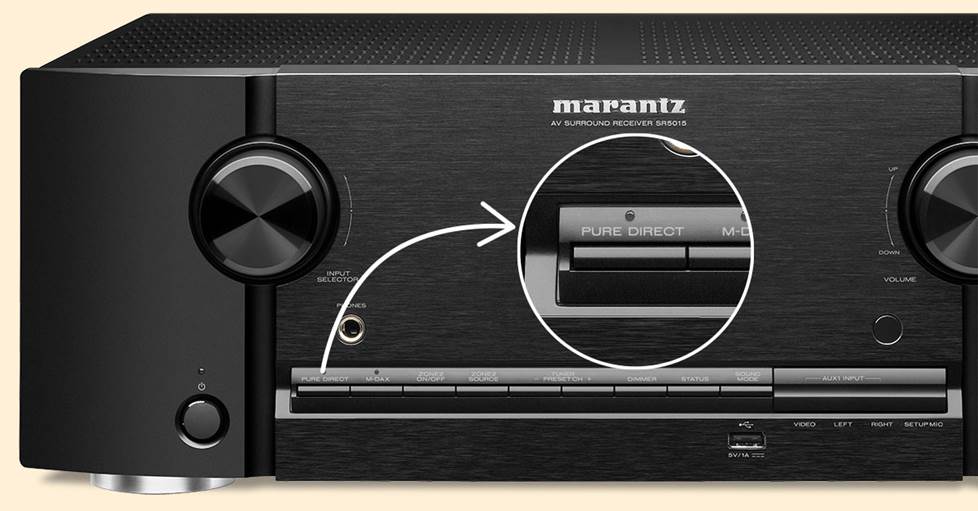 Marantz' Pure Direct mode turns off the display and video processing functions to remove possible sources of noise when you're listening to music.
Many manufacturers offer modes with somewhat self-explanatory names like "pure analog" or "pure digital" that optimize circuit pathways for specific devices and shut off everything else. Some offer filters you can experiment with to help you dial in your preferred sound. And many offer EQ profiles designed to use with specific speakers, to make the most of their known acoustic properties.
There's no wrong answer — just experiment and find out what your ears prefer.
3. Make solid wired connections
"Getting better sound is a continuous process of eliminating weak links in your audio chain," says Charlie. One of the most common areas of weakness comes from cheap cables, which can introduce noise. It's well worth your time to upgrade them.
Most audiophile components offer excellent balanced XLR inputs and outputs for superior noise rejection, but well-made RCA cables make a huge difference, too. And you shouldn't skimp on USB, digital optical, digital coaxial, HDMI cables or speaker wire either. If any of these is substandard, it can add distracting noise to your listening sessions.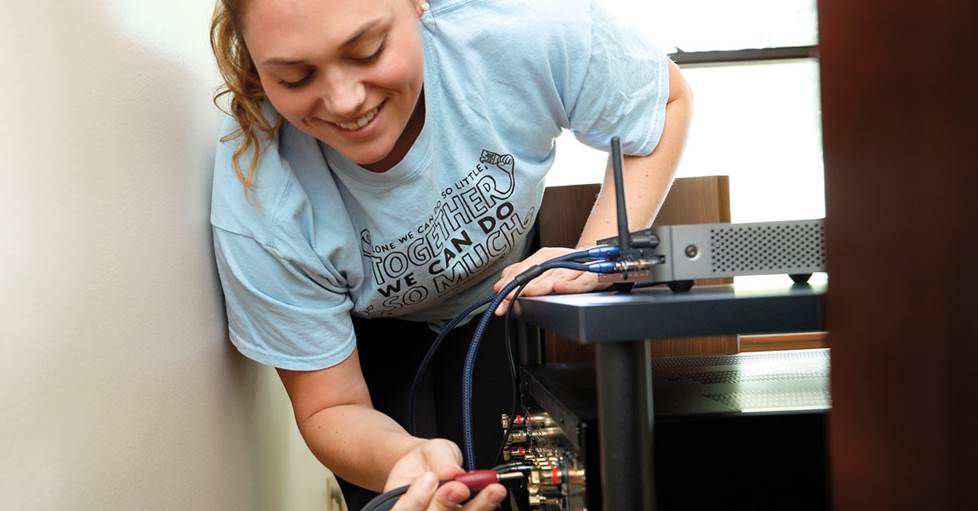 Quality cables are worth the investment. Cheap ones fray easily, and can introduce noise to your system that wouldn't otherwise be there.
Even the best Wi-Fi and Bluetooth connections come in second place to a wired connection in terms of sound quality. But if you want to or need to set up a wireless surround sound system, you can still hardwire your front left/right and center speakers to ensure great sound from the part of the home theater system that's doing most of the heavy lifting.
4. Listen to the best recordings
You have options when choosing the quality of the analog media or digital file format you listen to. For instance, if you plan to stream digital files, it's a good idea to invest in high-resolution audio.
Analog music lovers should look for remastered albums on 180-gram vinyl. These records use more raw material than most older recordings, so they're resistant to warping.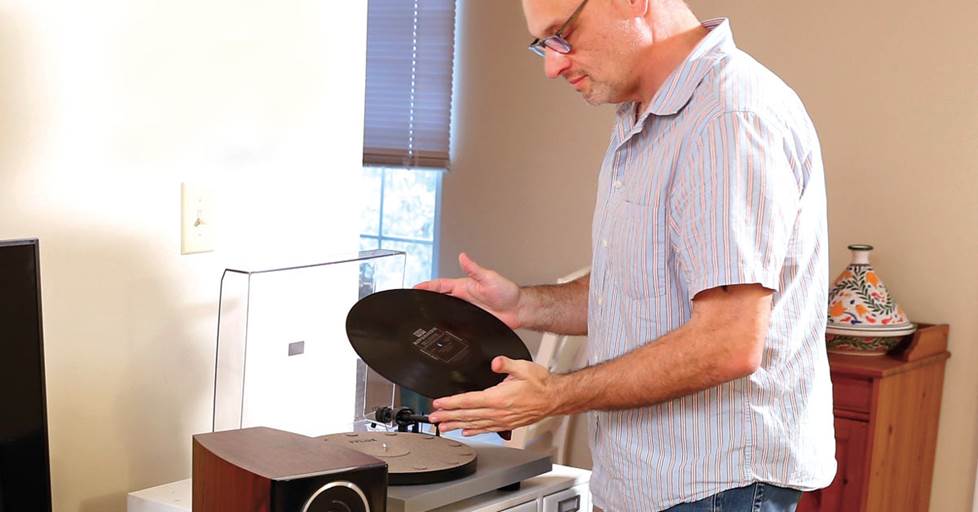 180-gram vinyl is no gimmick. The records are heavier and more sturdy, so they resist warping and slipping on your turntable.
Charlie suggests that you buy one favorite recording in multiple formats. "Find one well-recorded track that you can use as a reference," he says. "It's good to have multiple versions of this recording on disc, vinyl, and digital file so you can get an idea of how a new component performs with a familiar favorite."
And of course, keep your physical media clean. Use a brush to clean your records every time you play them, and give them a deep cleaning with a record cleaning machine from time to time. Look for a purpose-made soft cloth to help remove smudges from CDs and a maintenance disc to keep your CD player's internal lenses clean.
5. Get a great DAC
"Try inserting a high-quality DAC into the signal chain," Charlie says.
Streaming from an online service, or from digital files stored on your computer is a pretty common way to enjoy high-resolution music. Often those files are compressed, and may lose resolution — a top-notch DAC (digital-to-analog converter) can restore missing information that makes the recording sound more accurate, spacious, and immediate.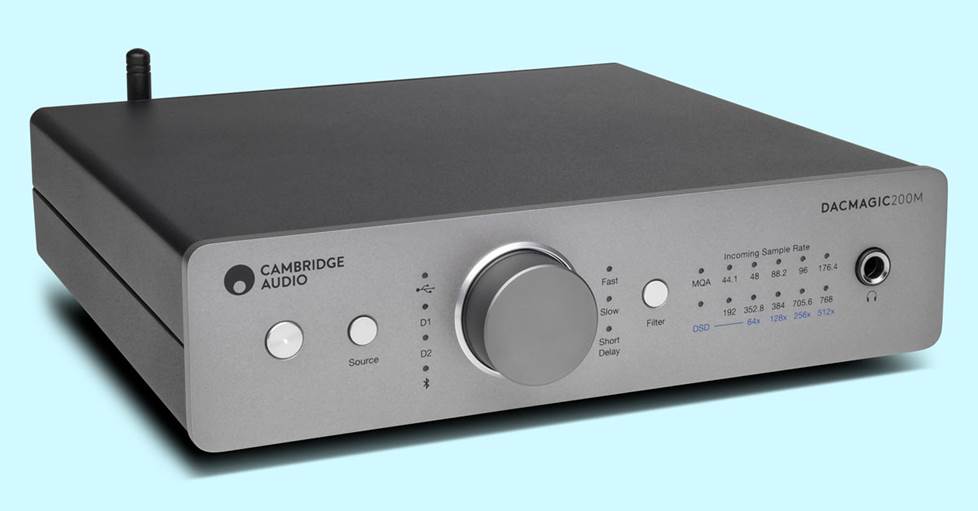 This Cambridge Audio DAC can make your digital files sound light-years better than they would if you were just using the chip in your phone.
And not all DACs are made the same. A component DAC typically supports higher bit-depths and sampling frequencies than the "stock" DACs that are built into smart phones, computers, and even most receivers. They improve the detail, clarity, and overall soundstage of your music. They come in a variety of shapes and sizes for different needs, and we can help you find the best DAC for your situation.
6. Make sure your network is at full strength
As much as I've talked about making sure your hardware and digital files are up to snuff, if you're streaming them from an online service, you'll need to make sure your home network can handle the larger file sizes without buffering or lagging. Make sure you're subscribed to an HD or better service tier if you're using such a service, or you'll be starting with reduced quality.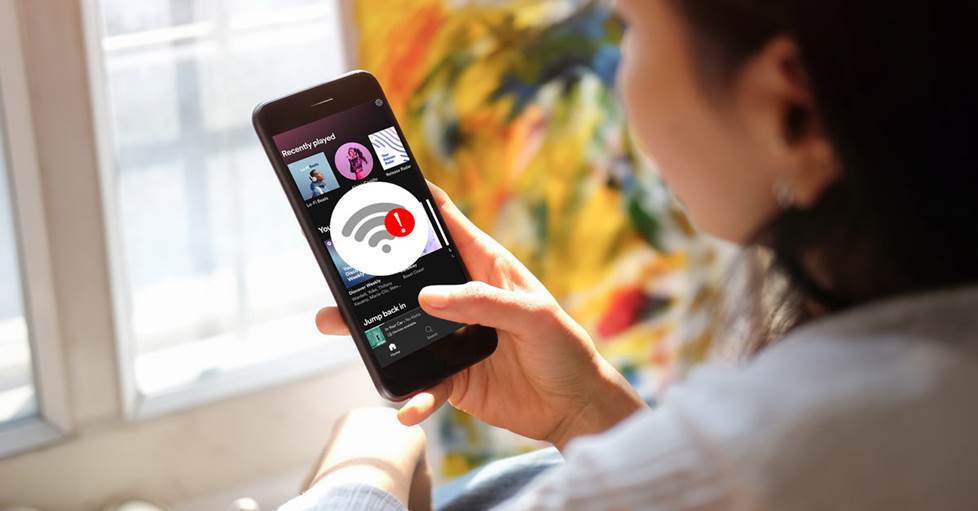 If you're going to stream high-resolution files, your home network has to be able to handle the traffic without glitches or buffering.
"Go for high-res or lossless files as opposed to compressed codecs like MP3s," Charlie says. Services that stream uncompressed files will indicate what file types they use, including FLAC, ALAC, WAV, DSD, MQA and others. Since they're not compressed, they are much larger, hence the need for a robust home network.
If you still experience problems – especially when other devices in your home are accessing the network – you may need to upgrade your router for more speed or opt for a multi-node mesh network that covers more square footage.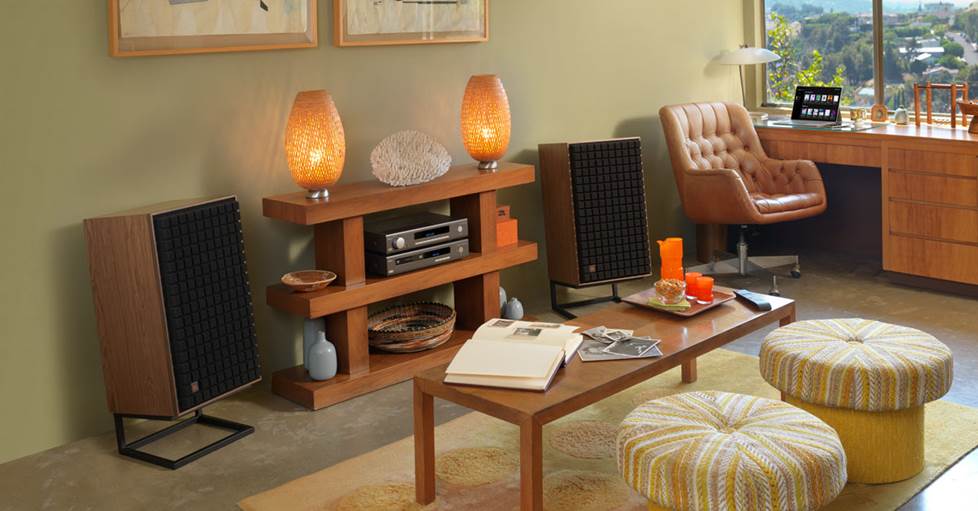 If you have a favorite room for entertaining, a great sound system can take the vibe up a notch or two.
7. Create a dedicated listening space
If you can set aside a room for serious music listening and/or movie viewing, so much the better, as it lets you work with the acoustics of the room. You can place your speakers properly to create an excellent-sounding sweet spot that focuses sound on your preferred seating position.
"Form a triangle with your speakers and your listening position," Charlie suggests. "Use a tape measure to get proper positioning — the front of each speaker should be the same distance to the left and right from your listening position at the center."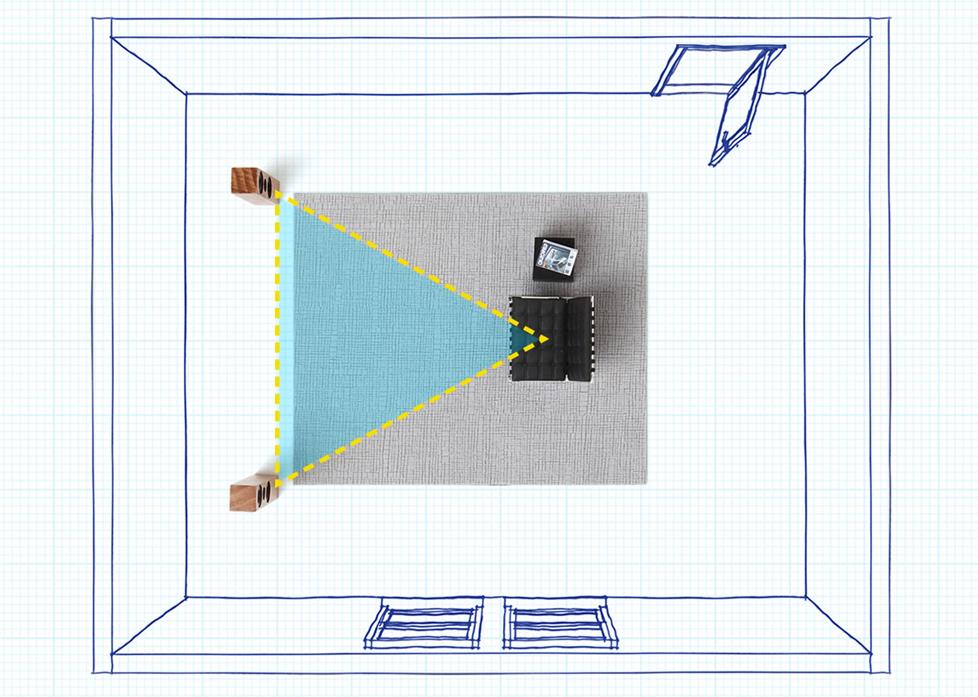 Proper speaker placement puts your ears right in the "sweet spot" for music listening.
The way you set up your AV system can make a huge difference, too. Many sound bars, receivers and subwoofers offer automatic room correction software that adjusts EQ to make your system perform better in your unique home layout.
8. Get some headphones and a headphone amp
We've talked a lot about listening to music out loud, but if you listen by yourself during work or after hours, a great pair of wired headphones can enrich music listening to a very high degree. And I've been amazed how much difference a headphone amp can make. It's worlds away from the thin sound you get from the cheap earbuds that came with your phone.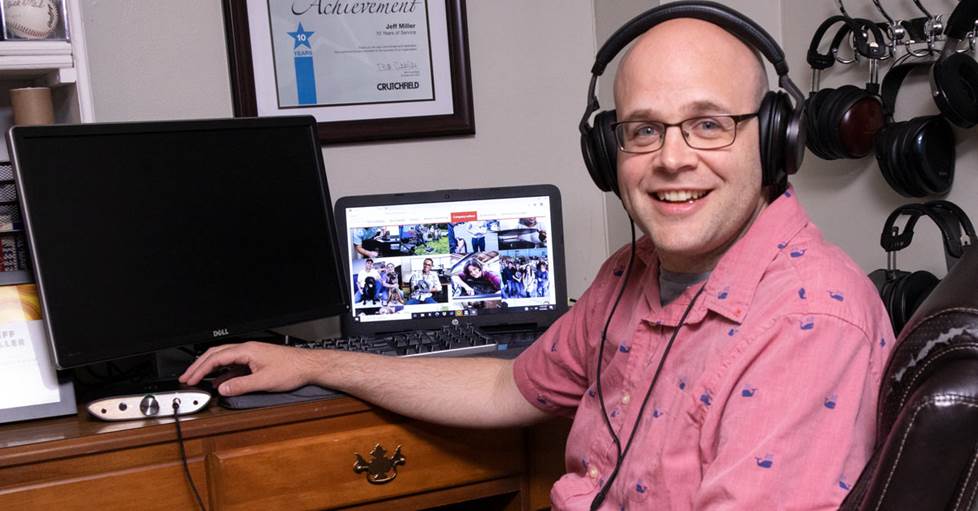 Trust our headphone expert Jeff. A headphone amplifier with a built-in DAC can make your digital files sound incredible.
For this particular topic, I'm going to give Charlie a rest, and seek advice on headphone amplifiers from our headphone expert, Jeff Miller. "You might be thinking, 'I would never play my tunes loud enough to need a dedicated amplifier,'" he says. "But it's really not about volume as much as effortlessly handling the large sonic peaks and valleys in your favorite music. It's like having an engine with plenty of horsepower. You might never drive 200 MPH, but it's nice to have some get-up-and-go when you need it."
9. Eliminate bad vibrations
One of the most common problems that can introduce unwanted noise into a system is vibration. Your choice of furniture can transmit rumble and hum both to and from the equipment that's sitting on it. Look for speaker stands for bookshelf models and included carpet spikes and floor discs for tower speakers.
Turntables and other components can rest on specially designed isolation platforms. There are a number of acoustic treatments available to deaden reverberation, as well.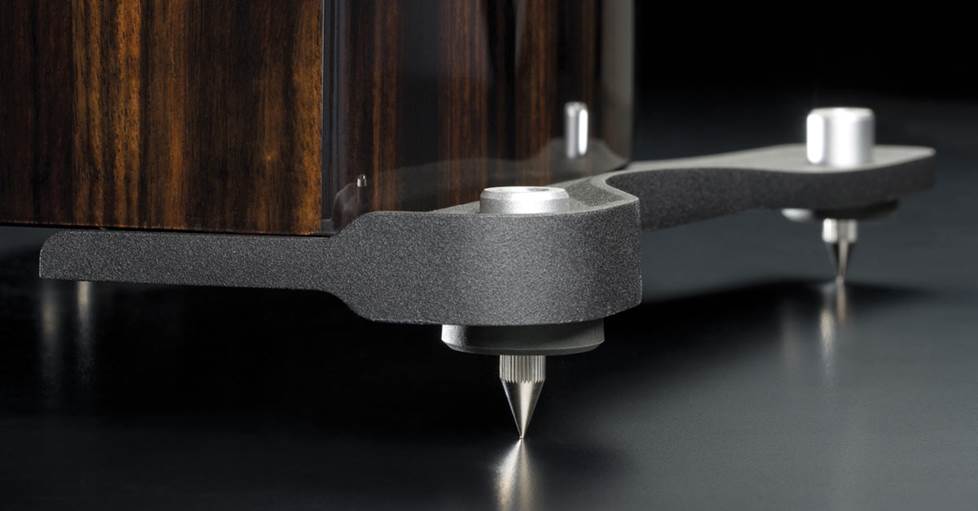 Charlie recommends that you take special care when attaching carpet spikes to your floor-standing speakers, in order to avoid bad vibrations.
As a fan of floor-standing speakers, Charlie has specific advice for securing carpet spikes to avoid rattle and hum. "If your speakers have spikes, make sure the top piece is screwed down tight against the outrigger," he says."This can make a huge difference."
10. Block out noise with power conditioning
Just plugging your components into a wall socket can introduce noise. And the basic Ethernet jacks on your router don't have much in the way of noise rejection, either. Removing noise that can be introduced by other electronic devices makes a huge difference.

A power protection device with line conditioning eliminates an annoying buzzing or humming sound that your home's electrical system may introduce.
Plug into a power protection device with line conditioning to defeat hum that can be introduced by your home's electrical wiring. Some power strips also include Ethernet jacks, but a good Ethernet switch can also help with noise rejection.
Even with good power protection, one component's power supply may interfere with another's signal path. Sometimes your prized equipment just needs a little more space.
"Turn up your system with nothing running," Charlie recommends. "Do you hear a hum? Try disconnecting components until the hum goes away. Plug the offending component back in and try moving it away from the others to see if hum is reduced."
As a final tip, Charlie offers a sure-fire way to determine if your tweaks have had the desired effect. "Listen to a recording you've heard hundreds of times and you may hear something you never heard before. Maybe the bass part is a little different than you originally thought, or maybe you hear that a keyboard is doubling a guitar part. Any change that gives you a new experience with familiar material is a good thing."
Let us help
Upgrading your listening experience doesn't have to cost the proverbial arm and leg. You can even improve your system pretty dramatically on a budget. If you want a little advice, contact us and we'll help you sort through the options.