In this article: We'll discuss five of our best selling car speaker series:
What makes them customer favorites over and over again? Let's dive in!
They're dead. They're blown. They're buzzin' and a'cracklin'. Or they're just plain lousy. That's why you need new speakers, but what comes next? With so many options for replacements, choosing new speakers can feel dizzying. The big thing you need to know is that each speaker manufacturer takes a unique approach to sound and emphasizes different qualities of music reproduction, depending on the series.
To give you a place to start, we've highlighted these time-tested customer favorites. After reading this article, if you want a deeper dive into what to look for when shopping new speakers, check out our car speakers buying guide.
What makes these favorites?
The speaker series we highlight below are not only some of our best selling speakers. They have also earned an average Crutchfield customer rating of 4 (or more) stars*, which means that our customers really like the speakers once they've installed them.
[Check out all of our best-selling and top-rated car speakers]
---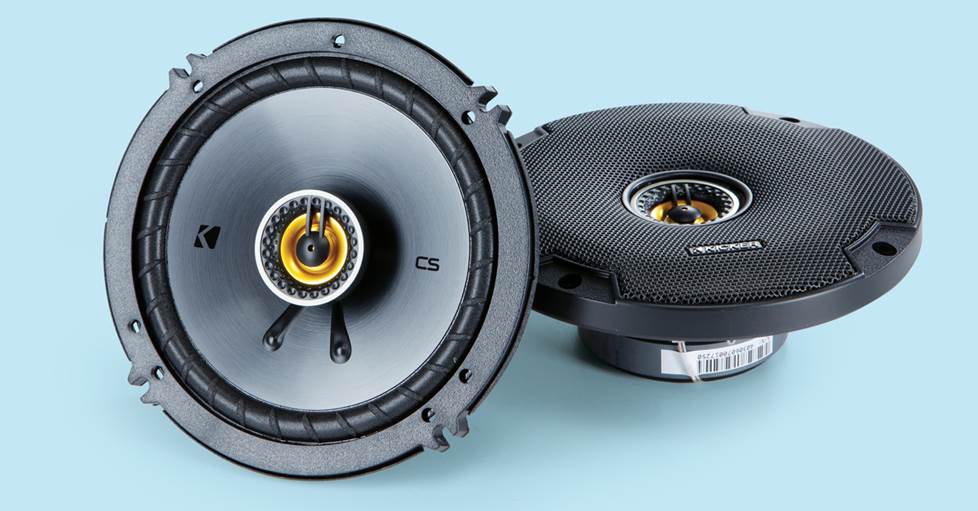 Kicker CS Series — Perfect for a factory speaker upgrade
What you need to know: These are certifiable bang-for-your-buck speakers. If you like it loud, Kicker's CS Series can handle up to 150 watts RMS, which means you can get impressive detail from these bad boys at a high volume (connected to a sufficient power source, of course).
Something special: Kicker has designed these speakers to fit in more vehicles than ever, which means there's a good chance they'll be a match for yours.
Factory radio friendly? Yes. These speakers generally have high sensitivity, so they'll make the most out of the low power from a factory radio.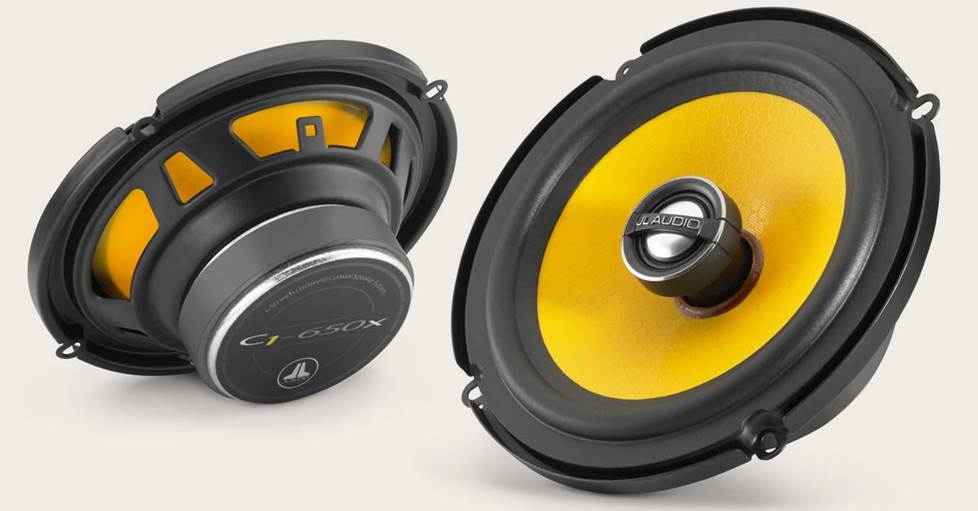 JL Audio C1 Series — Step-ups with serious pedigree
What you need to know: If you want something special when you step up from your factory speakers, consider the C1 Series and its vibrant yellow design. An injection-molded, mineral-filled polypropylene woofer provides solid punch in the midrange and natural roll-off to the highs. And JL Audio equips this line with an aluminum edge-driven tweeter, a rarity for "entry-level" speakers. Not only does that tweeter design minimize distortion at high volumes, it gives this series its distinctly crisp sound.
Something special: The C1 Series is designed for excellence by the very same team of engineers responsible for JL Audio's flagship C7 Series.
Factory radio friendly? Totally. Their high sensitivity optimizes your factory or aftermarket radio's power for the best sound possibe.
Focal Universal Integration Series — Premium favorites
What you need to know: Focal has been a longtime favorite of both Crutchfield customers and our Advisors. If subtleties are what you focus on in your music, their Universal Integration Series uses inverted dome tweeters to deliver a wide, lifelike soundstage in your car.
Something special: You'll find many signature Focal innovations at play here like polyglass woofers for strong, accurate playback as well as uniquely designed tweeters that provide a more immersive sound.
Factory radio friendly? Their high sensitivity makes them okay for factory radios, but we recommend powering them with an aftermarket amplifier to truly enjoy that legendary Focal sound.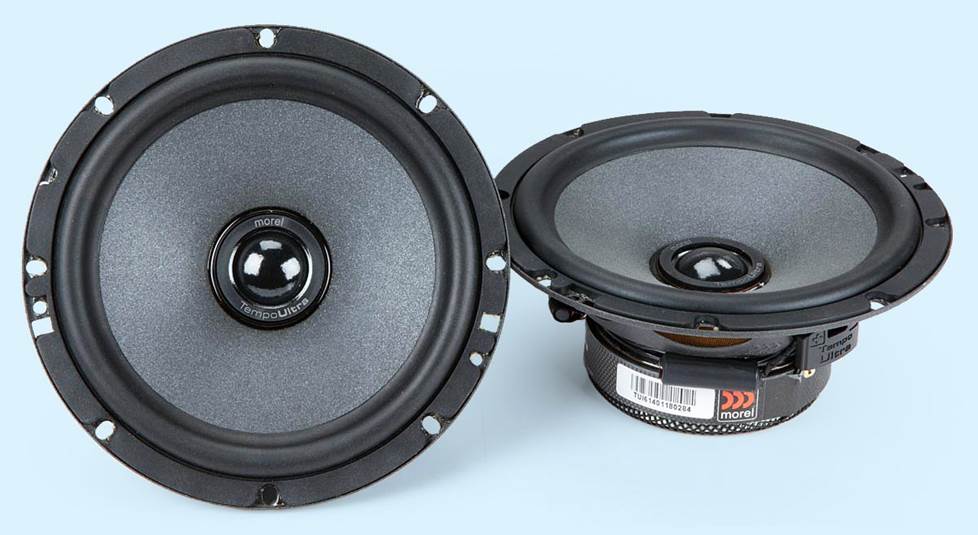 Morel Tempo Ultra Series — For a natural sound
What you need to know: Enjoy a refined, softer sound, thanks to the Tempo Ultra Series silk dome tweeters. High power-handling in this speaker series means you'll be able to enjoy all that luscious, new detail at low volume just as well as high. Morel also enhances the Tempo Ultra coaxial speakers with recessed tweeter placement in the woofer cone. This helps eliminate phase problems and gives you an improved sound stage if you're not opting for a component system.
Something special: You'll get impressive performance right out of the box, but customers tell us that these speakers respond exceptionally well to fine-tuning from a digital signal processor.
Factory radio friendly? Given the investment you'll be making in the speakers, we don't recommend running them off a factory radio or even an aftermarket stereo. An aftermarket amp will serve up the sound Morel had in mind for you.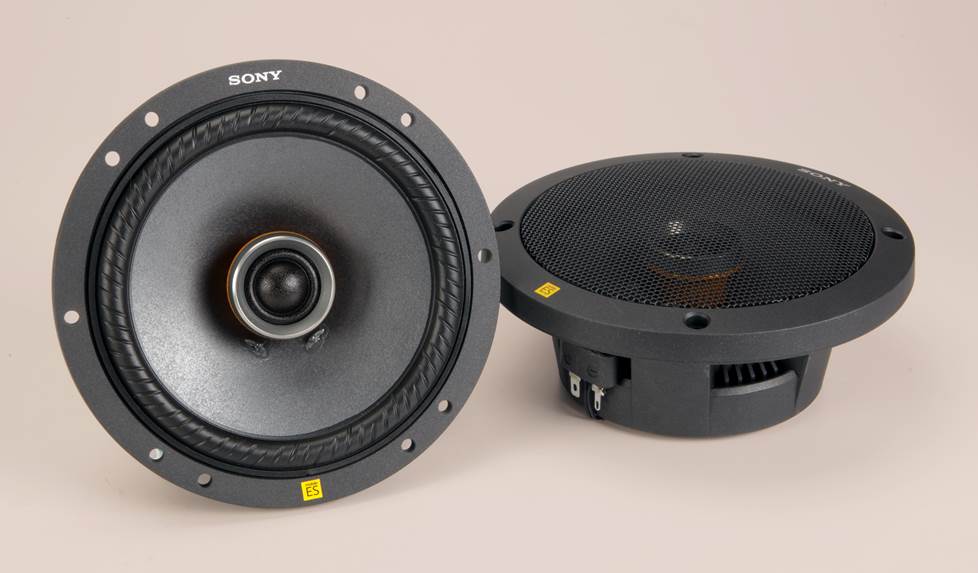 Mobile ES Series — Return of a classic
What you need to know: While these aren't best sellers yet, we think there's a good chance they'll earn the title soon. In decades past Sony's Mobile ES Series has been synonymous with impressive sound quality and customer satisfaction, earning a cult following. Well, Mobile ES is back with a new series of speakers, and they're off to a great start by the look at their five star-average and reviews like this: "LOVE LOVE LOVE these speakers!!"
Something special: Premium materials and design make these Mobile ES Series speakers worthy of High-Res playback. With high-frequency capability up to 40,000 Hz, they reveal texture and detail in your high-resolution audio files, adding more realism and atmosphere to instruments and vocals.
Factory radio friendly? Like the Morel speakers, we recommend aftermarket power, and if you have audiophile tastes, consider Sony's compatible High-Res gear like their GS Series amps and their Mobile ES Series stereo.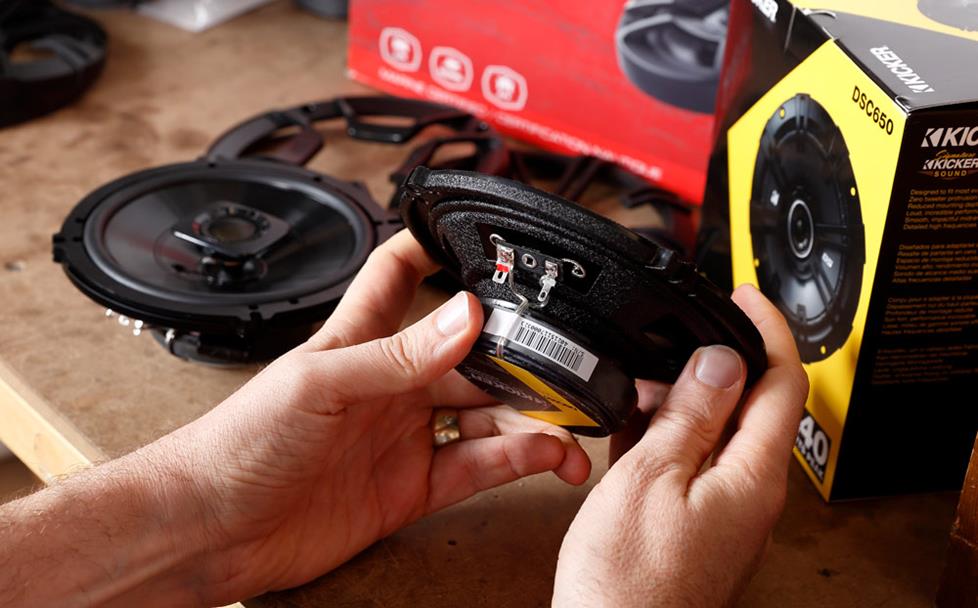 What's popular vs. what's for you
If you're ready to upgrade, there are a few considerations that should always top your list:
How much do you want to spend? Modestly priced speakers offer significant improvement over the ones that come with your car. But if you boost your budget, you'll get even better materials and design for an all-around more accurate sound.
What's your favorite music? The tone and style of the music you typically listen to will help you choose based on a speaker's strengths.
For more detailed information, don't forget to read our car speakers buying guide. And if you need help, contact our Advisors.
*Note: The star ratings cited are aggregate ratings for the all sizes of speakers in each series. In the case of the Focal and Morel speakers, you'll find that the linked lists of speakers feature two generations within the series.
Popular questions customers ask
It's simple – you replace your car speakers because you want your music to sound better. Car makers cut corners when it comes to car speakers, and aftermarket speakers use better materials and superior construction to deliver improved sound. Replacing your old speakers is an inexpensive way to get better sound in your car.
Replacing your car's speakers usually involves removing interior panels (doors, dash, rear dash, etc.), unbolting the factory speakers, using a bracket and wiring harness to install replacement speakers, and then reinstalling your panels. As a Crutchfield customer, you'll benefit from our free, vehicle-specific instructions, free wiring harnesses that eliminate splicing, and our friendly, toll-free technical support.
No! Speakers are sold in pairs, and it's common to replace your front speakers first, then later replace your rear speakers. It's a good idea to choose the same brand speakers for front and back, if possible. That way, the tone settings that sound good in the front seat will sound good in the back seat too. Of course, you can replace all your speakers at one time for the most dramatic improvement.
Like we said above, it depends on the RMS power rating of the speakers. Speakers with an upper range of 50 watts RMS or higher will definitely sound better powered by an external amplifier. If you intend to power them with your factory radio, then speakers with a lower RMS power rating and higher efficiency rating will sound best.
Cone size isn't the only factor in determining if a speaker fits your car. Sometimes speakers are too tall or too deep to fit your vehicle. In addition to measuring every speaker model we carry, we also measure thousands of vehicles. That's how we know that we're recommending the right stuff for your car or truck. If a speaker you're interested in isn't listed as fitting, give us a call. Sometimes minor modifications can make it work.