How to add hi-fi streaming to your home stereo
Stream high-res music through your old or new home hi-fi system
love playing vinyl records and CDs. Vinyl especially. I love the two-sides format and I love vinyl's inimitable sound — and the pursuit of getting it to sound its best. Plus, I grew up with vinyl and CDs, so they're not only in my DNA, but on my shelves.
But the convenience of streaming makes it a whole lot easier to create the soundtrack for my days and nights. It's not goodbye to vinyl and CDs, but hello to streaming.
When I first looked into adding streaming to my existing stereo system, the solutions seemed complicated. Would I need an external DAC? Would Bluetooth give me the level of fidelity I want? What's the best streaming music service?
My discoveries led me to many hours of exploration and listening, with plenty more to come.
High-fidelity streaming is a revelation. It doesn't matter if you've been listening to audiophile-grade stereo systems for years or come from a generation that grew up listening to music on your smartphone — you've got something to look forward to.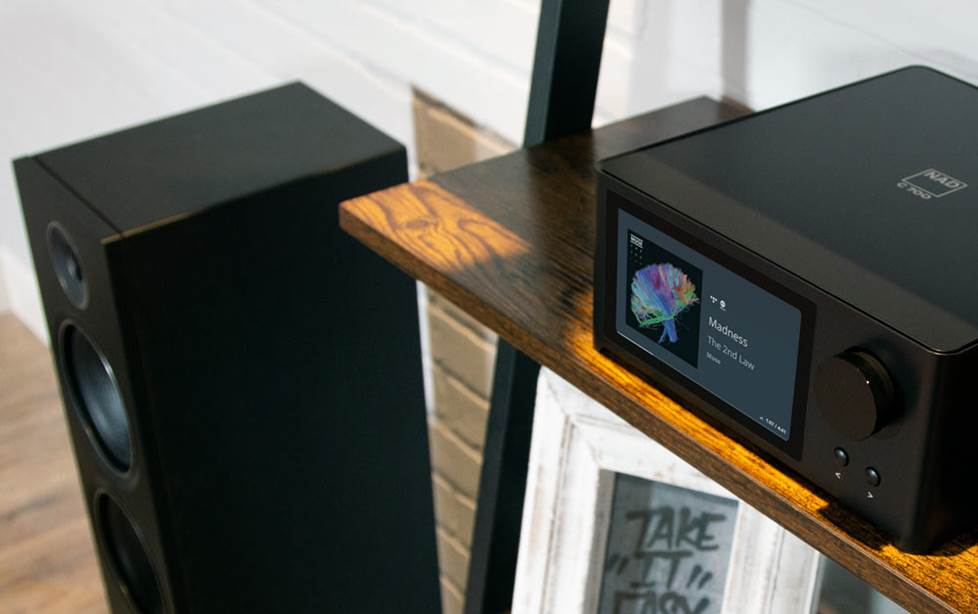 With the right components, it's easy to stream high-quality audio.
Add streaming to your system
I've always been slow to adopt new technology. I was one of the last of my friends to get a cell phone, and later, a smartphone. I thought I'd never subscribe to a streaming service.
But things change. I cherish my memories of making field trips to record stores in faraway cities to find those rare discs. But streaming music has made it incredibly easy to access a wider inventory of recordings than ever before.
And you don't need to use a streaming service at all. There are tons of free internet radio stations, like Charlottesville's free-form WTJU.
Or maybe you've ripped your vinyl and CD collections to an external drive or two — you can access it all from your smartphone and play it through your hi-fi.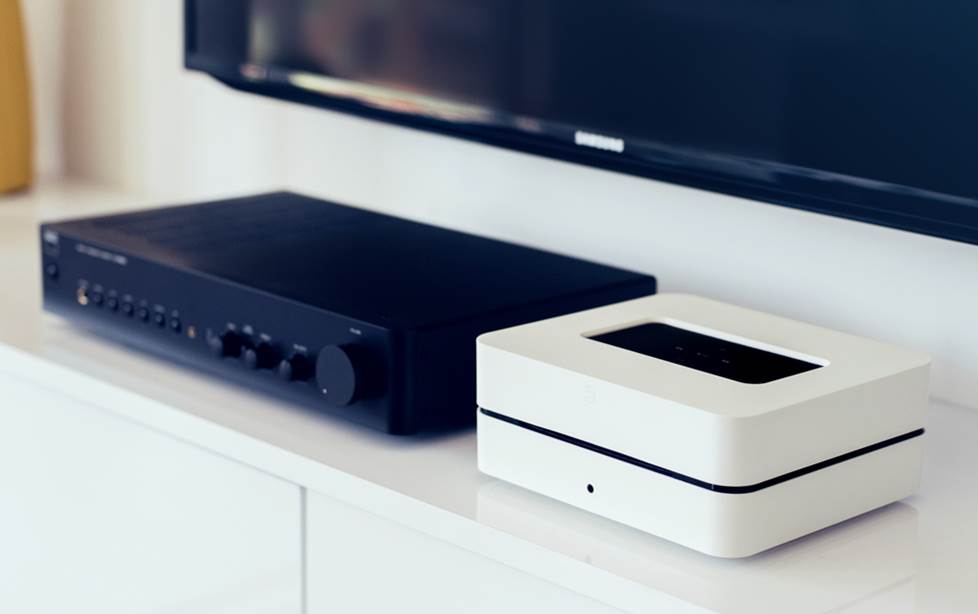 The Bluesound VAULT 2i (right) gives you high-res BluOS streaming plus an internal drive for ripping 2TB-worth of CDs and more.
And if you like to purchase music for download a la carte, you're helping musicians make a living and building your great digital music library at the same time. Plus, you can get high-res music files that reveal as much detail and nuance as the master recordings. Check out our guide to high-res audio for more info.
Start with robust internet
To stream music, you'll want to be sure to have brisk, dependable internet. For lossless, high-res audio, you should ideally have a minimum download speed of 20Mbps (megabits per second). And in this case, faster is always better.
A wired Ethernet connection to your streaming gear will be faster and more dependable, but you can still get great sound and wireless convenience using Wi-Fi. Take a look at our wireless router buying guide for more information on what you need for a better, stronger Wi-Fi signal.
How do you stream to your home stereo?
How will you be streaming music? Do you want to build a designated listening-room stereo system, with components front and center? Or do you want something inconspicuous that you control with your phone, but that still sounds great?
You can choose to go with one of the streaming ecosystems that have powerful proprietary control apps, like Sonos, Bluesound, HEOS, or MusicCast. Or you can use Apple AirPlay or Google Chromecast built-in, both of which come built into a bunch of different components. Check out my top nework streamer picks to see most of the different options.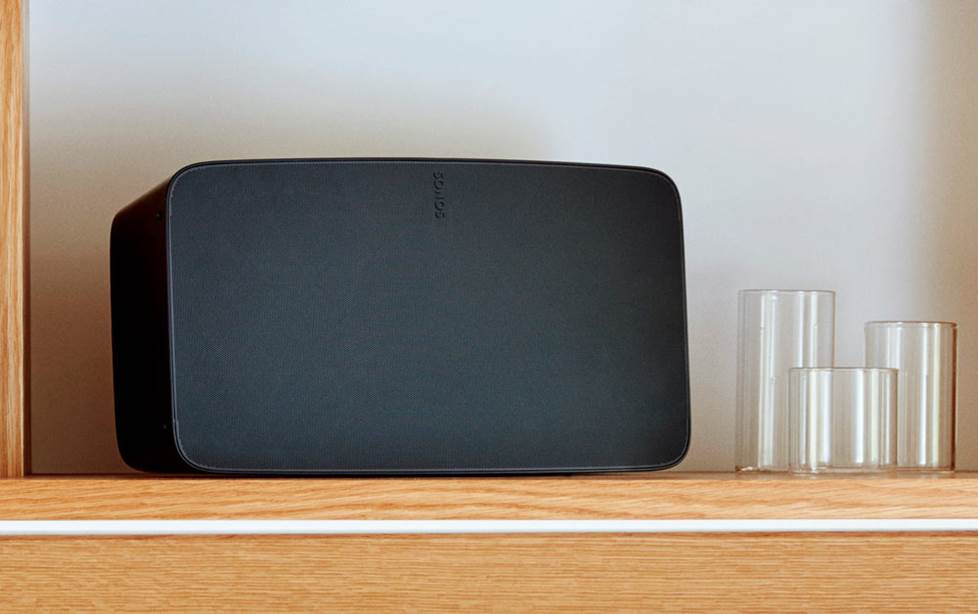 The Sonos Five wireless powered speaker sounds great and has an intuitive control app.
Because different streaming services appeal to different people for different reasons, there is no "best" music streaming service. Do you want the ease of Spotify, or do you prefer the more carefully curated Tidal and Qobuz? Or maybe you get your music from Amazon, Apple, or YouTube because you already had an account with one of them?
If you're going to use a streaming service, remember to check for compatibility. Some streaming services play nicer than others with home stereo streaming gear.
Do you need a DAC for streaming?
All digital music files require a DAC (digital-to-analog converter) to translate the 0s and 1s into beautiful music. Most streaming components come with built-in DACs but also have digital outputs that let you use an external DAC, like Cambridge Audio's popular DacMagic 200M. Check out our DAC buying guide to find out more.
Not all streamers have built-in DACs — some high-performance streamers like the iFi Zen Stream require an outboard DAC.
How do I add streaming to my old stereo system?
Ever wished you could get the gamut of streaming music to play through your analog vintage stereo system? Or maybe you have a nice legacy receiver or pair of speakers just collecting dust. You can add streaming with a minimum of fuss.
I'll get into more detail about my own streaming setups later. For now, suffice it to say that there are a lot of different ways streaming can help breathe new life into older gear.
Why else have you been saving it?
Different sources with built-in streaming
One of the easiest ways to add streaming to your stereo system is to hook up a network music player, or other streaming source component. These include standalone streamers, CD players, and CD players with built-in streaming. There's even a turntable with built-in Sonos streaming.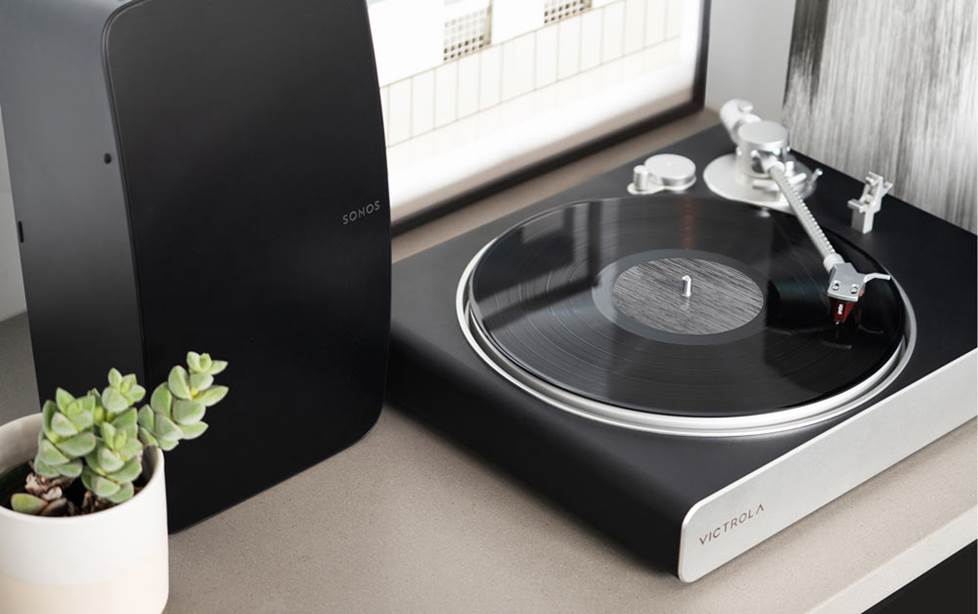 Pioneering vinyl brand Victrola's Stream Carbon turntable has built-in Sonos technology that lets you stream what you're spinning on the 'table.
Most streaming components have analog and digital outputs for connecting to your integrated amp, stereo receiver, or AVR just like a more traditional source — a turntable or CD player, for example.
Streamer volume control tips
You'll use the volume control on your integrated amp, preamp, receiver, or powered speakers, to control the streamer's volume. And make sure you select "fixed" output in the streamer's settings. Otherwise, you'll have two volume controls fighting over your signal, which can lead to problems.
If you use a preamp streamer, you can connect directly to a stereo power amplifier running a pair of speakers. That way you can control the volume with your phone. Just make sure to put your streamer in "variable" or "preamp" output mode.
Amplifiers with built-in streaming
Already have a great pair of speakers? You can power your favorite pair of bookshelf or floor-standing speakers with a stereo receiver, home theater receiver, or integrated amplifier that has built-in streaming.
Streaming integrated amplifiers
Manufacturers have seen the writing on the wall and have been including streaming features into more and more integrated amplifiers. Since they have flexible connections — often including a dedicated phono input — integrateds give discerning listeners the best of both analog and digital sources.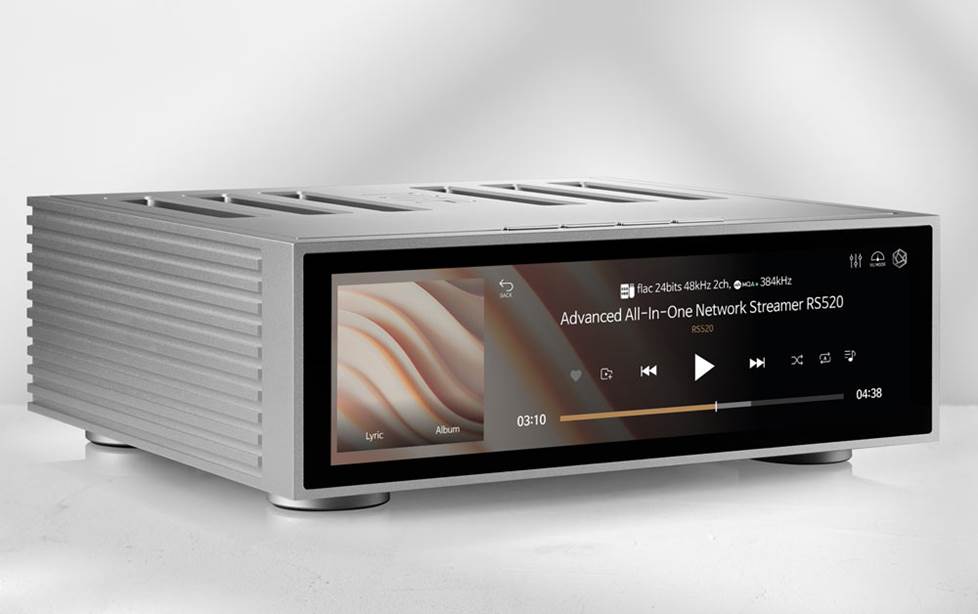 The HiFi Rose RS520 integrated amp provides a luxurious streaming experience, with a beautiful full-color 4K touchscreen, digital and analog inputs, and audiophile performance.
A no-nonsense integrated amp like Marantz's PM7000N might surprise you with its high-quality sound. And an elegant high-performance modern integrated like Cambridge Audio's EVO 150 gives you audiophile-grade amplification, flexible connections, and a full-color screen that displays album art.
Streamers with built-in amplifiers
Products like the Bluesound POWERNODE (and POWERNODE Edge), Sonos Amp, Denon HEOS Amp, and MusicCast WXA-50 are technically integrated amps. But they're really best at doing one particular thing: offering you an affordable, great-sounding, "just add speakers" way to get into streaming.
Build a streaming music system from scratch
If you're putting together a nice two-channel system, I'm excited for you. There are tons of different ways to go about it, and the chase can be as much fun as the catch.
If audiophile-grade sound is your goal — and you have the funds and space to experiment — you should consider using separates. You'll have less noise from electrical and acoustic interference when you have the source, preamp, and power amplifier in separate enclosures. Check out my article on separates to learn more.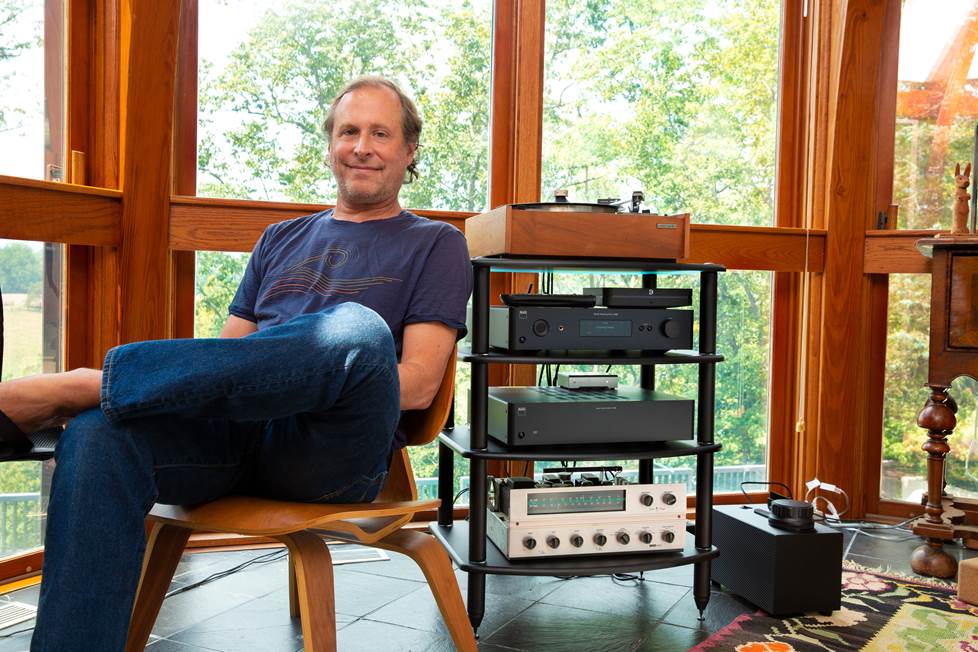 If you want full, articulate, and nuanced audio with flexible streaming capability, the NAD C 268 stereo amplifier and C 658 preamp I tested for several weeks in my home produce beautiful music together.
Plenty of integrated amps have built-in streaming and can deliver top-notch sound. That means you could build a really nice-sounding streaming system with just two purchases: an integrated amp (or other amplified streaming component) and some bookshelf or floor-standing speakers.
Want to reduce your number of purchases to just one? A nice set of powered speakers with built-in streaming can do the trick — whether you're talking about a knockout, high-end system like the magnificent KEF LS60 Wireless for your living room, or something more compact like the JBL 4305P Studio Monitors for a smaller room like your office or den.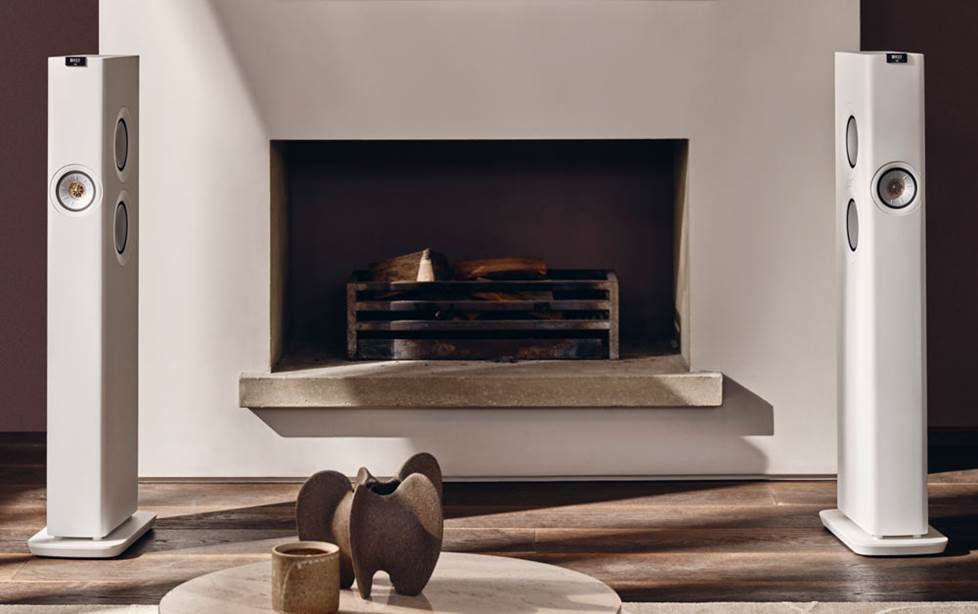 Modern majesty: KEF's LS60 is a simple, elegant, and powerful all-in-one wireless streaming stereo system.
Both of those speaker systems have plenty of inputs so you can connect other sources down the line — even a turntable with a phono preamp.
Wirelessly connect multiple home stereo hi-fi systems
Wireless multi-room streaming with platforms like Sonos, BluOS (Bluesound), HEOS, MusicCast, Roon and others let you sync music in different rooms in your home. Check out my multi-room speakers buying guide to see some examples.
In addition to or instead of creating a network of standalone streaming speakers, why not have a stereo hi-fi setup in every room where you want to play connected music?
That's exactly what I do. In our living room I've got a NAD C 700 integrated amp powering a pair of vintage Dynaco A25 speakers. The amp has BluOS built in, so I can connect it to my other systems.
In our sunroom, I have a vintage Harman Kardon Stereo Recital II all-tube stereo receiver powering a pair of MartinLogan floor-standing speakers. I added a Bluesound NODE to make it part of my BluOS streaming system.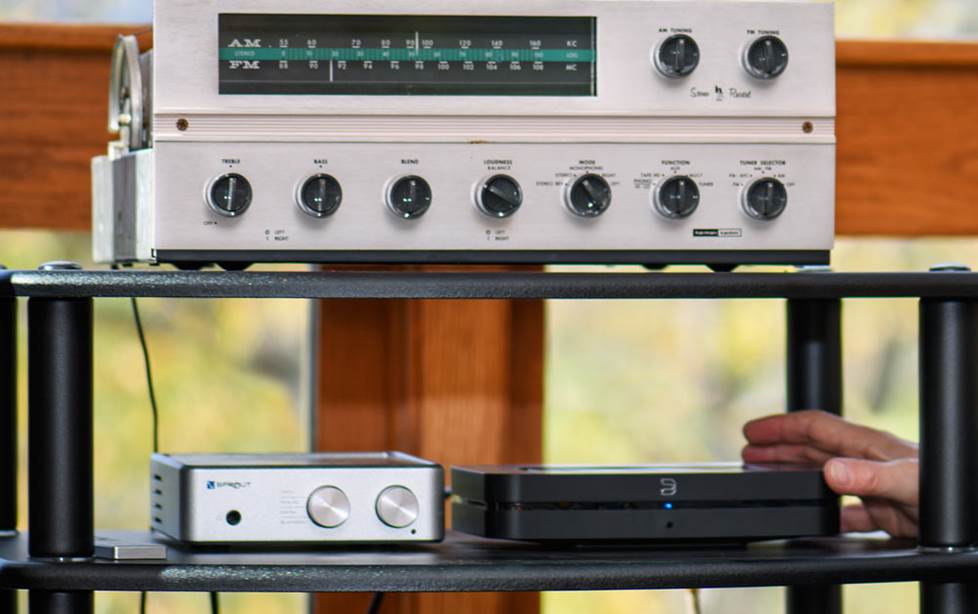 I love the way my '60s Harman Kardon receiver imparts its warm, expansive all-tube sound to the Bluesound NODE's high-res streaming.
There's another NODE downstairs in the mother-in-law apartment. It runs through a Mission LX Connect powered stereo speaker system.
Streaming vinyl
Even though it doesn't have a dedicated phono input, the NAD C 700 makes it really easy to stream vinyl. I've got our Pro-Ject X2 turntable connected to it via a Schiit Mani phono preamp. Then I use the BluOS app to group the C 700 with the other systems in the house.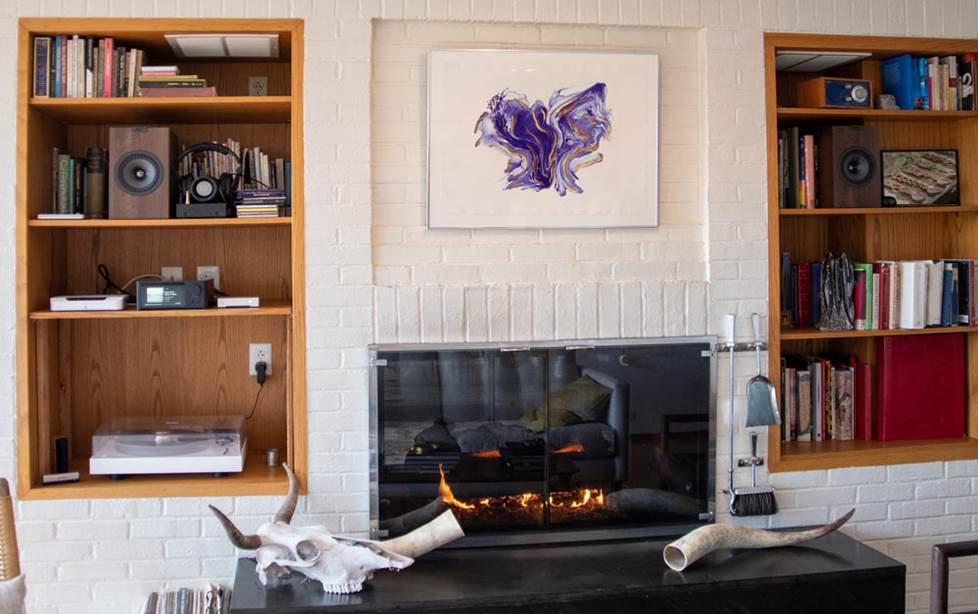 My living room setup has two integrated amps with BluOS streaming so I can stream to two pairs of speakers on opposite-facing sides of the central fireplace in our open floorplan.
I can control the volume of each system independently or as a group. It sounds so great, I find myself in the paradoxical situation where upgrading my phono preamp might make a noticeable improvement in my wireless streaming system.
You can stream vinyl like this using preamp streamers like the Sonos Port, HEOS Link, Bluesound NODE, Yamaha WXC-50, or others — like the amazing little Andover Audio Songbird.
Need help choosing the best setup for streaming?
Still have questions about the best way to get hi-fi streaming up and running in your system? Contact us if you need help choosing. Our Advisors can help you find the right gear for your space and budget and make sure you don't leave out any crucial components or connections.
Free lifetime tech support is included with your Crutchfield purchase.
Last updated 10/28/2022